Final Box Score (.pdf) | Full gamebook/play-by-play (.pdf) | Multimedia | Photo Gallery | Postgame Quotes | Postgame Notes
THE FLATS – Two second-chance tip-ins by James Banks III and a driving layup by Jose Alvarado with under two minutes left gave Georgia Tech men's basketball the edge it needed to defeat NC State 64-58 on Saturday afternoon at McCamish Pavilion.
The Yellow Jackets (9-11, 4-6 ACC), led by a 26-point explosion by junior guard Alvarado, trailed by five points with 6:21 left in the game, but outscored the Wolfpack 14-3 and gave up just one field goal down the stretch. Banks' first putback gave the Jackets a 56-55 lead with 2:37 left, and the second snapped a 58-all tie with 22 seconds on the clock.
Alvarado came up huge defensively late, getting his last two steals on the Wolfpack's final two offensive possessions and hitting a pair of free throws in the final minute to keep NC State at bay. He also finished with eight rebounds, a school-record nine steals and two assists.
Junior forward Evan Cole came up big off the bench for the Yellow Jackets, scoring 11 points off 3-of-5 shooting with four rebounds. Banks III finished with six points and seven rebounds.
Leading the Wolfpack (14-6, 5-4 ACC) was Markell Johnson, who finished with 21 points on the day while Devon Daniels totaled 12 points.
Georgia Tech remains home for its final non-conference game of the regular season when it hosts Morehouse on Tuesday, Jan. 28. Tipoff is set for 7:30 p.m. and will be broadcast live on ACC Network Extra.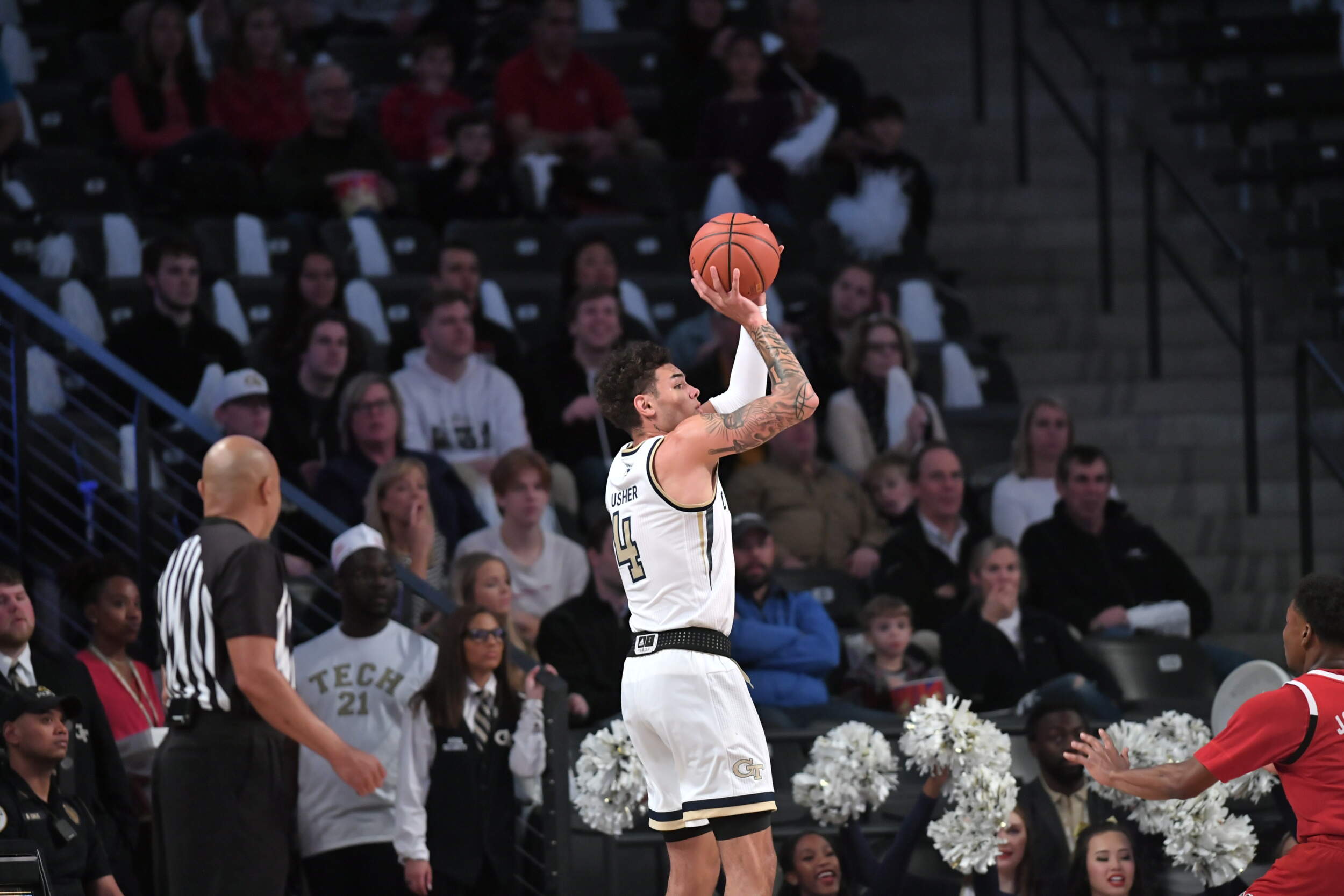 In addition to his eight points, Jordan Usher (4) also hauled in seven rebounds and six assists on the night. (photos by Danny Karnik)
Post-Game Notes
TEAM NOTES
Tech is 5-5 away from McCamish Pavilion this season, 4-6 at home.
Georgia Tech completed a two-game regular-season sweep of an ACC opponent for the first time since the 2013-14 season (Boston College), the first year after the conference expanded to 15 teams. Tech last swept the Wolfpack in the regular season in the 1995-96 season.
Tech has trailed at halftime in 14 of its 20 games this season, coming back to win five of those games. The Jackets are 15-49 when trailing at the half under Josh Pastner.
Spurred by Jose Alvarado's nine steals, Georgia Tech grabbed 11, the fourth time this season it has reached double digits in steals.
Since the beginning of last season, Tech has held 27 opponents, including 11 ACC foes, under 40 percent shooting from the floor (NC State connected on 37.9 percent). Nine Tech opponents this season have failed to hit 40 percent.
The Jackets have limited 23 opponents, 11 in the ACC, to 30 percent or less from three-point range over the same period (NC State his 4-of-19, 21.1 percent). Nine Tech foes this season have made less than 30 percent.
Tech assisted on 11 of 23 made field goals against NC State and has assisted on 159 of 262 made field goals in ACC games (60.7 percent), the third-best rate in the ACC according to KenPom.com.
Tech has averaged 39.7 points in the paint over its last seven games, compared to 30.2 for its opponents. Only Duke (38-36) and Louisville (32-30) have scored more than Tech in that stretch.
Tech went 14-of-21 from the free throw line against and has hit better than 70 percent in eight of its last 11 games. Tech has converted 141-of-195 attempts (72.3 percent) over that stretch.
The Jackets have hit 32.5 percent of their three-point field goal attempts in ACC games, which ranks middle-of-the-pack, compared with just 25.4 percent out of conference.
Tech has averaged 15.4 turnovers over its last 11 games since the return of Jose Alvarado, compared with 17.4 prior to that. The Jackets committed 13 against the Wolfpack, fewest since Jan. 11 at Boston College (also 13). Only against Houston (9) has Tech turned the ball over fewer than 13 times in a game. With Alvarado on the floor this year, Tech has averaged 15.8 turnovers, compared with 18.6 in the seven games in which he was absent.
Tech is minus-2 assist-to-turnovers in ACC games, minus-56 in non-conference games. The Jackets have been on the plus side of that ledger in four of the last seven games.
INDIVIDUAL NOTES
Khalid Moore made his first start for the Yellow Jackets since Dec. 18 vs. Ball State, and his 10th of the season. He replaced the injured Michael Devoe, who had started all 19 games this season and 42 a row for the Jackets. Moore scored five points on 2-of-3 shooting and posted the Jackets' best plus/minus mark (+13) in his 21:12 on the court.
Jose Alvarado notched his third game of 20 or more points this season with 26 against NC State (also had 25 against North Carolina, 20 vs. Virginia) and the 13th of his career. Alvarado has averaged 19.7 points over Tech's last three games.
Alvarado has hit 15-of-39 shots (38.5 pct.) from three-point range in his last seven games (2-8 vs. NC State) and is 34-of-71 overall (47.9 pct.) during that stretch.
Alvarado's nine steals broke the Tech single-game record of eight set by Kenny Anderson against Duke on Jan. 30, 1991. It boosted his season average to 2.38 per game overall, 2.67 in ACC games.
Alvarado has put together two of the best defensive games in his career back-to-back. Against NC State, he recorded eight steals, two of them coming on the Wolfpack's final two offensive possessions. Wednesday against Louisville, he defended the ACC's leading scorer, Jordan Nwora, and held him to 10 points on 3-of-11 shooting.
Evan Cole posted his first double digit game this season and first since scoring 16 against Kennesaw State on Jan. 2 of last season. It was his third double-digit game against an ACC team, first since his freshman year (10 vs. Wake Forest on March 3, 2018).
James Banks has averaged 11.9 points and 7.9 rebounds against ACC teams this season, hitting 56.9 percent of his shots from the floor.
Jordan Usher matched his season high with seven rebounds (twice his season average) and set a season high with six assists (triple his season average) to go with eight points (3-6 FG).
Bubba Wright scored just four points with three rebounds, but remains Tech's high scorer in ACC games at 14.2 points and No. 2 in rebounds per game (7.6), and he has hit 50.5 percent of his shots from the floor against the league.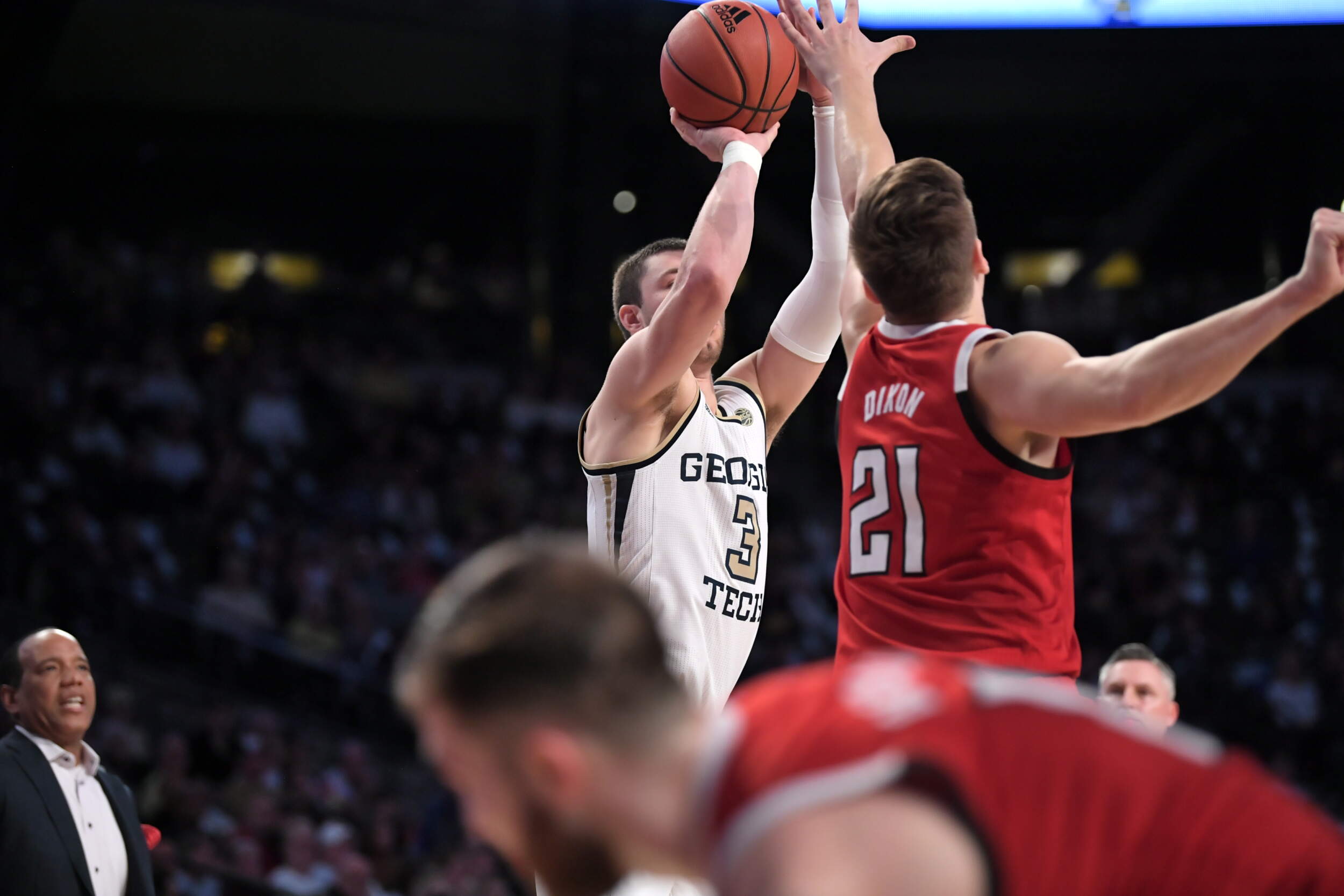 Evan Cole (3) provided a spark off the bench for Georgia Tech, scoring 11 points off 3-of-5 shooting (4-of-8 at the line) (photos by Danny Karnik)