THE FLATS – Looking for its fourth straight win and to get above .500 in Atlantic Coast Conference play, Georgia Tech welcomes Wake Forest to McCamish Pavilion for a 6 p.m. tip Sunday night.
The Yellow Jackets (5-3, 1-1 ACC) have won five of their last six games following an 0-2 start, including a 72-67 come-from-behind win over North Carolina Wednesday night at home in their first game after a long holiday break. Tech downed Florida A&M (74-64) and Delaware State (97-69) the weekend before Christmas, and also knocked off No. 20 Kentucky (79-62) at State Farm Arena and Nebraska (75-64) on the road before dropping its ACC opener Dec. 15 at No. 15 Florida State (74-61).
The Demon Deacons (3-0, 0-0 ACC), in their first season under head coach Steve Forbes, come to Atlanta for their first ACC game and their first game away from Winston-Salem. Wake Forest opened its season with wins over Delaware State and Longwood, then saw their next five games called off due to Covid-19 protocols. The Deacons returned to action Thursday with a 70-62 homecourt victory over Division II Catawba.
Sunday's game will be televised nationally on the ACC Network and will be streamed live on the ESPN app. Radio coverage is provided by the Georgia Tech Sports Network by Learfield IMG College, with flagship station WCNN-Radio (680 AM, 93.7 FM) in Atlanta. The Tech broadcast can be heard on SiriusXM Ch. 389 (internet Ch. 989) and the TuneIn app.
Moses Wright (5) ranks third in the ACC in scoring, ninth in rebounding and third in field goal percentage. (photo by Danny Karnik)
THE TIPOFF
Going for four – A win over Wake Forest would be Tech's fourth in a row, matching its longest winning streak under head coach Josh Pastner. The Jackets finished last season with four straight wins and has won four in a row on three other occasions.
More four – A win over Wake Forest would also be Tech's fourth straight in the series. The Jackets have won nine of the last 12 meetings.
Making their points – Tech ranks third in the ACC in scoring average (81.38 points per game), an average bolstered by a 123-120, four-overtime loss to Georgia State in its season opener. However, the Jackets scored 77 in regulation of that game, and have scored more than 70 points in seven games this season, including 97 against Delaware State, a high for a regulation game under Pastner.
Balance – Four Tech starters are averaging in double figure points for the season, with Bubba Parham just under double digits at 9.9 ppg.
Top of the heap – The three highest scoring games by individuals in the ACC this season belong to Georgia Tech players – Moses Wright (31 points) vs. Georgia State and Jose Alvarado (29 points each vs. Georgia State and Delaware State).
Small ball – Tech moved 6-9 senior Moses Wright, who has played the "4" position most of his career, into the "5" spot and started 5-10 senior Bubba Parham against Kentucky. The re-alignment has worked as the Jackets have shot 49.2 percent from the floor, hit 8.2 three-point field goals per game (36.8 percent), turned the ball over just 59 times and forced 97 in its last six games. Tech also has assisted on 63.2 percent of its field goals in that stretch.
Size doesn't matter – Since going to its small starting lineup, Tech has seen only six of its shots blocked after having 13 swatted away in its first two games. At the time of Tech's meetings with them, Kentucky ranked No. 4, Nebraska No. 28, FSU No. 1 and North Carolina No. 8 in average height, according to KenPom.com. The Jackets rank No. 265.
Ball security – The Jackets rank second in the ACC and No. 37 nationally in assist/turnover ratio (1.39), and they rank fifth in the ACC and No. 48 nationally in turnover margin (plus-3.88). Only two ACC teams have turned the ball over fewer times per game than has Tech (12.0). Five of Tech's top seven scorers have positive assist/turnover ratios, while the other two, Moses Wright (13/13) and Michael Devoe (28/28), are even.
Minutemen – Tech has three of the top 12 players in the ACC in average minutes played (Jose Alvarado, Moses Wright, Michael Devoe), while Bubba Parham ranks inside the top 20.
Murder the Hornets – Tech and Wake Forest have one common opponent this season – Delaware State. The Yellow Jackets downed the Hornets, 97-69, on Dec. 20 at McCamish Pavilion, while the Demon Deacons opened their season with a 111-51 win Nov. 25 in Winston-Salem.
COVID update – Due to COVID-19, the NCAA pushed back the start of the 2020-21 season to Nov. 25, two weeks later than normal. Division I teams are allowed to play a maximum of 27 games. The ACC will play a 20-game schedule for the second straight year, and teams were allowed a maximum of seven non-conference games. Tech played six non-conference games, and had its first and only game to date cancelled Dec. 23 when its game at UAB was called off due to positive tests within the Blazers' program. The game will not be made up.
Dean x 7 – Tech placed seven members of its team on the fall semester Dean's List, a high for one semester for the program – seniors Jose Alvarado, Shaheed Medlock and Malachi Rice, and sophomores Niko Broadway, Rodney Howard, Jehloni James and Kyle Sturdivant.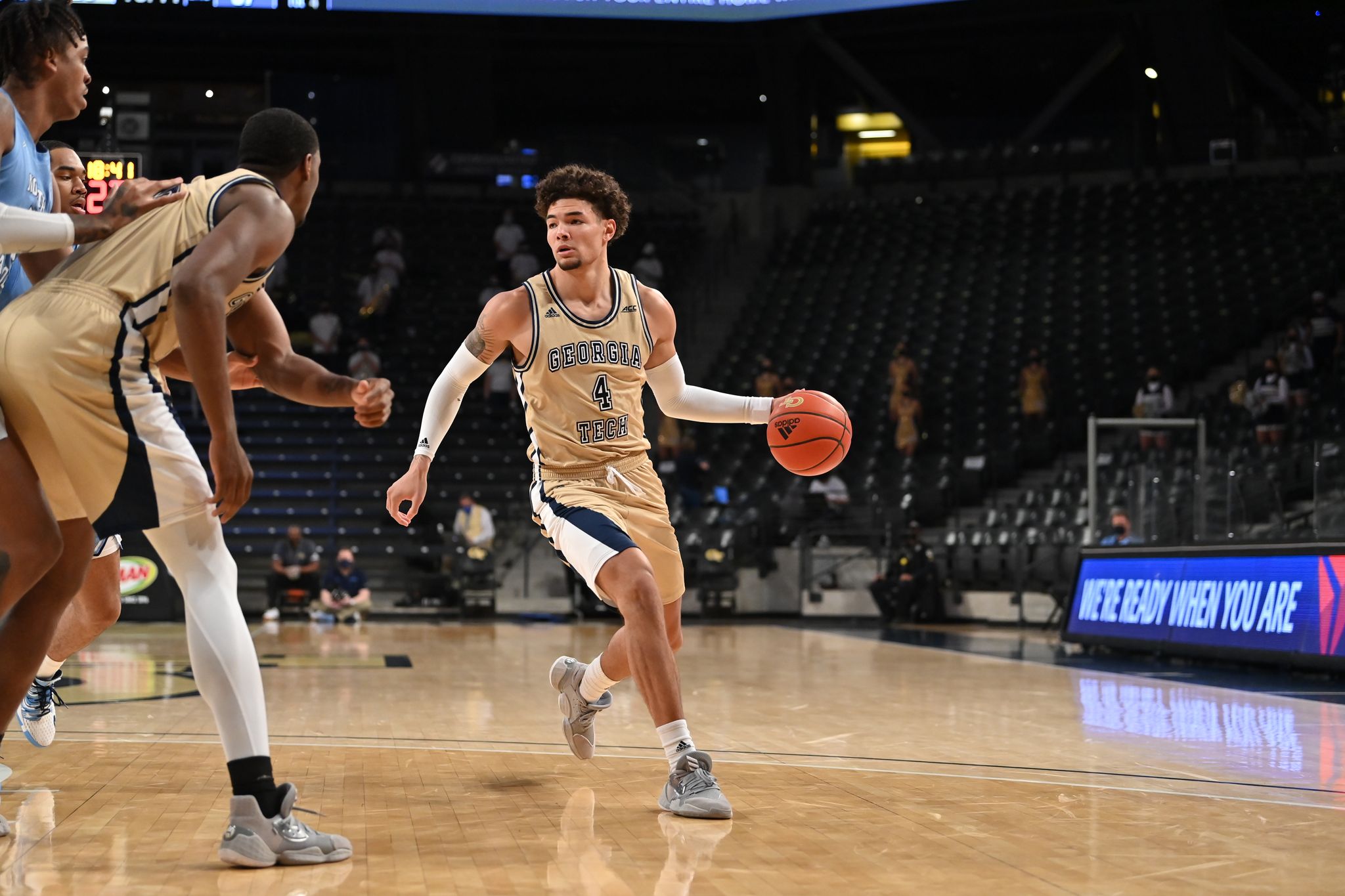 Jordan Usher (4) scored 14 points in Wednesday's 72-67 victory against North Carolina. (photo by Danny Karnik)
SERIES VS. WAKE FOREST
Georgia Tech has a 44-40 lead in the all-time series and a 43-38 lead in games played since it became a member of the ACC.
Tech has won nine of the last 12 meetings between the two teams, capturing the last three meetings in the series, including the teams' only regular-season game in 2019-20 by an 86-79 score in Winston-Salem.
Tech has won its last 13 games against Wake Forest at home, dating back to an 80-76 Demon Deacon win on Feb. 22, 2004 when both teams were ranked in the top 20. The Jackets won the last seven meetings in Alexander Memorial Coliseum, a 69-62 decision at Philips Arena during the 2011-12 season, and all five meetings so far at McCamish Pavilion.
Tech was 24-9 against Wake Forest in games played at Alexander Memorial Coliseum, and is 30-9 against the Demon Deacons in Atlanta.
Tech made a sweep of the season series in 2010-11, setting school records in each game for margin of victory in an ACC game (74-39 at home on Jan. 19) and for margin of victory in an ACC road game (80-54 on Mar. 3). The Jackets also swept the Demon Deacons in 2012-13.
The home team has won 38 of the last 50 regular-season games in the series, with Wake Forest winning four times in Atlanta during that span, and Tech winning eight times in Winston-Salem.
Tech is 41-29 against Wake Forest since 1985, including 12 straight victories from 1985-91.
Tech is 3-2 against Wake Forest under Josh Pastner. First-year Demon Deacons' coach Steve Forbes is 1-0 against the Jackets, having led his East Tennessee State team to a 69-68 victory over the Jackets in Atlanta during his first season with the Buccaneers on Nov. 15, 2015.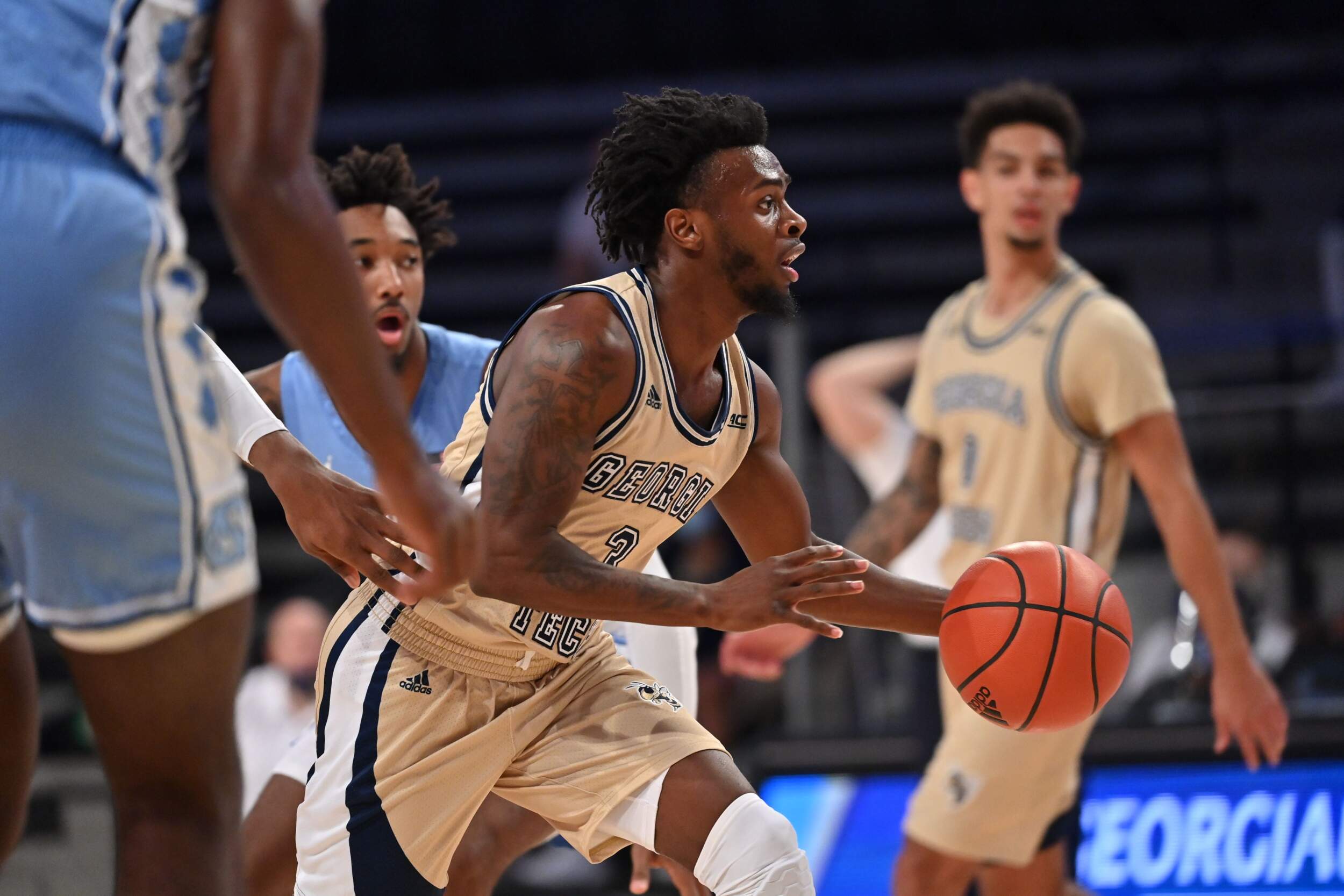 Bubba Parham (3) started Tech's rally from eight points down in the second half with a pair of three-point field goals. (photo by Danny Karnik)
Alexander-Tharpe Fund
The Alexander-Tharpe Fund is the fundraising arm of Georgia Tech athletics, providing scholarship, operations and facilities support for Georgia Tech's 400-plus student-athletes. Be a part of developing Georgia Tech's Everyday Champions and helping the Yellow Jackets compete for championships at the highest levels of college athletics by supporting the A-T Fund's Annual Athletic Scholarship Fund, which directly provides scholarships for Georgia Tech student-athletes, and Athletics Initiative 2020, Georgia Tech athletics' ongoing $125 million initiative to allow Tech to recruit the nation's most elite student-athletes, build a better student-athlete once they arrive on The Flats and, ultimately, win! To learn more about supporting the Yellow Jackets, visit atfund.org.   
ABOUT GEORGIA TECH MEN'S BASKETBALL
Georgia Tech's men's basketball team is in its fifth season under head coach Josh Pastner, having finished fifth in the ACC in 2019-20, the program's highest finish since 2005. Tech has been a member of the Atlantic Coast Conference since 1979, won three ACC Championships (1985, 1990, 1993), played in the NCAA Tournament 16 times and played in two Final Fours (1990, 2004). Connect with Georgia Tech Men's Basketball on social media by liking their Facebook Page, or following on Twitter (@GTMBB) and Instagram. For more information on Tech basketball, visit Ramblinwreck.com.