THE FLATS  –  Continuing a four-game stretch run that includes just one home game, Georgia Tech travels to Charlottesville, Va., Wednesday for a 7 p.m. Atlantic Coast Conference basketball game against No. 2 Virginia at John Paul Jones Arena.
Tech (12-16, 4-11 ACC), in its third season under head coach Josh Pastner, has lost eight of its last nine games after dropping an 80-65 contest Saturday at Miami. Tech's only victory since Jan. 22 came last Wednesday night in a 73-65 decision over Pittsburgh. The Yellow Jackets, 2-8 on the road this season with wins at Arkansas and Syracuse, sit alone in 12th place in the ACC standings, a half-game behind Boston College, whom Tech will host Sunday in its final home game.
Virginia (24-2, 12-2 ACC), in its 10th season under head coach Tony Bennett, has lost twice to Duke in an otherwise perfect season, and the Cavaliers have won four straight since their last defeat, including wins at Virginia Tech and Louisville last week. The Blue Devils are the only team to score more than 65 points in conference play against the Cavs, who lead the nation in scoring defense, three-point defense and fewest turnovers.
Wednesday's game will be broadcast live on ESPN2 and will be streamed live on the internet through the ESPN app, available through the ESPN app. Radio coverage is provided on the Georgia Tech IMG Sports Network, airing in Atlanta on 680 AM and 93.7 FM the Fan. The Tech broadcast is available on satellite radio (XM ch. 380, internet ch. 971).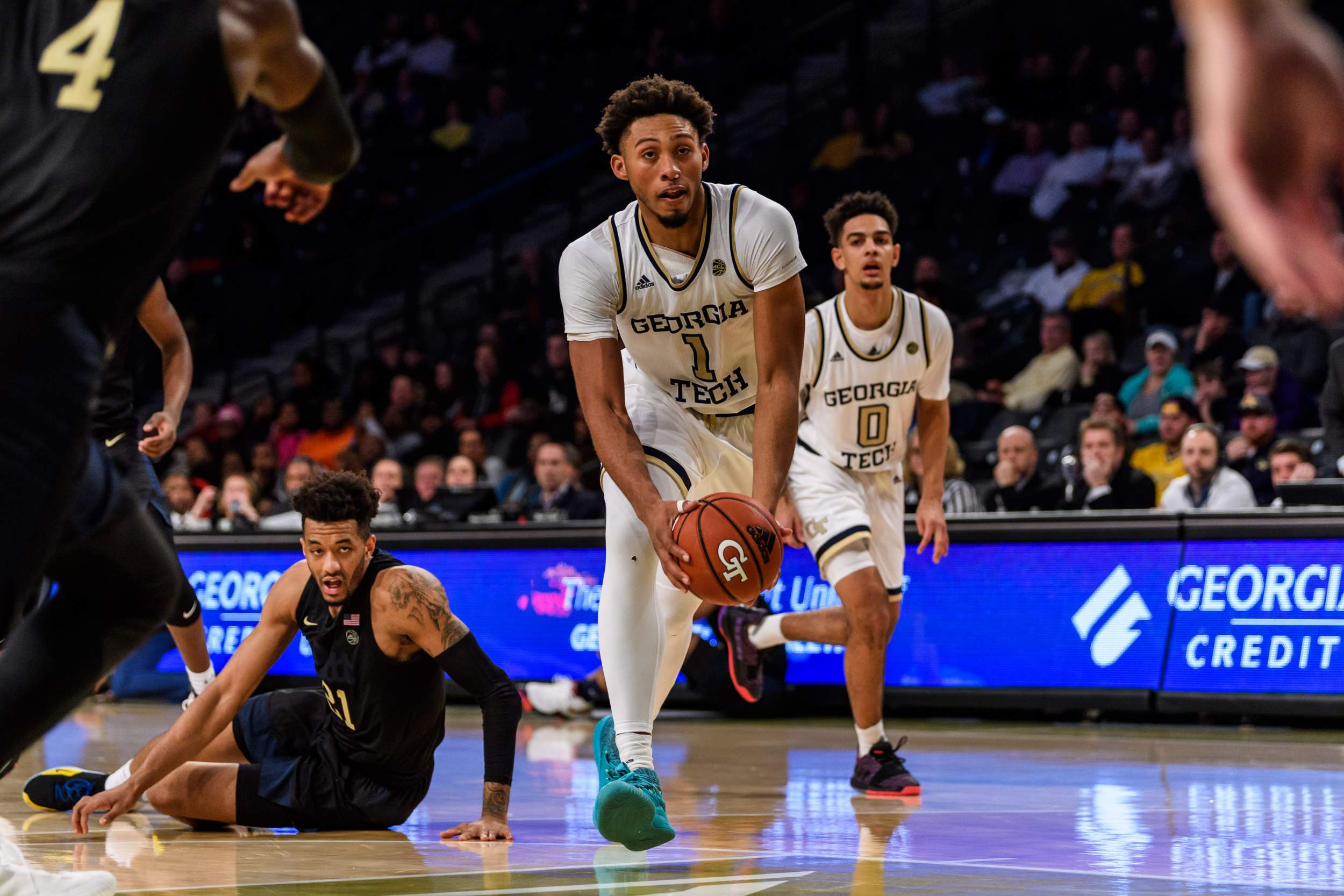 STARTING LINEUP
High altitude – At No. 2, Virginia matches the highest-ranked team Georgia Tech has faced this year (Duke was No. 2 when it played the Jackets on Jan. 26). The Cavaliers are the fifth top-10 team Tech has faced this season.
Tuesday's child – Only two games separate the bottom six teams in the ACC standings, with Boston College and Miami tied at 4-10, Tech at 4-11, Wake Forest at 3-11, Notre Dame at 3-12 and Pittsburgh at the bottom at 2-12. The Yellow Jackets own tiebreakers over Notre Dame, unless the Fighting Irish can get a victory at Louisville this weekend, Wake Forest and the Panthers, and can gain another with a victory Sunday over the Boston College.
Outta here – The Yellow Jackets are in the midst of closing out their schedule with three games out of four on the road (Miami, Virginia, NC State). Boston College is Tech's only remaining home game (March 3).
Stacked – Six ACC teams rank among the top 30 in KenPom.com's offensive efficiency rankings, and nine ACC teams rank among the top 30 in defensive efficiency. Four of those teams are ranked in the top 20 of both categories.
Outpost – In an attempt to invigorate its offense, Georgia Tech returned to a one-post starting alignment for its last four games, with James Banks III starting in the middle with four perimeter players. It has helped produce the Yellow Jackets' three highest point totals since Jan. 12 and three of its best shooting efforts since Jan. 22. Tech has averaged 62.7 points and hit on 37.7 percent of its three-point shots in its last three games, scoring 68 at Virginia Tech and 73 vs. Pittsburgh, compared to 53.9 points and 23.8 percent on threes in the previous eight games.
The Bank is open – It took 23 games at Georgia Tech for James Banks III to exceed his 46-game totals at Texas in every offensive category, as well as blocked shots and steals. Banks has six double-doubles this season for the Jackets, fifth most in the ACC.
Hola again – Jose Alvarado has scored 66 points in Tech's last three games (Florida State, Pittsburgh, Miami), including a career-high 29 against the Panthers last Wednesday. In those two games, he has hit 21-of-38 from the floor, 7-of-18 from three-point range, 17-of-21 from the free throw line. He also had 18 rebounds, 12 assists and six steals.
I'll be there for you – Jose Alvarado has played the full 40 minutes three times in Tech's last five games, including the last two against Pittsburgh and Miami. The sophomore played every second in four straight games last season, one of them an overtime game.
Sjo-time – Freshman forward Kristian Sjolund (pronounced SHO-lund) has scored 43 points and played 109 minutes in Tech's last five games. He played in just 13 of Tech's first 23 games, scoring a total of nine points in 62 minutes.
Crack that whip – Michael Devoe is 22-for-44 from three-point range in Tech's last 11 games. He had gone 12-for-43 in the first 17 games of the season.
Three's the charm – Tech has averaged 8.0 three-point field goals and connected on 35.4 percent of its attempts in its last five games. The Jackets had averaged just 3.0 threes and shot 20.5 percent in the six games before that.
Guard your yard – Georgia Tech ranks No. 7 in the ACC in scoring defense (68.5 ppg), No. 4 in field goal percentage defense (40.1 pct.) and No. 4 in three-point percentage defense (30.4 pct.) against conference opponents. The Jackets rank No. 5 in steals (7.0 pg) and No. 2 in blocked shots (5.5 pg).
Below average – Georgia Tech has faced three of the nation's top 10 teams in offensive efficiency as ranked by KenPom.com – Tennessee (2), Duke (3) and Virginia Tech (9) – and held them to an average of 61.3 points. Each posted their lowest efficiency rating of the season against the Jackets. North Carolina is No. 7, and the Jackets held the Tar Heels to their fourth-lowest rating of the season. Tech held Florida State (28th) to two of its three lowest efficiency ratings of the season.
Youts are served – Georgia Tech's seven freshmen and sophomores have played 64.1 percent of the minutes for Tech in ACC games.
Going deep – Georgia Tech has deployed 11 different starting lineups this season, and 11 Yellow Jackets have started at least one game. Eleven players have started three or more games, and 10 have started at least one ACC game.
Longer bench – Tech has utilized at least eight players in all of its ACC games to date. Tech's reserves have played 34.1 percent of available minutes, No. 82 in the nation according to KenPom.com (national average is 30.7 pct.).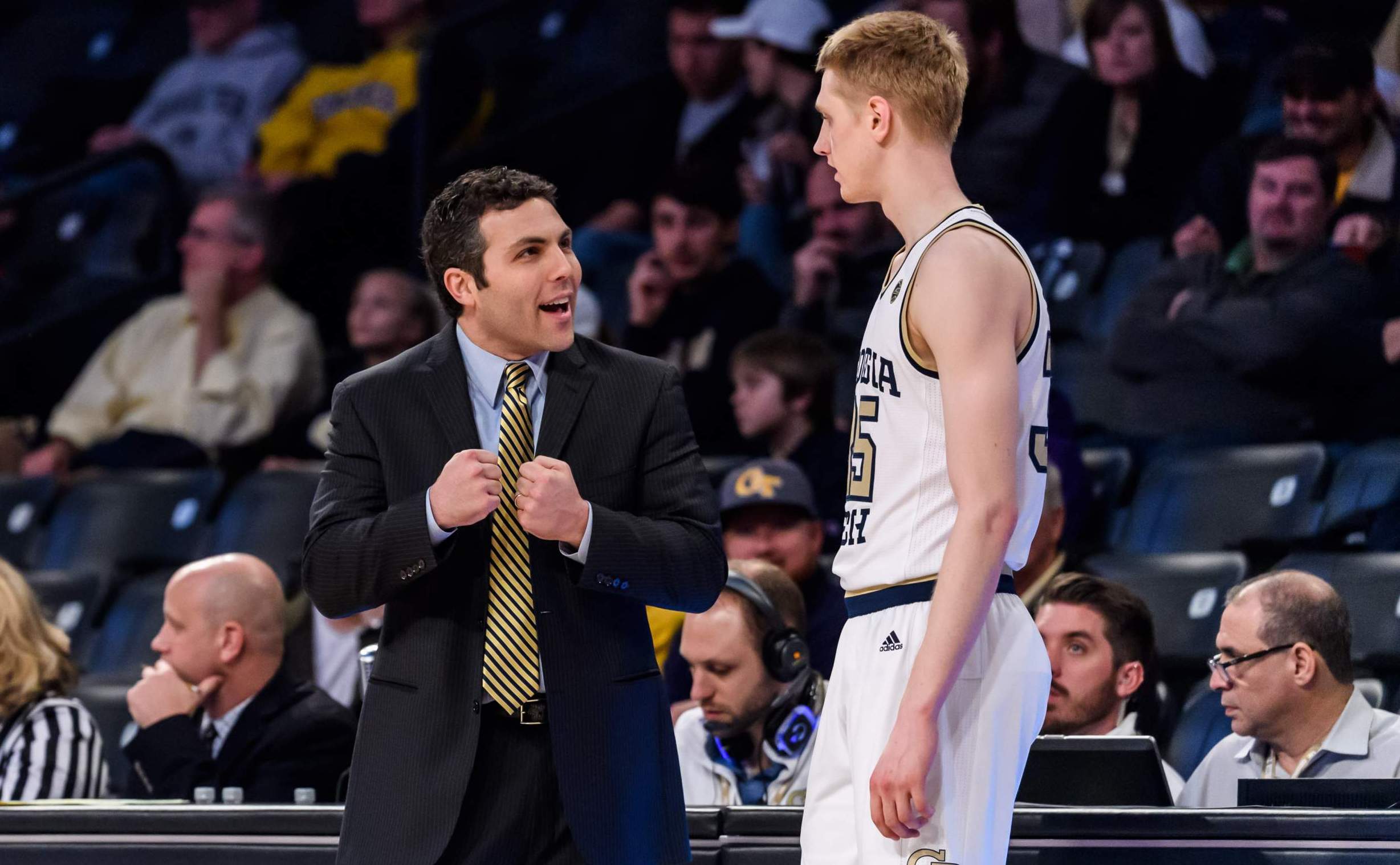 SERIES NOTES VS. VIRGINIA
Virginia has won 12 of the last 14 meetings to move ahead 41-40 in the all-time series, which dates back to 1947.
The Cavaliers have won the last four games in the series, including a 64-48 win in Atlanta and a 65-54 win in Charlottesville during the 2017-18 regular season.
Tech has four wins in its last 12 trips to Charlottesville, but is just 1-7 at John Paul Jones Arena and has lost on its last six trips to Charlottesville.
The Yellow Jackets were 10-16 against Virginia at University Hall, the Cavaliers' former homecourt, Tech's best winning percentage on any ACC foe's home court.
Tech is 2-2 against Virginia in McCamish Pavilion and was 21-8 against the Cavaliers in Alexander Memorial Coliseum. Overall, the Yellow Jackets are 24-13 on all home courts and 26-14 in games played in the city of Atlanta.
Since Tech joined the ACC, the Yellow Jackets are 38-40 against Virginia.
Tech was 11-8 against Virginia under Paul Hewitt, including wins in all three meetings in Hewitt's first season of 2000-01. Josh Pastner is 0-4 vs. Virginia (one loss at Memphis), and Tony Bennett is 11-2 vs. Tech.
Tech has averaged 53.5 points per game in 13 meetings against Bennett's Virginia teams, failing to reach 50 points in five of those games.
Tech and Virginia have played to overtime seven times since the 1983-84 season, including a 72-71 triple-overtime win for Tech in Atlanta on Jan. 23, 1984, and an 88-85 double-overtime triumph for Virginia in Charlottesville on Jan. 22, 1995.
In the ACC Tournament, Tech has won five of nine meetings, including a 70-61 Jacket victory in the 1990 final in Charlotte.
ABOUT GEORGIA TECH MEN'S BASKETBALL
Georgia Tech's men's basketball team is in its third year under head coach Josh Pastner. Tech has been a member of the Atlantic Coast Conference since 1979, won three ACC Championships (1985, 1990, 1993), played in the NCAA Tournament 16 times and played in two Final Fours (1990, 2004). Connect with Georgia Tech Men's Basketball on social media by liking their Facebook Page, or following on Twitter (@GTMBB) and Instagram.
For more information on Tech basketball, visit Ramblinwreck.com. Tickets for men's basketball can be purchased here.