THE FLATS  –  Embarking on a four-game stretch run that includes just one home game, Georgia Tech travels to Coral Gables, Fla., Saturday for a 2 p.m. Atlantic Coast Conference basketball game against Miami at the Watsco Center.
Tech (12-15, 4-10 ACC), in its third season under head coach Josh Pastner, snapped a seven-game losing streak Wednesday night with a 73-65 victory over Pittsburgh at McCamish Pavilion. The Yellow Jackets, 2-7 on the road this season with wins at Arkansas and Syracuse, sit alone in 11th place in the ACC standings, a half-game behind Boston College, whom Tech will host on March 3 in its only remaining home game.
Miami (11-14, 3-10 ACC ACC), in its eighth season under head coach Jim Larranaga, began conference play 1-8, but is 2-2 in its last four games, having beaten Notre Dame and Clemson while falling to No. 8 North Carolina in overtime on the road. The Hurricanes, in a three-way tie for 12th place with Notre Dame and Wake Forest, had a midweek bye following a 64-57 loss at Boston College last Sunday.
Saturday's game will be broadcast live on the ACC's Regional Sports Network, and will be streamed live on ACC Network Extra, available through the ESPN app. Radio coverage is provided on the Georgia Tech IMG Sports Network, airing in Atlanta on 680 AM and 93.7 FM the Fan. The Tech broadcast is available on satellite radio (XM ch. 384, internet ch. 975).
Michael Devoe has connected on 19 of 37 shots from three-point range in his last 10 games.
STARTING LINEUP
Close to You – Only two games separate the bottom six teams in the ACC standings, and Georgia Tech's final five games include three of those teams (Pittsburgh, Miami, Boston College), meaning the Jackets can gain a tiebreaker advantage for the ACC Tournament with victories. Tech defeated Pittsburgh (2-12) Wednesday night, and have yet to play Miami I3-10) and Boston College (4-9). The Jackets defeated Wake Forest (3-10) in their ACC opener and split with Notre Dame (also 3-10). Tech also has Virginia and NC State upcoming, and a victory against either would also help in tiebreaker scenarios.
Outta here – The Yellow Jackets close out their schedule with three games out of four on the road (Miami, Virginia, NC State). Boston College is Tech's only remaining home game (March 3).
Buzz saw – Georgia Tech's recent seven-game losing streak included five opponents ranked in the AP top 25 and five that ranked in the top 20 nationally in defensive efficiency according to KenPom.com.
Stacked – Eight ACC teams rank among the top 30 in KenPom.com's offensive efficiency rankings, and six ACC teams rank among the top 30 in defensive efficiency. Four of those teams are ranked in the top 20 of both categories.
Outpost – In an attempt to invigorate its offense, Georgia Tech returned to a one-post starting alignment for its last three games, with James Banks III starting in the middle with four perimeter players. It has helped produce the Yellow Jackets' two highest point totals since Jan. 12 and two of its best shooting efforts since Jan. 22. Tech has averaged 62.7 points and hit on 37.7 percent of its three-point shots in its last three games, scoring 68 at Virginia Tech and 73 vs. Pittsburgh, compared to 53.9 points and 23.8 percent on threes in the previous eight games.
The Bank is open – In 26 games at Georgia Tech, James Banks III has exceeded his 46-game totals at Texas in every offensive category, as well as blocked shots and steals. Banks has six double-doubles this season for the Jackets, fourth most in the ACC.
Hola again – Jose Alvarado has scored 46 points in Tech's last two games (Florida State and Pittsburgh), including a career-high 29 against the Panthers Wednesday night. In those two games, he has hit 15-of-24 from the floor, 5-of-12 from three-point range, 11-of-12 from the free throw line. He also had 11 rebounds, eight assists and four steals.
Sjo-time – Freshman forward Kristian Sjolund (pronounced SHO-lund) has scored 39 points and played 87 minutes in Tech's last four games. He played in just 13 of Tech's first 23 games, scoring a total of nine points in 62 minutes.
Crack that whip – Michael Devoe is 19-for-37 from three-point range in Tech's last 10 games. He had gone 12-for-43 in the first 17 games of the season.
Three's the charm – Tech has averaged 7.4 three-point field goals and connected on 35.6 percent of its attempts in its last five games, and is 26-of-69 (37.7 pct.) in its last three games.
Guard your yard – Georgia Tech ranks No. 7 in the ACC in scoring defense (67.7 ppg), No. 3 in field goal percentage defense (39.7 pct.) and No. 2 in three-point percentage defense (30 pct.) against conference opponents. The Jackets rank No. 5 in steals (7.0 pg) and No. 2 in blocked shots (5.5 pg).
Below average – Georgia Tech has faced three of the nation's top 10 teams in offensive efficiency as ranked by KenPom.com – Tennessee (2), Duke (3) and Virginia Tech (9) – and held them to an average of 61.3 points. Each posted their lowest efficiency rating of the season against the Jackets. North Carolina is No. 7, and the Jackets held the Tar Heels to their fourth-lowest rating of the season. Tech held Florida State (28th) to two of its three lowest efficiency ratings of the season.
Youts are served – Georgia Tech's seven freshmen and sophomores have played 66.5 percent of the minutes for Tech in ACC games.
Going deep – Georgia Tech has deployed 11 different starting lineups this season, and 11 Yellow Jackets have started at least one game. Nine have started five or more games, and 10 have started at least one ACC game.
Longer bench – Tech has utilized at least eight players in all of its ACC games to date. Tech's reserves have played 34.2 percent of available minutes, No. 82 in the nation according to KenPom.com (national average is 30.7 pct.). Tech's bench is outscoring that of its opponents 20.8 to 17.0 per game.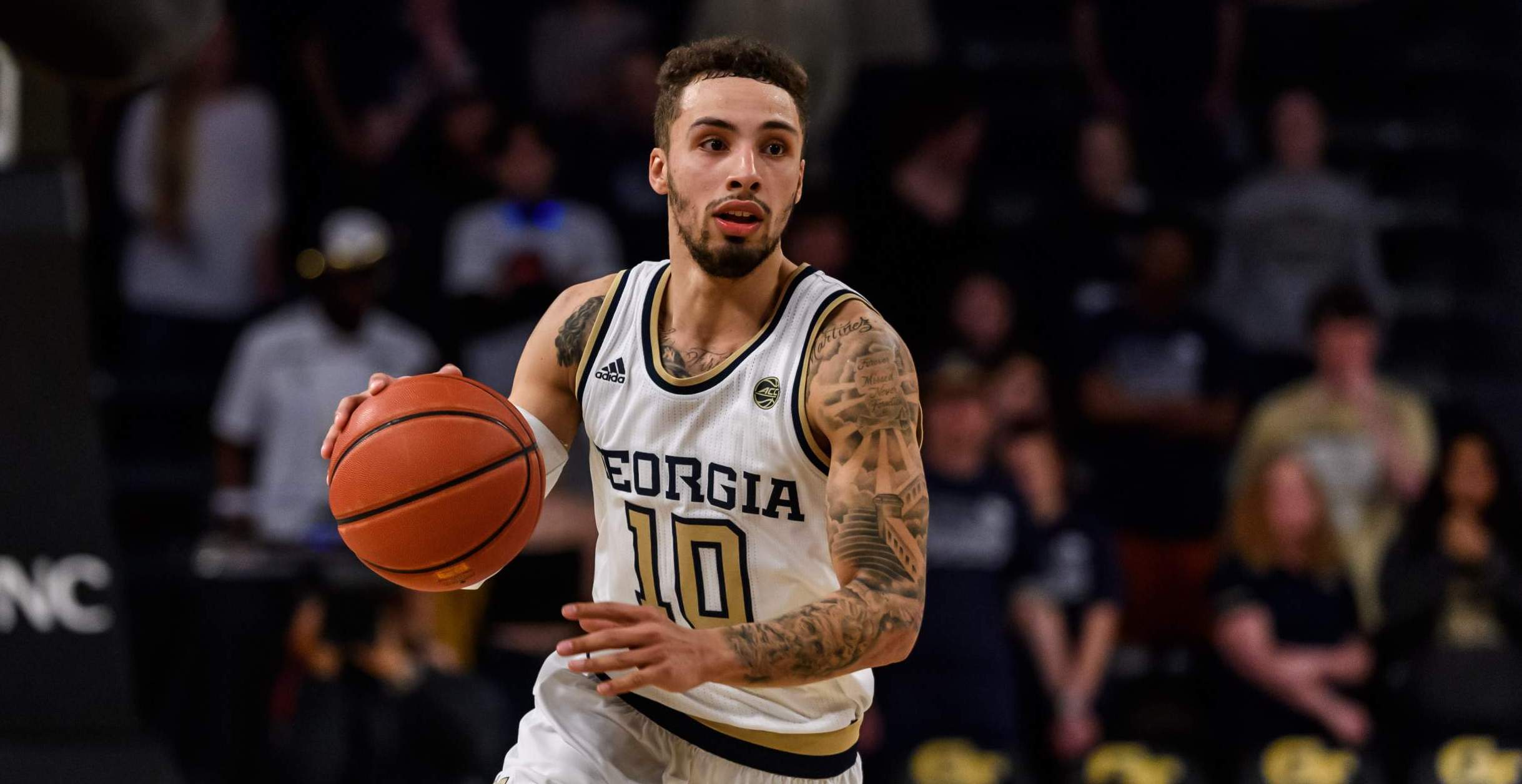 Jose Alvarado has scored 46 points in Tech's last two games (Florida State and Pittsburgh), including a career-high 29 against the Panthers Wednesday night.
SERIES VS. MIAMI
Tech snapped a two-game losing streak in the series with a 64-54 win in Atlanta on Jan. 3, 2018, the teams' only meeting. Still, Georgia Tech has dropped 12 of the last 17 after winning the first two meetings with Miami after the Hurricanes became members of the ACC.
Miami has an 13-9 lead in the all-time series which dates back to 1953, and is 13-7 against the Yellow Jackets since joining the ACC.
Tech has won two of its last three games against Miami in Coral Gables, including a 71-69 victory over 6th-ranked Miami on March 6, 2013. It was Tech's first win at the Watsco Center since Feb. 26, 2005. The Jackets also captured a 70-50 win against No. 23 Miami on Jan. 28, 2015.
Miami had won five straight meetings in Atlanta and was 3-0 at McCamish Pavilion before Tech's 2018 win. Miami also won the only regular-season meeting between the two teams in 2011-12, as well as their ACC Tournament meeting, both games at Philips Arena.
Miami was the opponent for Tech in its last game at Alexander Memorial Coliseum, a game the Yellow Jackets won 66-57 to close out the 2010-11 regular season. Tech won four of six games against the Hurricanes in the building.
Fourteen of the 22 meetings have been decided by 10 points or less.
Tech is 3-6 against Miami teams coached by Jim Larranaga, but 4-6 against Larranaga, including a 70-62 win over his George Mason team o Nov. 20, 2009 in San Juan, Puerto Rico.
Tech coach Josh Pastner is 3-1 against Miami (1-1 while at Tech), including a pair of victories during his term as head coach at Memphis.
The last meeting between the two schools prior to Miami's joining the ACC occurred in December of 1997 as part of the Orange Bowl Classic doubleheader at Miami Arena, the Hurricanes' home court until the team moved into the on-campus Convocation Center. The Yellow Jackets, led that year by senior forward Matt Harpring, won that game, 69-61, over a Hurricanes' team coached by Leonard Hamilton.
Tech played Miami twice under former head coach Whack Hyder, losing the first-ever meeting in the series by 22 points in 1953, then taking a six-point homecourt victory in 1967. That was the only pre-ACC visit by the Hurricanes to Alexander Memorial Coliseum, and the 90-84 Tech win has been the highest scoring game in the short series.
ABOUT GEORGIA TECH MEN'S BASKETBALL
Georgia Tech's men's basketball team is in its third year under head coach Josh Pastner. Tech has been a member of the Atlantic Coast Conference since 1979, won three ACC Championships (1985, 1990, 1993), played in the NCAA Tournament 16 times and played in two Final Fours (1990, 2004). Connect with Georgia Tech Men's Basketball on social media by liking their Facebook Page, or following on Twitter (@GTMBB) and Instagram.
For more information on Tech basketball, visit Ramblinwreck.com. Tickets for men's basketball can be purchased here.