THE FLATS – Georgia Tech athletics has promoted four staff members to the title of assistant athletics director, director of athletics Todd Stansbury announced on Tuesday.
Earning promotions are Selinda Biggers (assistant A.D./business operations), Anthony Bridges (assistant A.D./information technology), Mike Castle (assistant A.D./ticket sales and operations) and Leah Thomas (assistant A.D./student-athlete development).
"It's my pleasure to announce that Selinda, Anthony, Mike and Leah have received promotions to assistant athletics director," Stansbury said. "All four are hard-working, talented and very deserving of these promotions. We appreciate all that they do behind the scenes to support our vision of building Everyday Champions that change the world."
Biggers has been a member of the Georgia Tech athletics staff for 21 years, including the past 11 as director of accounting. In that role, she has managed the day-to-day operations of Georgia Tech athletics' business office, including all tax and audit requirements. A corporate accountant with specialties in tax and software, Biggers has more than 25 years of accounting experience. She began her career as an assistant director of accounting in the Georgia Tech athletics department. She served in that role for 10 years before leaving to become a general ledger conversion specialist with Ceridian, Inc. She returned to Georgia Tech in 2007 to manage the athletics business office.
An Atlanta native and former student athletic trainer, Biggers holds a bachelor's degrees from East Tennessee State University and Georgia State University.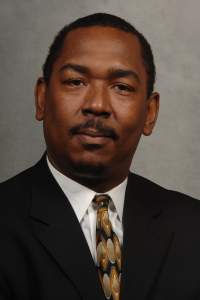 Bridges has been at Georgia Tech for 28 years and a member of the athletics department staff for 22. He came to Tech in 1990, working in IT for the Georgia Tech Foundation. He joined the athletics department as director of IT in 1996. He boasts 35 years of experience in IT, including seven years with Electronic Data Systems and Alcan Aluminum Company.
Also an Atlanta native, Bridges is a 1983 graduate of West Georgia College and a 1985 graduate of the Control Data Institute.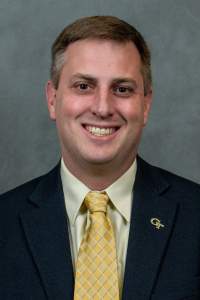 Castle is in his third year at Georgia Tech. He came to The Flats in August 2016 as director of ticket sales and operations after five years at Old Dominion, where he served as assistant A.D./ticketing. In his role at ODU, he oversaw operations for 34-straight ODU football sellouts, directed special events for the on-campus Ted Constant Convocation Center and served as regional director of ticketing for Spectra Venue Management, overseeing ticket operations for eight venues across the East Coast. Prior to his five-year stint at ODU, he spent seven years in as ticket sales and operations manager for the Atlanta Braves' triple-A club, first in Richmond, Va. (2004-08), then in Gwinnett County (2009-11). He played a major role in the successful sales launch of the then-Gwinnett Braves and the opening of Coolray Field in Lawrenceville. His professional experience also includes a one-year stint in community relations with Major League Baseball's Tampa Bay Rays in 2003.
Born in Sliver Spring, Md. and raised in Williamsburg, Va., Castle graduated from the College of William & Mary with a bachelor's degree in business administration in 2003.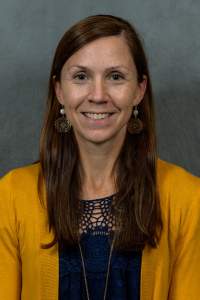 Thomas has been a member of the Georgia Tech athletics staff since 2003. She came to The Flats as director of nutrition and, in 2008, was also named director of Tech's renowned Total Person Program. In her role as director of nutrition, she conducts nutritional counseling and develops meal plans to promote optimal health and performance for Georgia Tech student-athletes. As supervisor of the Total Person Program, she also oversees all programming and training associated with Georgia Tech's Student-Athlete Advisory Board (SAAB), career development and placement, personal health and well-being and community outreach. She is a board-certified specialist in sports dietetics by the American Dietetic Association and is the Atlantic Coast Conference's representative to the Collegiate and Professional Dietitians Association (CPSDA).
She holds a bachelor's degree in nutrition from the University of Tennessee at Chattanooga (1999), where she was a top cross country and track performer, and a master's in exercise science from Georgia State University (2003). The Oak Ridge, Tenn. native qualified for the 2004 U.S. Olympic marathon trials and remains active in running as a member of the Atlanta Track Club.
For the latest information on the Georgia Tech Yellow Jackets, follow us on Twitter (@GTAthletics), Facebook, Instagram or visit us at www.ramblinwreck.com.