Alade Aminu
The only Georgia Tech player to participate in two Olympic games in basketball, he competed for Nigeria in 2012 in London and 2016 in Rio de Janeiro.

Kenny Anderson
Played on bronze medal-winning United States team at the 1990 World Championships

Chris Bosh
Became only the second Tech alumnus to make the U.S. Olympic team in the 2008 games in Beijing, China, which won the gold medal. They were known as the "Redeem Team" after the U.S. won the bronze medal in 2004 in Athens.
Helped U.S. win the bronze medal at the 2006 FIBA World Championships in Japan.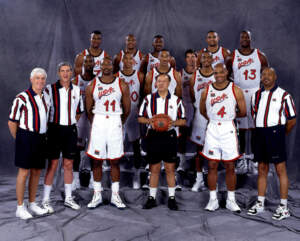 Bobby Cremins
Assistant Coach for the 1996 U.S. Olympic Team–Dream Team III–which captured the gold medal at the Centennial Olympic Games in Atlanta. Chosen by head coach Lenny Wilkens along with Clem Haskins of Minnesota and Jerry Sloan of the Utah Jazz
Assisted Arizona's Lute Olsen in coaching the U.S. team to a gold medal at the 1986 World Championships and Goodwill Games in Madrid, Spain
In 1989, coached a U.S. squad to qualification for the 1990 World Championships

Dion Glover
Helped U.S. win the gold medal at the  1998 Goodwill Games in New York, N.Y.

Tom Hammonds
Played for gold medal-winning U.S. squad in the 1986 World Basketball Championships in Madrid, Spain
Attended 1988 Olympic Trials
Stephon Marbury
Helped U.S. win the bronze medal at the 2004 Olympic Games in Athens, Greece
Mark Price
Helped U.S. win a gold medal at the 1983 Pan Am Games in Caracas, Venezuela
Also played on gold medal-winning team at the 1984 World Championships
Invited to 1984 Olympic Trials
As a pro, played for Dream Team II, which won a gold medal at the 1994 World Championships in Toronto

Pete Silas
Played for gold medal-winning U.S. squad in the 1955 Pan Am Games in Mexico City, Mexico
USA National Team – Olympics
1996 – Bobby Cremins/assistant coach (gold medal)
2004 – Stephon Marbury (bronze medal)
2008 – Chris Bosh (gold medal)
USA National Team – World Championships
1986 – Tom Hammonds (gold medal)
1986 – Bobby Cremins/assistant coach (gold medal)
1990 – Kenny Anderson (bronze medal)
1994 – Mark Price (gold medal)
2006 – Chris Bosh (bronze medal)
Additional USA Team History
Chris Bosh – 2006-08 Select National Team Program, 2010-12 Men's National Team
Robert Carter, Jr. – 2013 U19 Training Camp
Jason Collier – 1996 Nike Hoop Summit
Bobby Cremins (assistant coach) – 1986 Goodwill Games (gold medal), 1989 World Championships Qualifying Team
Derrick Favors – 2013 Men's National Team Mini-Camp
Marcus Georges-Hunt – 2013 U19 Training Camp
Dion Glover – 1997 Nike Hoop Summit, 1998 Goodwill Games (gold medal)
Tom Hammonds – 1988 Olympic Trials
Michael Maddox – 1995 U19 Team
Stephon Marbury – 1995 Nike Hoop Summit, 1995 USA U19 Team
Craig Neal – 1993 FIBA Americas Qualifying Team
Josh Okogie – 2017 U19 Team
Mark Price – 1983 Pan American Games Team (gold medal)
Pete Silas – 1955 Pan American Games Team (gold medal)
Thaddeus Young – 2006 Nike Hoop Summit, 2009 Men's National Team Mini-Camp, 2019 Men's National Team training camp
Other Nations
Alade Aminu – Nigerian team member in 2012 and 2016 Olympic Games
Josh Okogie – Nigerian team member in 2019 FIBA World Championships