Final Box Score (pdf) | Full game book/play-by-play (pdf) | Postgame Quotes | Multimedia | Photo Gallery | Postgame Notes
THE FLATS – Arkansas' Mason Jones banked in a 30-foot three-pointer with 0.1 second remaining in overtime to hand Georgia Tech men's basketball a heart-breaking 62-61 loss on Monday night at McCamish Pavilion.
Both team were scoreless through the first 4:39 of overtime before Georgia Tech's James Banks hit a turnaround jumper with 21 seconds left on the clock to give the Yellow Jackets a 61-59 lead, their first advantage since they led 14-13 less than midway through the first half. The Jackets played stout defense on Arkansas' ensuing possession, forcing Jones to fire a shot from near the edge of the coach's box, just steps from the Razorbacks' bench. The shot hit the backboard and ricocheted cleanly through the net for the game-winning points.
Tech trailed 57-50 with 5:57 to go in regulation following a controversial sequence that led to a five-point trip down the floor for the Razorbacks. However, the Jackets rallied to score nine of the final 11 points in regulation to force overtime.
Banks led Georgia Tech with 20 points and a game-high 14 rebounds. Playing without starting point guard Jose Alvarado, the Yellow Jackets committed 24 turnovers, which led to Arkansas outscoring the Jackets, 18-11, off miscues.
Jones led all scorers with 24 points on 7-of-12 shooting from the field.
Tech returns to action Sunday, Dec. 1, when it hosts Bethune-Cookman. Tipoff is at 6 p.m. at McCamish Pavilion, and the game will be televised live on the ACC's Regional Sports Networks.
James Banks led Georgia Tech with 20 points and 13 rebounds on Monday, the ninth double-double of his career. (photo by Danny Karnik)
Post-Game Notes
TEAM NOTES
Georgia Tech has played two overtime games in four this season. The Yellow Jackets won at NC State, 82-81, in game 1. Tech's last overtime game at home was last March 3, an 81-78 victory over Boston College. The Jackets are 64-60 all-time in overtime games, 3-2 under Josh Pastner.
Tech, the nation's leader in blocked shots with 30 in three games (10.0 per game) coming in, blocked only one Arkansas shot, that by NCAA leader James Banks III. It was the fewest blocks for the Jackets since they had one vs. Tennessee on Dec. 3, 2018.
Tech outrebounded its opponent for the first time this season, 47-30, and limited Arkansas to just three offensive rebounds and no second-chance points. Tech is one of the nation's leaders in defensive rebound average at 35 per game, and had 36 against the Razorbacks.
Tech has held three of its four opponents this season under 40 percent from the floor (Arkansas shot 37.3 pct.) and has yielded 34.2 percent for the season, No 2 in the ACC and No. 4 in the nation.
Tech's schedule includes six power conference teams in its first eight games, including road games at NC State and Georgia and a home game against Arkansas among the first four. After hosting Bethune-Cookman Sunday, the Jackets will face Nebraska (Dec. 4), Syracuse (Dec. 7) and Kentucky (Dec. 14).
Tech hit just 2-of-11 three-point field goals, a season low in percentage and number of three-pointers made.
Tech's 24 turnovers were a season high and the team's most since committing 24 against Florida State on Feb. 1, 2012.
Tech's 71.3 points per game this season is more than any Yellow Jacket team has been able to sustain over a full season since 2015-16 (73.2). That is the only time the Jackets have finished a season at 70 points or more per game in the last nine seasons.
PASTNER'S KEY METRICS
Assists to made field goals: Tech has assisted on 52 of 101 field goals (51.5 percent) this season. The Jackets had just six on 22 made field goals against Arkansas, and have 17 on 51 field goals in the last two games. Tech's nightly goal is 60 percent.
Free throws made to opponents' attempts: Tech went 15-of-22 from the free throw line against Arkansas, while the Razorbacks were 11-of-16, not accomplishing its nightly mission of making more free throws than the opponent attempts. The Jackets are 40-17 under Josh Pastner when attempting more free throws than the opponent.
Turnovers: Tech committed 24 in the game to Arkansas' 14. The Jackets have averaged 18.3 turnovers in four games, forcing 13.5. Target each night is to commit 11 or fewer, which Tech met only three times last season (all in the last four games). More telling for Tech under Josh Pastner is that when Tech has committed fewer turnovers than its opponent, it is 22-15. When it has committed more, it is 25-31.
Guard rebounding: Tech's players outside of Banks, Cole and Wright collected 15 of the Jackets' 36 defensive rebounds, including six by Khalid Moore.
INDIVIDUAL NOTES
Michael Devoe came into the game as the ACC's leading scorer at 26.0 points per game, but was held to just 12 against Arkansas and fouled out.
The ACC's top three-point shooter coming in (11-of-15), Devoe missed his only two attempts against the Razorbacks. The sophomore went 4-for-16 from the floor overall, after hitting 59.1 percent in the first three games.
James Banks III posted his ninth double-double in a Tech uniform and his second this season – he also had 20 points and 13 boards at NC State. He went 6-for-10 from the floor and 8-for-10 from the free throw line
Banks III still leads the ACC in blocked shots with 4.5 per game (18 in four games). He had six at Georgia, six against Elon and five at NC State.
Bubba Parham has reached double figures in two straight games with 10 points each at Georgia and against Arkansas. He has hit 2-of-4 from three-point range in each of the last two games.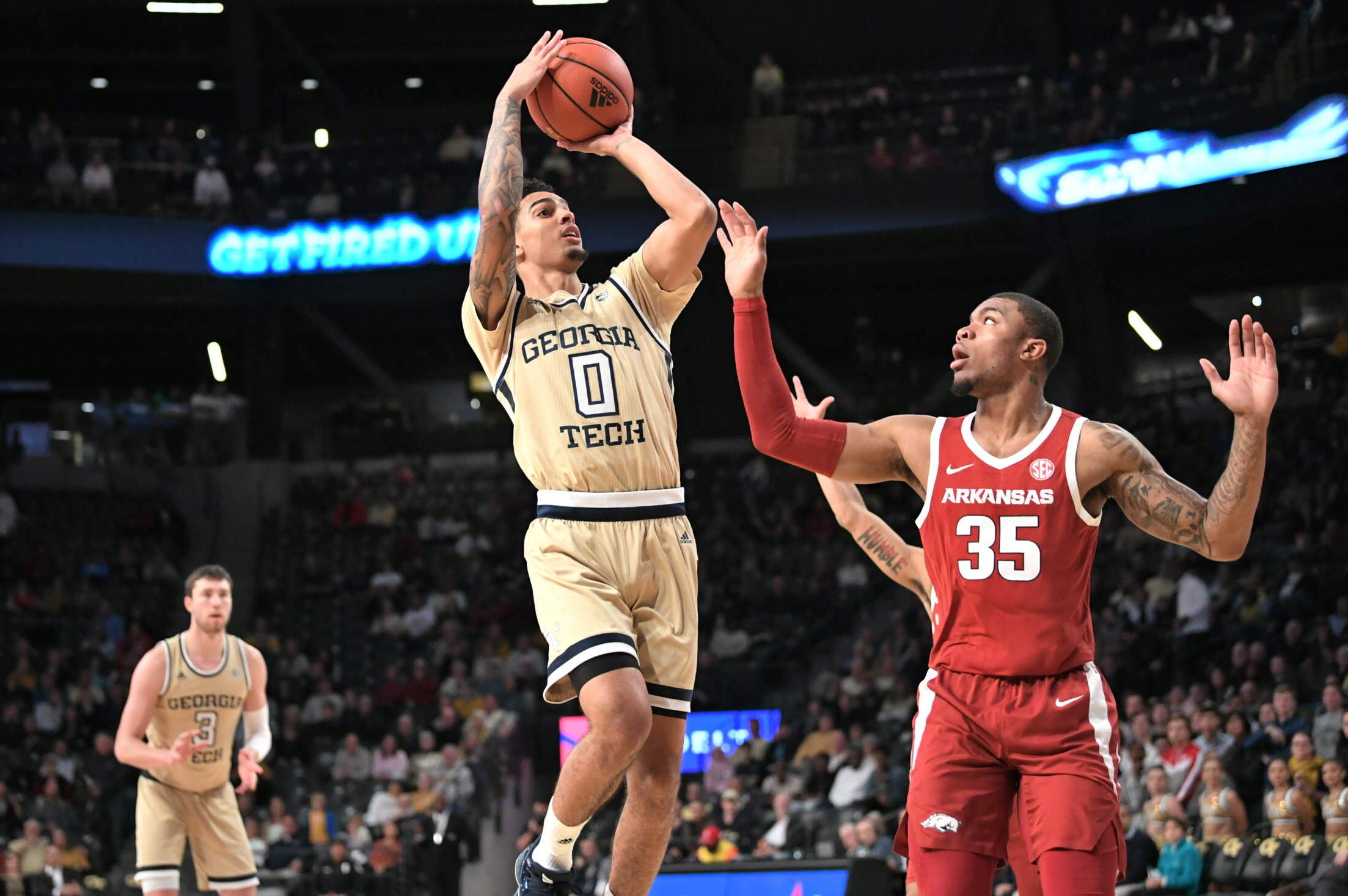 Michael Devoe (0) scored 12 points and Evan Cole (3) came off the bench to chip in eight points and eight rebounds against Arkansas. (photo by Danny Karnik)