THE FLATS – Kierra Fletcher and Nerea Hermosa scored 15 points apiece as Georgia Tech women's basketball defeated Miami, 67-56, in a Tuesday afternoon matchup at McCamish Pavilion.
The Yellow Jackets (12-5, 10-4 ACC) used a strong third quarter, opening with a 17-2 run during the first five minutes, to pull away from the Hurricanes (8-10, 5-10 ACC). Tech limited Miami on the scoreboard in the stanza as the Hurricanes shot just 28.6 percent (4-for-14) from the floor in the period. For the game, Tech outscored Miami in the paint, 36-26, and used the inside well in the third quarter as 16 of the Jackets 21 points came inside. After leading 27-23 at the intermission, Lorela Cubaj overcame first half foul trouble and scored all 14 of her points in the second half.
Tech led by as many as 16 in the third period before Miami applied defensive pressure in the fourth and trimmed the margin to seven in the final minute to bring the score to 63-56. The Jackets finished the game with a pair of Cubaj free throws and a Hermosa layup to seal the victory.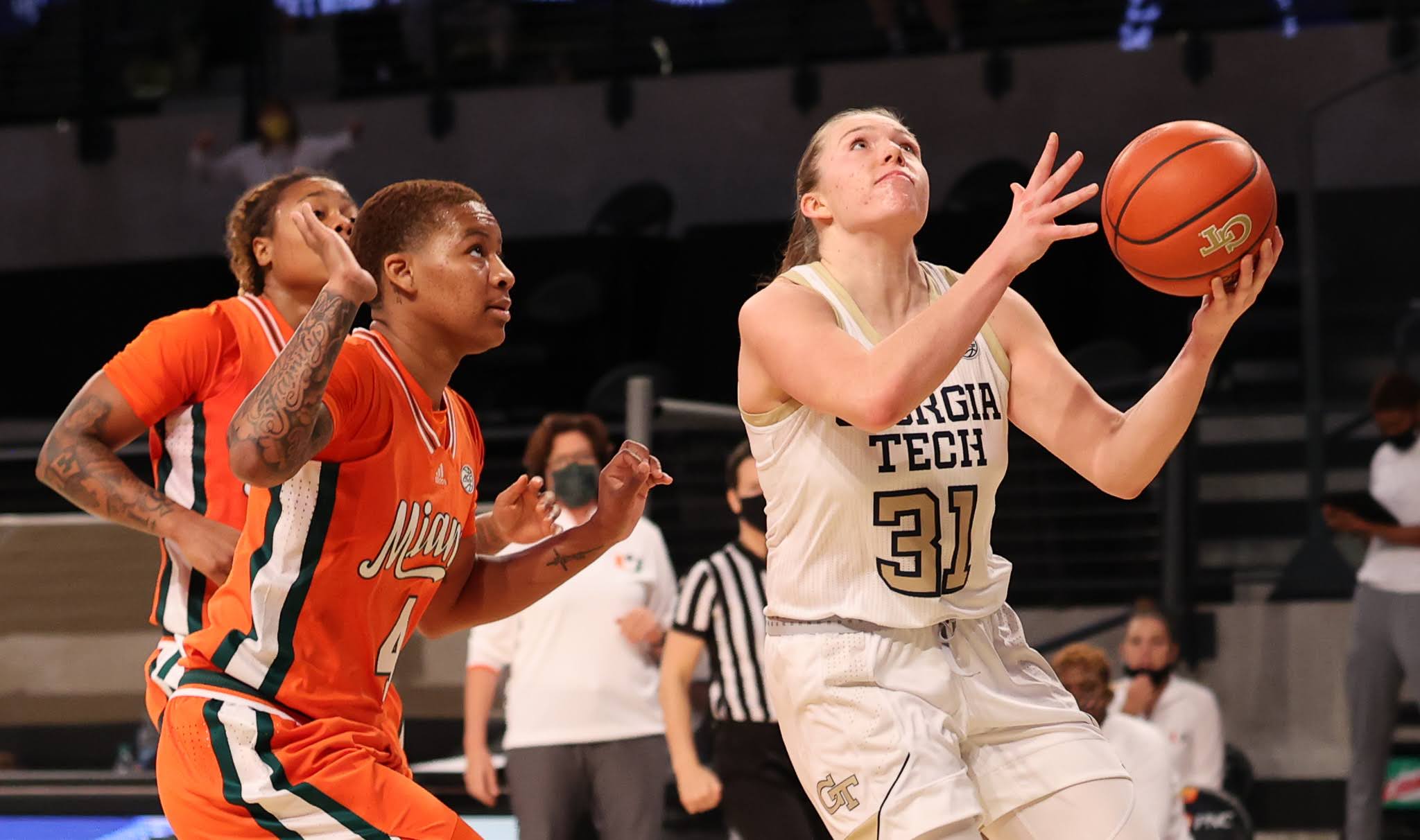 Hermosa made 7-of-9 shots from the floor and grabbed seven rebounds, while Fletcher was 6-of-12 from the floor with five rebounds and three assists. Cubaj finished the game with 14 points and seven rebounds.
The Jackets outrebounded Miami 42-26, while also posting a 43.5 percent (27-for-62) showing from the field. On the defensive end of things, Tech collected seven steals, with Lotta-Maj Lahtinen snagging three. Lahtinen also became the first Yellow Jacket since 2015 to record 10-plus assists in a game, as she dished out a game-high 10 assists to set a career-high.
Tech returns to the court on Thursday, Feb. 18, when the Jackets head to Tallahassee to take on Florida State. Tip-off is slated for 6 p.m. and will be broadcast on the ACC Network.