Men's 8k Results | Women's 6k Results
BLACKSBURG, Va. – Nicole Fegans earned all-ACC honors for Georgia Tech at the conference championships on Friday, while the men's and women's teams turned in mixed results, finishing ninth and 10th, respectively.
Fegans, who finished 20th overall with a 6k time of 21:20.8, led the way for the women. Braeden Collins was the men's top finisher for the second straight year at the conference championships, finishing 33rd overall with an 8k time of 25:13.6.
"It was a mixed day for the teams today," said head coach Alan Drosky. "Both competed hard, but had different outcomes. No question though, the highlight of the day was Nicole earning all-ACC honors. That is a huge achievement."
The men finished ninth, up two spots from their 11th place finish at least season's conference championship, with 255 points and an average time of 25:32.98. Avery Bartlett finished second on the team (41st overall) with a time of 25:18.5, while Matt McBrien ran a personal-best 8k time of 25:23.6, placing 47th overall.
"For the men, it was a step forward, a good improvement from last year," Drosky said. "They were aggressive early, put themselves in good position, and battled hard to maintain throughout."
The women finished 10th with 238 points and an average time of 22:02.34. Mary Kathryn Knott finished behind Fegans (31st overall) with a time of 21:39.6, followed by Liz Galarza (56th overall) with a time of 22:10.5.
"It was a disappointing day for the women," Drosky said. "We are a good team that had a bad day. In the conference meet, the margin of difference between teams is very small. We gave up a lot of ground before the first mile and just never could make it up."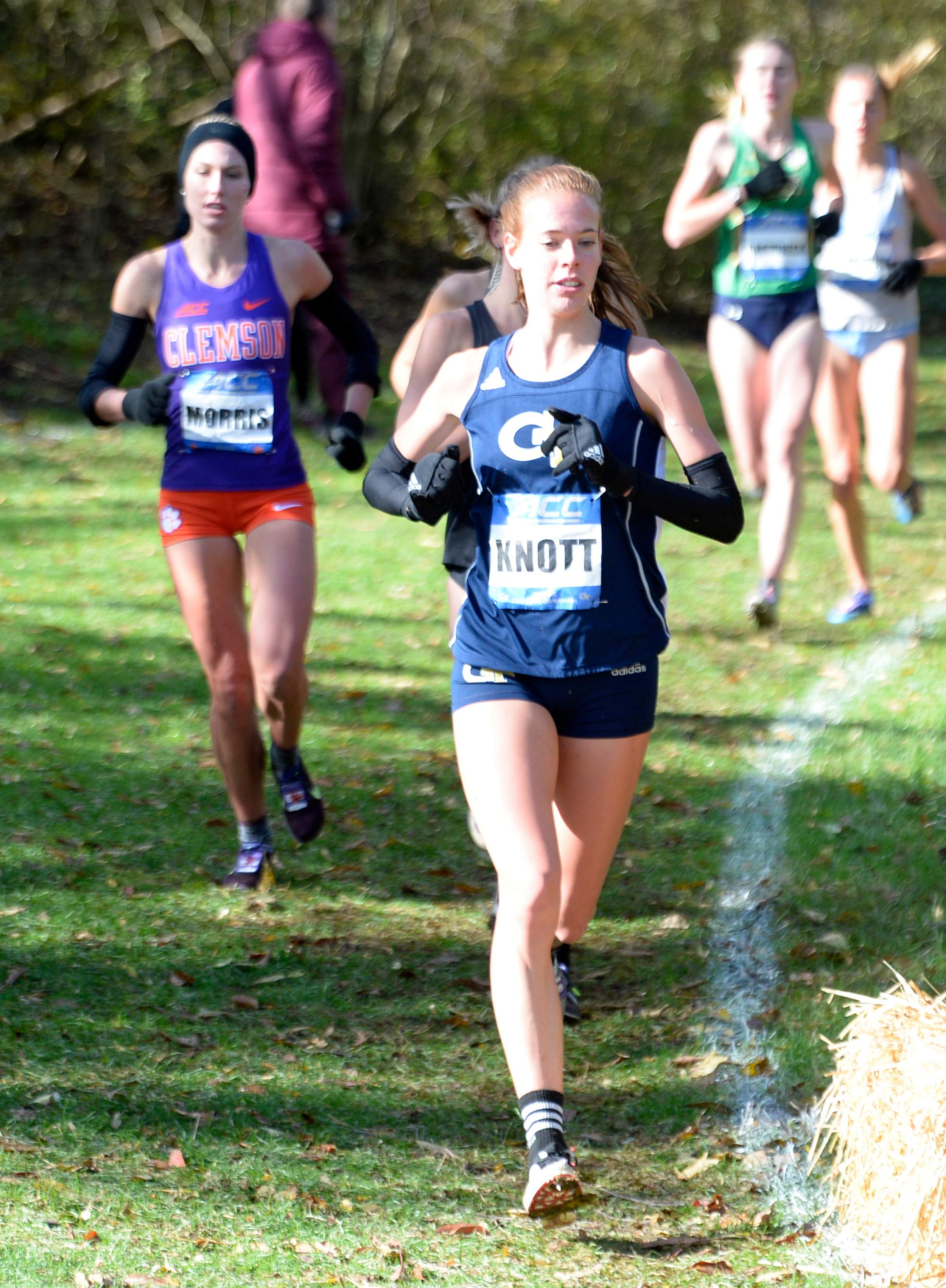 The NC State women won their fourth-straight conference title, while Syracuse took home the top spot on the men's side, unseating defending champ Notre Dame.
"Both teams can use today to prepare for the regional meet in two weeks, for the men to build on, and for the women to bounce back from," said Drosky.
NCAA Regionals is on Nov. 15 in Tallahassee, Fla.
ACC Network has launched!
The ACC Network is a linear and digital platform dedicated to 24/7 coverage of ACC sports that launched on Aug. 22, 2019. It will exclusively televise approximately 450 live events each year, including 40 football games, as well as 150 men's and women's basketball contests.
Don't get shut out! For more information and to learn if your cable/satellite/digital provider is carrying the ACC Network, visit GetACCN.com. Georgia Tech fans whose cable/satellite/digital providers aren't carrying the ACC Network are urged to contact their providers and ask for the ACC Network to be a part of their subscription
For the latest information on the Georgia Tech Yellow Jackets, follow us on Twitter ( @GT_TrackNField ), Facebook ( Georgia Tech Track & Field/Cross Country ) or visit us at www.ramblinwreck.com