Final Stats (.pdf) | Final Stats (.html) | Postgame Notes | Multimedia | Photo Gallery
THE FLATS –  Jeff Sims threw for 238 yards and a pair of touchdowns for Georgia Tech, but Pittsburgh kept the ball for 37:39 on Thursday night to outlast the Yellow Jackets, 34-20, at Bobby Dodd Stadium.
Despite Pitt's 318 yards on the ground and 513 yards of total offense, Georgia Tech remained within striking distance throughout thanks to a herculean effort by its defense in the red zone. Pitt scored a touchdown on just one of its six trips inside the Yellow Jackets' 20 yard line.
Pitt (6-5, 5-5 ACC) outgained Georgia Tech (3-7, 3-6 ACC) by a 305-128 margin in the first half, but led just 16-7 at the break thanks to the Yellow Jackets limiting the Panthers to just three field goals on four red-zone opportunities. The Panthers extended the lead to 23-7 early in the third quarter but behind Sims, the Jackets went on to hold a 220-208 yardage advantage in the second half.
The Jackets' red-zone defense allowed Sims to heat up in the second half, when he threw for 128 of his 238 yards and both touchdowns, including an 18-yard scoring strike to Dylan Deveney that pulled the Jackets within a score at 26-20 with 6:01 remaining. But, with Georgia Tech selling out defensively in an attempt to get the ball back trailing by just one score, Pitt running back Vincent Davis capped an outstanding night with a 38-yard touchdown run that extended the Panthers lead to 34-20.
The Yellow Jackets proceeded to march 66 yards to the Pitt 9 on their next possession and were on the verge of making things interesting in the final minute, but a pair of throws from backup quarterback Jordan Yates to senior wideout Jalen Camp fell incomplete in the end zone and the Jackets didn't get the benefit of a pass interference call to extend the drive.
Camp finished with a career-high 97 receiving yards on a career-high-tying five receptions, including a 21-yard touchdown catch from Sims. Jamious Griffin ran for 43 yards and Jordan Mason added 41 for the Yellow Jackets, who totaled 348 yards of offense against the ACC's third-ranked defense.
Pitt's Davis ran for 247 yards on 25 carries as the Panthers ran 87 plays en route to its 15:42 advantage in possession time.
Georgia Tech concludes its regular season on Saturday, Dec. 19 at Miami (Fla.). Kickoff time and television arrangements for the regular-season finale will be announced on Sunday.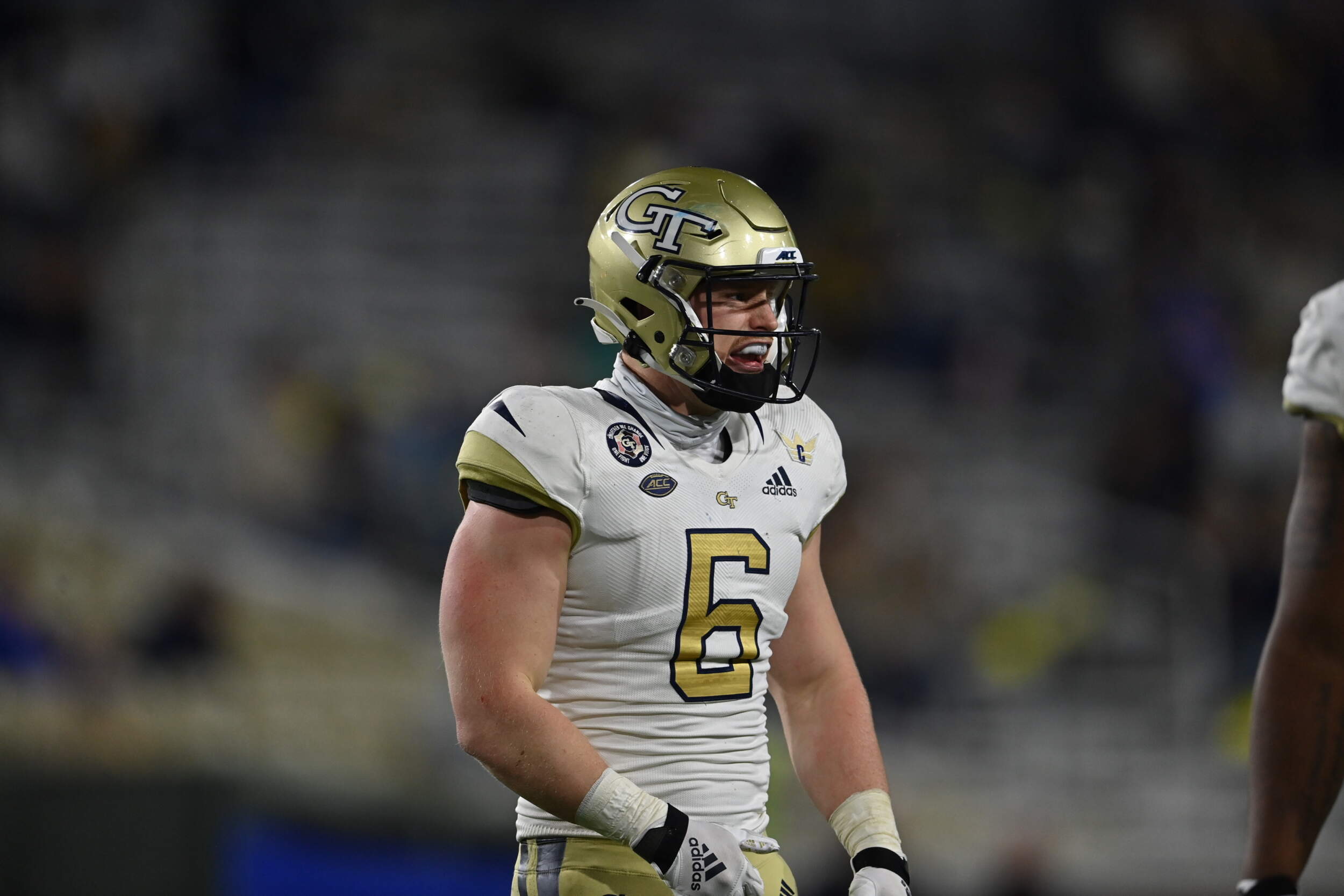 Playing in his final home game as a Yellow Jacket, senior linebacker David Curry amassed a season-high 14 tackles against Pitt (photo: Danny Karnik).
Team
The loss was Georgia Tech's first in a night game at Bobby Dodd Stadium since a 26-7 loss to Clemson on Sept. 22, 2016.
Thursday's game concluded a stretch of three games in 13 days for Georgia Tech. Prior to the three-games-in-13-days stretch, Georgia Tech went 28 days between games.
Pitt scored one touchdown on six trips into the red zone. The five times holding its opponent without a touchdown in the red zone was a season high for Georgia Tech (prev.: 3 vs. Notre Dame, Oct. 31).
After not turning the ball over last Saturday at NC State, Georgia Tech had three turnovers on Thursday.
Individual Notes
Georgia Tech Sr. WR Jalen Camp set a career high with 97 receiving yards (prev. 71 vs. The Citadel, Sept. 14, 2019) and matched a career high with five receptions (prev. 5 at Florida State, Sept. 12).
Georgia Tech So. WR Peje' Harris set career highs with four receptions (prev.: 2 – twice) and 48 receiving yards (prev.: 38 vs. UCF, Sept. 19).
Georgia Tech So. TE Dylan Deveney's 18-yard touchdown reception in the fourth quarter was the first of his career.
For the third-straight game, Georgia Tech Sr. LB David Curry had double-digit tackles and led the team in stops with 14.
Fourth-year Jr. WR Josh Blancato, who was among the student-athletes honored during Georgia Tech's pregame Senior Day ceremony, made his first-career start.
Georgia Tech Sr. RB Jerry Howard Jr. made his first start of the season.
Senior Jalen Camp's 97 receiving yards were a career high (photo: Danny Karnik).