BUY 2019 GEORGIA TECH FOOTBALL SEASON TICKETS ONLINE | GOLDEN TICKET SWEEPSTAKES RULES
THE FLATS – Fans have until Friday, June 14 to purchase 2019 football season tickets or Stinger Mobile Passes and be entered to win in the first drawing of Georgia Tech athletics' Golden Ticket Sweepstakes.
The five prizes available to be chosen by Golden Ticket Sweepstakes winners include:
MEAL WITH HEAD COACH GEOFF COLLINS: Get the inside scoop on the upcoming season directly from the head coach when you and a guest* join Geoff Collins for lunch. After your meal, enjoy a private tour of the Georgia Tech football facilities for an inside look on what goes on behind the scenes.
RIDE IN THE RECK: See the sights of Georgia Tech from the world's most famous Ford Model A as you and a guest* enjoy a ride around campus in the iconic Ramblin' Reck.
INSIDER'S CAMP EXPERIENCE: You and a guest* get up close and personal with the team and coaching staff at a practice during the first week of fall camp. You'll tour the facilities, pose for pictures in a Georgia Tech adidas uniform and enjoy lunch at the student-athletes' dining hall before heading home with your very own adidas swag pack.
AUTOGRAPHED HELMET AND VIP EXPERIENCE FAN DAY: Be the envy of all of your friends as you and up to three guests enjoy VIP treatment at Georgia Tech's Fan Day. A reserved parking spot will be held for you close to Bobby Dodd Stadium before you and guests are ushered to the front of the line so you can be the first in to meet the team on the field. Prize also includes an official Georgia Tech football helmet autographed by head coach Geoff Collins.
ULTIMATE GAMEDAY EXPERIENCE: You and a guest* will enjoy the ultimate gameday at Bobby Dodd Stadium. Start the day off by leading the team down Yellow Jacket Alley. Then join athletics director Todd Stansbury at the AD's tailgate before heading into the stadium for a personal pregame pep talk from character development coach Derrick Moore. Then join the team captains at midfield for the coin toss before sticking around to watch the first half of the game from the sidelines. Enjoy access to Tech Terrace for the second half of the game with all-inclusive food and beverages.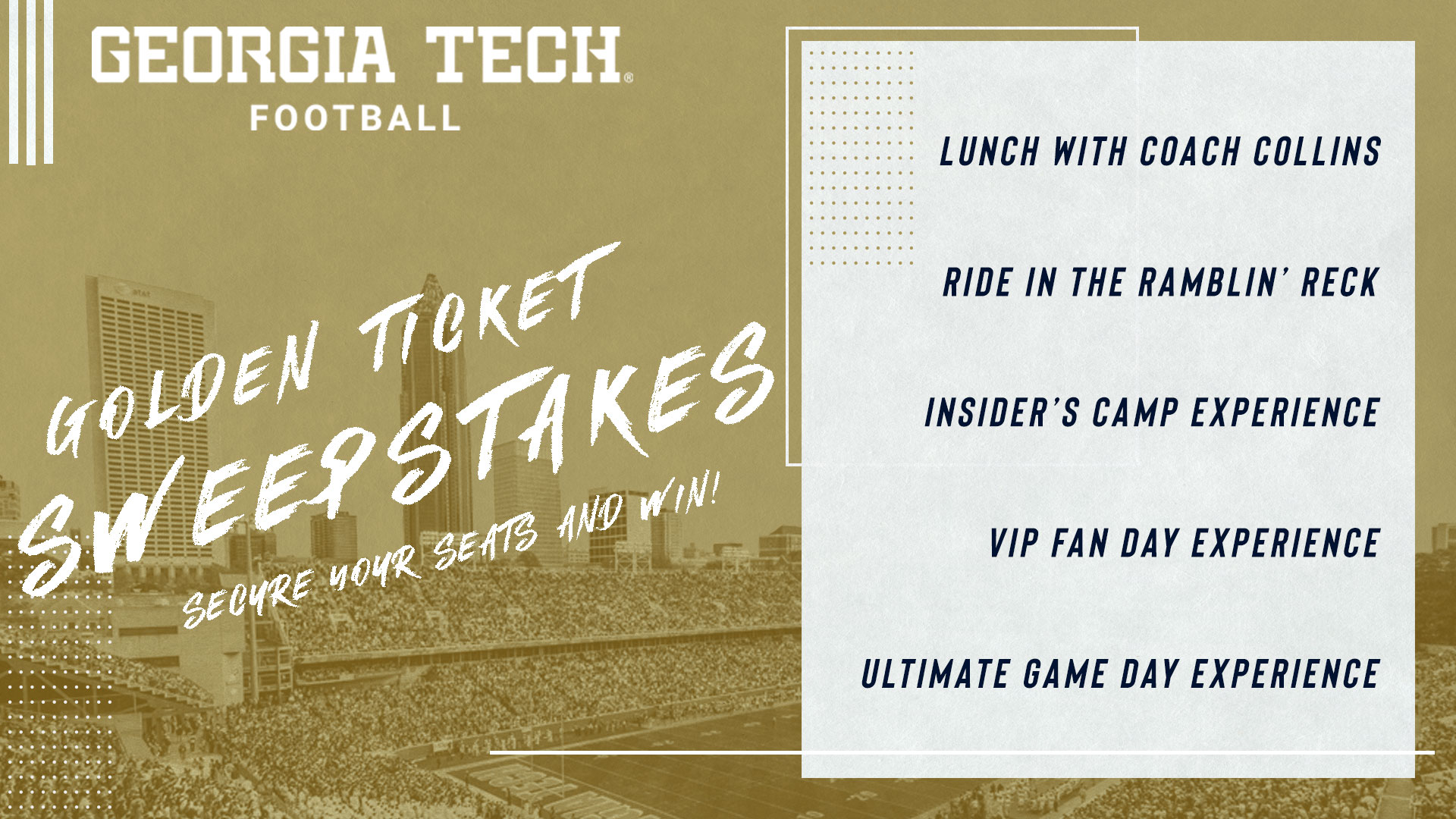 Winners will be randomly drawn on June 14, June 21, June 28, July 12 and July 19 and all 2019 Georgia Tech football season ticket members and Stinger Mobile Pass holders are eligible to win. There is only one of each prize available, meaning that once a winner picks a prize, that prize is no longer available, so purchase season tickets TODAY to ensure the best chance of winning!
Thanks to the excitement surrounding new head coach Geoff Collins and the great value of 2019 season tickets (reserved seats for seven home games – including the regular-season finale vs. archrival Georgia – beginning at just $219 and Stinger Mobile Passes starting at just $149), Georgia Tech has already sold more season tickets than it did for all of 2018. For more information and to purchase season tickets online, click HERE.
* Due to NCAA rules, students that have started ninth grade and yet to graduate from high school are not eligible to be winners or guests.
Click HERE for full Golden Ticket Sweepstakes rules and regulations.
ACC Network – Coming Aug. 22
The ACC Network is a linear and digital platform dedicated to 24/7 coverage of ACC sports. It will exclusively televise approximately 450 live events each year, including approximately 40 football games (beginning with Georgia Tech's 2019 season opener at Clemson on Aug. 29), as well as 150 men's and women's basketball contests.
Don't get shut out! For more information and to learn if your cable/satellite/digital provider is committed to carrying the ACC Network, visit GetACCN.com. Georgia Tech fans whose cable/satellite/digital providers aren't already committed to carrying the ACC Network are urged to contact their providers and ask for the ACC Network to be a part of their subscription.
For the latest information on the Georgia Tech Yellow Jackets, follow us on Twitter (@GTAthletics), Facebook, Instagram or visit us at www.ramblinwreck.com.