By Matt Winkeljohn | The Good Word
Christopher Eubanks landed in Paris this morning with tennis on the menu, and while in coming days it won't exactly feel like he's playing on Georgia Tech's hard courts, the Yellow Jacket legend will be more at ease with the idea of playing the clay at Roland Garros as he tries to qualify for the French Open.
Last year, not so much.
He lost his first match in "qualies," to German Yannick Hanfmann, the former USC standout.
In recent practices at the USTA training center in Orlando, Eubanks has spent more time on clay courts – which there are a few of that are available to practice on in Atlanta – to work on the bounce, the drag, and the slide. This is the two-month clay-court season in pro tennis. Grass is next.
"I'm getting more and more to where I'm looking forward to this trip. I'm far more comfortable than in the past, which makes this more exciting," Eubanks said before taking a 10. p.m. Thursday night flight overseas. "I'm going kind of expecting to win a few matches."
Since forgoing his senior season at Georgia Tech, where Eubanks earned All-ACC honors three times and was ACC Player of the Year twice from 2015-'17, he's made his way to all four Grand Slam events. He made the main draw at the U.S. Open in '17 as a wildcard and this year's Australian Open through qualifying.
He's at home on hard courts, similar to the Australian and U.S. Open (which turned from grass to clay in 1974 and to hard court in '78), because that's where most people play the most tennis like he did growing up in Atlanta and attending  Westlake High School.
But half of the majors in tennis are played on soft courts.
Wimbledon, where Eubanks fell 4-6, 4-6 in qualifying last year to Ruben Bemelmans of Belgium, is played upon grass. The clay of Roland Garros is crushed red brick atop limestone.
It's not as spongy as you might think, but when the ball hits on soft courts, it slows more and bounces higher than on hard courts like those at Tech.
There's a difference, and some negotiate it better than others.
Bjorn Borg, considered one of the greatest tennis players of all time, won six French Open titles on clay and five at Wimbledon on grass but never won a Grand Slam title at the Australian or U.S. Open.
There's nothing easy about being a professional tennis player, and Eubanks may travel as much to train as he does to compete.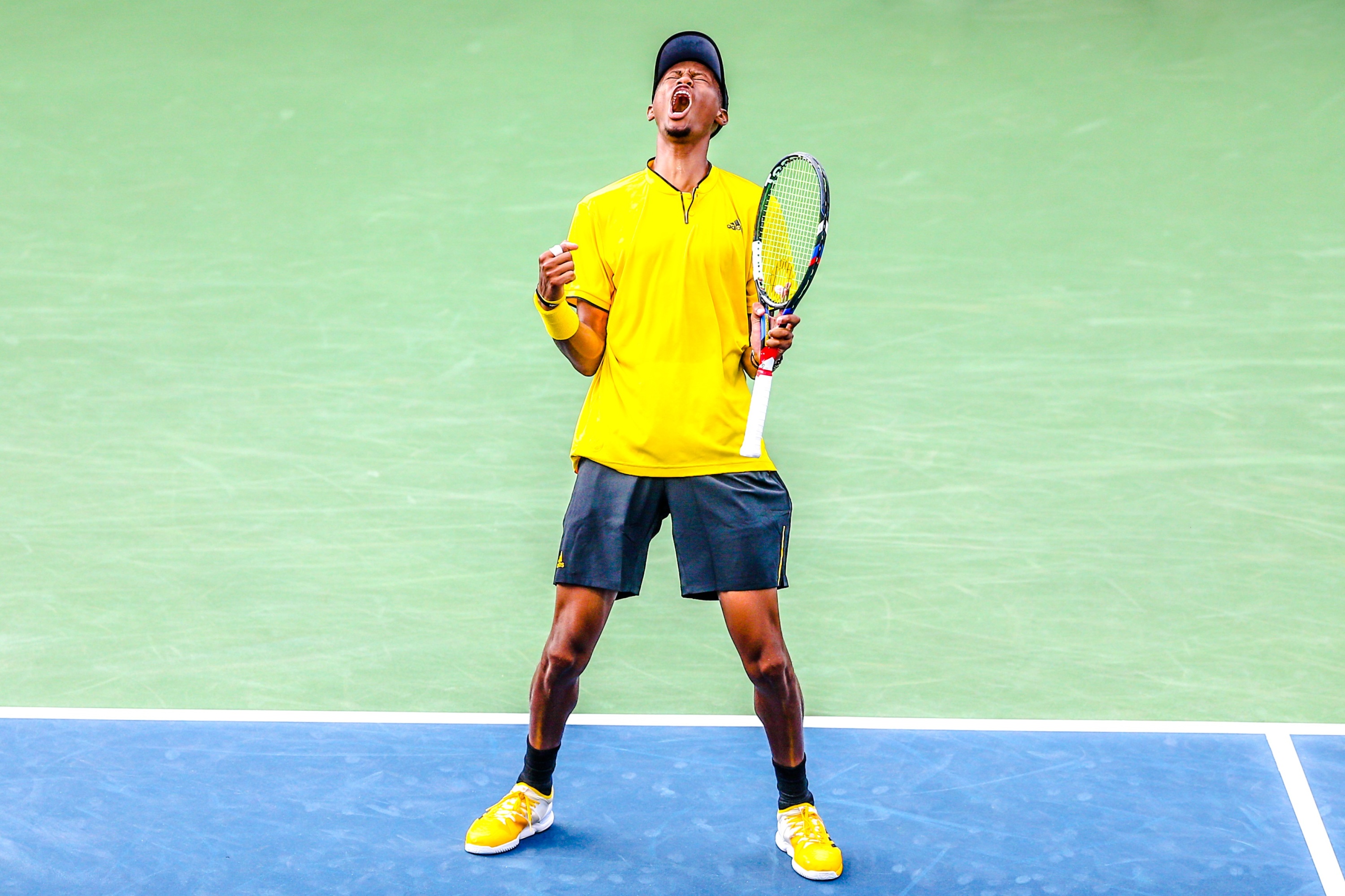 He practices frequently at Tech, where head coach Kenny Thorne still counsels him, and with instructor Christian Hill in New Jersey.  At the USTA Center in Orlando, he primarily works with Troy Hahn.
He's drawn his fitness regimen from a USTA official who charges nothing to work with American tennis professionals in an effort to boost domestic performance.
"Atlanta will forever be my residence. Georgia Tech is so convenient. Kenny's been great in this entire process, and there are guys willing to practice and he allows me to help them in any way that I can," said Eubanks, who attended a number of men's and women's matches at Tech this past season.
"I still go through the same weight program, the USTA program, and if I'm at Tech I'm under the guidance of [strength and conditioning coaches] Dan Taylor and Scott McDonald if there's an exercise that I don't understand."
Eubanks' relationship with his primary coach, Hill, is an odd reminder of how fickle the fates of professional tennis can be.
He met his instructor, who has an academy in New Jersey, through "mutual acquaintances," specifically the family of former Virginia standout Jarmere Jenkins. The College Park native starred for the Cavaliers a few years before Eubanks reached the college level, and his brother, Jermaine, played for Clemson.
Jarmere was the top player in college tennis for a couple of years and went pro. He had some success in lower level tournaments, but never hit on anything big. He retired a couple of years ago, citing travel expenses, and now makes his living primarily as Serena Williams' practice partner.
Eubanks has hit big on a few things, earning about $103,000 this year. He's pulled about $364,000 since turning pro in late '17 in singles and doubles combined.
Yet those numbers are buttressed by a few fortuitous results that balance out other tournament trips where he hasn't earned enough to cover his travel and boarding expenses.
He plays most of his tennis in ATP Challenger events as his world ranking of No. 201 is not high enough to routinely gain him entry into full tour events unless he lands a wildcard berth or makes it through qualifying.
Here are some examples:
After winning three qualifying matches to gain entry into the main draw of the Australian Open, Eubanks lost 4-6, 6-4, 6-7 (6), 3-6 in the first round to Nikoloz Basilashvili of Georgia (in Asia). But he was in the main draw of a Grand Slam, so he earned $75,000.
In his most recent event, the St. Joseph's/Candler Savannah Challenge, a Challenger event in his native state, he won two matches in the main draw before losing in the quarterfinals, earning $1,460.
In the event prior, the Torneo Challenger Leon in Mexico, he won two matches before falling in the quarterfinals and earning $520 before taxes.
Before that, he played a low-level (250-point) ATP Tour event on clay in Houston. It was just qualifying, and he won once and lost once, but because it was an ATP event, he earned $2,845.
In early February in the New York Open, an indoor ATP Tour event, Eubanks won two qualifying matches to gain entry in the main draw, then beat No. 121-ranked Adrian Menedez-Macelras of Spain before falling in the second round to No. 60 Jordan Thompson.
It was a 250-point event – the lowest level of four on the ATP Tour – yet he earned $11,690 for going 1-1 in the main draw.
That was Eubank's lone win so far this year on the ATP Tour.
He's 1-3, but in another of his appearances, at the Miami Open in March, he lost 6-1, 4-6, 6-7 (5) to No. 53 Damir Dzumhur of Bosnia-Herzogovinia in the first round.
That was a 1000-point ATP event (only the Grand Slams are higher, at 2,000 points), so Eubanks earned $16,425 for a one-and-done without having to qualify.
He was there because he had a wildcard. And he had a wildcard because his management company, IMG, owns the Miami Open.
That event was picked for Eubanks, but for the most part, he picks his own tournaments and qualifiers.
"For me, it's more of the location, not so much the financial cost but it's this a place I can be comfortable. I tend to play well in the U.S. and I look at the surface and where it is," he said. "Prize money isn't as big a factor. This tournament is in Washington DC on hardcourt, I want to play that. Colombia on clay, I'm probably not going to play.
"That's the big discussion that's going on now about increasing the prize money [in Challenger events] so that players can make a living. I go where I think I can win, and say the money will follow that."
Eubanks is approaching or past the point where wildcards – like the one that got him into the 2017 U.S. Open, where he lost 6-2, 6-4, 6-2 in the first round to Israel's Dudi Sela — dry up and go away. He landed that one because he was the two-time ACC Player of the Year, in '16 and '17.
Similarly, he gained entry into the Atlanta BB&T Open while he was still in school, much as Tech rising sophomore Cole Gromley did this week.
He's played in the main draw of two of the four Grand Slams – the U.S. Open and the Australian Open. He's been to qualifying for Wimbledon and the French Open.
There are multiple signs of hope, you might call them teases, that keeps him going.
He went 1-1 in qualifying for the Brisbane International, a 250-point ATP event (where he earned $2,575). That was a warmup that he cashed in upon, as soon after that won three qualifying matches in the much bigger 2,000-point Australian Open, where he earned that $75,000 upon losing his first-round match in the main draw.
And the last time he tried at the French Open (where qualifying begins Monday, and the tournament will run May 26-June 9), he lost but made a huge improvement. Hanfmann beat him 7-6 (4), 7-5. That was a close match on a surface he doesn't play often, against an opponent who had previously drilled him.
Eubanks keeps track of things, and he knows he has to keep tracking upward.
"Ironically, I played him the second round of NCAAs freshman year at Baylor (in 2015)," he said. "I went up to him and said, 'Do you realize it's three years to the day (since) he gave me the worst beating of my life?' He beat me (6-2, 6-0) I think it was."