THE FLATS  –  David Didenko, a 6-8, 230-pound forward from Boca Raton, Fla., who attends Palm Beach State College, has signed a national letter-of-intent to attend and play basketball at Georgia Tech, head coach Josh Pastner announced Tuesday.
Didenko attended Boca Raton Community High School before enrolling this year at Palm Beach State, a junior college in Boca Raton. A full academic qualifier in high school, Didenko will enroll at Tech next summer and have three years of eligibility with the Yellow Jackets.
"David is an elite shooter," said Pastner. "This is his first year of playing organized basketball in the United States, because he didn't play any high school or AAU basketball, believe it or not. So, it's a process for him this year. That's why he's in junior college. But he's highly skilled, and he can shoot the ball. He's needs to gain competitive game experience, which he'll get this year at a good school that plays good competition. But he's physical, and he can shoot the ball."
Born in Russia, Didenko moved to New York in August, 2010, at the age of 10, and is a United States citizen. Prior to his enrollment at Boca Raton Community High School, Didenko attended Northeast High School as a junior, and Montverde Academy for his ninth- and 10th-grade years.
Through six games at Palm Beach State, which is 5-2 so far, Didenko has averaged 5.1 points and 5.3 rebounds. He has played in all seven games and started three.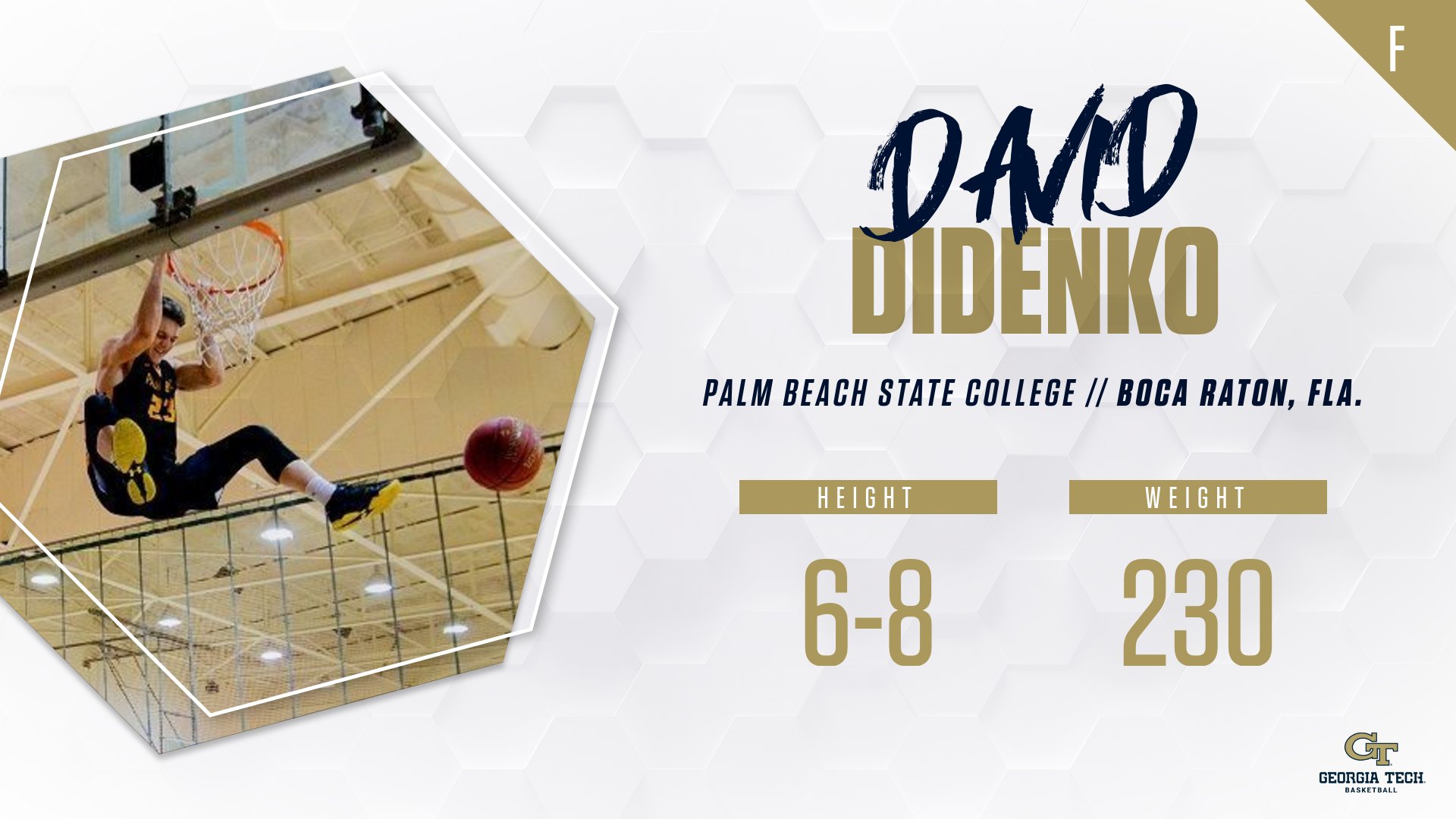 ABOUT GEORGIA TECH MEN'S BASKETBALL
Georgia Tech's men's basketball team is in its third year under head coach Josh Pastner. Tech has been a member of the Atlantic Coast Conference since 1979, won three ACC Championships (1985, 1990, 1993), played in the NCAA Tournament 16 times and played in two Final Fours (1990, 2004). Connect with Georgia Tech Men's Basketball on social media by liking their Facebook Page, or following on Twitter (@GTMBB) and Instagram.
For more information on Tech basketball, visit Ramblinwreck.com. Tickets for men's basketball can be purchased here.