THE FLATS – Geoff Collins, an Atlanta area native and a former Georgia Tech football staff member who has led Temple to two bowl games in two seasons as the Owls' head coach, has been named the 20th football head coach in Georgia Tech history, director of athletics Todd Stansbury announced on Friday.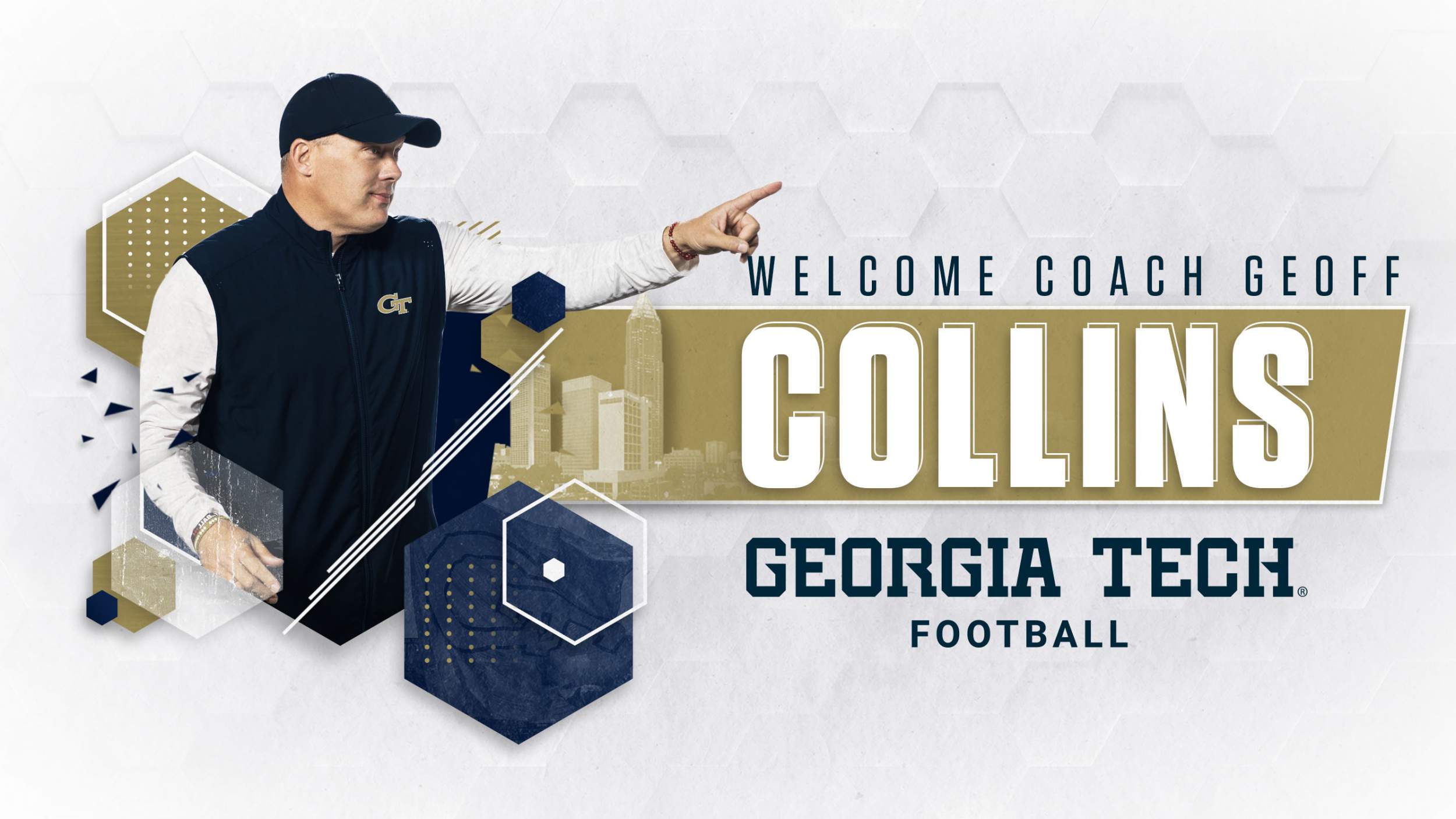 Collins compiled a 15-10 record in his two seasons at Temple, including an 8-4 record and 7-1 mark in the American Athletic Conference this season, when the Owls' only conference loss came at No. 8-ranked and undefeated UCF. His 15 victories at Temple are the most ever by a head coach in his first two seasons at the school.
Last season, Collins' Owls won the 2017 Gasparilla Bowl with a 28-3 victory over Florida International, good for Temple's first bowl win since 2011. This year, the Owls earned a berth in the 2018 Independence Bowl, where they will face Duke.
Prior to becoming head coach at Temple, Collins was one of the nation's most respected defensive coordinators, serving in the role at Florida (2015-16), Mississippi State (2013-14, co-DC: 2011-12), FIU (2010) and his alma mater, Western Carolina (2002-05). He is the only coach to ever be nominated for the Broyles Award, given to college football's top assistant coach, at three different schools (FIU – 2010, Mississippi State – 2014 and Florida – 2015).
Collins' 26-year career also includes a pair of stints at Georgia Tech, first as a graduate assistant and tight ends coach under head coach George O'Leary from 1999-2001, then as recruiting coordinator under head coach Chan Gailey in 2006. During his first stint at Tech, he was a G.A. for two seasons before being promoted to tight ends coach in 2001. The Yellow Jackets were 25-12 with three-consecutive bowl appearances during those three seasons, which were capped with a 24-14 victory over Stanford in the 2001 Seattle Bowl.
Collins' coaching career also includes stops at Western Carolina (student assistant – 1993-94), Franklin (N.C.) H.S. (assistant coach – 1995), Fordham (GA coach – 1996), Albright (defensive coordinator – 1997-98), Alabama (director of player personnel – 2007) and UCF (linebackers coach/recruiting coordinator – 2007).
As a recruiter, he helped Georgia Tech land the highest-rated recruiting class in program history in 2006 and in 2007 helped Alabama sign the No. 1 class in the nation, which included running back Mark Ingram, who went on to become the first Heisman Trophy winner in Crimson Tide history in 2009.
As a student-athlete, Collins totaled 194 career tackles as an outside linebacker and defensive back at Western Carolina (1989-92). He had 68 tackles and six tackles for loss as a junior and helped lead WCU to a 7-4 record with 62 stops, including five behind the line of scrimmage, as a senior.
Originally from Conyers, Ga. in the Atlanta metro area, Collins, 47, is married to the former Jennifer Haynes. They have a daughter, Astrid (2).
An introductory press conference will be held on Friday at 6:30 p.m. The press conference will be streamed live at ramblinwreck.com.
THE GEOFF COLLINS FILE
Personal
Hometown: Conyers, Ga.
Birthdate: April 10, 1971 (47 years old)
Education: Western Carolina, 1994
Family: Wife: Jennifer; Daughter: Astrid (2)
Coaching Experience
1993-94 – Western Carolina (student assistant)
1995 – Franklin (N.C.) H.S. (assistant coach)
1996 – Fordham (linebackers coach)
1997-98 – Albright (defensive coordinator)
1999-2000 – Georgia Tech (graduate assistant)
2001 – Georgia Tech (tight ends coach)
2002-05 – Western Carolina (defensive coordinator)
2006 – Georgia Tech (recruiting coordinator)
2007 – Alabama (director of player personnel)
2008-09 – UCF (linebackers coach/recruiting coordinator)
2010 – Florida International (defensive coordinator)
2011-12 – Mississippi State (co-defensive coordinator)
2013-14 – Mississippi State (defensive coordinator)
2015-16 – Florida (defensive coordinator)
2017-18 – Temple (head coach)
Head Coach Experience
2017 – Temple (7-6 overall, 4-4 AAC, def. Florida International, 28-3, in 2017 Gasparilla Bowl)
2018 – Temple (8-4 overall, 7-1 AAC, face Duke in 2018 Independence Bowl)
WHAT THEY'RE SAYING ABOUT GEOFF COLLINS
UNIVERSITY OF FLORIDA FOOTBALL HEAD COACH DAN MULLEN
"I am really happy for Geoff and his entire family. When you look at a guy like Geoff and the energy that he brings, the excitement he brings to the sidelines, the juice he has on a daily basis, he will do a great job. I think he will do an amazing job and I think it's a great hire for Georgia Tech."
ATLANTA FALCONS CORNERBACK BRIAN POOLE
"I'm thrilled for Coach Collins to get this opportunity at Georgia Tech. I learned a lot playing under him at the University of Florida as he helped mold us into one of the top defensive units in the country. It will be good to have him in Atlanta and I know he'll put together a strong program."
ESPN COLLEGE FOOTBALL ANALYST KIRK HERBSTREIT
"Congratulations to Georgia Tech on a great hire! Geoff Collins is not only an innovative mind but he relates to today's players as well as any coach in the country. With the recruiting base around Atlanta and the incredible academics that Georgia Tech has to offer, the Jackets are poised to build on their football tradition with Coach Collins at the helm!"
Introductory Press Conference (Video)
Introductory Press Conference (Audio)