THE FLATS – Junior left guard Parker Braun (Hallsville, Texas/Hallsville) and sophomore punter Pressley Harvin III (Alcolu, S.C./Sumter) represent Georgia Tech on the 2018 Atlantic Coast Conference all-conference football teams, the ACC announced on Monday. Braun earned first-team all-ACC recognition while Harvin is a second-team honoree.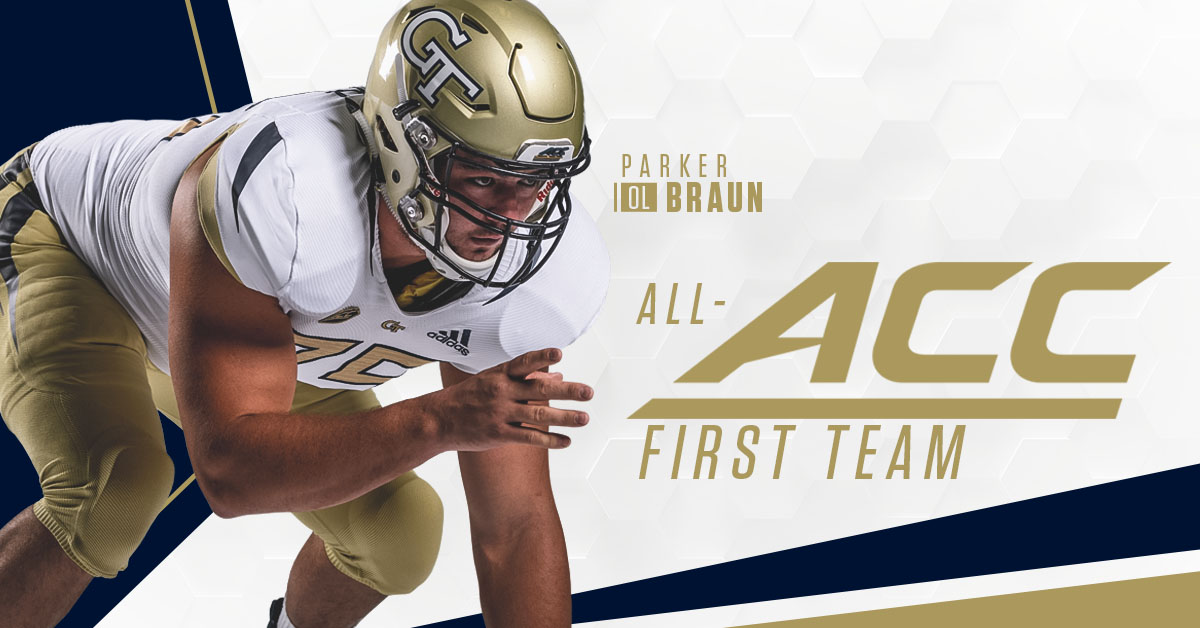 Braun is the driving force behind an offensive line that has paved the way for the nation's No. 1 rushing offense (335.0 ypg) this season. The 6-3, 280-pounder started all 12 regular-season games at left guard (stretching his streak of consecutive starts to 31) and was twice named the ACC's Offensive Lineman of the Week, following Georgia Tech's wins at Louisville (Oct. 5) and Virginia Tech (Oct. 25).
The All-America candidate turned in one of college football's most dominant performances by an offensive lineman this season when he took 25 defenders to the ground in just 72 snaps and helped the Yellow Jackets rush for 465 yards in their 49-28 victory at Virginia Tech. He also took 15 defenders to the ground in a little more than three quarters of work, as the Jackets ran for 542 yards in their 66-31 triumph at Louisville.
Braun received all-ACC honors for the second-straight year after being a second-team honoree as a sophomore in 2017. With a season still to play, he is one of only three Georgia Tech players to ever be named ACC Offensive Lineman of the Week four times in his career (joining current New England Patriots RG Shaq Mason and former NFL starter Andrew Gardner).
One of the nation's least-utilized weapons, Harvin III would lead the ACC and rank 16th nationally with a 44.3-yard punting average this season but fell far short of the 3.6 punts per game needed to qualify for the official statistical rankings, thanks to Georgia Tech punting just 31 times all season (third-fewest in the nation). Fifteen of his 31 punts (including 13 of the last 17) were downed inside the 20-yard line, which helped Georgia Tech rank 11th nationally with a 41.0-yard net punting average.
Additionally, 10 of Harvin III's 31 regular-season punts traveled 50 yards or more and three of his booming punts were muffed, all of which were recovered by Georgia Tech and led directly to scores (two touchdowns and a field goal).
Harvin III's second-team selection follows him earning third-team all-ACC recognition as a true freshman in 2017.
Braun, Harvin III and the Yellow Jackets ended the regular season at 7-5 overall and 5-3 in ACC play, good for a solo second-place finish in the ACC Coastal Division, and earned a bowl berth for the 20th time in the last 22 seasons. The Jackets will learn their bowl destination on Sunday (Dec. 2). Click HERE learn more about Georgia Tech's bowl possibilities and to apply for bowl tickets.
For the latest information on the Georgia Tech Yellow Jackets, follow us on Twitter (@GTAthletics), Facebook, Instagram or visit us at www.ramblinwreck.com.