John "Whack" Hyder recalls a conversation back in 1955 with The Baron, Kentucky's legendary basketball coach Adolph Rupp, who was in town to face the Yellow Jackets on the Georgia Tech campus.
"Coach Rupp asked me if I would meet and talk with him after practice here," related Hyder, referring to tiny Heisman Gym, where the Jackets played their home games (occupied the site outside of the North end zone to Bobby Dodd Stadium). "I said yes."
"When I showed up, he was surrounded by his team. He asked me two questions."
What's your aim in basketball?
What do you expect to accomplish in a gym like this?
Hyder said, "I told him my first aim was for our kids to lead a good moral life. Next I wanted them to graduate. And third, when it came time, I wanted them to concentrate on basketball."
"You can't do that," replied Rupp. "Boys aren't that way anymore."
That same season, Hyder, the man of folksy, homespun philosophy, pulled two stunning upsets of No. 1-ranked Kentucky, thus starting Hyder's reputation as a giant killer. Hyder lost to the fabled Rupp and his Kentucky team 16 times in his coaching career. That was no disgrace. Hyder won nine times. That was an unheard-of feat.
""He made me feel like a member of the family. He talked more about the importance of a good education than he did about basketball. I felt like playing for Coach Hyder was going to be a positive influence on my life. And it was.""
Roger Kaiser, Georgia Tech's first All-American
Born July 10, 1912 in Lula, Ga., Hyder was one of the best all-around athletes in Georgia Tech history, lettering in basketball, baseball, cross country and track. He also earned a freshman letter in football, the sport in which he received his scholarship to Georgia Tech because there were no basketball scholarships in those days.
After graduating from Georgia Tech in 1937, he signed a professional baseball contract and played three years in the New York Yankees farm system.
After a stint in the U.S. Navy in World War II, Hyder returned to Tech in 1946. He was hired as an assistant basketball coach by director of athletics William Alexander, the same man who had offered him a scholarship to Tech after watching him play basketball for Monroe A&M prep school.
Hyder was elevated from assistant to head coach prior to the 1951-52 season, and for 22 years, he guided the Yellow Jacket basketball fortunes. He retired on St. Valentine's Day in 1973. He won games and lost games, including the first NCAA appearance in school history in 1960 and two trips to the finals of the National Invitation Tournament.
Hyder was twice named SEC Coach of the Year, and he is a member of the Georgia Tech Hall of Fame, the Atlanta Sports Hall of Fame and the State of Georgia Sports Hall of Fame.
Hyder compiled an overall record of 292-271 (.519) and was Tech's winningest basketball coach until surpassed in 1996 by Bobby Cremins. For the years in which his teams played in Alexander Memorial Coliseum, which opened in 1956-57, Hyder's record was 251-189 (.570).
But there was much more to Hyder than coaching games.
"The thing about Coach Hyder," recalled one of his superstar players, Rich Yunkus, "is that he treated all his players as human beings and not as animals being led by the nose. He had a genuine concern for his players and he was proud. All but one of those who played for him the full four years graduated.
"Above all, he insisted upon an education and this he told every recruit."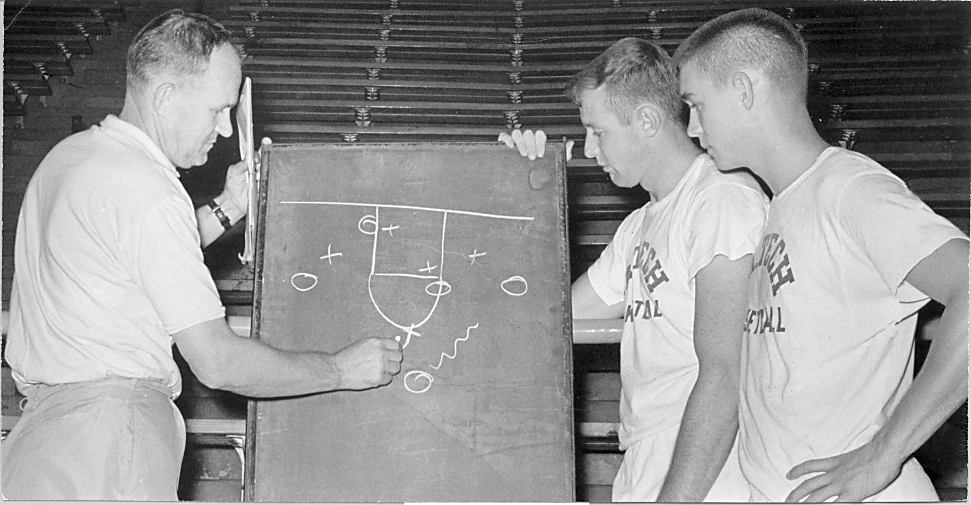 Roger Kaiser, who played for Hyder from 1958-61 and became the first All-American in Tech history, concurred.
"He was my father away from home. I always respected him. I wanted to give him 100 percent effort, 100 percent of the time. He made me feel I was wanted and needed. He got his message across to the players, and he did without belittling anyone."
Kaiser, who won four NAIA national titles as a head coach, was a highly recruited prepster from Dale, Ind., who was headed for Vanderbilt or Indiana when he met Hyder and changed his plans.
"Coach Hyder was warm, empathetic," said Kaiser. "He made me feel like a member of the family. He talked more about the importance of a good education than he did about basketball. I felt like playing for Coach Hyder was going to be a positive influence on my life. And it was."
Long after he retired, Hyder remained active in the program, coordinating the annual Alumni Game.
"I consider Coach Hyder a close personal friend and a man I truly respect," said Cremins.
Upon Hyder's retirement following the 1972-73 season, at Whack Hyder Night given by friends and former players, he said, "All of you know me as Whack. But my name is Johnny and tonight I feel like my last name's Wooden.
"I'm not the greatest coach in the world, not by any stretch of the imagination, but I'm a very grateful and humble man tonight."
Whack Hyder at Georgia Tech