Final Box Score (.pdf) | Full gamebook/play-by-play (.pdf) | Multimedia | Photo Gallery | Postgame Quotes | Postgame Notes
THE FLATS – Junior Jose Alvarado made eight of his first nine shots from the floor and outscored Virginia Tech himself 19-18 in the first half, sparking Georgia Tech to a decisive 76-57 victory on Tuesday night at McCamish Pavilion.
In a game of runs for the Yellow Jackets (11-12, 5-7 ACC), they finished the first half on a 12-2 run including six-straight points to close for a 38-18 cushion at intermission, before pushing the lead to 30 with a 13-2 run to kick things off in the second half.
The Hokies (14-9, 5-7 ACC) struggled offensively at times, getting held to just 38.9 percent shooting, and the ACC's leading three-point shooting team could convert only an icy 17.4 percent from downtown (4-for-23).
Georgia Tech on the other hand, shot 52.7 percent from the floor, its second-highest rate of the season, and a season-best 44.4 percent from three-point land en route to the win. Alvarado finished with 20 total points on the night, adding six assists, two steals and just one turnover in just over 29 minutes on the floor. Michael Devoe finished with 12 points and five rebounds, while Moses Wright (14) and Bubba Parham (10) also finished in double-figures. Wright also pulled in seven rebounds.
Leading Virginia Tech offensively was Tyrece Radford, who finished with 12 points, while Landers Nolley II recorded 10 points and seven rebounds for the game.
Winners of three of its last four games, Georgia Tech returns to the road as they head to Pittsburgh on Saturday, Feb. 8. Tipoff is set for 2 p.m. and will be broadcast on RSN.
Moses Wright (5) contained things in the lane, leading the Georgia Tech bigs with 14 points and seven rebounds on Tuesday. (photo by Danny Karnik)
Post-Game Notes
TEAM NOTES
Georgia Tech evened its record at home at 6-6 this season, and is 5-6 away from McCamish Pavilion.
Georgia Tech built a 20-point halftime lead for the second time this season, its largest since leading North Carolina 47-27 at intermission in Chapel Hill, a game the Yellow Jackets won, 96-83. Those are Tech's largest leads at halftime this season. The Jackets are 6-1 this season when leading at the half.
Virginia Tech's 18 points at the half were the fewest by an ACC team against Georgia Tech this season. The fewest by any opponent was 13 by Elon in the season's second game.
None of Georgia Tech's starters played as many as 32 minutes (Moses Wright played 31:56), and the Yellow Jacket reserves played nearly 50 minutes of the game.
Georgia Tech hit the 50-percent mark from the floor (52.7 percent vs. Virginia Tech) for the seventh time this season and for the fifth time in ACC play (all since Jan. 4).
Georgia Tech's eight three-point field goals (in 18 attempts) matched a season high accomplished four other times, including against Syracuse and Florida State.
Georgia Tech has averaged 39.8 points in the paint over its last 10 games (34 vs. Virginia Tech), compared to 27.6 for its opponents. Only Duke (38-36) and Louisville (32-30) have scored more than Tech in that stretch.
Georgia Tech has averaged just 10 turnovers in its last four games (13 each vs. NC State and Morehouse, five at Notre Dame, 10 vs. Virginia Tech), and just 14.1 in the 14 games since the return of Jose Alvarado to the Yellow Jackets' lineup, compared to 17.4 per game prior to that.
Tech's turnover rate in ACC games is 14.8 per game, and the Jackets are on the plus side of the assist/turnover ratio for the first time this season (181/178). The Jackets have been on the plus side of that ledger in six of the last 10 games, including the last three in a row.
Tech has won the rebounding battle five times and held even twice in 11 games since the beginning of January. The Jackets are plus-17 on the boards in ACC games for the season, averaging around one per game more than their opponents.
Tech has held 11 opponents this season under 40 percent from the floor (four ACC opponents, Virginia Tech hit 38.2 percent), and eight under 30 percent from three-point range (three ACC opponents, Hokies hit 17.4 percent after coming in at 36.6 percent for the season).
INDIVIDUAL NOTES
Jose Alvarado scored 20 points to lead the Jackets against Virginia Tech, his fifth 20-point game this season, all since Jan. 4 at North Carolina, and has 16 in his career. He went 8-of-14 from the floor, 3-of-6 from three, with six assists and just one turnover in 29:14. The ACC's steal leader in conference games had two of those.
Alvarado's performance against Virginia Tech elevated him above 900 points for this career. He began the night with 886.
Alvarado has hit 22-of-55 shots (40 pct.) from three-point range in his last 10 games (3-6 vs. Virginia Tech) and is 56-of-113 overall (49.6 pct.) during that stretch. He hit 10-of-19 at Notre Dame, including 3-of-7 from distance.
Michael Devoe returned to the court and to the starting lineup for the first time since Jan. 22 at Louisville. He missed the last three games with a bruised left foot. The sophomore guard scored 12 points, his 15th double-digit game this season. He went 5-of-9 from the floor with a pair of threes, had four assists and just one turnover in 32 minutes.
Moses Wright scored 14 points (5-10 FG) with seven rebounds against Virginia Tech, his fourth double-digit scoring game in the last six after a streak of eight straight with 10 or more. The 6-9 junior has failed to reach double figures just five times this season.
Wright has connected on 62.7 percent of his free throws (32-of-51) over Tech's last 14 games after going just 4-of-14 in the first nine games of the season.
Bubba Parham scored 10 points against Virginia Tech to notch his sixth double-digit game this season. All of them have come against power conference teams, three of them in ACC games. He went 2-for-4 from three-point range and has connected on 13-of-36 in conference games this season.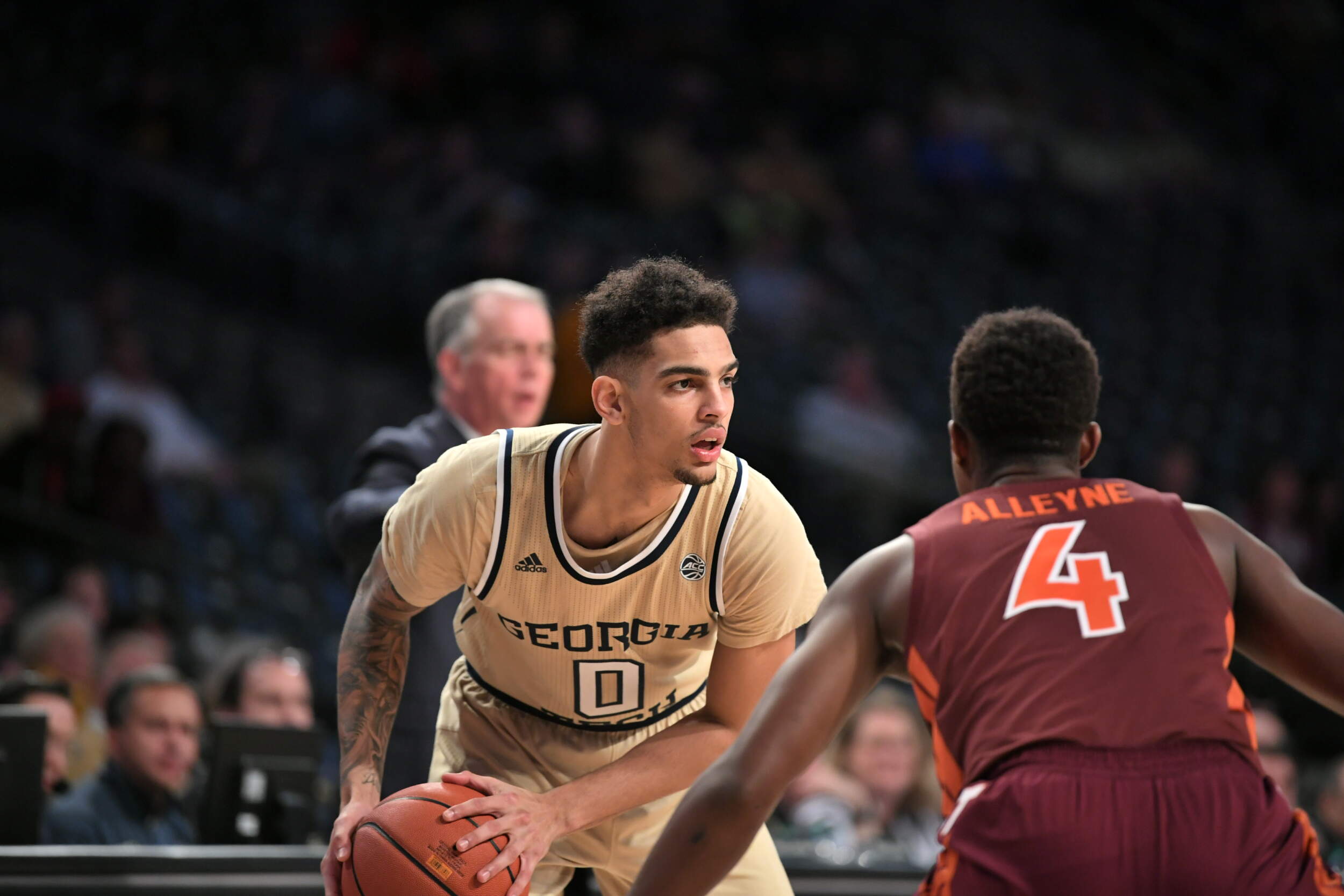 Georgia Tech's sophomore guard Michael Devoe (0) finished with 12 points for the game. (photo by Danny Karnik)