THE FLATS – Georgia Tech and Notre Dame will meet in the New York Life Atlantic Coast Conference Tournament for the first time ever, facing off in the opening round of the 66th Tournament at 2 p.m. Tuesday at the Spectrum Center in Charlotte, N.C. It will be the third meeting this season between the two teams.
Tech (14-17, 6-12 ACC), in its third season under head coach Josh Pastner, earned the No. 10 seed for the tournament, its highest since 2016, by defeating Boston College (81-78 in overtime at home) and NC State (63-61 on the road) in its final two regular season games. The Yellow Jackets enter the tournament having won three of their last five games, going back to a Feb. 20 win over Pittsburgh.
Notre Dame (13-18, 3-15 ACC), in its 19th season under head coach Mike Brey, fell to the No. 15 seed after dropping a 56-53 decision on the road to Pittsburgh Saturday. It was the seventh straight loss for the Fighting Irish, whose last win came over the Yellow Jackets on Feb. 10 in South Bend. Only one of those losses have come by more than eight points.
The winner of Tuesday's game advances to face Louisville, the No. 7 seed, at 7 p.m. Wednesday.
Tuesday's game will be broadcast live on the ACC's Raycom Sports Network (Peachtree TV in Atlanta) in ACC markets, as well as on ESPN nationally outside of the ACC footprint. The broadcast also will be streamed live through the ESPN app. Radio coverage is provided through Learfield IMG College, airing in Atlanta on 680 AM and 93.7 FM the Fan. The Tech broadcast is available on satellite radio (Sirius ch. 81, XM ch. 81, internet ch. 81 and 371).
Practice day at the ACC Tournament, Spectrum Center, Charlotte, N.C.
STARTING LINEUP
Rise above – The Yellow Jackets finished the season 10th in the ACC after being projected to finish no higher than 13th in the preseason. It is Tech's highest finish since tying for ninth in 2013.
No. 10 – Georgia Tech begins the ACC Tournament with its highest seed (10th) since 2016, the last time it was the 10th seed in Washington, D.C. Georgia Tech has a 1-1 record as the 10th seed in the ACC Tournament, having defeated Clemson before losing to Virginia that year.
Fond memories – Charlotte is the city where Georgia Tech won its last ACC Tournament, in 1993 at the old Charlotte Coliseum. Tech is 8-7 in ACC Tournament games in Charlotte, including a 1-1 mark at the Spectrim Center (2008).
Tuesday's child – Georgia Tech has played in the opening round of the ACC Tournament every year since the most recent expansion to 15 teams, winning its first game twice in that stretch. Tech's last ACC Tournament win came in 2016 with an 88-85 overtime victory over Clemson in Washington, D.C.
Party on the quad – Georgia Tech has three quadrant 1 wins this season, according to the NCAA's NET rankings, and all of them occurred on the road (Arkansas, Syracuse, NC State).
Outpost – In an attempt to invigorate its offense, Georgia Tech returned to a one-post starting alignment for its last seven games, with James Banks III starting in the middle with four perimeter players. It has helped produce the Yellow Jackets' four highest point totals since Jan. 12 and three of its best shooting efforts since Jan. 22. Tech has averaged 64.0 points, hit 43.7 percent of hits field goals and 34.3 percent of its three-point shots in its last seven games, compared to 53.9 points, 38.2 percent from the floor and 23.8 percent on threes in the previous eight games.
Guard your yard – Georgia Tech has ranked as high as 11th this season in defensive efficiency according to KenPom.com. Tech's decision to alter the lineup for extra offense has led to a decline in that efficiency, but the Jackets still rank 29th in efficiency, No. 12 in effective field goal percentage defense and No. 6 in three-point defense.
Below average – Georgia Tech has faced three of the nation's top 10 teams in offensive efficiency as ranked by KenPom.com – Tennessee (3), Duke (6) and Virginia Tech (8) – and held them to an average of 61.3 points. Each posted their lowest efficiency rating of the season against the Jackets. North Carolina is No. 7, and the Jackets held the Tar Heels to their fourth-lowest rating of the season. Tech held Florida State (36th) to two of its three lowest efficiency ratings of the season, and NC State (29th) to its lowest of the season outside of its 24-point game against Virginia Tech.
50 (per) Cent – Tech has shot 50 percent or better in nine games this season, four during conference play, after connecting on 50.8 percent against Boston College and 58.1 percent at NC State. The Jackets shot 50 percent in six games last season (three ACC games), and five times (once in ACC play) in 2016-17.
Hola again – Jose Alvarado has scored 110 points in Tech's last six games (18.3 ppg), including a career-high 29 against Pittsburgh. In those six games, he has hit 37-of-75 from the floor, 12-of-40 from three-point range, and he has a 24/8 assist-turnover ratio.
I'll be there for you – Jose Alvarado has played the full 40 minutes four times in Tech's last eight games (Notre Dame, Pittsburgh, Miami, NC State). The sophomore has logged 13 complete games in his career, five this season. He played 44:17 of a possible 45 minutes in Tech's OT win over Boston College.
Wholly Moses – Moses Wright arrives at the ACC Tournament playing the best basketball of his career. He has reached double figures in three of his last four games (19 vs. Miami, 10 vs. Boston College, 18 at NC State), averaging 13.3 points (24-of-40 FG) and 6.0 rebounds over that stretch.
Crack that whip – Michael Devoe is 28-for-60 from three-point range in Tech's last 14 games. He had gone 12-for-43 in the first 17 games of the season. He has averaged 12.0 points and 3.8 assists in his last four games.
The Bank is open – James Banks comes into the ACC Tournament with three straight games in double digits (11 with seven rebounds at Virginia, 18/9 vs. Boston College, 19/9 at NC State). He has averaged 16 points and 8.3 rebounds in that stretch, htiting 20-of-26 shots from the floor. He went 8-for-8 in the regular-season finale at NC State, including the game-winning slam dunk.
Tech tribunal – Alvarado, Devoe and Banks have each scored in double figures in the same game six times this season, and Tech has won four of those games. They combined for 45 of 69 points at Arkansas, 49 of 92 against Wake Forest, 43 of 63 in the first meeting against Notre Dame, and 59 of 81 against Boston College.
Three's the charm – Tech has averaged 6.3 threes and shot 33.1 percent from beyond the arc in its last eight games. In the five games before that, the Jackets shot 14-for-96 (14.6 pct.) from bonus range.
Youts are served – Georgia Tech's seven freshmen and sophomores have played 68.2 percent of the minutes for Tech in ACC games.
Going deep – Georgia Tech has deployed 12 different starting lineups this season. Eleven players have started three or more games, and 10 have started at least one ACC game.
Longer bench – Tech's reserves have played 33.8 percent of available minutes, No. 90 in the nation according to KenPom.com (national average is 30.5 pct.). However, in Tech's most recent two games, Tech's bench saw just 50 of a possible 425 minutes (11.7 pct.).
Premature ending again – For the second straight year, Curtis Haywood II has seen his season cut short by injury. The sophomore guard injured his left ankle against Boston College and is sidelined indefinitely. Freshman Khalid Moore replaced him in the starting lineup at NC State.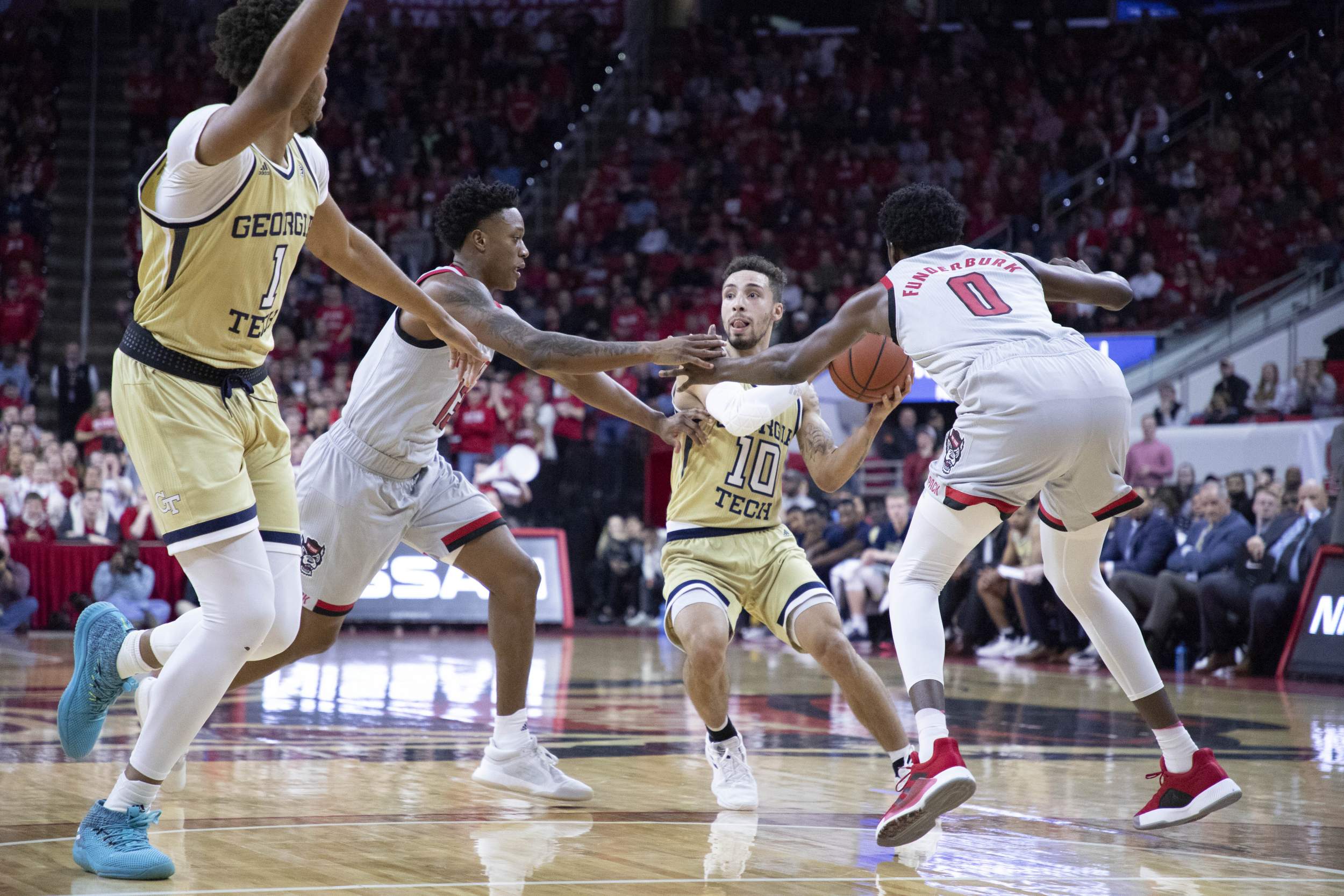 The Yellow Jackets enter the ACC Tournament with two straight wins, including a 63-61 triumph at NC State last Wednesday.
TECH'S ACC TOURNAMENT HISTORY
Georgia Tech has played in 39 ACC Tournaments, and has a 26-36 all-time record in the event. The Yellow Jackets have won three championships, in 1985 (Atlanta), 1990 (Charlotte) and 1993 (Charlotte).
Tech has been a runner-up four times (1986, 1996, 2005, 2010). The 1986, 1996 and 2010 runs to the finals occurred in Greensboro. Tech also made the finals in 2005 at the Verizon Center in Washington, D.C.
Tech was 0-2 in the ACC Tournament under coach Dwane Morrison, 15-16 under Bobby Cremins (including all three titles), 9-11 under Paul Hewitt (runner-up in 2005 and 2010), 2-5 under Brian Gregory. and 0-2 under Josh Pastner.
SERIES NOTES VS. NOTRE DAME
Tuesday's game, the first meeting between the two teams in the ACC Tournament, will be the third meeting of the season. Each team won on its home floor – Tech by 63-61 on Jan. 22 in Atlanta and Notre Dame by 69-59 on Feb. 10 in South Bend. The Fighting Irish are one of the yellow Jackets' two permanent home-and-away opponents (along with Clemson).
Georgia Tech holds a 11-9 lead in the all-time series with Notre Dame that began in the 1940-41 season. Tech and Notre Dame split their three meetings the last three seasons, each team winning at home.
The Yellow Jackets are 5-7 against Notre Dame since the Fighting Irish joined the ACC, with the 12 meetings decided by a total of 61 points. Notre Dame's 69-59 win in South Bend on Feb. 10, 2019 is the widest margin.
At McCamish Pavilion, Tech is 5-1 against the Irish, and the games have been decided by a total of 20 points. Tech won the teams' first meeting there this season, 63-61.
Notre Dame has won all six meetings at South Bend since the Fighting Irish became a member of the Atlantic Coast Conference, including a 69-59 decision last Feb. 10.
The Yellow Jackets won five straight meetings between the two teams from 1972 through Tech's 74-69 victory in McCamish Pavilion on Jan. 11, 2014, the team's first meeting as ACC foes.
All but one game in the series has been played on the two campuses, the exception being a 2007 meeting in the third-place game of the Paradise Jam. The Yellow Jackets erased a 9-point deficit in the final 5:11 and won the game on a three-point basket by Matt Causey with two seconds remaining.
Tech is 2-8 in games played in South Bend, and 1-7 in Purcell Pavilion, including an 88-80 overtime win on Feb. 24, 1990, with the Jackets headed toward an ACC title and Final Four berth later that season.
That game and a 90-80 Tech victory in Atlanta a year earlier were the only two face-offs ever between legendary coaches Bobby Cremins and Digger Phelps.
Tech is 8-1 all-time against Notre Dame in Atlanta, three of those wins at Alexander Memorial Coliseum and five at McCamish Pavilion.
Four of the five meetings before that were played with Whack Hyder as Tech's head coach, and the Jackets won three of those, including an 82-62 win in 1972 at Alexander Memorial Coliseum in Phelps' first season as the Fighting Irish head coach.
ABOUT GEORGIA TECH MEN'S BASKETBALL
Georgia Tech's men's basketball team is in its third year under head coach Josh Pastner. Tech has been a member of the Atlantic Coast Conference since 1979, won three ACC Championships (1985, 1990, 1993), played in the NCAA Tournament 16 times and played in two Final Fours (1990, 2004). Connect with Georgia Tech Men's Basketball on social media by liking their Facebook Page, or following on Twitter (@GTMBB) and Instagram.
For more information on Tech basketball, visit Ramblinwreck.com. Tickets for men's basketball can be purchased here.