Greensboro, N.C. – The Atlantic Coast Conference announced today the future matchups of the league's 20-game men's basketball schedule, which begins with the 2019-20 season.  The 20-game matrix is in effect for three years through the 2021-22 season.
Each team will play its two primary rivals every season both home and away (four games, Clemson and Notre Dame remain Georgia Tech's primary home-and-away opponents) and four repeat opponents both home and away (eight games). The remaining eight opponents will be single games, four at home and four on the road.  The full cycle of repeat opponents will be complete following the third year.
Under the former 18-game schedule, each team played four opponents both home and away each season, four at home and four away.
In 2019-20, Georgia Tech will play Louisville, NC State, Pittsburgh and Syracuse both home and away in addition to Clemson and Notre Dame, with Duke, Miami, Virginia and Virginia Tech visiting McCamish Pavilion.
In 2020-21, Tech's home-and-away opponents will be Clemson, Notre Dame, Duke, Florida State, Virginia and Wake Forest, with home games against Boston, North Carolina, Pittsburgh and Syracuse.
In 2021-22, the Yellow Jackets play Clemson, Notre Dame, Boston College, Miami, North Carolina and Virginia Tech both home and on the road, and will host Florida State, Louisville, NC State and Wake Forest.
The above rotation will repeat beginning with the 2022-23 season.
Fans interested in receiving information about tickets for Georgia Tech men's basketball can click here.
Following are the complete schedule rotations for all 15 ACC teams.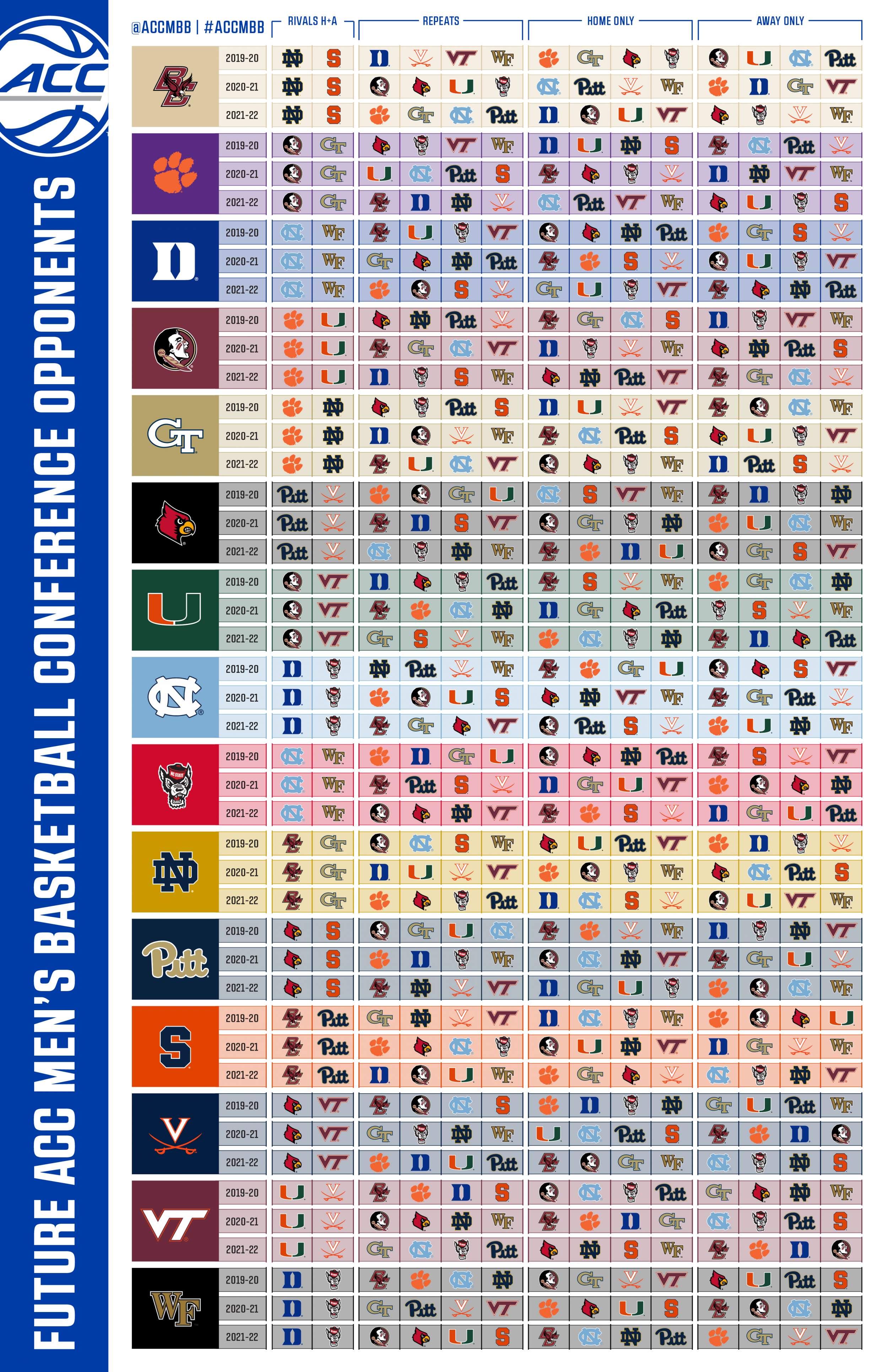 ABOUT GEORGIA TECH MEN'S BASKETBALL
Georgia Tech's men's basketball team is in its third year under head coach Josh Pastner. Tech has been a member of the Atlantic Coast Conference since 1979, won three ACC Championships (1985, 1990, 1993), played in the NCAA Tournament 16 times and played in two Final Fours (1990, 2004). Connect with Georgia Tech Men's Basketball on social media by liking their Facebook Page, or following on Twitter (@GTMBB) and Instagram.
For more information on Tech basketball, visit Ramblinwreck.com. Tickets for men's basketball can be purchased here.