Spring Game Home Page | #404Takeover Challenge | Rosters (.pdf) | Watch Live (ACC Network Extra – Friday at 7:25 p.m.)
THE FLATS – The game format, rosters, honorary coaches and broadcast info for Georgia Tech's 2019 spring game, presented by Nissan, have been finalized. The 2019 spring game is set for Friday at 7:29 p.m. at Bobby Dodd Stadium.
ADMISSION, PARKING, WEATHER
Admission and parking are FREE. The weather forecast calls for sunny skies and a temperature of 68 degrees at kickoff, perfect conditions for fans to accept the #404Takeover Challenge and be a part of a record-setting Georgia Tech spring game crowd.
Parking lots open and festivities begin at 5 p.m., and gates open at 6:30 p.m.
Click HERE for more details on parking, pregame festivities, admission (including Georgia Tech's clear bag policy, which will be in effect for Friday's game) and the #404Takeover Challenge. Giveaways feature GT/404 wristbands for the first 5,000 fans in attendance and GT/ATL adidas t-shirts for the first 2,000 Georgia Tech students in attendance.
GAME FORMAT
Friday's game will consist of four, 12-minute quarters.
There will be no special teams in the game (kickoffs, punts, field goals or PATs). Teams must go for it on fourth down. A turnover on downs will result in the opposing team taking possession at the spot where the previous drive concluded. Teams must also try for a two-point conversion following all touchdowns.
ROSTERS (click HERE for .pdf version)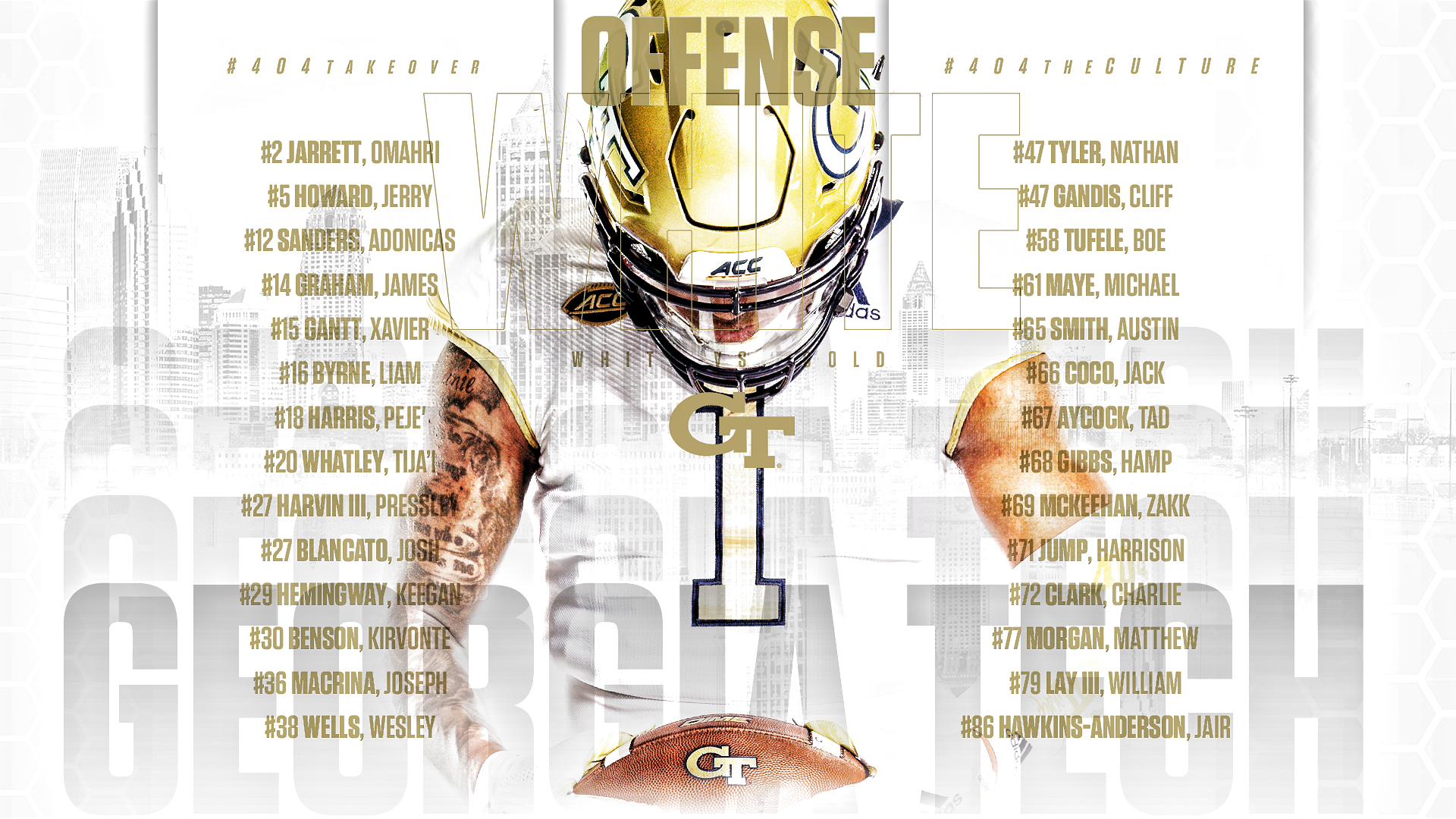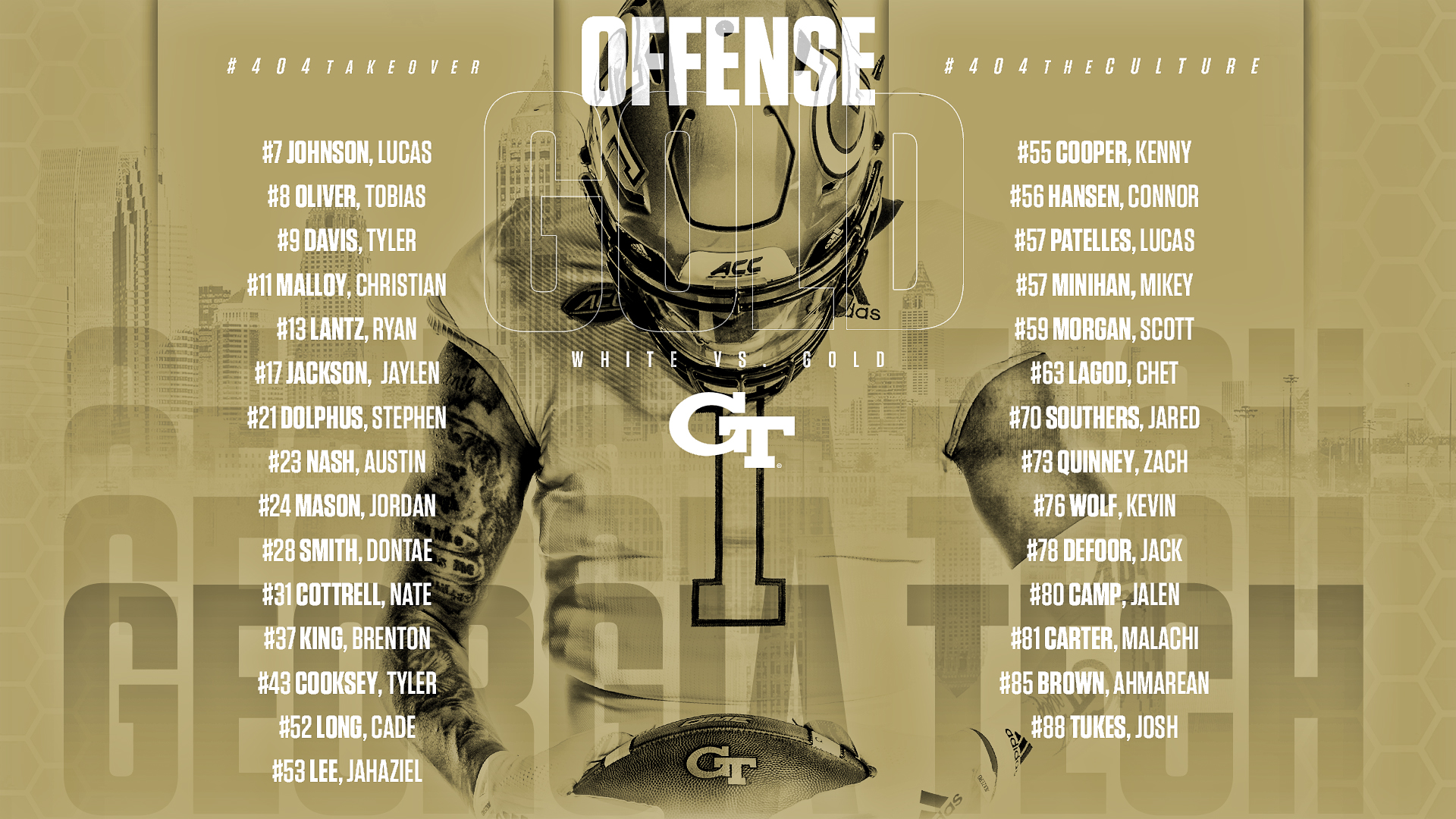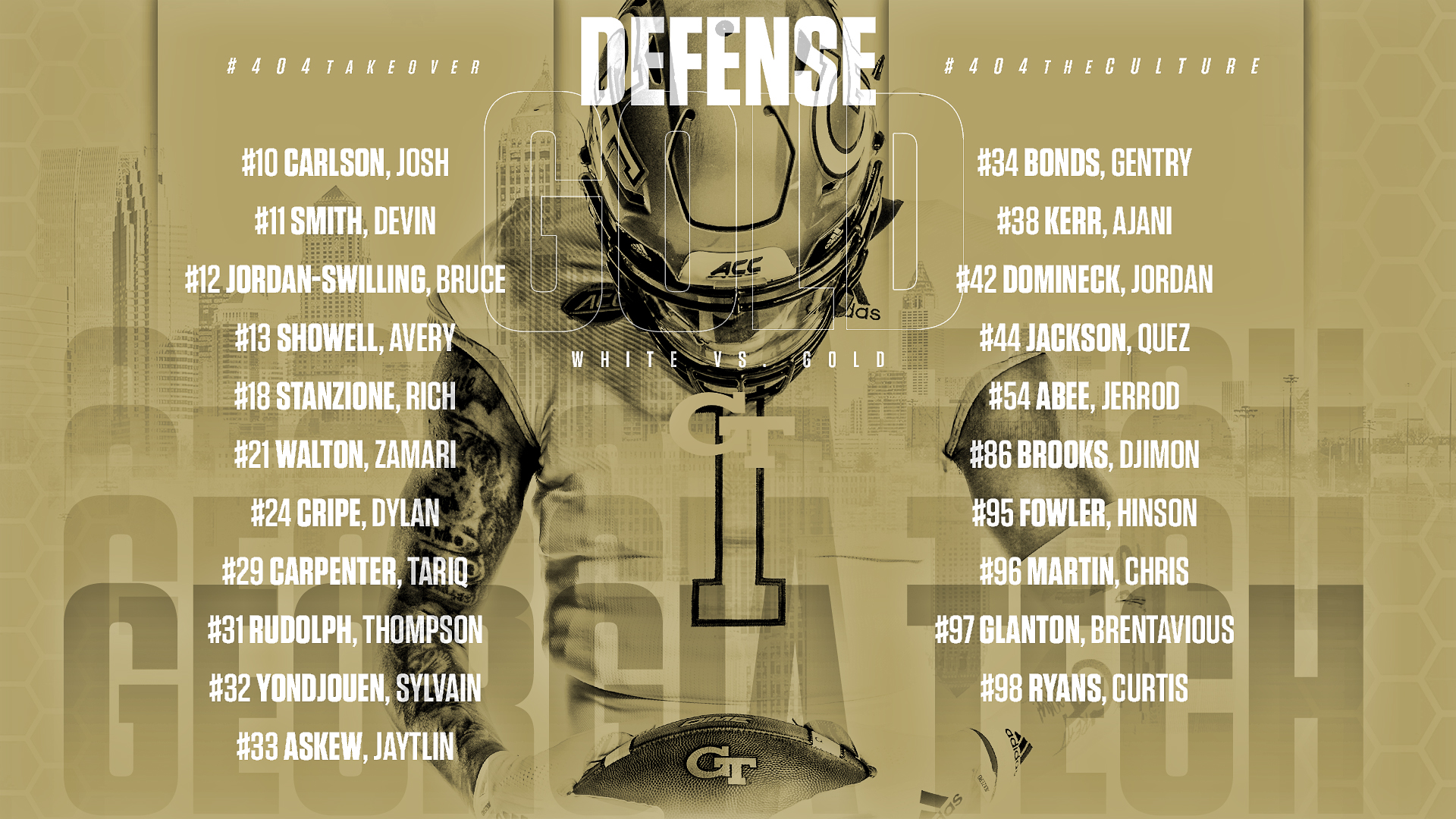 HONORARY COACHES
Georgia Tech alumni Walt Ehmer and Jim Sanders will serve as the honorary coaches for Friday's game.
Ehmer (GT Class of 1989) is the CEO of Atlanta-based Waffle House and will be the honorary coach for the Gold team.
Sanders (GT Class of 1988) is vice president, Freestyle of Atlanta-based Coca-Cola and will be the honorary coach for the White team.
BROADCAST INFORMATION
Friday's game will be carried live on ACC Network Extra. The Georgia Tech football broadcast team of Andy Demetra (play-by-play), Sean Bedford (analyst) and Wiley Ballard (sideline reporter) will call the action.
Click HERE to watch the broadcast live on ACC Network Extra, beginning at 7:25 p.m.
For the latest information on the Georgia Tech Yellow Jackets, follow us on Twitter (@GTAthletics), Facebook, Instagram or visit us at www.ramblinwreck.com.