By Jon Cooper | The Good Word
So much of football is repetition.
Repetition of good habits will result in a positive vibe and winning football.
Repetition of not-so-good habits can cause things to go sideways and result in frustration.
Losing on the road has become a frustrating, not-so-good habit for Georgia Tech over the past 12 months. Head coach Paul Johnson has seen enough of it and is ready for a change, beginning Saturday afternoon in the Yellow Jackets' Atlantic Coast Conference opener at Pittsburgh. Kickoff is at 12:30 p.m.
"It's getting old," said Johnson, whose Jackets (1-1) are haven't won away from Bobby Dodd Stadium since the 2016 TaxSlayer Bowl and are 0-1 on the road in 2018, following last week's 49-38 loss at USF. "[During the six-game road skid], we've been ahead double-digits five of the six. That goes on everybody. We were disappointed with our performance a week ago. [Saturday is the] conference opener. Historically, it's a pretty tough place to play. Pitt's a program with a lot of tradition, a lot of history. Historically, when we play them it's always a tough, hard-fought game and we expect it will be the same this week."
What Johnson expects to not to be the same this week is pretty much everything that went south on them last week, when a statement-making, hex-breaking road victory — Tech led 38-28 with 12 minutes to play — disintegrated into another hand-wringing defeat — as it was outscored 21-0 to close the game.
The first item to be fixed is special teams, especially kickoff return, following touchdowns allowed on consecutive kickoff returns by USF blazer Terrence Horne. To bring about something new, Johnson is going with something old, or at least older.
"We got a couple of things corrected. We're going to change some personnel. We're going to get some older guys out there," said Johnson. "It's frustrating but, ultimately, I'm in charge of it and we've got to get it fixed. [Last] Saturday on special teams was just ridiculous. We didn't execute the way we were supposed to, the kids didn't do what they were supposed to and what they do in practice but we also had five freshmen out there. That's my fault. I should have stopped that. I know better than that. So get some better people out there and see if we can do a better job."
Johnson wasn't pointing a finger at kicker Shawn Davis.
"[Shawn] did a pretty good ball kicking the ball off," he said. "The kickers actually did a nice job. It wasn't them at all. The kickoff return, if you'd have dropped it out of a helicopter you couldn't have put it in a better spot. In fact, I couldn't believe the guy fielded it. 99 yards later…he figured it out, I guess."
Johnson is counting on a veteran presence to help Tech's special-teamers figure it out on Saturday.
"We can't spend any more time on it than we spend in practice," he said. "I've always said — and I made it really clear this week, really crystal clear to everyone involved — the punt team and the kickoff team have priority over every other team out there. If you want to save a snap from somebody, you take them off offense or you take them off defense. You don't take them off the kickoff team or the punt team because that's the best way I know to lose a game."
Pittsburgh can attest to that. In it's 51-6 loss to No. 11 Penn State — a final score Johnson said wasn't at all indicative of how the game was truly played — Panthers' special teams got burned on a punt return for a score, misplayed a pair of snaps on a PAT and a makeable field goal, and muffed another snap on a punt that resulted in a short field and a Nittany Lions touchdown.
Tech's special teams weren't the only culprit in the loss to USF. The defense struggled, especially late, allowing touchdowns on four of USF's five second-half possessions. Additionally, the offense, which scored on three-straight possessions to open both halves, went scoreless in the second quarter and was short-circuited on back-to-back fourth-quarter drives.
"You have to continue to keep scoring and you have to get a stop once in a while. Somebody's got to make a play. You create your own luck," Johnson said. "Just like in the Penn State-Pittsburgh game — Penn State didn't make a play. Pitt's punter dropped the ball, they dropped a punt, they fumbled the ball.
"Just like here last year when we were playing Pitt," he added. "They had third-and-one early in the game, they tried to run the speed sweep, put the ball on the hip of the guy, the ball goes rolling in the backfield, we get it and take the lead. We haven't gotten much of that [on the road of late]. In fact, what's happened is we've been the ones who do that. You've got to quit beating yourself."
The defense was hurt last week by targeting ejections of starting strong safety Tariq Carpenter, who had an interception before being disqualified from the game, and inside linebacker David Curry, whose ejection came in the second half of last week's game, meaning he'll have to sit out the first half at Pitt.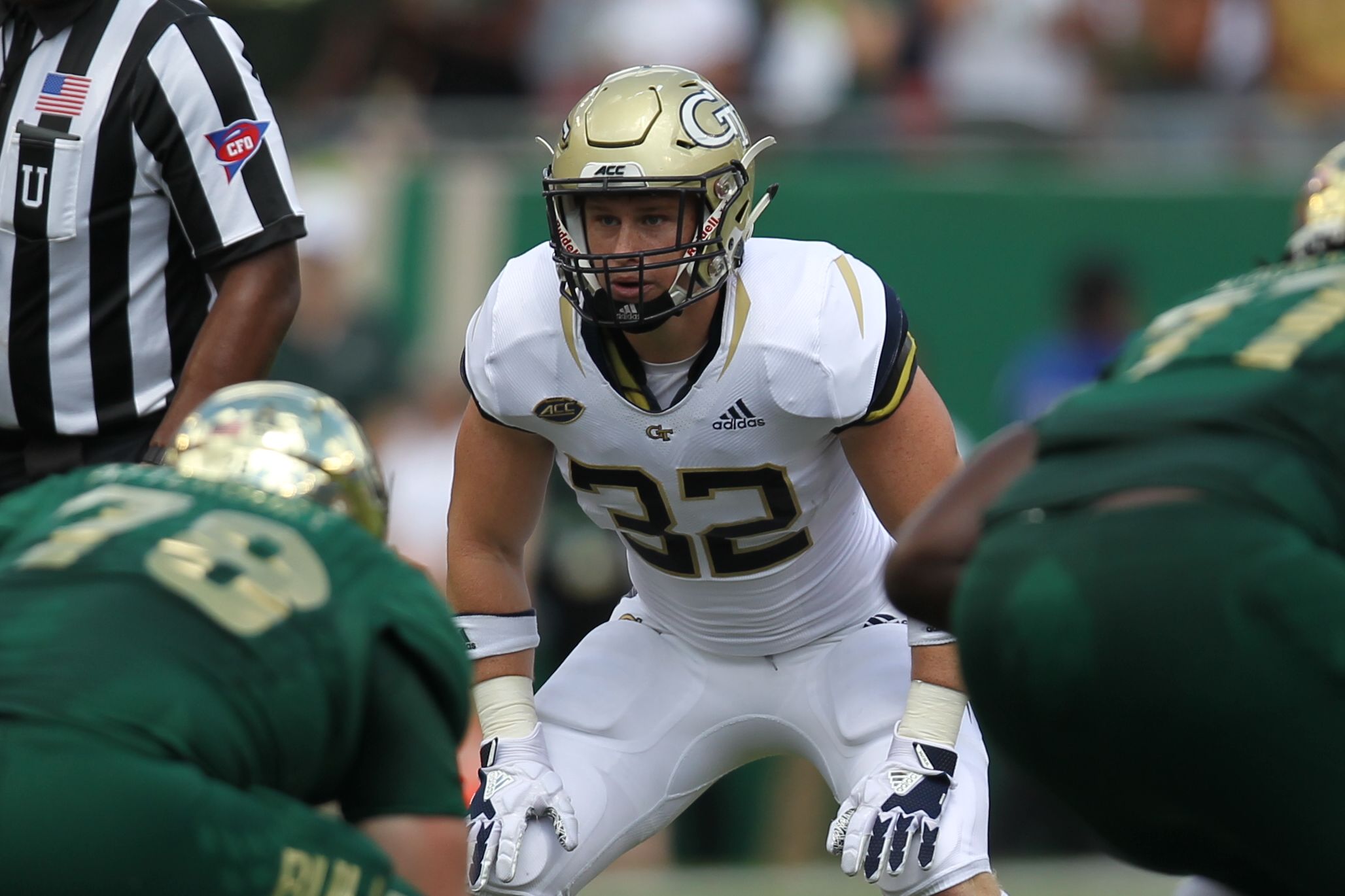 Inside linebacker David Curry, who lead Georgia Tech with 10 tackles this season, will return to the field after halftime of Saturday's game at Pitt.
The offense will also have a slightly different look, as B-back KirVonte Benson has been lost for the season due to a knee injury suffered at USF. That unfortunate turn of events has opened the door for redshirt freshman Jordan Mason, who started been impressive in running for 180 yards this season, sophomore Jerry Howard, who ran for 175 yards on 23 carries (7.6 yards per carry) and two touchdowns yards last season, and possibly talented true freshman Christian Malloy.
Johnson believes the window of opportunity is open for Georgia Tech as far as getting off to a good start in conference play. The Jackets are 8-2 in ACC openers under Johnson and 3-2 against Pitt since the Panther joined the ACC in 2013, including a 1-1 mark at Heinz Field.
The Yellow Jackets' win at the home that the Panthers share with the Pittsburgh Steelers was a 56-28 thrashing of Pitt in 2014. That game illustrated Johnson's ideal scenario both defensively (forcing turnovers) and offensively (cashing them in), as Tech turned four first-quarter fumbles by Pitt into 28 points. Of course, there also was the wacky 37-34 loss in 2016, when the Jackets overcame a pair of 11-point deficits to take the lead with 5:22 left but fell prey to a crazy tipped pass on third-and-nine, which resulted in a 74-yard touchdown, then were unable to convert a late fourth-and-one, which led to the Panthers' game-winning field goal as time expired.
Crazy games have been the norm in this series, but Johnson is concentrating his energy on getting back to normal.
"Honestly, I don't think about that stuff," said Johnson. "I'm getting ready to try to get our guys ready to go play the conference opener. As disappointing as last week was, it was a non-conference game. We're getting into the conference. Our goal is to try to win our division. If we're going to do that, we need to win on Saturday.
"It's like I told the team, 'Last week's over. You move on. You correct, you move on and you get ready to play Pitt,'" he added. "We're going up there to try to put in a plan that we feel gives us the best chance to win the game and then you play. You've got to go make plays."