By Jon Cooper | The Good Word
THE FLATS – Nobody wanted any part of Tashard Choice as he ran wild once arriving at Georgia Tech from Oklahoma in 2005.
If Choice has his way, nobody is going to want any part of his protégés.
"We're going to be physical, we're going to be tough and we are going to be disciplined," said the first-year running backs coach. "We're going to hit people in the mouth blocking and running the football, we're going to protect the quarterback and protect the football. That will be everything that we do. It's the only thing that we CAN do to be successful."
Being successful in coach Geoff Collins' spread offense means playing fast, which also means learning fast – figuratively and literally, as spring practice has been run at light-speed.
That's something Choice has enjoyed, even if it did take a little bit of an adjustment.
"I learned fast," he said, with a laugh, comparing it to his first NFL start with the Dallas Cowboys, on Dec. 7, 2008 against the Pittsburgh Steelers. "When you come out here the first time I see what coach Collins does, I'm like, 'Oh, shoot, I've got to go.' The next day it's, 'Okay, now I'm ready. Let's go!'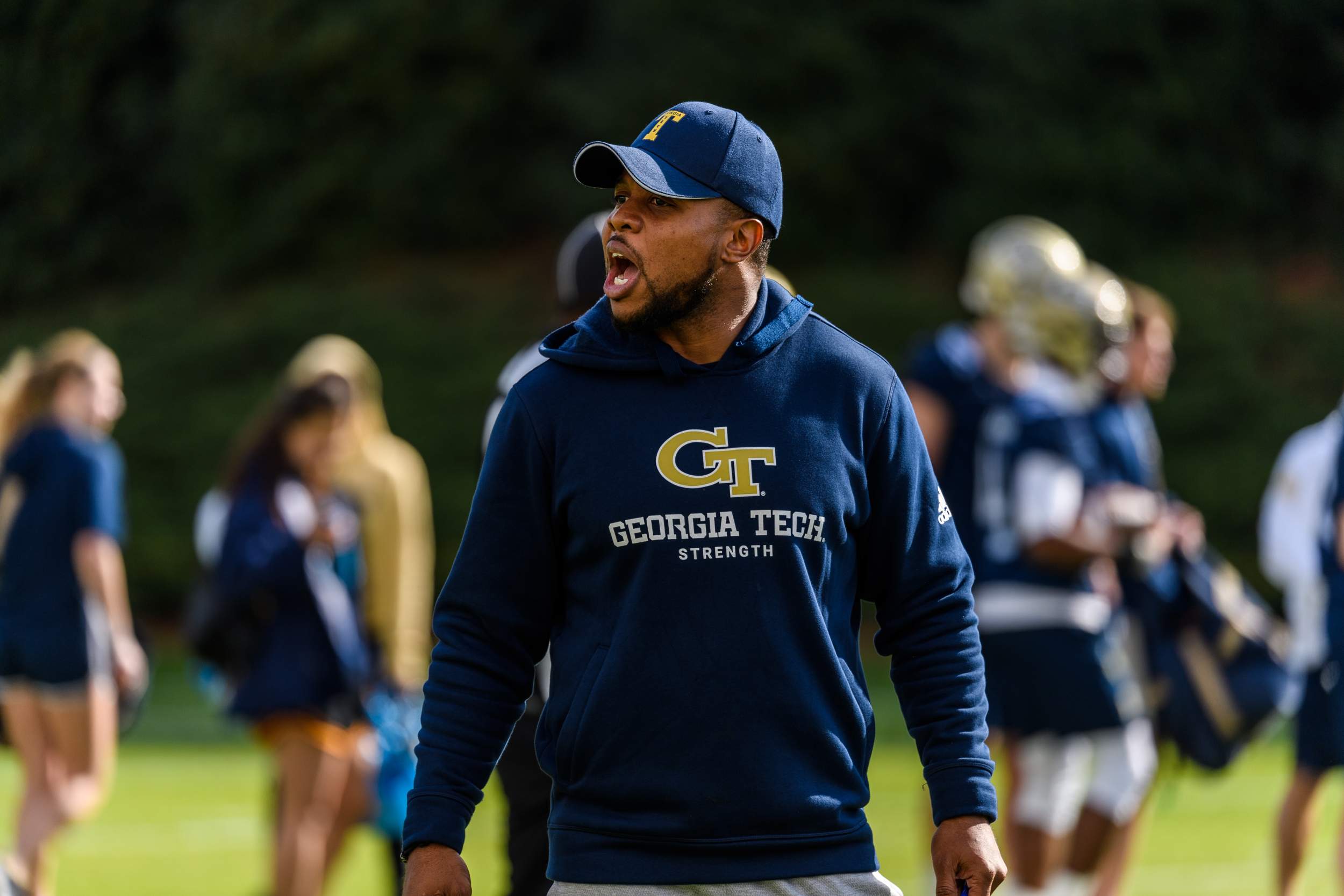 "It's a learning period but that's how I train my backs," he continued. "Once you mess up, 'Okay, I'm cool. But don't look at the mistake. Let's keep going. Let's keep moving.'"
The break-neck pace has been embraced by the players, who are making the adjustment to the speed of the up-tempo practice.
"(The coaches) told us before we started spring football, 'You've got to run. It's going to be amped up,'" said redshirt senior Omahri Jarrett, who has seen most of his action on special teams, but did get in to six games last year, carrying four times for 47 yards. "We got here the first day and everybody was gassed. We were like, 'Okay, we see what they expect now.' It's just running everywhere. You might be on one field, on one possession and another field on another possession. It's just everybody flying around. You might bump into one of your teammates.
"I like it," he added. "Everybody is amped up EVERY day. You have to have a lot of energy to be on this football team and just fly around. That's what (Coach Collins) likes, guys with energy around him. It's like, if you're not hollering, he doesn't want you in there."
"Practice is ramped up a lot more. A lot more energy, a lot better pace. A lot of fast pace, no breaks, back-to-back reps," agreed redshirt freshman running back Christian Malloy, who starred at Parkview High School and played in one game last year (Oct. 25 vs. Virginia Tech), carrying four times for 27 yards. "Everybody's getting reps, everybody's moving fast, everybody's finishing plays. It brings the love of football back, just running around all the time with teammates, getting at it. It brings back a lot of that."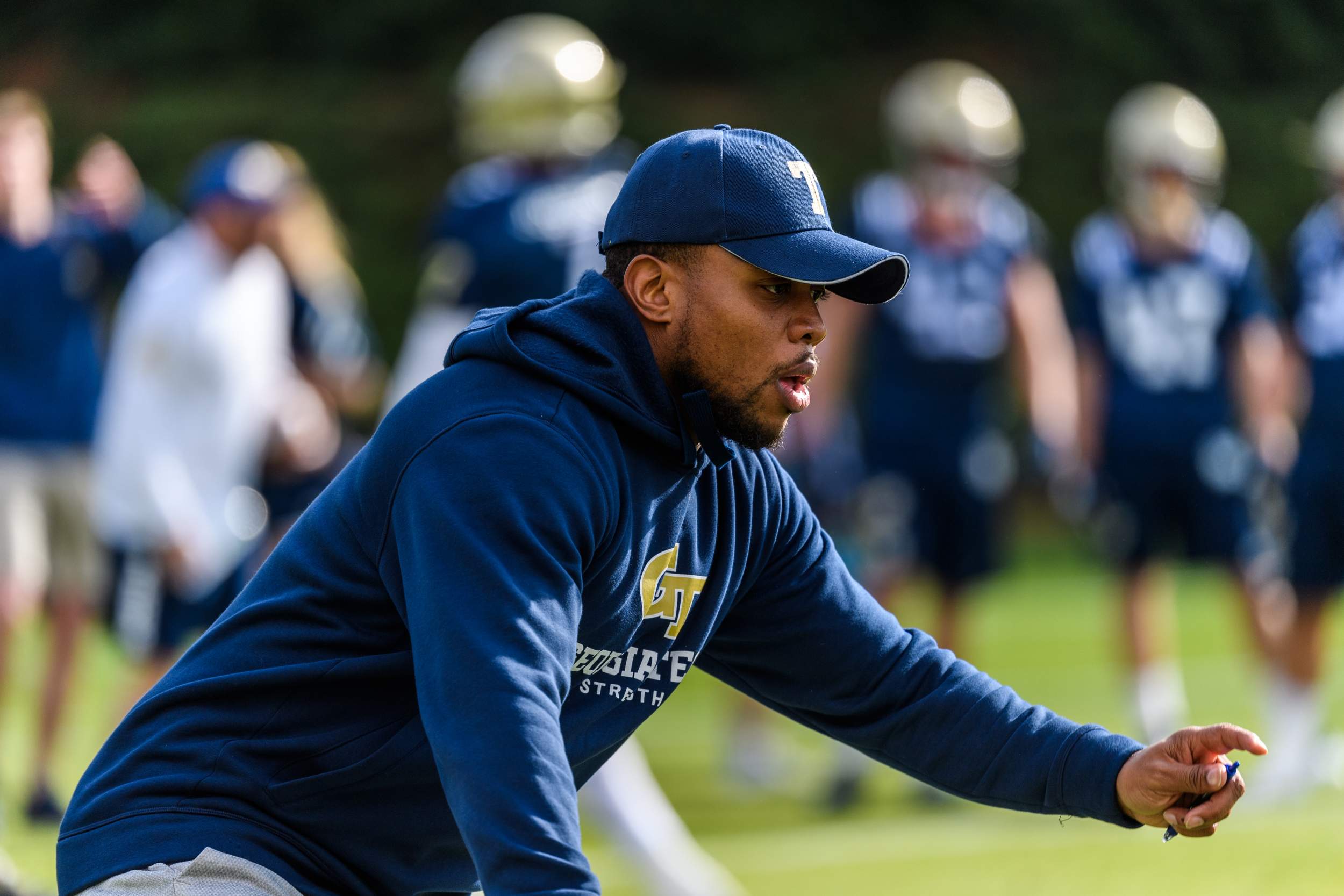 Choice likes the passion. He also realizes that with the novelty of the offense and the speed at which practice is run, errors are going to happen. He sees the occasional miscue as something he can turn into a learning experience.
"Sometimes I don't want to over-coach when I'm out here on the football field," he said. "I want to see them make mistakes because then I can show them or tell them the right thing to do. I don't want to coach them sometimes, sometimes I do because different plays you have to.
"More important, I really want the guys to understand that you can't play running back thinking," he added. "You have to play running back reacting. You have to know, and know you know. When you know you've got a protection or you know where the run is, you've got to be able know that in your head and process the play and be ready to go. The faster you learn it, the faster you are on the football field and you're able to make plays that way. So I try to continue to get them to understand situations like two-minute or third-and-short, to understand what you have to do in those situations to be successful. We have to continue to move the football."
Choice is getting through to his backs when he does coach them.
"He's a passionate guy. A great coach," said Jarrett. "He's going to give you all of him. He just wants full effort 100 percent of the time. You can't ask for a better coach than that."
That credibility is crucial.
"The players can see if you're fake or not," Choice said. "So when you come out and you have passion, you have energy, it drives everybody. They know that I'm passionate about what I'm coaching. If I tell them or explain something to do, they'll do it and they'll respect you for it. So it's one of those things where you just be yourself. As a coaching staff, Coach Collins tells everybody, 'Be who you are and then everything else will fall into place.'"
Unfortunately, some of the running backs have fallen too, as several have been nicked up in the early going. But the Jackets view this as an opportunity for guys to step up and get more reps.
"A couple went down. The practice still moves at the same pace so I got a little extra work," said Malloy. "We've worked on conditioning because we're going to be a fast-tempo offense, that always helps."Choice isn't coaching any differently.
"More guys getting more reps. The guys that are in, those are the only ones you can worry about, really," he said. "You can hope the other guys get healthy but we're managing. Jerry (Howard) had a couple of plays that he came in today so he'll be with me a little more, learning some more of the position. All in all, I think we're doing pretty well."
As Howard, Malloy and Jarrett continue to adjust and guys like KirVonte Benson and other injured players get back to 100 percent and get themselves mentally ramped up, the reps-for-all approach has opened the door for previously unheralded players like redshirt sophomore Keegan Hemingway — something that may come as news to him.
"We have a walk-on, Keegan (Hemingway), he's maybe 5-5, 170, 165, but he's playing his tail off for me." Choice said. "You have guys, and you see them get better day in and day out. There's no depth chart. You're either coachable or you're not. You either get better or you're not because you're going to get reps. It's a pleasure to see the guys that you say, 'Oh, they wouldn't get a lot of reps,' when everybody gets the same amount of reps, let's see who can get better day in and day out."
While Choice is looking short-term toward the season-opener Aug. 29 at Clemson, he also sees the bigger picture – even bigger than the 2019 season – for his backs and future backs coming to Georgia Tech. That's going pro.
Since Choice graduated from Georgia Tech in 2008, only three Yellow Jackets running backs have made it to the NFL — Mike Cox in 2008, Jonathan Dwyer in 2010 and Anthony Allen in 2011, with only Dwyer and Allen getting drafted, and neither of them selected prior to the sixth round. Choice, a fourth-round pick of the Dallas Cowboys in 2008 (122nd overall), the third-lowest a Yellow Jacket running back has ever gone in a draft — only Eddie Lee Ivery (1st round, 15th overall in 1979), and Robert Lavette (4th round, 103rd overall in 1985) have gone sooner — is determined to change that.
"Every kid that's here, every kid that I recruit, I ultimately want them to go to the NFL," he said. "I want you to come in and get an education. That's very important. But I want football players. You're not going to Georgia Tech just for the education. You're going to Georgia Tech to play high-level football too. Education is an extra gift that you get because of the prestige and how challenging the school is. So when they come in I want them to be the best. I want them to be the best in the nation. So I'm coaching guys that want to elevate themselves to be at the top of competition. That's the NFL."
That's a tough road, but Choice expects his backs will be tough enough to handle it when the time comes. This current group is on the way and will remain a work in progress. But that's OK.
"The deal about toughness is it's not something I can just see in a day. It's got to be continually stacked on day in and day out," he said. "You see them get tougher but you want to continue to see that. That's discipline. The fact that they're coming out here. hitting people in the mouth, being able to run, being able to finish, it's all part of being tough, mentally as well. To push yourself when you're exhausted, to push yourself when you're not. To always come out here and give 100 percent.
"The whole culture we've built is built on effort," he added. "We always tell the players, 'If you're going to be about something, be about effort' because you can't coach that. You can't understand how passionate I am about the game of football. Nobody can write or say, 'You're this passionate.' It's inside you. It's something you do. As a football player, your toughness is how you come out there and conduct yourself day in and day out. We want to see it continue. It's a day-by-day process. So when we line up on the (Aug.) 29 (at Clemson) it's 'Go Time.'"