THE LAST WORD BEFORE GAME 4 vs. CLEMSON (Saturday at 3:30 p.m. – Bobby Dodd Stadium)
By Matt Winkeljohn | The Good Word
With the biggest game Bobby Dodd Stadium has seen in years looming, Paul Johnson is going somewhere different. Before Saturday's game against No. 3/2 Clemson, Georgia Tech's head football coach is dabbling in understatement.
The Yellow Jackets (1-2, 0-1 ACC) are chasing an upset that would be the biggest of Johnson's career against a team that's won three-consecutive Atlantic Coast Conference titles and gone to the college playoffs after each season, winning a national title in early 2017 after barely falling to Alabama in '16. Clemson (3-0), though, is beatable.
"I'm not saying it's impossible," Johnson told media this week. "They're a really good team, [and] we'll have to play better than we've played to this point. If you do that, and we execute, you've got a chance."
The Jackets and Johnson have done this before at Bobby Dodd.
In his first season at Tech, 2008, the Jackets were unranked yet beat No. 16 Florida State and No. 21 Miami, both times at home.
Unranked a year later, they picked off No. 22/18 North Carolina on The Flats, and bettered that a month later when they were ranked No. 19/20 and beat No. 4 Virginia Tech, 28-23, in a Thursday night game.
Tech was unranked in 2011 before knocking off No. 6 Clemson,and in 2014 was ranked No. 24/23 only to handle the Tigers again, 28-6.
Even last year, when the Jackets fell short of qualifying for a bowl game, they beat No. 17 Virginia Tech in a game that derailed the Hokies' bid to with the ACC's Coastal division.
It must be said, though, that these Tigers are bears.
They're particularly large, fast and skilled, and they've quite a track record against Tech.
In a series dating to 1898 that Tech leads 50-30-2, Clemson is going for a four-game winning streak against the Jackets for just the third time ever, and they have a loaded arsenal.
Moving quickly from an offense with a massive line, two top-shelf quarterbacks and uber-quick sophomore running back Travis Etienne (whose 7.29-yard rushing average is No. 1 in Clemson history), there's that defense.
Every one of the Tigers' defensive line starters will play in the NFL.
Ends Clelin Ferrell (a fourth-year junior who is 6-feet-4, 265 pounds) and Austin Bryant (senior, 6-6, 280) and tackles Dexter Lawrence (junior, 6-4, 350) and Christian Wilkins (graduate, 6-4, 315) were all there two years ago, when Clemson beat Georgia Tech, 26-7, at Bobby Dodd.
The Jackets managed a mere 124 yards of total offense that day, and they've averaged but 230 in their last three meetings against Clemson.
Who can forget the sight of Lawrence and Wilkins, each heavier than all but a couple players on Tech's roster, hustling downfield covering punts?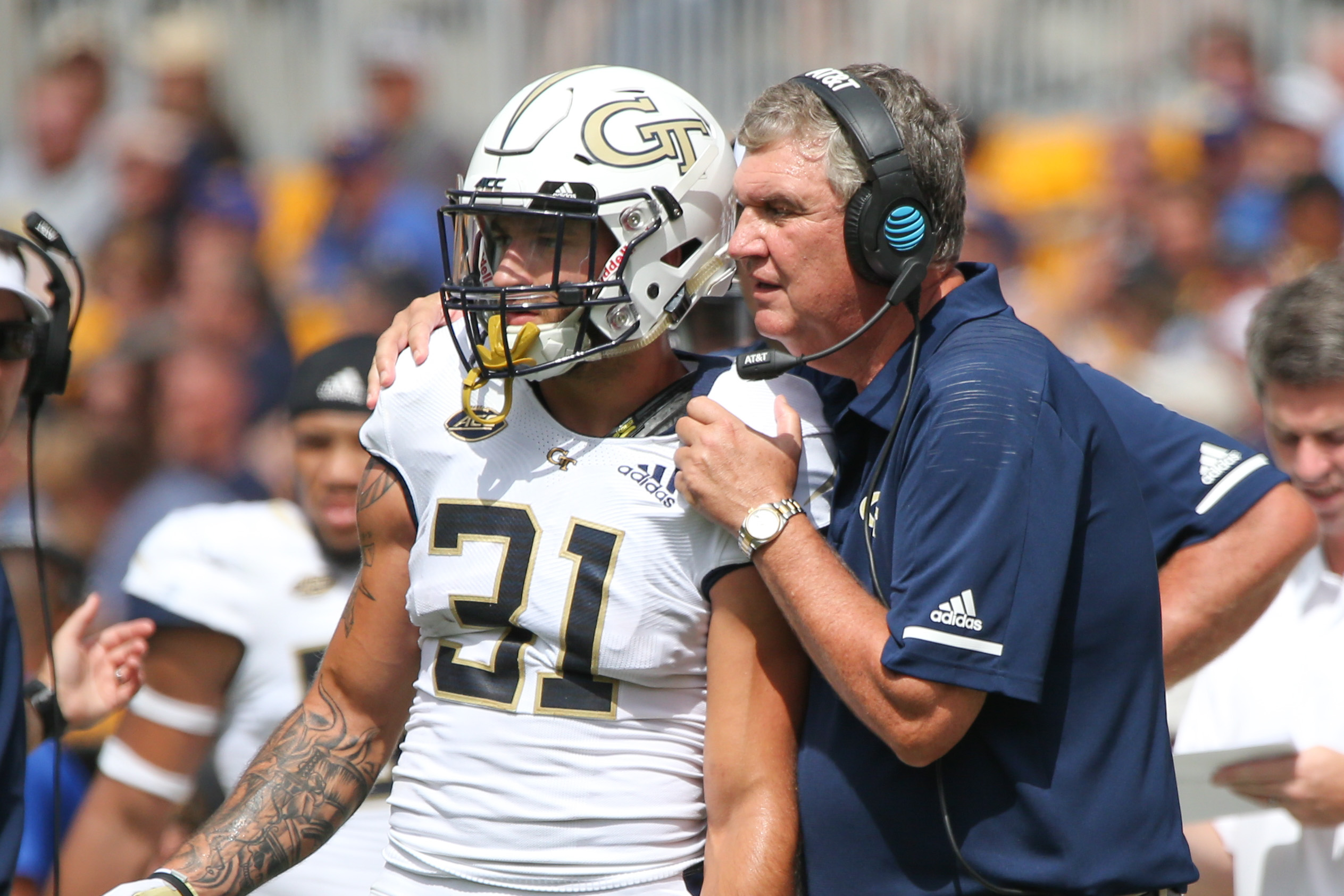 Johnson remembers them well, yet he's not saying the Jackets will have to block all of those guys on every play to succeed.
"They're pretty good. They've got three, maybe four first-round draft picks up there on the defensive line, so there won't be very many teams that will ever have that," he said.
"The challenge becomes trying to block them or read them to get [blockers] to the second level. Hopefully, with the nature of what we do, we won't have to block all those guys and we'll be able to double some of them."
Ferrell looks most difficult.
He already has five quarterback sacks among Clemson's 12 (Tech has three total), and he's registered 12 of the Tigers' 30 tackles for lost yardage (Tech has 12 total).
As of the end of the practice week, it's unclear whether starting right tackle Andrew Marshall and starting right guard Will Bryan will be able to play. They're battling lower-body injuries. Former starting center Kenny Cooper, who missed the first two games and played sparingly last week at Pitt, is healthier.
"It would mean a lot of they're healthy . . . [Cooper] should be able to play more. He's got to play himself into some sort of shape," Johnson said.
"It's hard to put together consistent plays without them getting a sack or a negative play to get you behind the chains," Johnson continued of Clemson's formidable defensive front. "You've got to be able to protect your quarterback if you're going to play them because they're going to come after him."
Speaking of the quarterback, Johnson believes that senior TaQuon Marshall can throw more effectively than he has in the first three games of this season. Given the way Clemson has performed against Tech's running game recently, that figures to be important.
"We throw the ball a lot in practice, and he's like everybody; there's days that's he's better than others. I think he's a little more accurate than what we've seen early [this season]," Johnson said. "You can't be afraid to throw the ball. He can throw the ball. We've just got to do it."
The Jackets are looking at this game as an enormous opportunity.
"I think the nature of what we do gives you a little bit of a chance as opposed to lining up in an 'I' formation and having to block all those guys," Johnson said. "They're going to probably determine who has the ball with what we do.
"We've just got to execute what we do. We've just got to do better. I think this team still has a chance to be good."