2019 GEORGIA TECH SPRING GAME – FRIDAY at 7:29 p.m. – BOBBY DODD STADIUM | CLICK HERE FOR FULL INFO
By Matt Winkeljohn | The Good Word
The first spring of football practices under new head coach Geoff Collins is not yet complete, yet a summary judgement can already be made: Georgia Tech's tight ends form the most eclectic group on the team.
They've come from all kinds of positions and places to staff a spot mothballed 11 years ago, and these Yellow Jackets are quite the mix.
In the mix are a former quarterback, a former linebacker, a young man who worked previously at linebacker and then B-back, some guys who've played defensive line and there will be at least one freshman who's not on campus yet.
Hey, if you're going to resurrect a position that will require guys to be jacks of multiple trades, it figures that it's going to be a quilt-work project, right?
"You have to know it all," tight ends coach Chris Wiesehan said of his group. "It's very similar to quarterback, right? You have to know the contours of the secondary as well as the box play, as well as the blitz assignments because a lot of times you'll be in those protections . . . "
VIDEO: Chris Wiesehan press conference
It may be more to the point to say that Wiesehan has to teach it all because the Jackets have only one guy who's played tight end at the college level, a few who barely played it in high school and a few who never played it anywhere.
Already, graduate student Tyler Davis is the old head in his room, and not just because he already spent four years in college, at Connecticut, where he enrolled early in 2015. He's played the game at tight end, and one of the reasons he came to Tech after graduating from UConn was to lead.
The 6-4, 243-pounder from North Bellmore, N.Y. is uniquely qualified to help those in transition. He made his high school bones as a quarterback, and then learned to play tight end in college. He played in all 36 games over his final three seasons at UConn after redshirting in 2015.
He scored six touchdowns last fall, and played each season against Temple, where Collins and much of his staff were encamped for the past two years.
You've also got former linebacker Tyler Cooksey, former defensive linemen Josh Tukes, former linebacker/B-back Joseph Macrina and redshirt freshman Nathan Tyler.
Top recruit Dylan Deveney from New Jersey will arrive on campus this summer.
Most of them didn't know much about what they were doing when spring practice began. They probably won't all remain in the mix at tight end.
"That was one of the reasons why I came here, to set a standard for these guys," Davis (below) said. "I knew about Temple when I had to play against them every year. You knew it was going to be a tough-nosed game, that they were going to come out and smack you in the mouth . . . so I knew it was going to be similar here."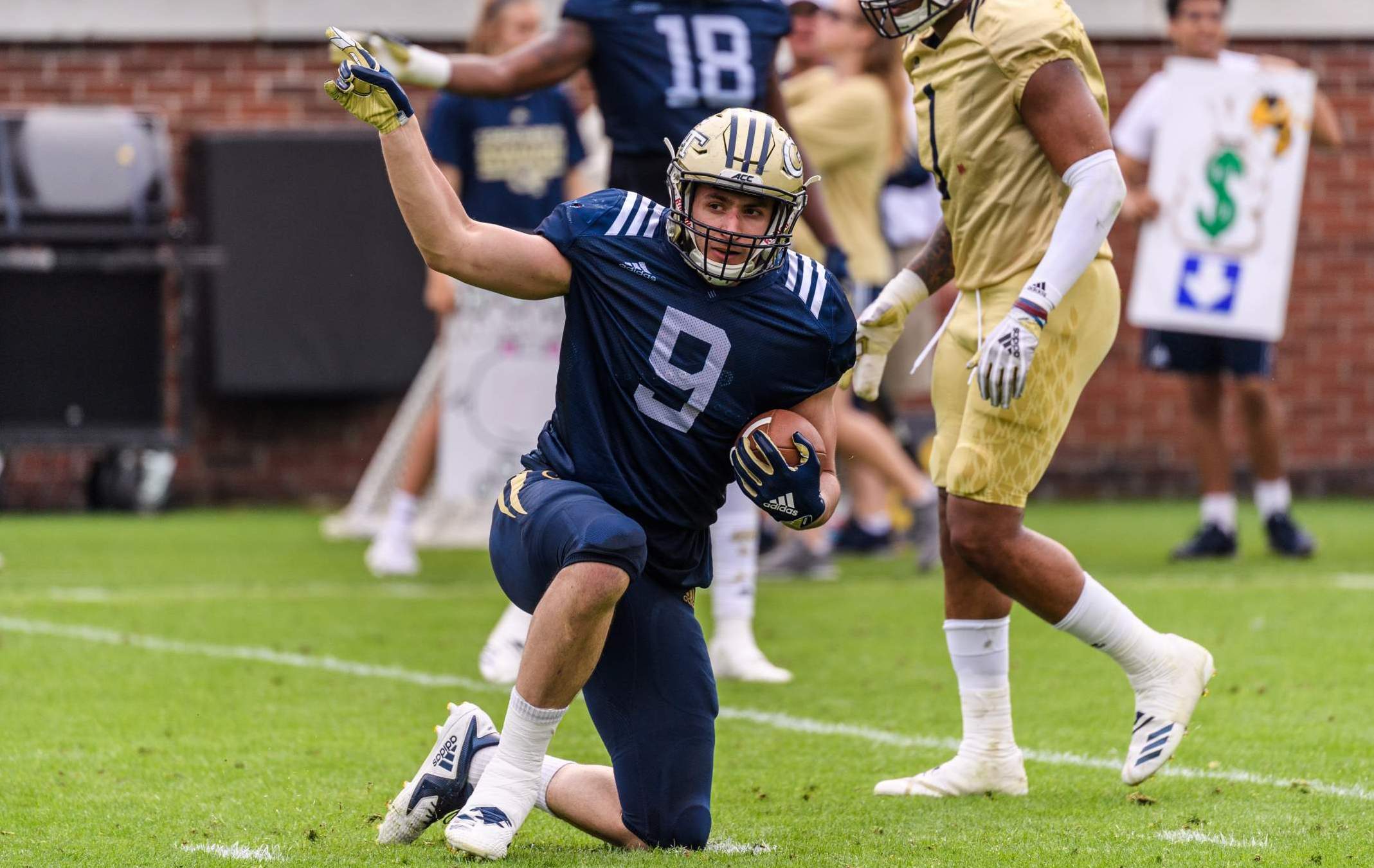 Tech hasn't deployed a tight end since 2007, the last year before Paul Johnson became head coach and deployed his spread option offense, which did not utilize tight ends.
Cooksey (6-2, 232) will, like Davis, be a fifth-year student-athlete. He's battled multiple injuries as a linebacker at Tech, playing chiefly on special teams.
He played a little tight end in high school at Greater Atlanta Christian, and proudly says that he caught the winning touchdown pass in a playoff game against Lovett.
"The first day that Coach Collins was available for us to meet him, and I said, 'Hey coach; my name is Tyler Cooksey and I'm going to be your new tight end,' and that was it," Cooksey recalled. "He said, 'We don't have any tight ends, so that's good.' "
You wouldn't think from the No. 88 jersey of redshirt sophomore Josh Tukes that the walk-on played defensive end before, but he did, and now the 6-6, 215-pounder from Newton County High is giving tight end a try after a stout career as a high school basketball player.
"I grew up playing football since first grade, and then I switched to basketball full-time all the way through high school," he said. "Senior year I played football again."
There's been plenty of switching among Tech's aspiring tight ends.
Fourth-year junior Macrina (6-0, 236), a walk-on from Northview High in Johns Creek, previously tried some linebacker and then some B-back under Johnson.
Redshirt freshman Tyler (6-2, 220) is a tight end from Glascock County High in Gibson, Ga.
Davis is leading the way.
"He was an elite player, and we actually coached against him," Wiesehan said. "To get him here, with his leadership skills, his talent, his work ethic really set the tone for us in the offseason and he's carried this into the spring.
"He's a leader on and off the field. When the kids take the time to have meetings on their own, he's that voice in the room. You hear his voice."
Cooksey (below) said of Davis, "He's pretty much like another coach."
Tukes reported, "Tyler's a big help. Even though he's new to Georgia Tech, he acts like he's been here before and he knows the position really well."
The greenhorn tight ends are trending upward.
Wiesehan said of Cooksey, "He's ascended rapidly. He's really gotten better and we're excited about him . . . Tukes has gained I think 11 pounds since I got here. (Macrina) has lost 17 . . . Tukes has become a really good route runner. The more lead he gets in his pencil, the better run blocker he's going to be."
Davis is embracing his role as a player and a sort of coach, working diligently with his fellow fifth-year senior Cooksey ahead of Friday night's spring game in Bobby Dodd Stadium.
"It's key that we're two like-minded people in the exact same room. Eat, breathe, sleep football, so we've got the same mindset on everything, which is awesome. We've got the same exact schedule . . . " Davis said. "These guys pick up things really quick."