By Jon Cooper  |  The Good Word
If you ask Sam Knapp about her summer she'll probably smile and describe it as "under par."
That's a good thing.
The Orlando, Fla., native and junior libero and defensive specialist for Georgia Tech volleyball had a blast learning and talking sports, especially golf, during her summer internship working for NBCUniversal GolfNow.
GolfNow is an Internet resource managed by the Golf Channel. Launched in 2001, GolfNow.com is used by an estimated 2 million golfers, allowing them to find and book tee times on some 8,000 course around the world, connect with other golfers and even find things like equipment-upgrades and instructional websites.
"It used to just be a tee-time business. Now it works with NBC Sports Gold, it does Revolution Golf (RevolutionGolf.com), like different types of services just to help the golf world grow. So it's connecting older folks that are playing golf with younger folks, it has different ways of connecting people and playing golf together. It offers so many services now.
"It's grown tremendously," she added. "There are about five companies that have come to GolfNow and asked them to take over their service side of the business."
Golf has been an integral part of the Knapp family. Sam's father, Tom, is executive vice president of partnerships and programming at Golf Channel, where he has worked for 17 years, and she and her two brothers still occasionally go out and play a round.
"Since my dad has always worked for the Golf Channel, we've just been around golf forever," she said. "I live in the Bay Hill community (in Orlando, Fla.). So golf has just always been a part of my life."
Georgia Tech also is a part of her life and proved helpful in getting her foot in the door as far as interviewing and then in doing the work once hired.
Knapp's boss was a Georgia Tech alumnus, Jason Feng, a computer science major at Tech and the member care operations manager at GolfNow. Upon meeting him during the interview process, it was clear she would be a perfect fit for the internship.
"We just hit it off," Knapp recalled. "He knows the grind of Georgia Tech and knew that I would work hard, and that I would figure out how to do the daily functions that he wanted me to do and work with software. So he offered me the internship and it was great."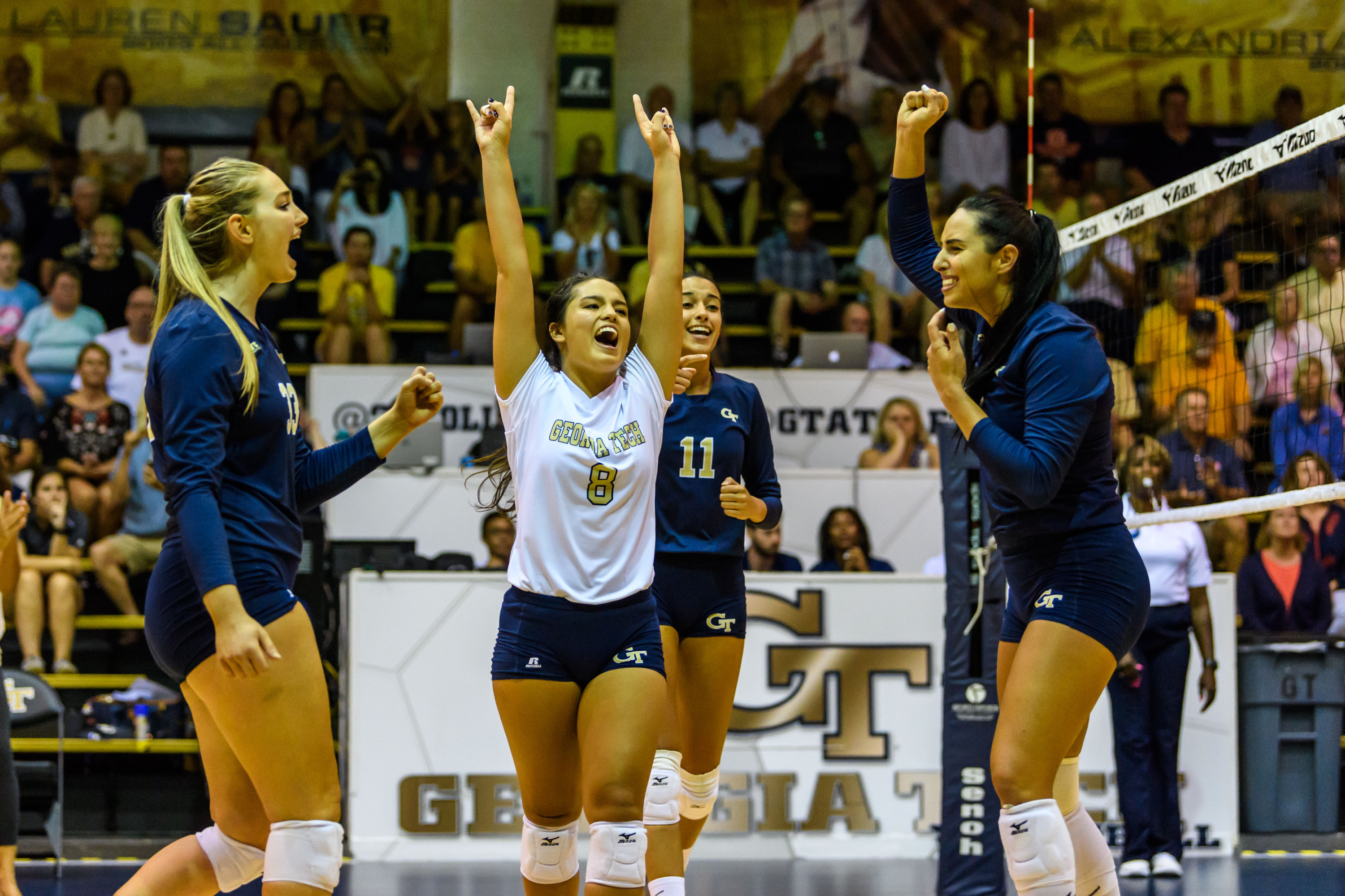 Over the five weeks of the internship, Knapp, a business major with a concentration in operations, learned a variety of duties under Feng.
"I would look at his organization charts and figure out if there was a more efficient way to do things, I would work with software," she said. "I was in our member care part of the business, so I would look at their customer service part and the phone trees, and if something was broken, I would figure out how to problem-solve and look into the database and figure out which part was broken. Then I'd have to go in and fix it.
"In meetings, I took a ton of notes," she added. "Always, even just walking and talking with my supervisors. It was just a constant learning experience. It was my first time in a work environment so it was definitely a lot of fun."
Being a student-athlete further allowed her to fit into what was a fun office setting.
"I knew that their culture is all about being together and having a fun time and being connected. Throughout Universal they're big about being connected with each side of the business," Knapp said. "I knew that communication was going to be a huge thing on their part, and I knew that their culture is fun, a lot of golf talk. They love sports, so I felt very comfortable talking about any type of sport with them. I didn't feel like it was going to be too strict — 'Keep your head down and do your work.' I knew that it would be a lot more fun and easy to adapt to."
Knapp actually found that adapting to the office was easy, and that there was a close correlation between, volleyball, an active, explosive, emotionally-charged team sport — certainly more so than golf, the sport upon which they worked, which is more individual where emotions are often internalized.
"Everything I did or whoever I talked to, I was like, 'This is just like being on a team for a sport,'" she said. "You learned that communication is key, talked about finding an identity within the department that we're in, you had to have a great culture and that each person you deal with daily has a different way of communicating, so you have to be adaptable.
"Work ethic is huge," she added. "They loved that I was all about, 'Work! Work! Work!' and getting things done quickly and efficiently and doing whatever it is to make the team successful."
Knapp is back in Atlanta preparing for the upcoming volleyball season, ready to do whatever is needed to make the Yellow Jackets successful. She feels her summer at GolfNow has given her a huge boost in her skill set for down the road.
"I definitely think the problem-solving aspect helped me," she said. "I had never seen a lot of these software (applications) before, so learning how to kind of play around and figure out things and how they work and then being efficient with it. Like once I learned something, taking that and for each step, moving forward, growing and how I was efficient and how I learned to fix things quickly. Also taking notes and asking questions constantly when you're just starting out in a workplace is definitely something I learned."