By Jon Cooper  |  The Good Word
The Arizona Diamondbacks coaching staff couldn't stop talking about the quality facilities in which they played during their three-day stay in Atlanta on Tuesday, Wednesday and Thursday.
There's no telling how they felt about SunTrust Park — although they probably liked that, too, considering they swept the Braves — but the facilities that had them reaching for superlatives were McCamish Pavilion and Zelnak Center.
Georgia Tech opened up the home court and practice and training facility of the men's and women's basketball programs to the D-Backs' coaches and several members of the training staff Wednesday morning, allowing them to play some five-on-five in advance of the second game of their three-game set with the Braves.
"We showed them around, they saw the facilities," said men's basketball coach Josh Pastner, who served as host. "They really loved McCamish. They thought it was a beautiful arena, which it is. McCamish is just an outstanding, beautiful arena, one of the best in the ACC. They all loved the facility and they were very appreciative."
The Arizona coaches made their appreciation quite clear in the Wednesday afternoon pregame.
"The facility was fantastic. We were on the practice court and had a chance to go and take look at the training room and the locker room and the main arena. It was a great experience overall," said Diamondbacks' third-year manager Torey Lovullo, MLB's 2017 National League Manager of the Year, an eight-year major league veteran and a 1987 graduate of UCLA, where he twice won Pac-10 Player of the Year and is a 1999 inductee in the school's Athletics Hall of Fame.
He ranked McCamish as among the top facilities in which the staff had played. "We had a great time. I got a chance to meet (Pastner), which was exciting, and then we played four games. We were really appreciative of the day and the way they opened that up for us."
"It was awesome, top-notch," agreed hitting coach Darnell Coles, a 14-year major leaguer and part of the 1993 World Series champion Toronto Blue Jays. "It's a great place. They have all kinds of great things that have happened in the past, and former players. It's a wonderful place to play."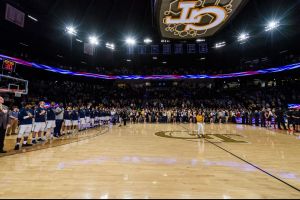 Lovullo began the tradition of getting the Diamondbacks' staff together to play pickup games as a bonding vehicle while on road trips.
"It depends on the road trip, it depends on the times of games, depends on how everybody's feeling," said quality control and catching coach Robby Hammock, who played six years with the Diamondbacks, including catching Randy Johnson's perfect game against the Braves on May, 18, 2004 at Turner Field. "We've made contacts over the past 2 ½ years with a lot of different places wherever we go, so there are spots that we go to. This was the first time we were at Tech."
One of those contacts was Pastner, who is friends with the D-Backs' bullpen coach Mike Fetters, a 16-year major league reliever, who in his career, mastered the now outlawed "Fake-to-third-throw-to-first pickoff" move.
"I've known Mike for a long time," Pastner said, "He knew I was at Georgia Tech, so I got them set up in our gym. The whole coaching staff, including the manager, was there, the team physician, the trainers, and all the coaches and they were hooping.
"They were great, and they all love basketball. That's what was great about it. They all love hoops," he added. "That's what's so great about basketball. It transcends. Here they are, playing the Braves and the Diamondbacks' staff and coaches and managers and trainers all wanted to make sure they got a basketball game in before they took the field to play."
The D-Backs appreciated the opportunity add McCamish to the world-class facility they've been to during their road trips.
"Georgia Tech has a really nice facility," said assistant athletic trainer Ryan Torgerson. "We've gotten an opportunity to play at UCLA and San Diego State already this year. I would say this facility matches right up there with it."
Pastner feels experiences like these allow Georgia Tech to show the high standard to which it holds itself every day. It's a standard in line with the "Everyday Champions" philosophy of Georgia Tech athletics director Todd Stansbury.
"We want to treat people right, starting with me and everyone that works for me, that's what we try to do. We represent Georgia Tech. That's important for Todd Stansbury and the Georgia Tech brand," Pastner said. "Part of being an 'Everyday Champion' is treating people the right way. Treating people the right way even if you get nothing out of it. The Diamondbacks, they feel great about Georgia Tech. They're in Phoenix and they're a Major League baseball team. It echoes Mr. Stansbury's message of being an 'Everyday Champion.'"
Pastner, a University of Arizona alum, enjoyed revisiting the echoes of Pac-12 days gone by with Lovullo — it was actually the Pac-10 for them.
"He's a UCLA guy, and he loves basketball," said Pastner. "He grew up in Southern California, and we were talking about all the great players back in the day coming out of there. So he knew basketball, he was a Pac-10 guy, and, obviously, me being at Arizona, I was familiar with the Pac-10, now, it's, obviously, the Pac-12. We were talking about that but they all said that the best basketball, besides the NBA, is the ACC."
While Pastner and Lovullo reminisced about their days on the West Coast, Hammock, a Macon native and South Cobb High School alumnus (he also played baseball at UGA, a fact that never came up, nor did it matter on this trip) had memories of his days of youth triggered by seeing a picture of former Yellow Jackets great Dion Glover during the Pastner-led tour.
"I played against him in high school. He chewed me up a couple of times," said Hammock, who described himself as a defensive stopper in his days playing hoops for South Cobb, with a laugh. "He has no idea. He wore me out. I just remember seeing that name up there and it was like, 'Wow, it brings back memories of high school basketball.'
"I'm from this area. I'm well aware of the history that goes into Georgia Tech basketball," he added. "I grew up watching those games and watching the past players, mostly in the late '90s that went through there. It was pretty cool for me to be able to go down there and play some pickup games in the practice gym."
While remembering the good old days was fun, remembering the overall positive experience may be the most important and lasting memory, especially when the Diamondbacks come back to Atlanta to play the Braves next year — it didn't hurt that after the exposure to Georgia Tech, the D-Backs engineered a comeback from an early 2-0 deficit to beat the Braves, 3-2 in 10 innings that night, then completed the three-game sweep with a 4-1 win Thursday.
"A complete A-plus!" said Coles. "Everyone that was involved in getting us an opportunity to play there, 'Thank you!' It was awesome, top-notch. If there's anything our organization can do to facilitate something for them, by all means, done!"
Pastner is eager to welcome to host the D-Backs again and continue to foster good will.
"It was well worth it," he said. "It's a positive. It's about the customer service. We want to treat people right. That's all in alignment with Mr. Stansbury's 'Everyday Champions' and the Georgia Tech's brand."