GEORGIA TECH PRO DAY RECAP (includes video and photo galleries)
By Jon Cooper | The Good Word
Anyone that has been around Georgia Tech Football the past four years that knows Anree Saint-Amour is a stand-up guy.
NFL scouts that have been around him for the first time already are reaching that same conclusion.
The Suwanee native opened eyes last weekend at the NFL regional scouting combine held at Arrowhead Stadium in Kansas City, Mo., and opened some more on Tuesday morning — albeit in a shortened stint — during Georgia Tech's Pro Day held at the John and Mary Brock Indoor Practice Facility.
Saint-Amour likes being considered a stand-up guy but is just fine to be considered a down-in-a-stancer.
"Some teams say they'd like me to stand up, some teams are comfortable with me putting my hand in the ground," he said after Tuesday's GT Pro Day. "I feel like, ideally, with my height and weight, I'd probably be a stand-up linebacker, rusher. But I feel comfortable playing both. Whatever they want is what I'll be able to do."
Pro Day Press Conference: Anree Saint-Amour
Saint-Amour didn't show everything that he could to the representatives of 26 professional football organizations on Tuesday, as he tweaked his left hamstring during his second 40-yard dash run and, despite stretching it out, getting some treatment and tightly wrapping it, was unable to continue.
Fortunately, he'd already shown scouts plenty.
His 10-2 standing broad jump would have ranked fifth among edge rushers at the recently completed NFL Combine, while his 35-inch jump vertical would have ranked ninth. He also bench-pressed 225 pounds 26 times, which ranked behind only offensive lineman Will Bryan (31) and defensive lineman Antonio Mallard (30) among Tuesday's 16 participants.
The mishap in the 40 probably won't be held against him, as he ran a 4.6 in Kansas City, which would have tied him for sixth among edge rushers in the NFL Combine. Saint-Amour pointed to the strong showing at the regional combine as a possible contributor to tweaking the hamstring.
"I ran two days ago in Kansas City and was probably a little tired," he admitted. "It's seems like a tweak or a strain but I'll keep on working these next couple of weeks and I'll get it recovered and get back into the grind."
"First thing is recovery," he added. "Then hopefully get some individual workouts, show what I can do and just prove that I'm the player that I've been putting out on tape."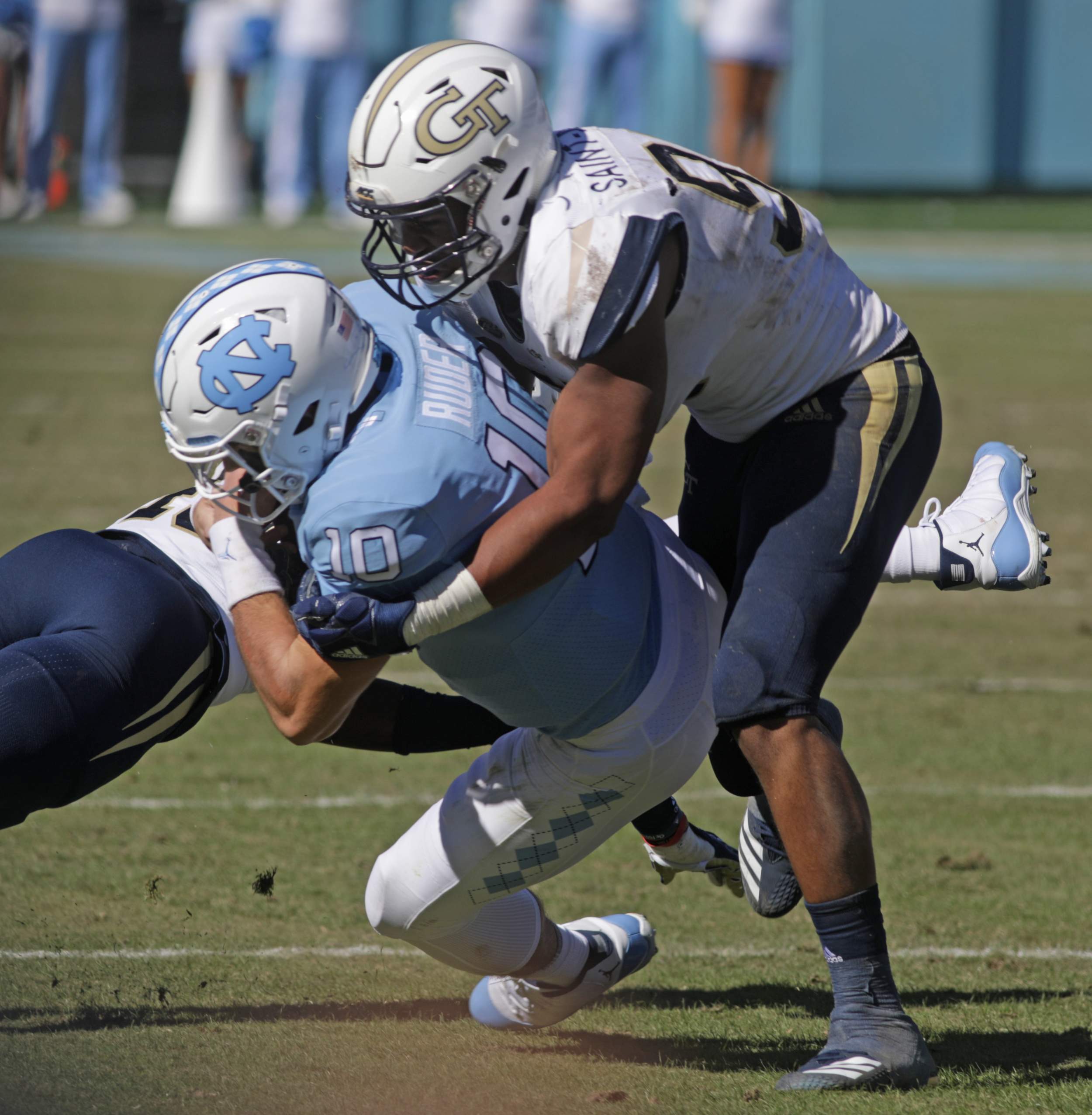 That tape shows Saint-Amour as a dynamic 6-3, 245-pound end, who recorded 103 tackles (23.5 for loss), 11.5 sacks and four forced fumbles in 44 collegiate games. He started his final 20 games as a Yellow Jacket and, according to many, was snubbed for all-ACC honors as a senior, when he had 47 tackles, 12 tackles for loss, four sacks, three forced fumbles and an interception.
Saint-Amour showed up on Tuesday at a solid 258 pounds, and a much wiser, more polished performer. He credited his offseason work at Goldin Athletic Training Association (GATA) under the watchful eye of nine-year NFL veteran defensive lineman Chuck Smith, as well as the culinary delights of his mom, Frednise (she and Anree's dad, Manfred, both were in attendance on Tuesday).
"Training at GATA has been helping me with my speed, they've been helping me with my weight," he said, calling anything in the range of 255 to 260 a comfortable weight. "Going home, mom cooking for me was a big thing helping my weight get up.
"The strength program over (at GATA) is amazing. They got me in shape, they got me in the right place to go do what I did," he added. "Chuck Smith is amazing. He's a great teacher, he's a great trainer. It's definitely helped. The D-Line drills that we did over at Kansas City, I felt comfortable. It was just like another day training with him. He's been helping me with my drop coverage and getting into position, the right stance and everything. So I'm getting more comfortable with it."
Smith's made Saint-Amour so comfortable, that he sees little difference in being a 3-4 rush linebacker or a 4-3 end.
"I've been so used to putting my hand in the ground but I feel like standing up, it takes less energy, you can be a little bit more explosive, and use a different variety of moves," he said. "That would probably be the only difference really."
He actually sees rush linebacker as being advantageous so as to make full use of his talents.
"It would be," he said. "Just getting better speed around the edge, bending that corner, getting the jump on the offensive lineman. Anything can help."
He'll do anything to help anyone and will now wait for the phone to ring. It might not be a long wait, as teams have already shown interest — which teams, specifically, will have to wait, as he wouldn't name names.
"They didn't set up any straight dates but they said they would definitely be in contact," he said.
Saint-Amour is confident there will be follow-up and that his body of work will speak louder and more than compensate for how Tuesday finished.
"Kansas City obviously helps. That was a big boost, being able to go out there and perform," he said. "Coming out here, you want to show out in front of all your teammates. Unfortunately, it didn't go that way, but God always has a bigger plan. So we'll see what happens."