by Matt Winkeljohn | The Good Word
THE FLATS — There is no truth to the rumor that Georgia Tech is negotiating with ACC officials to play all of its conference football games against Virginia Tech, preferably in Blacksburg, but it might be a good idea because, Tech-nically speaking, the Yellow Jackets have had the Hokies' number.
Georgia Tech (4-4, 2-3 ACC) ran over its favorite opponent Thursday night, and pulled no surprises in a 49-28 blowout because the Jackets are quite accustomed to running backup quarterbacks out there at Lane Stadium.
And running and running and running them.
This is guaranteed to be a good weekend for the Jackets because they just beat Virginia Tech (4-3, 3-1 ACC) for the third-straight time, the fourth time in five years, and for the third consecutive time near Roanoke.
The nation's No. 1 rushing team dropped by the Hokies' camp and pillaged at will, running the ball 78 times for 465 yards with redshirt freshman Tobias Oliver throwing one pass.
It was incomplete, but Oliver will be excused for short-sailing the ball, as he was even more effective than former sub Matthew Jordan, who rushed for 121 yards and two touchdowns to lead the Jackets to an upset win at No. 18/22 Virginia Tech in 2016.
All he did was run the ball 40 times for 215 yards and three touchdowns to approach injured starter TaQuon Marshall's school records of 44 rushes for 249 yards and five touchdowns in his first career start last season against Tennessee.
Methodically, Oliver and the Jackets made the Hokies looked lost.
Marshall had been limited in practice since suffering an upper-body injury Oct. 13 against Duke, so the call went to Oliver, and "He played his tail off …" said head coach Paul Johnson. "I've got a lot of confidence in him."
You could fairly say that Georgia Tech's trouncing of the Hokies was strange in that Virginia Tech took the ball first and scored touchdowns on its first three possessions as if a knife through butter. Georgia Tech scored touchdowns on its first two possessions as well, when suddenly there came a breaking point in the midst of a developing shootout.
It did not break the way it looked like it might.
The Hokies were leading 21-14 and their defense forced the first punt of the game, but…
From the point where Sean Savoy muffed the re-boot — thanks to a penalty on Virginia Tech for running into the kicker that canceled Savoy's 21-yard return — and Jalen Johnson recovered for Georgia Tech at the Virginia Tech 12:
The Jackets scored the game's next 35 points with a continued assault through the ground game, while also playing keep-away. Georgia Tech's edge in time of possession: 42:18-17:42.
The Hokies did not come close to scoring again until their last offensive possession as the Jackets stuffed the home team on five-consecutive possessions.
"I'm proud of the way our team played. I thought that they kept playing. I mean the game certainly didn't start out very well, but we went out and answered score for score…" Johnson said. "Any time there's one turnover in the game, when you get it, that's big."
Two plays after the muffed punt, B-back Jordan Mason scored the first of his three touchdowns, and he was standing up after a 5-yard run to tie the score at 21.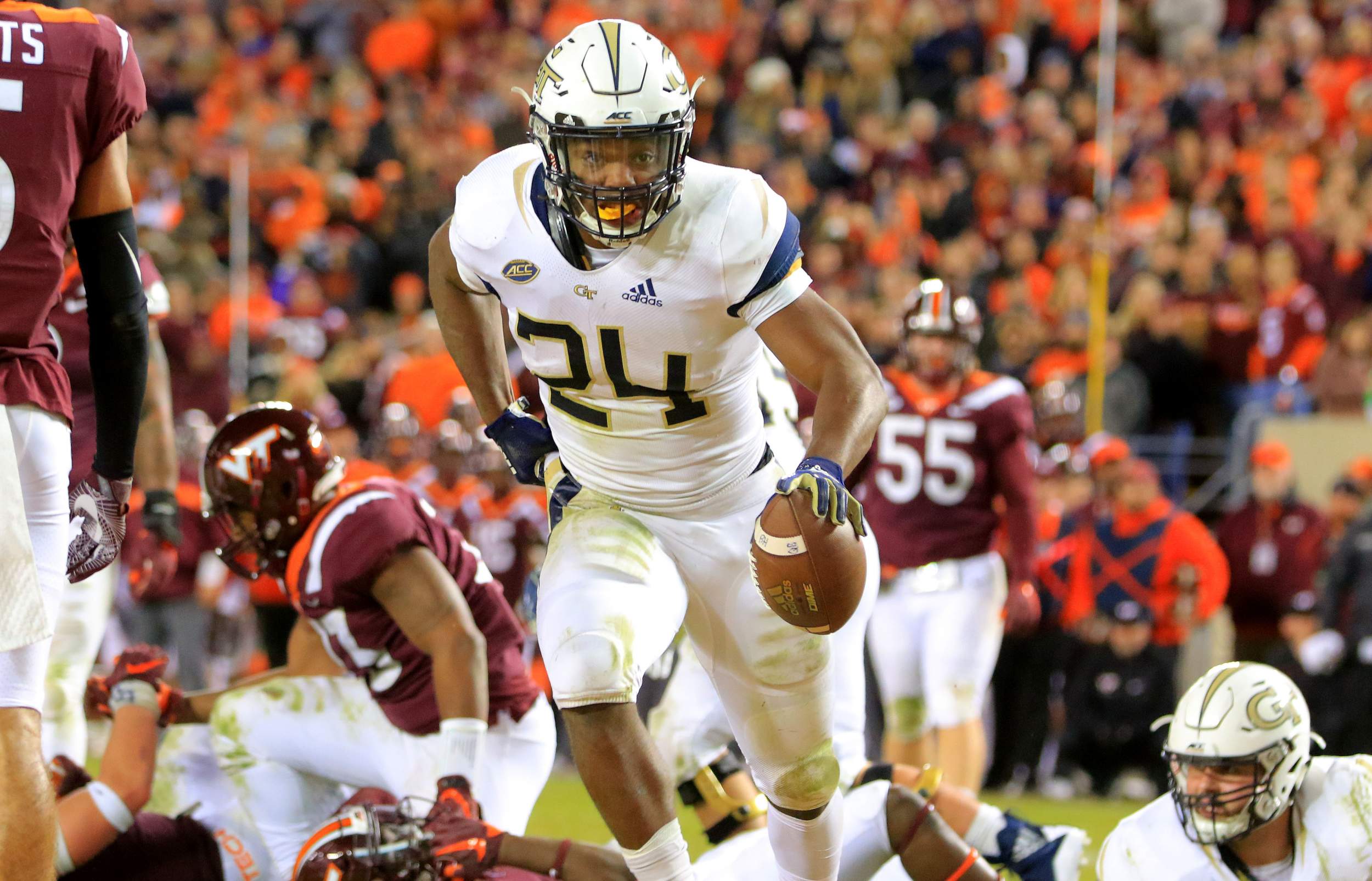 "That was huge," Jalen Johnson said of his fumble recovery. "The offense was rolling and they got stopped one time. Luckily, they got the ball back and scored again. So that was huge, big time."
Three plays later, Virginia Tech quarterback Ryan Willis fumbled a shotgun snap on third-and-3 and was stopped short of a first down to prompt Virginia Tech's first punt.
Nine running plays and one Virginia Tech face-masking penalty later, Oliver scored from 5 yards, and the rout was underway. Georgia Tech led 28-21.
Half the game swung wildly. Georgia Tech never stopped scoring, yet the Jackets put the Hokies in a deep freeze.
Virginia Tech's first three drives, all ending with touchdowns, went for 73, 70 and 73 yards.
The next five went for 8, 10, 4, 8 and 7 yards.
Georgia Tech picked up in the second half where it left off in the first.
The Jackets took the kickoff, and on that possession, the path of the game laid out plainly.
When Jerry Howard's 6-yard run on third-and-5 was wiped out by a questionable illegal block call against A-back Qua Searcy, the Jackets re-tried on third-and-14.
Virginia Tech's Khalil Ladler was whistled for targeting on Oliver, and after the Stone Mountain native was ejected, Georgia Tech had a first down and soon another touchdown on Oliver's 11-yard run.
It was just a few moments before until defensive end Anree Saint-Amour dropped Willis for a 4-yard loss on third-and-2, and Virginia Tech punted again.
"We knew we … could stop them. We just had to be in the right spot, do what our coaches were telling us to do," Saint-Amour said. "They had a lot of seven-man protection so that kind of messed up our pass rush but we mixed that up with some blitzes."
And then, Georgia Tech scored again, Mason rumbling 14 yards to cap an eight-play, 64-yard drive.
The Jackets led 42-21, and then stopped the Hokies yet again.
Georgia Tech's defense woke up to join an offense that rarely rested.
"Big time," Paul Johnson said. "I mean the defense came out and got two really good stops there in the second half, and enabled the offense to put the game away … We just executed. We've been pretty good when we hold onto the ball …
"They got good Georgia Tech. This year, its been good Georgia Tech/bad Georgia Tech. They got good Georgia Tech."