By Jon Cooper | The Good Word
For the past two years, adjusting to wide receiver had a very different meaning for TaQuon Marshall than it has for the past two months.
No longer does it mean altering the pace, the arc or the timing on his throw to his target.
Now he is the target.
On Tuesday morning, Marshall, the Yellow Jackets' starting quarterback the past two seasons, will attempt to show professional football scouts that his best days are ahead as a wideout during Georgia Tech's annual Pro Day.
"I've switched positions going into the next level," said Marshall, who amassed 4,025 yards of total offense and was responsible for 44 touchdowns as the Jackets' signal-caller. "It's kind of an anticipation thing. You're ready to showcase what you've been working on.
"I'm kind of starting from the bottom and working my way up," he added. "I'm making a transition to receiver, so I had to work on my route-running skills, ball skills. I wanted to improve on everything — speed and power. Having a quarterback mindset, being at a different position is definitely a benefit for me. I'm having to get some of the fundamentals down just because I haven't played that position in so long. So I've been working on a lot of things of that sort. But I'm definitely looking forward to [Pro Day]."
TaQuon Marshall's Top Plays of 2018
Although he admits it's been a while since he lined up out wide, TaQuon isn't going blindly into the position change. He played wide receiver his sophomore season (2012) at Harris County High School in Hamilton, Ga., where he caught 32 passes for 367 yards (11.5 yards per catch) in 13 games. He played his final two prep seasons at quarterback, then was moved to A-back by then-head coach Paul Johnson upon his arrival at Georgia Tech. He was the Jackets' backup signal-caller in 2016 before earning the starting role in 2017 and '18.
He feels confident that he can recapture the form he showed away from quarterback early in his high-school and collegiate careers.
"I've been there before, playing A-back my freshman year, being able to line up in the slot, which is what I want to do," he said. "I'm familiar with catching the ball from a quarterback, so it won't be anything new. But it'll definitely be a fun thing, just being able to interact with the guys as Pro Day is going on."
Marshall has received pointers from several teammates, many of whom also will be performing at Pro Day, as a part of the adjustment.
"I've worked with [wide receiver] Brad [Stewart] and talked to him about some things, talked to [slot backs] Qua [Searcy] and Clint[on Lynch]," he said. "Also, I recently just got back from California, working out with some receiver coaches out there. So I definitely got some knowledge from them and just being able to be critiqued on certain things that will help me at the next level. So it's all been really beneficial."
Marshall has worked out at the Mamba Sports Academy in Thousand Oaks, Calif., a facility co-owned by Kobe Bryant. That work has supplemented local training at Atlanta-based Torch Fitness, where Marshall has worked with Jerrell Harris, currently Torch's personal training coordinator and a former University of Alabama linebacker who went on to play in the NFL for four seasons.
Marshall says he's made big strides in a position that requires attention to the small details.
"It's a lot of little things," he said. "When it comes to playing this position at the next level, everyone's fast, everyone has the ability to run and catch the ball. It's all about the little things, all about the little releases, all about the little technique ideas and things that you have to kind of have in your bag in order to be able to use it whenever it comes time. You always have to have something in your bag for when you line up in front of a DB or anything of that sort. It's been a fun process. I've really enjoyed it."
Marshall plans on enjoying Pro Day, especially receiving and offering support to and from many of his former teammates. A total of 16 former Jackets will be auditioning their skills for pro football reps.
"It's awesome," he said. "We've all gone through the same thing for the past four years and we've all been doing the similar type of training to prepare ourselves for this day. So just being able to get out there, support each other in that aspect, it will be very exciting."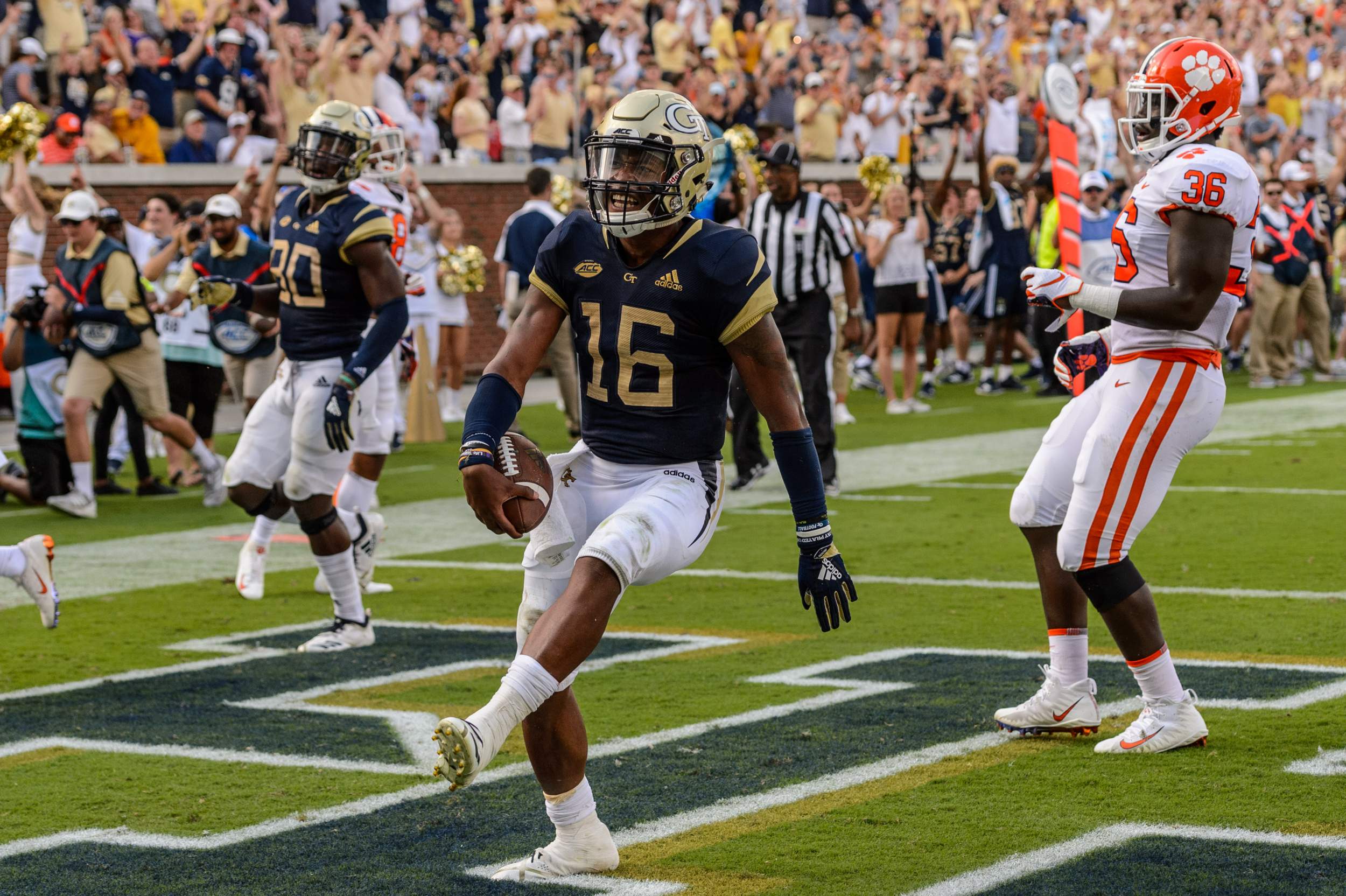 But there's no question that he'll be all business.
"You're basically doing a job interview," he said of Pro Day. "It's a job interview for you because once you make it to that next level, that's how you take care of your family."
After Tuesday, Marshall will continue his fly patterns between Atlanta and Thousand Oaks as he awaits follow-up calls.
"I think everything picks up after Pro Day," he said. "I'll probably still be working out here but I do plan on going back out to California to get some more receiver work in with some guys that I know."
Come Tuesday, TaQuon will draw inspiration from his predecessor as Tech's quarterback, Justin Thomas, who has spent time with the NFL's New Orleans Saints, Los Angeles Rams and Pittsburgh Steelers over the past two seasons and is now playing wide receiver for the Atlanta Legends of the Alliance of American Football (AAF).
"Justin showed that he can make the transition," he said. "I think, maybe, the transition could be a little bit easier for me just because I've played the position before. Justin was strictly a quarterback, really, but I think he did an awesome job making the transition and being able to put himself in the best position to make it to the next level."
The key on Tuesday will be less trying to imitate Thomas or anyone else, and simply be the best TaQuon Marshall he can be.
"Just stay relaxed," he said. "Even though it's a big moment, you have to stay relaxed and enjoy it because it only comes once. It's a once-in-a-lifetime opportunity for you to be able to showcase your abilities to get to that next level."