By Matt Winkeljohn | The Good Word
      There may be a tendency given the down-and-distance to mull what might have been, but Jose Alvarado and Michael Devoe are locked in on the here and now with an eye to the future. That's good, because they're the eye of the future.
Actually, the Yellow Jackets (14-17, 6-12 ACC) will be in Charlotte to play Notre Dame (13-18, 3-15) Tuesday in the first round of the ACC Tournament with the idea of sticking around more than a day.
They have back-to-back ACC wins to build upon with the backcourt front and center. Alvarado — a 6-foot point man and basketball historian from Brooklyn — said he'd spark teammates by invoking the 2011 Connecticut squad that finished eighth in the Big East.
Those Huskies won five games in five days in Madison Square Garden and went on to win it all as guard Kemba Walker, he of the Bronx, went nuclear.
"We've had two good wins, but we've got to leave that behind us, because we've got a tough one Tuesday," Alvarado said. "[Walker] was telling them they could do it. Something just clicked for them, and they made a big run and won the Big East Tournament and then the NCAA Tournament."
Tech finished 10th in the ACC, better than preseason projections, and if you ride the wagon that Josh Pastner is driving, Tech can still punch a ticket to the NIT, even though the head coach has been suggesting that the Jackets "got crushed" last May when sophomore guard Josh Okogie opted out for the NBA.
Pastner thinks Tech would be a 20-win team if not for that departure, yet there's nothing tangible to be gained by wondering what might have happened if Okogie had not chosen a two-year, $4.69 million contract in Minnesota over classes on The Flats.
Bottom line, the Jackets face fourth-and-long in Charlotte.
Tech needs multiple wins to legitimize NIT talk, and they're on the fringe of that conversation partly because their backcourt has grown like Pastner has predicted.
The hardest evidence came in what Alvarado and the 6-4 freshman from Orlando put in the books when the Jackets beat Boston College 81-78 in overtime on March 3. They took turns going Kemba.
Jose scored 17 of his 21 points in the first half and finished with five rebounds, four assists, two steals and a single turnover. Devoe scored 13 of his 20 after halftime, including five in overtime with a fast break layup off a pass from Alvarado and a 3-pointer. He added four assists, three rebounds, three blocked shots and a steal.
"The guards are doing a good job, and we need Jose and Michael to play together . . . really well. For us to win the game, they're going to have to be at a high level," Pastner said. "Versus Boston College, [they combined for] 41 points, eight rebounds, eight assists and one turnover."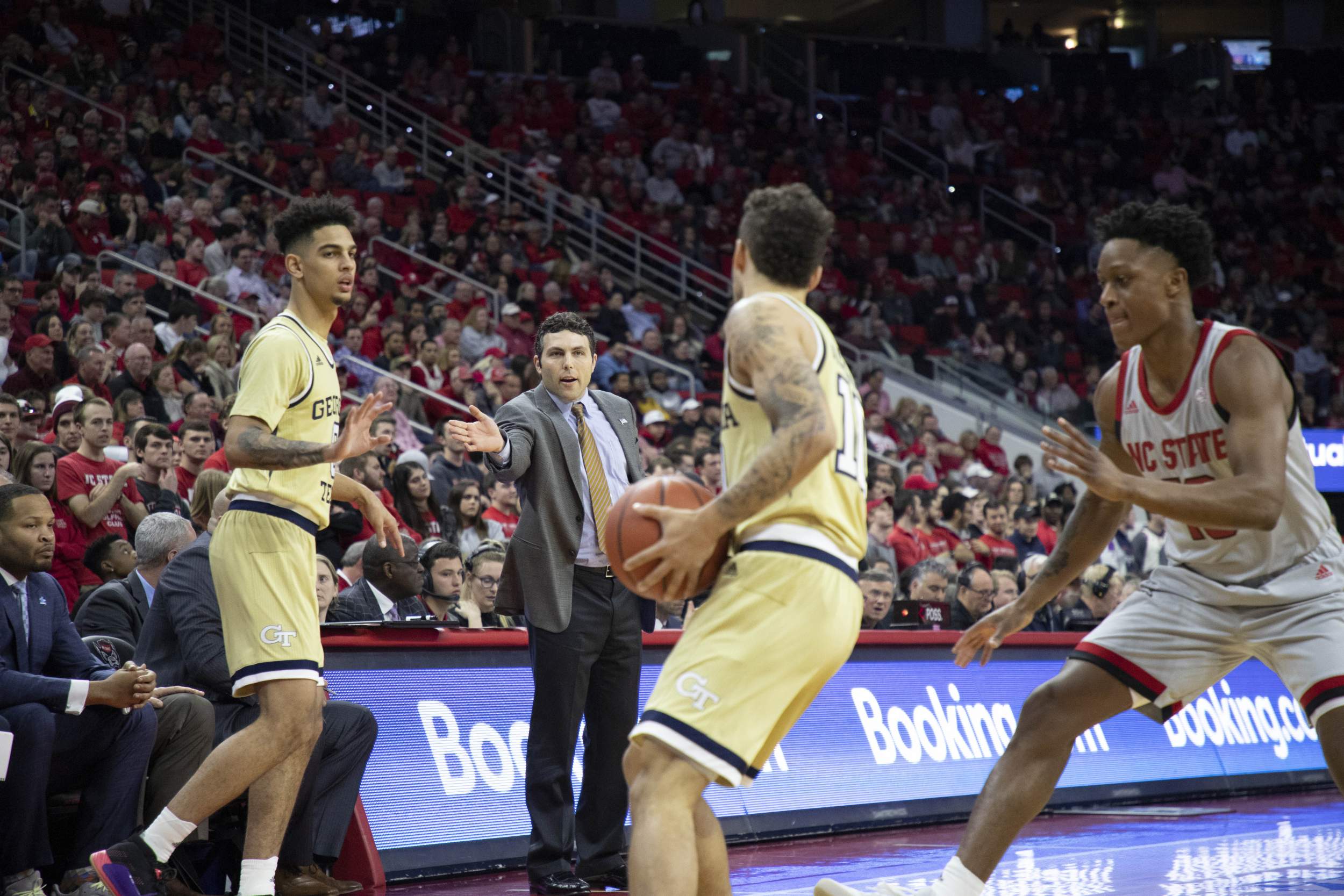 It's quite something that the Jackets and their backcourt are in this spot.
They lost seven straight games in the middle of the ACC schedule, and Alvarado slumped painfully while hitting just 10-of-59 shots over a six-game stretch.
Plus, Devoe missed just about the entire fall practice schedule with a toe injury, and was laid low in mid-February by the flu or some cousin.
The injury delayed development for Devoe and the entire team, and his illness and Alvarado's slide mangled business as well.
"It did, because I wasn't able to practice the whole preseason, and I just jumped into game mode, so it was tough not being able to practice with the guys and build that chemistry," Devoe said of the funky toe.
Alvarado went into a funk so deep that his father, Jose, visited from New York.
The son is leading Tech with 12.8 points per game, even though in his skid he scored just 24 points total in the six games. He didn't mark the scorebook when he fouled out in a modest 24 minutes at Florida State.
"When my dad came down he said, 'That's not you. You've got to step out of it, snap out of it,' and that's what I did. Something just clicked, and I started making shots again," Alvarado explained. "He came down, because I was having difficult conversations with him over the phone.
"I said, 'I don't know, Pops. Something's wrong with me.'"
Alvarado has averaged 18.3 points since family time, including a career-high 29 against Pitt. Junior was everywhere on Feb. 20, adding five assists, six rebounds, two steals and a blocked shot. He shot 9-of-13.
Since snapping out of the slump, Jose has 24 assists against just eight turnovers.
Devoe has been erratic in ways as well.
Pastner emphasizes guards grabbing defensive rebounds, although it's not easy for any Jacket to do that when they're in their zones. Michael didn't grab one in losses at Miami and Virginia.
He had seven assists, though, in last Wednesday's 63-61 win at N.C. State, when he found his way after intermission. That helped the Jackets rally from a 33-28 halftime deficit.
Devoe and Alvarado were key in that last-second victory, Tech's third straight in Raleigh.
Georgia Tech's James Banks III Game-Winning Dunk
The Jackets clinched after Devoe inbounded under duress to Alvarado following an NC State basket with six seconds left. Alvarado raced down the right side, veered toward the basket, drew defenders, and slipped a pass to center James Banks III for a dunk and-one.
"Michael Devoe did not have a good first half vs. North Carolina State – zero rebounds, four turnovers and four assists," Pastner said. "Second half, three assists, no turnovers, and he had [three] defensive rebounds."
The more he's played, the more Devoe has become comfortable.
"Playing all these games together, fighting together every other night and then practicing together, I think, really built that bond," he said. "I've learned a lot from Jose."
Film study with Alvarado and assistant coach Anthony Wilkins has helped, "reading pick-and-rolls, reading how we should play our defense, and what times I should go in for rebounds and certain times I should leak out."
This is the time of year where guard play supposedly carries the day.
Make no mistake, the big guys matter, too.
In Tech's two-game ACC win streak, Banks averaged 18.5 points on 16-of-17 shooting with 18 rebounds and six blocked shots.
When he's fully engaged, the Jackets have life. Yet when Alvarado and Devoe are on beam as well, Tech can compete. They all figure to play more than 35 minutes, and it's not uncommon for Alvarado to play every second.
"James Banks, Jose Alvarado and Michael Devoe … if those three are really good, we've got a great chance to win," Pastner said.
They'll all be back next season, and they like their chances of being a lot better.
"We're really good together, and we're going to continue improving, work over the summer together," Alvarado said. "We've discussed staying in the same house and working out at the same time as each other, because we want to come back next year as strong as possible."
Devoe buys that.
"I think we're going to be one of the best [ACC guard combinations] starting next year," he said. "We're going to finish the season off strong and show people what we're really capable of doing."