THE LAST WORD BEFORE GAME 11 vs. VIRGINIA (Saturday at 3:30 p.m.)
By Jon Cooper | The Good Word
Nothing makes a football crowd more emotional than fourth down. Going for it versus punting ranks among the great debates at a game.
While Georgia Tech fans get extra energized by the former, thanks to the ultra-successful high-stakes approach of head coach Paul Johnson, the latter is growing in appreciation, thanks to the equally successful high-altitude punts of sophomore Pressley Harvin III.
The 6-0, 245-pound Harvin, who began punting in seventh grade and dedicated himself to it solely while at Sumter High School in Alcolu, S.C., where he'd also played offensive line and tight end.
Harvin has made punting cool. His booming spirals not only take fans' breath away but also take away opponents' field position, momentum and, sometimes, even possessions.
Basically, he's a weapon.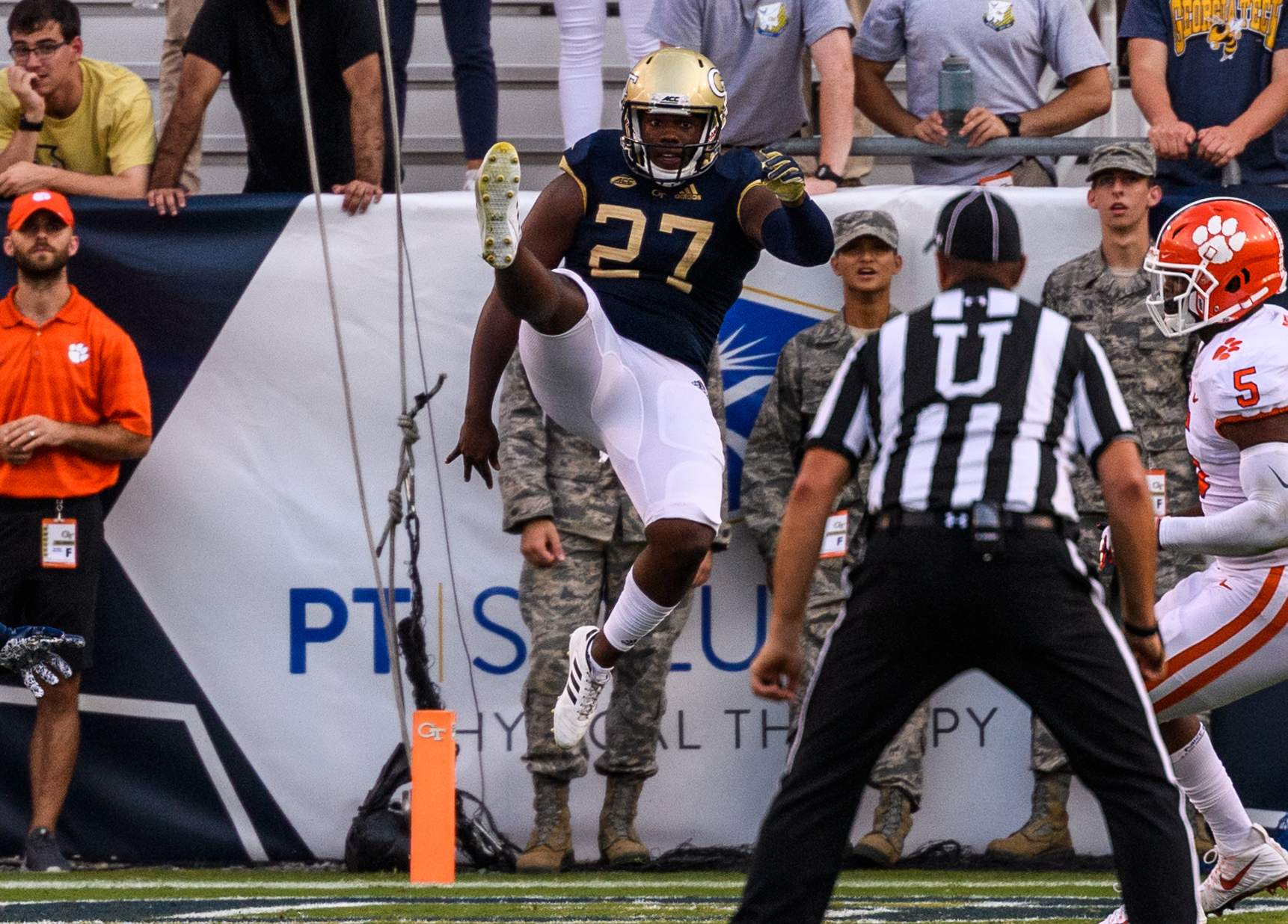 "[Harvin] was a pretty good one tonight. He might be the best punter in the country and we don't ever hardly use him," said head coach Paul Johnson following last Saturday's win over Miami. "He is a guy that can flip the field, and on the first drive in the third quarter and he just killed the thing and the guy muffed it and that was huge."
Harvin has been huge but has punted just 24 times this season, only three more times than the Jackets have decided to go for it on fourth down. He understands and is supportive.
"I'm 100 percent with the play calls [Johnson] goes with," he said. "If it's a fourth-and-short and it's a close game, you have to try to go for it. Make a play."
Harvin is the ultimate teammate caught up in the ultimate Catch-22. He knows he can be a difference-maker but will only be called upon when the Yellow Jackets offense needs too much yardage to take a shot at it. As that ultimate teammate, he knows his responsibility is to stay ready.
"There's no rust," he said. "I haven't had many punts this season but I've always [kept] high hopes just to make sure I help the team out as much as I can."
Harvin has helped the team since arriving on The Flats last summer. As a freshman, he punted 50 times, averaging 44.1 yards per punt. That ranked second in the ACC, 16th nationally and was the fifth-best season in Georgia Tech history (best ever by a freshman). He earned freshman all-America recognition and was named third-team all-ACC.
This season, while he's been on the field even less, he has punted even better, averaging 45.2 yards per punt, with nine traveling at least 50 yards, and 10 being downed inside the 20. He's gotten stronger as the season has gone on, as eight of his last 17 punts have traveled at least half a field, with eight of his last 11 landing inside the 20.
Harvin would lead the ACC and tie for 10th in the nation, but he doesn't have enough attempts to qualify for the official statistical rankings. In the Yellow Jackets' five wins since Sept. 29, Harvin has punted a total of just seven times. He was one of only two available players that didn't see the field in the Jackets' 66-31 romp at Louisville on Oct. 5. The other was his long snapper, Zach Roberts. Their services weren't needed that evening, as Tech scored every time it touched the ball.
He actually only saw action once during a two-game — the week prior to the rout in Louisville, he was called upon just once in a 63-17 home win over Bowling Green. But to show his readiness, that punt sailed 53 yards and was downed at the nine. Five plays later, the defense recorded a defensive score on an Anree Saint-Amour pick-six.
"It's a momentum-changer," said senior middle linebacker and team co-captain Brant Mitchell of Harvin's field-flipping. "It can get you back in a game, it can win you games. I think Pressley does a great job of putting our defense in the best situations possible when we have to punt. So it's incredibly important."
Harvin is okay with watching from the sidelines. He's even developed a pregame ritual with quarterback TaQuon Marshall stating as much.
"We always joke around, because a couple of games he didn't punt," said Marshall. "He always comes up to me before the game and says, 'Alright now, I don't want to step on the field.' I say, 'I'll do what I can.'"
"I've been saying that for a couple of games now," said Harvin. "It's just to keep TaQuon motivated, to try to do a real good job on offense, make sure we don't have any three-and-outs or bad possessions. Just to try to keep the offense going."
As of late, Harvin has taken his role a step further than just flipping the field, but using his punts as a means to regaining possession. The height on his kicks and the dizzying spiral once they hit their apex and head downward makie catching the ball a challenge — that is if returners can judge them well enough to get close enough to them.
Juanyeh Thomas celebrates after recovering a muffed punt during last Saturday's win over Miami.
Miami's Jeff Thomas nearly stepped out of bounds fielding one punt that he fair-caught and completely lost track of the another, muffing it, then watching from his backside as Tech's Juanyeh Thomas pushed him aside and jumped on the ball, setting up a field goal that was pivotal in the 27-21 win over the Hurricanes.
"Man, he's got a boot on him," said Marshall after the game. "He was booting it tonight. The guy muffed the punt, put us down there to get another score. He does a great job of flipping the field. Even when he hasn't punted in a while, he comes in, does his job. One of the things Coach Johnson has been harping on is 'Control what you can control.' When he's in there, he controls what he can control and that's doing a good job flipping the field."
There is a science to Harvin's rain-making kicks.
"It's the placement of the ball, how far out I hold it, of how high or low I hold it, too," he said. "It's how I just match my foot up with the ball, trying to make sure my foot hits the right spot of the ball."
Harvin knows that giving returners something to think about helps make his punts hard to handle.
"Seeing that ball coming in hot and it keeps going over your head, you keep backing up, it kind of throws them off," he said. "They don't know where they are. That last turn on the ball when it comes back down, it can get them off. [I] try to get [punts] in a good placement, to where it can make a returner think about, 'Is somebody in my face?' 'How far over do I have to go to get back to my return team?' It's been a big thing for me this year."
It's been big enough to cause muffs in two of the past three games. In addition to Thomas' miscue last weekend, Virginia Tech's Sean Savoy also muffed a punt, which recovered by Jalen Johnson and leading to game-tying, momentum-changing touchdown in Tech's 49-28 win in Blacksburg on Oct. 25.
Senior Brad Stewart can relate to opponents' woes, as he has been fielding Harvin's punts at every practice for each of the past two years.
"The amount of height he gets with the distance, the ball hangs up there so long, the guys just kind of get mesmerized by it and kind of lose focus, lose track," Stewart said. "He's one of the best in the country at pointing the ball. When he gets a hold of that thing, it's really high and really far and you just have to be ready for when that nose comes down. That's the real key. When that nose comes down you have to be ready to adjust to where it's going very quickly. As you've seen, there have been a lot of muffs in the recent past."
Harvin is proud of being able to assist on a big play like Thomas' and Johnson's recoveries, but stresses that he's only part of the punt team — a unit that leads the ACC and is ranks No. 6 in the country in net punting average (42.25 yards per punt).
"It's one of the greatest things you can do as a punter," he said. "[After] a busted offensive series, you go out and you just change the game on a turnover. It can help out the team with momentum.
"I could take a little bit of credit. I was trying to place the ball where he would have to make a difficult catch," he added. "But I don't want to take all the credit because I wasn't the one to get the fumble. The team blocked for me, covered for me, got down there and made a play, too. So I feel like it's 100-percent all of the punt team."
Being part of the team also means doing what he can to help his teammates. Against Miami, he leapt and snared a high snap, then boomed a punt that flipped the field — preventing a turnover, helping in the field-position battle and also keeping a teammate's spirits up. The latter is especially heart-warming.
"I always keep my snapper, Zach Roberts, up," he said. "Sometimes it happens. I bailed him out and we got a big play off of it. He's a heck of a snapper. We just have to keep each other lifted and make sure the next one's better."
Harvin seems to be getting better and better. He credits that to getting stronger and stronger.
"It's in the legs," he said. "I was always a big guy coming from high school. I just keep trying to make my leg-strength higher and higher. Flexibility is a big part, too. I've been a lot more flexible this year."
Harvin remains flexible concerning fourth down.
For him, fourth down has become a win-win, regardless of whether it's Georgia Tech's offense or the punting unit on the field.
"If my time comes to get on the field, I'm going to be prepared," he said. "You always wish to play but if I don't, it's a good thing. The team's doing a good job on the field. I'll just keep everybody else up. In my head, it's always game mode. I'm always ready to go. Even if I don't get called on, I'm still going to be ready to go."