GEORGIA TECH BOWL CENTRAL – Quick Lane Bowl vs. Minnesota (Wed., Dec. 26 – Ford Field – Detroit, Mich.)
By Jon Cooper | The Good Word
Things were calm on The Flats Saturday morning.
Of course, compared to the previous 24 hours, just about anything would have been.
But while things were not quiet everywhere on campus, inside the John and Mary Brock Football Practice Facility, there were the sounds of Georgia Tech football getting back to work and gearing up for what's ahead.
While many are focused on what's ahead way down the road, the current team's focus is on its next destination — the Quick Lane Bowl on Dec. 26 in Detroit.
The Jackets have some unfinished business to take care of. As rain and cold surrounded The Brock, inside, the team was tuning up for their Motor City showdown with Minnesota (6-6, 3-6 in the Big Ten).
That first of 10 practices that head coach Paul Johnson (below) expects to hold in getting his team's motor running for its first-ever gridiron matchup with the Golden Gophers, and his final game as head coach at Georgia Tech, went pretty much as expected — the Jackets shook off rust physically but were enthusiastic mentally.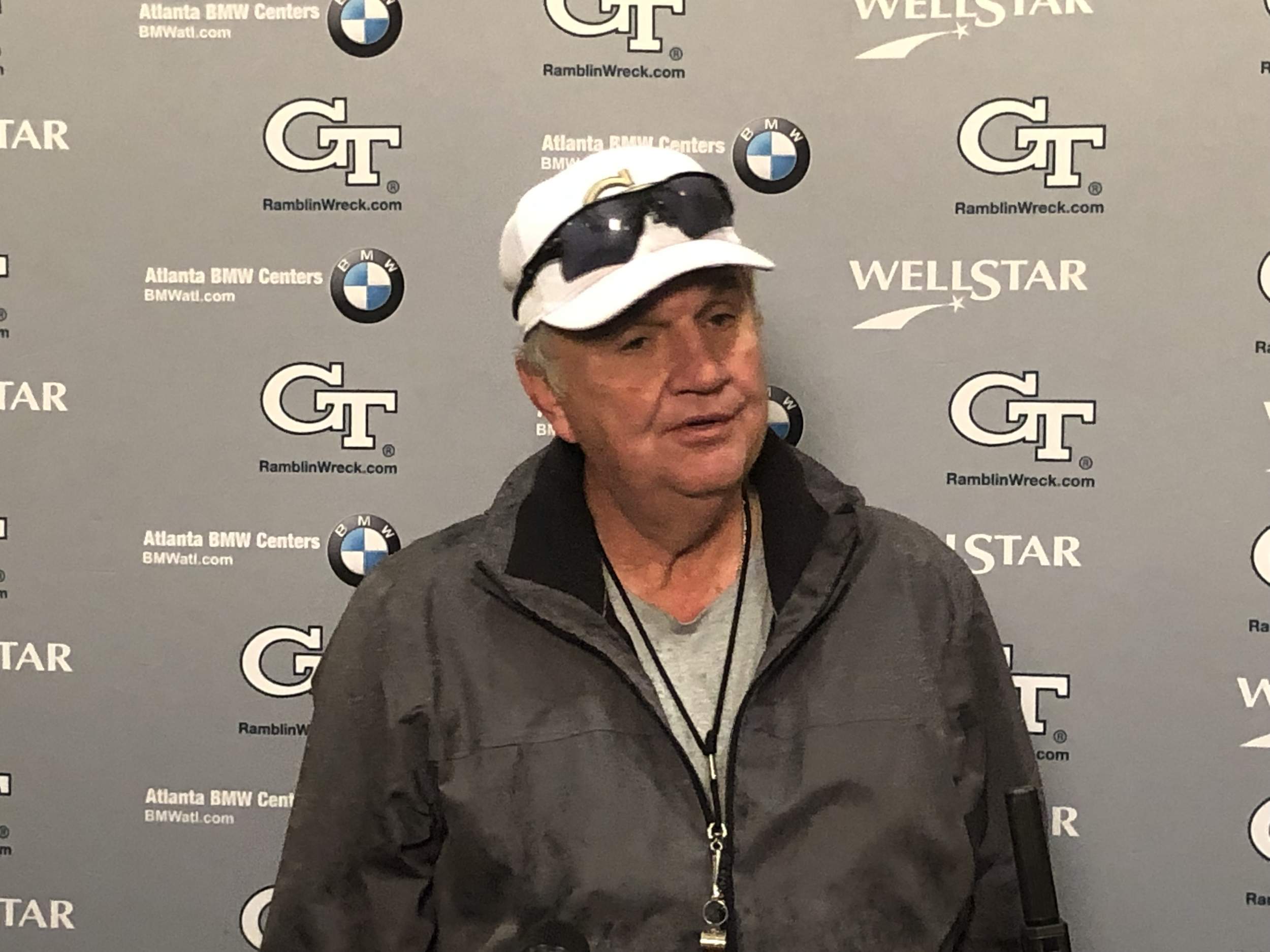 "It was a little ragged but we've been off for two weeks," he said. "The first day, getting back into it a little bit."
The players were happy just being back on the field.
"It was fun, just to be able to get back out there and fly around a little bit, have a little fun," said senior co-captain and quarterback TaQuon Marshall, who'll be playing his final game in Detroit. "We started off kind of slow but you kind of expect that when you have two weeks off. It was good to get back out there and kind of get things going again."
"I think everybody's been bogged down with school recently," said fellow senior co-captain, inside linebacker Brant Mitchell, who will also be playing his final game. "So it's good to see your friends again and get back to what you love."
Both agreed that while regaining their timing will require some time, the time off was good.
"I feel like I'm going to be like I would be [for] game one, since we've had so much time off and so much time to rest," said Marshall (below). "So I think it will benefit me."
"My body feels a little bit better," said Mitchell. "It's been a long season. We played some pretty physical teams, so it was nice to kind of step back and focus on my academics a little bit more and get ready to finish out the school year strong. It's been nice but I was excited to get back to it today and we had a good practice."
The hiring of new coach Geoff Collins may have been the elephant in the room as the Jackets began bowl prep, but it was a well-trained elephant, taking its place quietly in the corner. Johnson is sure that his players will be locked in on the mission at hand, which is beating Minnesota.
He certainly is.
"My focus with the kids now is the game. That's it," he said. "It's only weird if you make it weird. To me, it's like getting ready for any other game. You're just getting ready to play a game.
"I think they'll be excited to play," he added. "They've got a lot to play for. The kids that are coming back are auditioning for the new coaches and the seniors want to go out the right way. You never know until you play, but I've got confidence in these kids. They've never led me to believe that they're going to lay down. I've never seen that out of them."
Don't expect to see it on Dec. 26. They're determined to go out the right way and will continue to filter out the noise.
"I've just really been focused on getting back healthy and taking care of my body and finishing up school the right way, finishing this semester the right way," said Marshall. "I'm kind of excited for the guys under me, just to see where everything goes after the bowl game but, ultimately, we're going to keep the main thing the main thing and that's going to win the bowl game. So everybody's really excited about that."
Marshall has extra incentive in trying to reach a personal milestone, as he's 104 yards short of 1,000 for the season.
"I know one of my personal goals for this one is to get to 1,000 [yards] rushing," he said. "So I know I have to have a good game. But it's going to take everyone. This will be a good opportunity for me to reach that goal. I'm excited about this."
Then, of, course, there's sending Johnson out the right way.
"Coach Johnson gave me the opportunity to come here and I couldn't ask for anything more," said Mitchell (below). "This place has done more for me than I could do for myself and so I'm going to go all out, personally, I'm going to try and have my best game and we're going to try to send Coach Johnson out the right way — with a win. I think that's the mindset of everybody on this team.
"These are the coaches I've known the whole time I've been here, other than Coach [Nate] Woody's addition this past year," he added. "It'll be really good to go out there and have one final hurrah with them. The coaches are still coaching as hard as they would any other day. So we're going to try to go out with a bang and take it to the ole Gophers."
"This is going to be crazy because it's going to be the last time that we'll probably all be together like that, in that setting, so it's going to be bittersweet," said Marshall. "I get to go out with the guys I came in with, including Coach Johnson. So everyone's going to try to put their best game together to send him out on the right note."
Marshall hinted that there is another, more unwieldy elephant in the room, and that is the one that is still quite ornery about the Yellow Jackets not being selected for one of the ACC's "Tier One" bowls. That is an elephant that the Jackets would like to confront with a win over Minnesota.
"We put together a pretty good resume to be able to go to a Tier One bowl. We beat [two] of the teams that are going to Tier One bowls, so I think it was kind of surprising for everyone," said Marshall. "But at the same time, we're excited to go to the Quick Lane. On the plus side, we're playing inside. So it's going to be warm. I know everyone's excited that it's going to be 72 instead of it being 30 or something like that. We're going to go out there and try and put our best game together and try to show everyone that maybe they should have picked us for a different bowl game. It's definitely motivation, for sure."
Marshall ran wild the last time he was indoors, setting GT and ACC single-game records for rushing yards by a quarterback (249) and the school records for most rushing touchdowns (5) by any player in Tech's 42-41 double-overtime loss to No. 25 Tennessee in last year's season opener Mercedes Benz Stadium.
The bottom line is it doesn't matter whether it's inside or outside. Getting one more game is reward enough and is something that will drive the Jackets.
"It's another opportunity to play in a bowl game," said Mitchell. "For two [of the] years that I've been here, I haven't had that opportunity. So to get back out there and be able to enjoy some postseason play, I'm really excited about it."