By Jon Cooper | The Good Word
If any school's students can handle a redesign, it's students at Georgia Tech.
Georgia Tech's football student-athletes on the offensive side of the ball, particularly the offensive linemen, will certainly undergo a redesign this coming season. One of the biggest differences under head coach Geoff Collins will be the installation of a tight end. The last time Georgia Tech's offense had one of those was on Dec. 31, 2007, a 40-28 Humanitarian Bowl loss to Fresno State, the last game before Paul Johnson ran his patented spread option offense for 11 seasons at Tech.
At that point in time, Chris Wiesehan was the offensive line coach at the University of Hawai'i. Hawai'i's season ended the next day, in a 41-10 Sugar Bowl loss to No. 5 Georgia.
Now Georgia Tech's first tight ends coach in 11 years, Wiesehan will have the chance to end his regular season against Georgia in 2019 … and 2020 … and 2021 … basically as long as he's a part of Collins' staff. But he's not looking that far ahead. He's not looking past getting the Yellow Jackets' new pro-style offense, complete with tight end, in place.
It's a challenge he's already embraced wholeheartedly in all facets.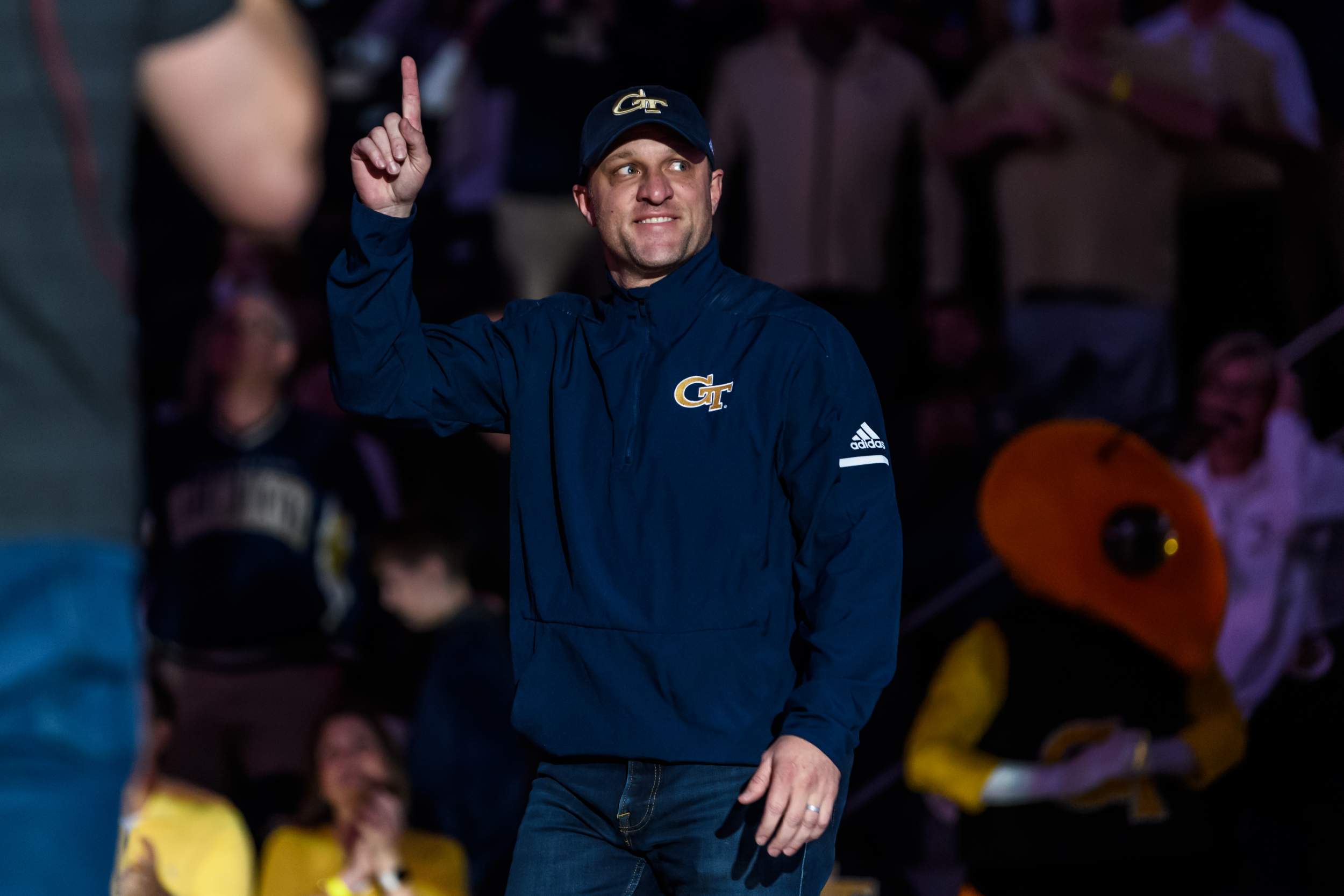 "I think the ability to impact (the offense) and make significant changes, come in at Ground One and install an offense that hasn't been seen here, those things are going to be an awesome," he said. "So obviously, there are going to be growing pains, but then you have to have an elite-level of coaching. So that's exciting."
Ushering in the new tight end era is really exciting to him.
"Obviously, in its infancy, with no tight ends here a month ago to go and [to] now have two really good ones [Tyler Davis, a graduate transfer from UConn, and Dylan Deveney, an incoming freshman from New Jersey] come in, that's exciting," Wiesehan said. "We have to continue to recruit to that room and bring in guys that fit our model. We feel good about the two that we have and will probably look to get a couple more.
"I think you should think that way in every position you inherit," he added. "I think you have to put your stamp on them, you have to build that culture in your room. Now I know that there were [no tight ends] here so that's just, at the very basis, we get to start from the ground up and this is where we're going to start from. We're going to set a precedent here for a long time of having outstanding tight ends."
Wiesehan is qualified to coach this group. He was an All-America wide receiver at Division III Wabash College in Indiana, where he set the national career record for all-purpose yards per play (16.0), and is a 25-year veteran of the coaching ranks, all on the offense side of the ball. He's applied his craft in places as varied as Northern Arizona, Notre Dame, Syracuse, UCLA, Hawai'i, the Winnipeg Blue Bombers of the CFL and Tampa Bay Buccaneers of the NFL.
He's also shown the knack to get the most out of tight ends. Most notably coaching a pair of Mackey Award candidates (national tight end of the year), Logan Paulsen and Ryan Moya, in his lone season at UCLA (2009).
Who the Logan Paulsen and Ryan Moya will be on Collins' first Georgia Tech squad is still to be determined, but the front runners appear to be Davis and  Deveney. Both are well-known to Tech's staff, particularly Davis, who starred at Temple's American Athletic Conference rival UConn and had the second-most touchdown receptions by a tight end in Huskies history last season (6). A former quarterback, he also has three career touchdown passes.
"Having watched Tyler in our conference for a couple of years, he's dynamic, explosive," said Wiesehan. "He's a game-changer as tight end. He's just got a great competitive nature and you felt that, playing against him you really felt. His explosiveness and how he could really create some mismatch problems. But he's a playmaker."
Deveney, an incoming freshman, originally committed to Temple after being recruited by Collins.
There has been no shortage of volunteers on the current roster to try their hands at tight end. That enthusiasm is nice to see. Even nicer to see will be how things play out during winter conditioning.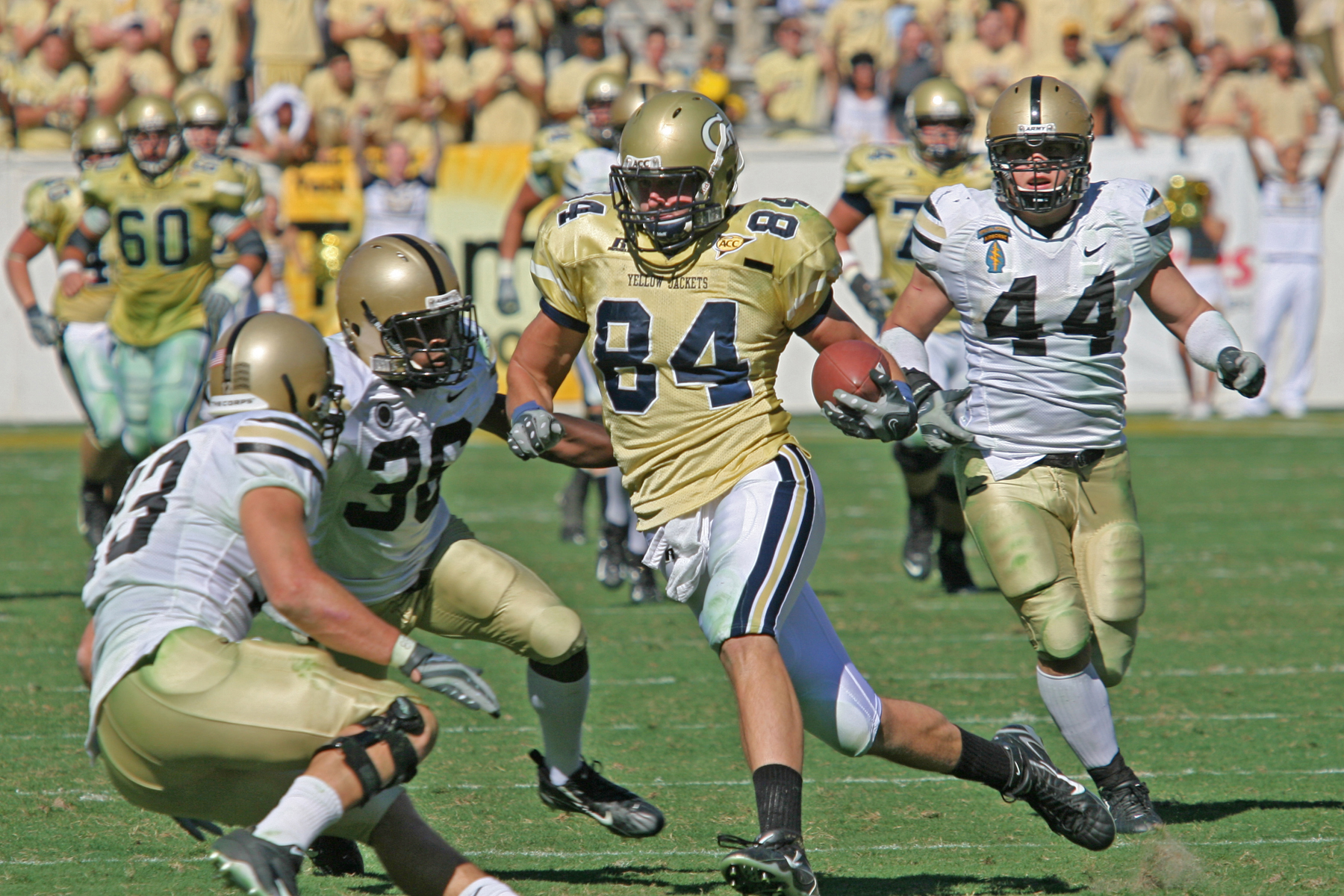 Georgia Tech's starting tight end in 2019 will be the program's first since Colin Peek in 2007.
"There have been a lot of kids that have been willing," Wiesehan said. "We'll get through winter conditioning, we'll look at the movement, look at the body types. The ability to process information actually goes into our winter conditioning at a high level — guys that can process information, we kind of discern that. A lot of that is the ability to process information and Coach Collins does a really good job during winter conditioning, not only the competition, the toughness, the energy, but the ability to process information, we're able to discern from those workouts."
There will be a lot to look forward to once the position is figured out. Of course, that'll be when figuring out how the tight end works becomes the opponent's problem — and it could be a significant problem, as Tech's tight ends have a significant role. These will not be your father's tight ends.
"[Offensive coordinator] Dave (Patenaude)'s pretty creative," Wiesehan said. "We like to be in a lot of 12 personnel [one RB, two TE], we can, obviously, be in 11 personnel [one RB, one TE] but we can get into 10 personnel sets [one RB, no TE] with the tight ends that we have right now. They're going to be asked to be tight ends, they'll insert like fullbacks and cut off the back side or be on the line of scrimmage at the point of attack, but they're going to be guys that are going to have to stretch the field vertically, they're going to have to be precision route-runners and be threats in the passing game.
"Those are dynamic guys. Those are the H-Backs," he said. "We'll have an on-the-line guy and we'll ask them to do those things but they have to be guys that can play the slot, they have to be guys that can be true blocking backs in the backfield, like in a fullback role, as you maybe look at the field in motion and inserting. They've got to be guys that are good above the neck and guys that are tough."
They'll be a part of Tech's new offense that will look to make a statement against an initial regular-season schedule that opens with defending national champion Clemson and closes with archrival UGA.
"I just think we're a 'put-the-football-down' program," said Wiesehan. "It doesn't matter who we play. It's about us and were going to put the ball down and compete at a very high level.
"We're going to go represent this city, this state, this program at a very high level," he added. "So we're excited about that."