GAMEDAY CENTRAL – Georgia Tech at No. 5 Georgia (Saturday at Noon)
By Jon Cooper | The Good Word
Experience is what separates freshmen from seniors.
In 2015, this year's Georgia Tech's seniors started with a rout of Alcorn State as freshmen and were 2-0 but soon found themselves at 2-3 and saw their season disintegrate into a frustrating 3-9.
Seeing Alcorn and a similar trend forming this year — they sat at 1-3 with the lone win being in the opener against ASU — Tech's senior  knew they didn't want to experience 3-9 again. This time, in a position to do more about it, they made sure they didn't. They turned their final season into something special. Instead of finding ways to lose games — they lost six one-possession games in 2016 — they have found ways to win.
Last Saturday, in their final appearance at Bobby Dodd Stadium, they did it again and the seniors led the way. Seemingly every senior that stepped on Grant Field stepped up, as the Yellow Jackets earned a gritty 30-27 overtime win over Virginia. The win gave the Jackets their sixth victory in seven games since the 1-3 start.
There was a justified feeling of pride.
"That's a shoutout to our senior leadership because every single one of these seniors was part of that 3-9 season our freshman year. That left a bad taste in my mouth each of these four years," said wide receiver Brad Stewart. "Starting off the season 1-3 was like deja vu. It was like, 'Alright, this is where we make a decision. Are we going to win those close games? Are we going to get ahead and play as a team and execute?'
"We were killing ourselves at the beginning of the season with mistakes," Stewart added. "I just think it's a real tribute to this senior class of not letting the season get away from us when people might have counted us out and forgotten about us."
"We had that 3-9 season and it kind of looked like it was the same thing that was happening. It was like deja vu," agreed senior defensive end Anree Saint-Amour. "We always stressed changing the momentum and always sticking together and always pushing and persevering. It's like running a race. You have to hang on. You have to keep on running. You have to keep on persevering until the time you reap the harvest."
Their sticking together was a theme linebacker Jalen Johnson harped on following the previous week's win against Miami. He re-emphasized it following the triumph over Virginia.
"We didn't listen to what people were saying on the outside," said Johnson. "Everybody left us for dead. We just came together as a team. We knew what we were capable of. It's an awesome feeling now that we battled back and we know that we just stuck together the whole time."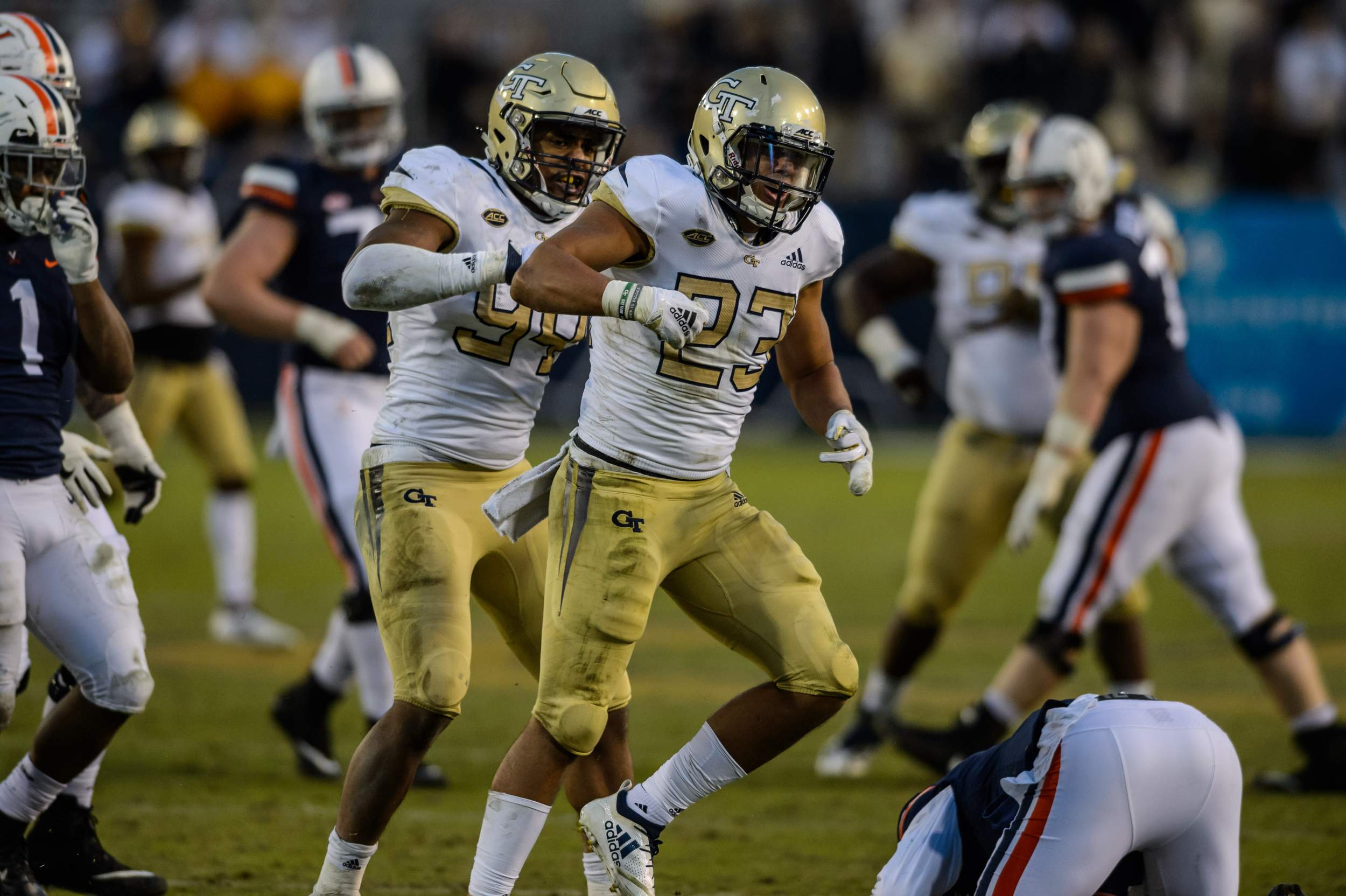 Seniors Jalen Johnson (23) and Anree Saint-Amour (94) played a huge role in keeping the Yellow Jackets on track after a disappointing 1-3 start.
Together, the Jackets have already harvested a seven-win season and a second-place finish in the ACC Coastal Division heading into Saturday's biggest game of the year — at archrival Georgia. The rebound has been as rewarding for Georgia Tech as it was unexpected to pretty much everyone outside of the program.
"[The seniors] did a great job of keeping the team together when it was 1-3," said head coach Paul Johnson. "That's not easy, I can promise you. I've been doing this for 40 years. As a coach, when you start out like that and you have all the negativity around you and everybody's already pronounced you dead and is shoveling dirt on you, it's hard to keep everybody going in the same direction. The seniors just didn't listen. They turned it off and we just went to work and kept playing. That's all you can do."
"Everyone just believed in each other. We knew that it was a marathon, so we weren't going to stress on the 1-3 start," said quarterback TaQuon Marshall. "We were going to control what we could control and go out every week, prepare for the games and just go out and try to do our best to put ourselves in the situation to win the game. That's what happened. We got on a hot streak, confidence got high. We all believe in each other, we all dearly love each other, and we're going to do whatever it takes. We're going to put our bodies on the line every play."
Despite the satisfaction of the recent run of success, the season is far from over. Next up: Georgia. In Athens.
"We've been an underdog in a lot of games," said Marshall. "I don't think any of us really pay attention to that. We're just going to get ready … It's a rivalry game, so everyone will be juiced up and ready to play."
"There's no talk (needed) about this game. You could have an 0-11 season going in," agreed Stewart. "I've played there one time, I'm 1-0 … It's a great place to play and we're excited for that opportunity."
"I'm actually 2-0," chimed in Jalen Johnson, with a big smile. "I'm trying to stay undefeated."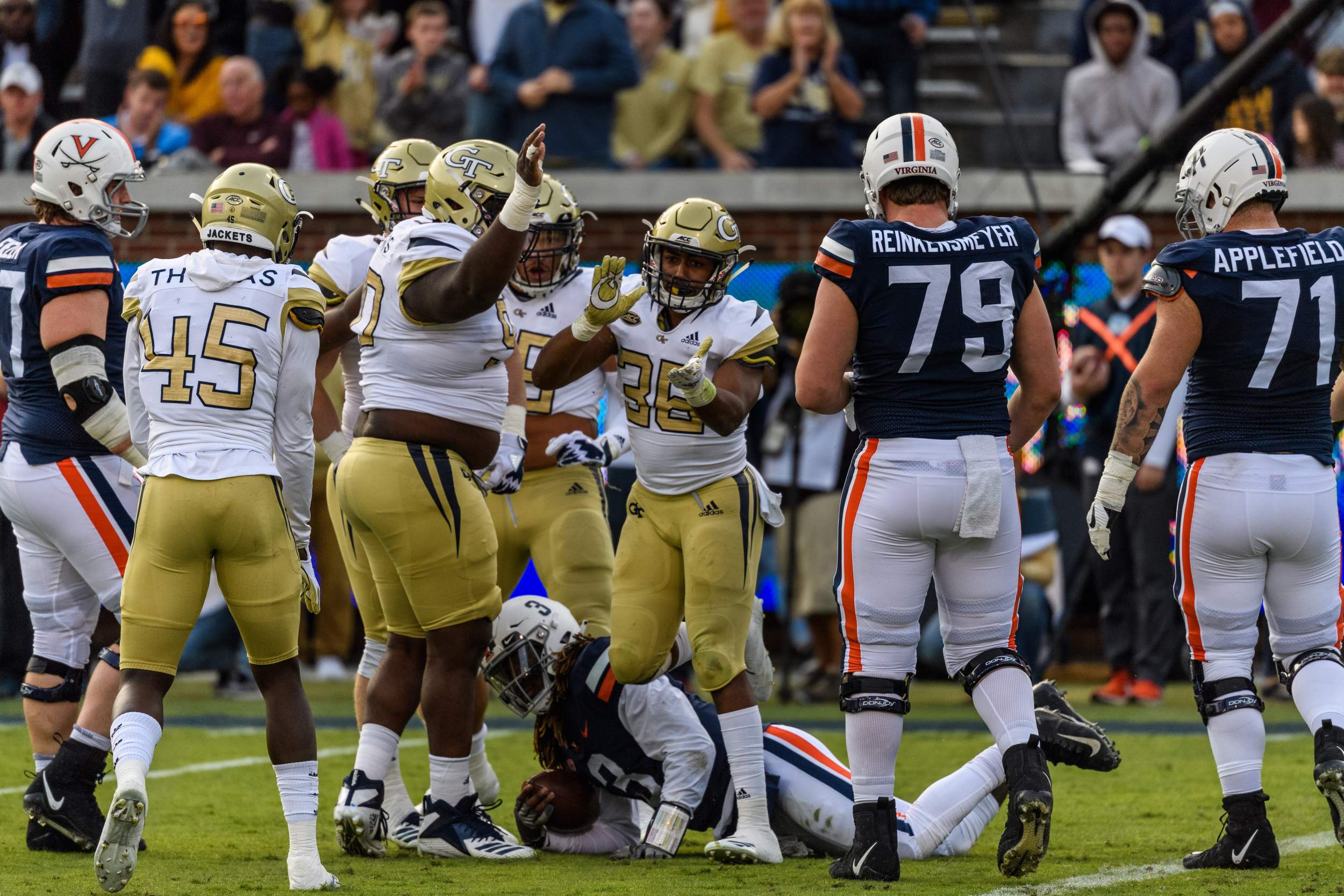 You don't have to be a longtime Yellow Jacket to appreciate the opportunity.
"I'm excited for it, honestly," said defensive back Malik Rivera (above – No. 36), who will experience "Clean Old-Fashioned Hate" for the first time after playing the first three seasons of his collegiate career at Wofford. "I watched it on TV for years, not thinking or knowing I'd ever play in it. I'm just excited for that moment to play in such a big game."