VIDEO: Geoff Collins press conference (Jan. 10, 2019)
On Dec. 7, the hiring of Geoff Collins as Georgia Tech's 20th head football coach got people talking, at least around The Flats.
On Thursday morning in the Letterwinners Lounge atop Bobby Dodd Stadium, Collins announced his coaching staff for 2019, which he hopes gets people talking in larger circles, like the entire state of Georgia, ACC country and the college football world.
"I'm really excited to get to work and put Georgia Tech back in the national conversation of the elite in college football, where we belong," said Collins.
In his near 30-minute media session he gave props to predecessor, Paul Johnson, invoked several of his previous stops and mentioned several of his mentors, including former Georgia Tech head coach George O'Leary and current Alabama head coach Nick Saban. It was basically a road map of how he got to this point and where and how he met his assistants.
There was even had a spontaneous, breaking news announcement to confirm the hiring of former Yellow Jacket Brent Key, who'll serve as assistant head coach, run-game coordinator and offensive line coach.
Having his staff together was as much a relief for Collins, who credited Coach Johnson's staff and those within the athletic department for help with the transition, as it was a spark igniting his mission now that he and his staff were acquainted and with their environment. On Thursday, the fuse was lit.
"The thing I'm excited about today, we had a full staff meeting with the entire athletics department," he said. "We got to know everybody across the athletics department and they're all excited about the future of Georgia Tech athletics, as well as we are."
He also expressed his excitement about being guest coach for the Yellow Jackets' women's basketball team when they hosted Duke on Thursday night. A good omen: with him serving as guest coach (below), he got his first victory at Tech, as the Jackets downed the Blue Devils, 70-64.
After that?
"We hit the ground running [Friday]," he continued. "At midnight, we're going to hit the ground running and there's going to be three hot-and-heavy weeks of recruiting to kind of finish out the last bit of the signing class, then we get to work with our current roster and start putting together the pieces that will be in place to be a really, really good football team."
As for his staff, Collins spoke glowingly about each of his hires, as well as staff members that will remain from the Johnson era. He specifically lauded head strength and conditioning coach Lewis Caralla ("he was named the Football Scoop Strength and Conditioning Coach of the Year for football [in 2018], which I think is a well-deserved honor"), director of applied sports science Ryan Horton ("he does an amazing job with player safety and conditioning because first and foremost we want our players to be safe [and] we want them to improve on a daily basis") and nutritionist Leah Thomas ("there's a [place] in the College Football Hall of Fame [where] she's documented as being an expert in that field and she's right here on campus").
He also made a point of making sure that his staff has a Georgia Tech flare. Three of his 10 on-field assistants are Tech grads (Key, co-defensive coordinator Nathan Burton and running backs coach Tashard Choice), as are offensive quality control specialist Will Glover and a pair of holdovers from Johnson's staff — assistant director of operations Kevin Cone and associate director of player personnel Tevin Washington.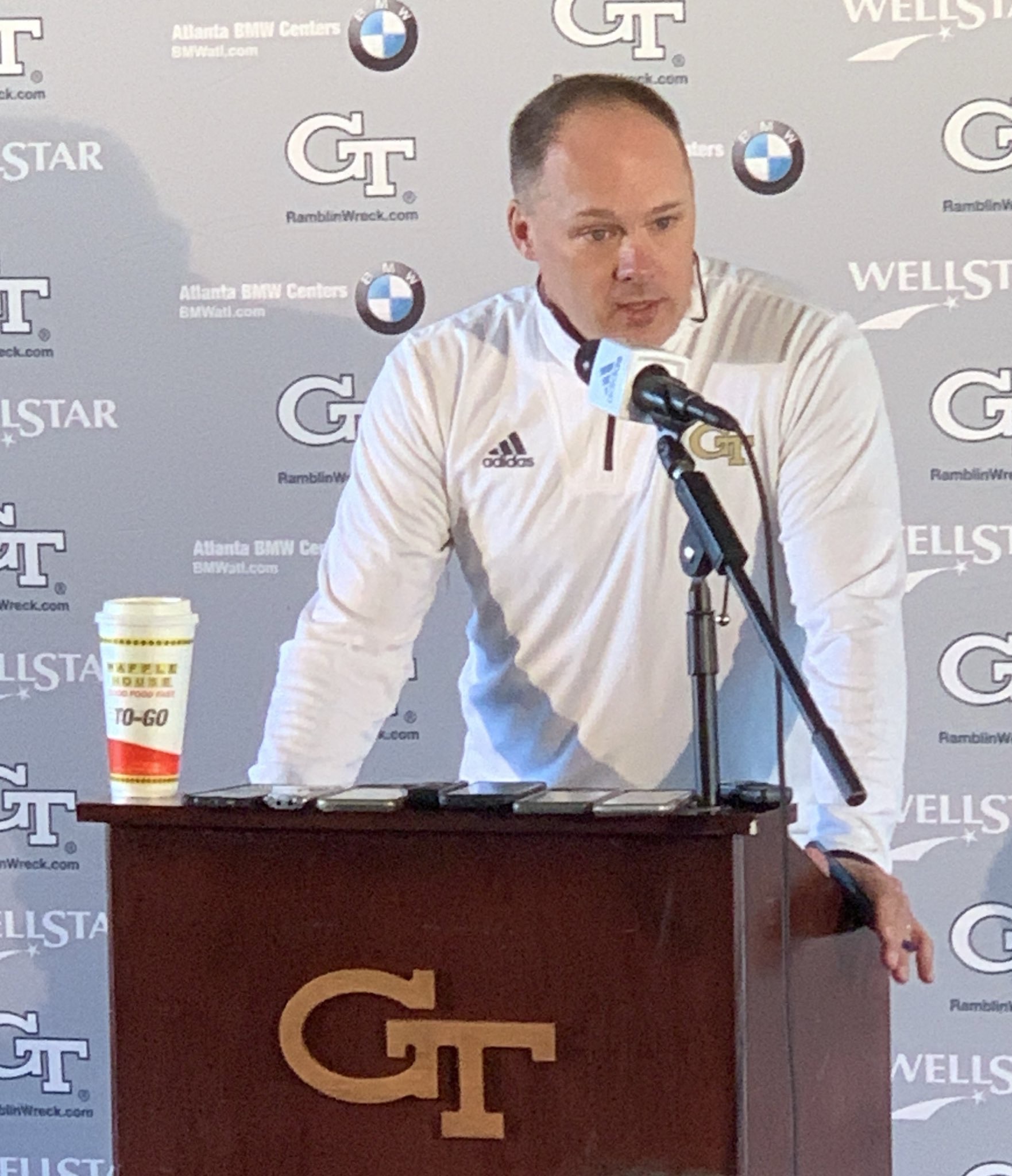 "Bringing back guys that played at Georgia Tech was big to me … They're pervasive throughout our coaching staff and throughout our culture here," Collins said.
Those expectations and that culture, beginning with winter conditioning, has Collins really excited and is one the players should be as exciting to the players.
"We're a culture that's built on effort," he said. "That is the primary focus for everything that we do … guys that give tremendous effort. Everything we do around here is going to be earned. Nothing is going to be given, so they've got to have to earn their spots to be above the line and those kind of things."
While Collins has his goals and dreams, he's been doing his due diligence finding out what the players' goals and dreams are by holding 15-minute meetings with the players — he's also been cramming video of every Tech game from last season in between those meetings.
"Just so I can sit down, know their history, know their background, some positive experiences they've had since they've been here, some things that they would like to see improved upon," he said. "That's been a really good experience getting to know them even more in detail that way."
He's also open to their suggestions about possible position changes.
"Every meeting, I had them come in and tell me the different things that they think they'd be good at," he said. "The big thing for us is position flexibility is huge. Our entire program is set up for them to have life after college. Get a great degree from a top-seven public institution, play at a high level in college football and develop to hopefully get into the NFL. The thing that's valued in the NFL, with the small roster sizes, is being able to do a lot of things. If you add value to the organization, if you have position flexibility, you can do a lot of things, you have a larger chance to stay on the roster and make it to your second contract.
"So we're open to it," he added. "The big thing I told every young man that's come in to talk about position changes or other things they'd be interested in is just to attack the off-season program, attack what you're doing every single day to be the absolute best you can be and give us something to base what position you're going to play on through that process."
Things got off to a good start last Sunday, the night before school began.
"The entire coaching staff was here," he said. "We got to meet the players, out front in the plaza level, in the lobby, then into a team meeting to start setting the tone for the new era and for the culture going forward that is Georgia Tech football."
Collins hopes fans will be as excited as he is and plans to allow them a chance to see for themselves, as spring practice begins the Tuesday following Georgia Tech's spring break. Fans will be encouraged to show up for some special events and open practices — all to be announced in the near future.
Can't wait? Neither can Collins, who's excited to work with his new family.
"We make a big deal about relationships here," he said. "The relationships that I've been able to establish over my career, some of my closest friends to be able to join me that are relentless recruiters, they're energetic, they're positive, they're tough, they care about people, they care about their players, that's the kind of staff that I've been blessed to assemble.
"They believe in us," he added. "They believe in what I want to do at this great place. That they want to be a part of it is very humbling and I'm just excited."