GAMEDAY CENTRAL: Georgia Tech at Virginia Tech (Thursday at 7:30 p.m.)
By Matt Winkeljohn | The Good Word
As Georgia Tech resumes the process of football in the midst of a season in which some things have gone wrong, they may be getting ready to play the right team in the right place.
It depends upon your opinion.
For all of Virginia Tech's considerable success over the past couple decades, the Yellow Jackets have given the Hokies fits recently.
With three wins over Virginia Tech in the past four meetings, including victories in the past two trips to Blacksburg, Va., Georgia Tech has more than held its own against one of the top football programs in the ACC's Coastal Division.
In Paul Johnson's first 10 years as head coach at Georgia Tech, the Hokies have won four Coastal championships, the Jackets have won three, and North Carolina, Miami and Duke have each won once.
"I think that's what makes it a rivalry," the head coach said. "[Seven] of the [10] years, the team that's won [this game] has won the Coastal Division . . . That's why it's probably a rivalry."
Georgia Tech has serious work to do to win the Coastal this season, and even if the Jackets win out at Virginia Tech, at North Carolina, over Miami and over Virginia, they'll need for other teams in the division – chiefly the Hokies and Hurricanes – to sustain other ACC losses.
The Jackets have won the Coastal with a 5-3 ACC record before, in 2012, via tiebreaker and the ineligibility of Miami and North Carolina. Then, Georgia Tech lost 21-15 to Florida State in the title game.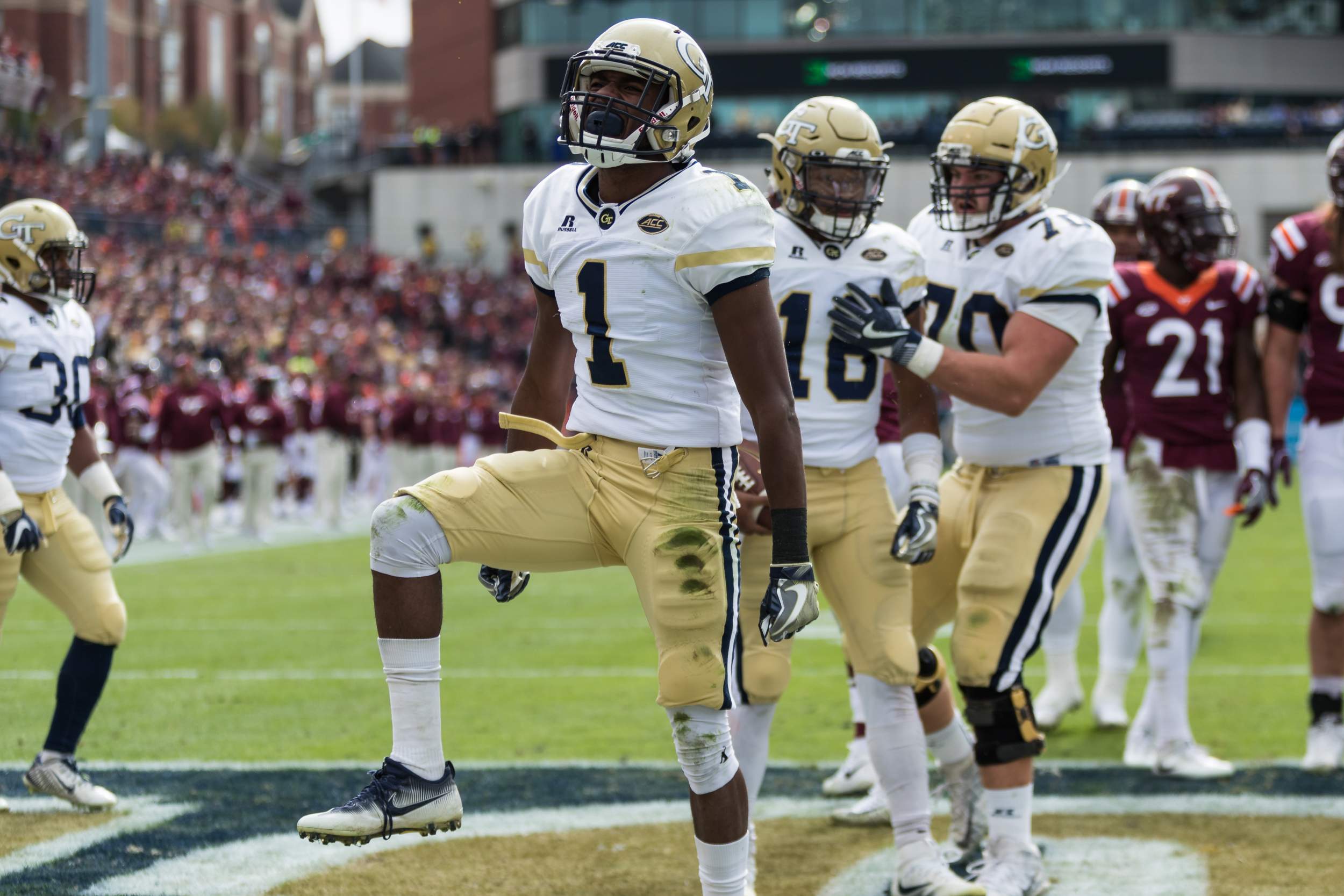 Qua Searcy (1) and the Yellow Jackets are looking for their third-straight win over Virginia Tech.
In addition to winning out and getting some help, this edition of the Yellow Jackets has some stuff to clean up on its own end if it wants to keep its slim chances of a Coastal title alive, including a propensity to fumble, especially at inopportune times.
B-back Jerry Howard, quarterback TaQuon Marshall and kickoff return man Juanyeh Thomas lost the ball on consecutive third-quarter touches in Tech's last game, and Duke converted each turnover into a touchdown to pull away for a 28-14 win on October 13 in Bobby Dodd Stadium.
"I look at those three fumbles . . . and none of them had anything to do with the option offense. They weren't on the mesh, they weren't on the pitch. They were ball security issues . . . " Johnson said. "We work on ball security every single day, but having said that, we've got to do a better job teaching it. If it's a problem, you've got to do a better job teaching it."
Georgia Tech (3-4, 1-3 ACC) has five games left to climb back into bowl contention, and before taking on Virginia Tech (4-2, 3-0), North Carolina, Miami, Virginia and Georgia, the Jackets took a bit of a break. They had three days off last week instead of the usual one.
"I think the biggest thing during the bye week was trying to get healthy, and we got a jump start on Virginia Tech, so I think we had four pretty good practices . . . " the coach said. "We're still somewhat beat up, not as healthy as I'd like. We've got a couple guys who would probably be questionable.
"I think that you need a break mentally as well as physically when you get this far in. We've been going pretty hard every day since August … If you're not practicing you're lifting . . . They get worn out, and worn out mentally, too."
The Jackets have kind of worn out the Hokies lately, with their three victories in the last four matchups. That includes back-to-back wins at Lane Stadium (27-24 in 2014 and 30-20 in 2016), as well as last year's 28-22 triumph at home.
Fourth-year junior quarterback Ryan Willis, a transfer from Kansas, has twice passed for more than 300 yards for Virginia Tech, but the Hokies have a young secondary that includes redshirt freshman quarterback Caleb Farley and sophomores Bryce Watts. Virginia Tech is allowing 295.7 passing yards per game, ranked No. 125 in the nation.
"They're not as experienced as they've been in the past (on defense), but they've got some good athletes and they run well. Where they've struggled the most is on the back end against passing teams, really. Their run defense is still pretty good," Johnson said. "They've got (fifth-year senior defensive tackle Ricky Walker), who's probably as good as anybody in our league."
There is no room for Tech to long at the long road. The Jackets are not checking the schedule ahead beyond Thursday night in Blacksburg, Va. Of course, they wouldn't mind playing more like they did in blowout wins over Bowling Green and Louisville, against whom Georgia Tech did not turn the ball over.
"I want to beat Virginia Tech; that's my goal. If we pull ourselves back even, then we'll worry about going to North Carolina," Johnson explained. "What I want to accomplish is to go up there and not lay the ball on the ground on three-consecutive plays and not beat ourselves and give yourself a chance to win.
"I think when we've done that, we're a pretty competitive team. There's a small margin of error, and when you have penalties and you lay the ball on the ground . . . it makes it really, really hard to win."