By Jon Cooper | The Good Word
THE FLATS — Georgia Tech threw the ball 125 times in 871 offensive plays in 2018. That's a little more than 14 percent of the time.
Such infrequent usage in game situations can make it difficult for wide receivers to establish then keep the precision needed to run routes.
Regaining and maintaining that edge would be imperative in the spread offense of coach Geoff Collins, whose Temple Owls put the ball in the air 443 times in 937 plays — 47.3 percent of the time.
That's the No. 1 goal for Georgia Tech's wide receivers coach Kerry Dixon. He went into the spring with an open mind and looking forward, not back.
"I never really watched too much of their practice film from the past," said Dixon, a quarterback in college and a 12-year coaching veteran, during which he's mentored quarterbacks, running backs and wide receivers. "I knew that it was going to be a clean slate, just try to start from the beginning, because they only know what I tell them. I wanted to start with a clean slate. From the start to the finish, everything being new and everything being the way we do things."
The slate was clean and the players were open to Kerry's methods.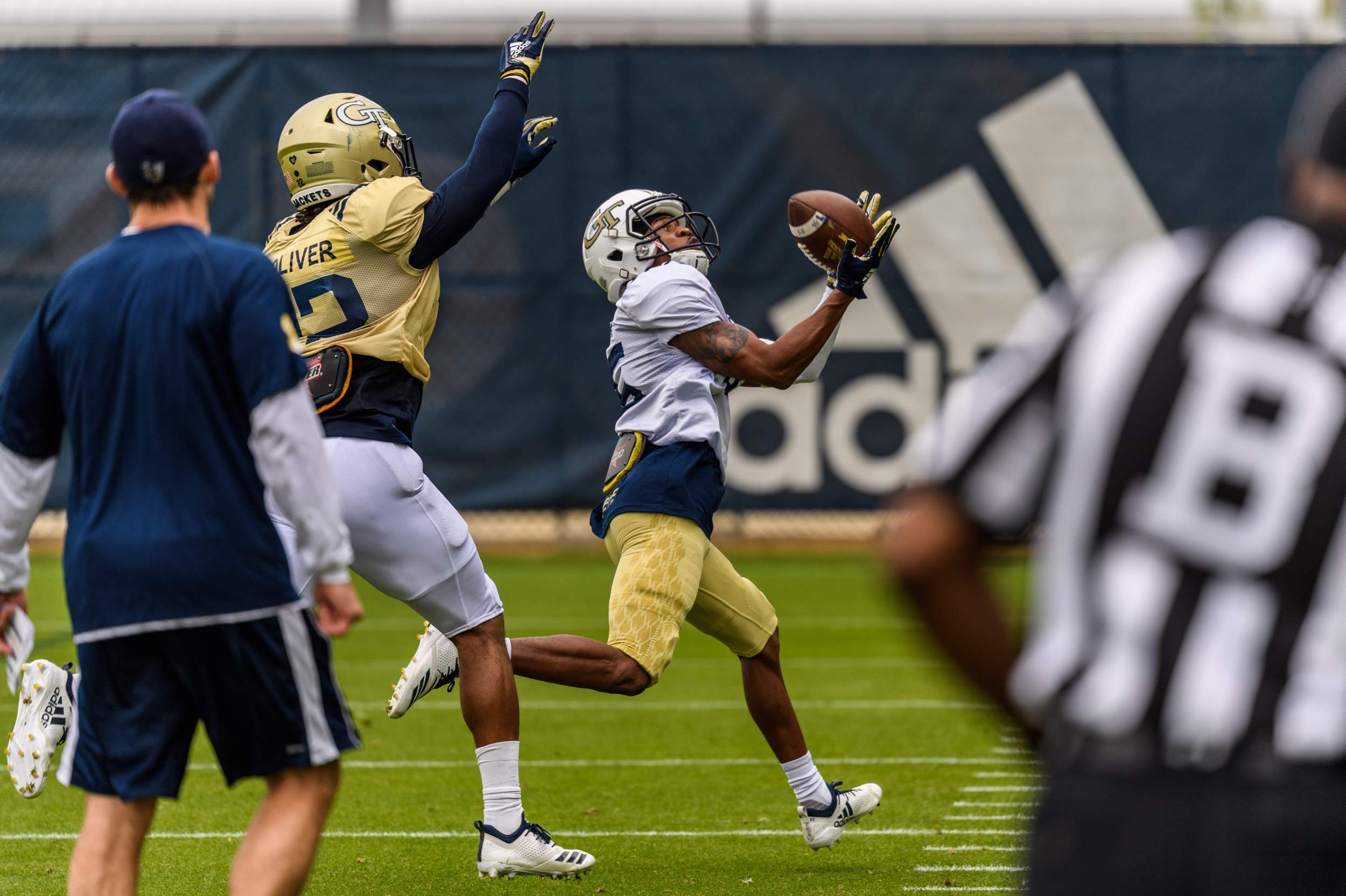 "You could see some things that we were going to have to work on," he said. "Getting in and out of breaks was one of the things that we've constantly talked about because of the creation of separation. We have to go back and do a lot of zone drills and re-direction drills just to get them to understand their foot-placement and understand how to run a route. Those are are some of the things that we continue to have to clean up, just different aspects of being a receiver that they haven't done before. It's been fun and you can tell they want to get better. They want to grasp it every single day. You can start to see the transition happening so I'm excited about where we're going."
The Jackets receivers are constantly going somewhere in practices. But, unlike in the past, when they are running plays, their emphasis is more on "plays" than on "running."
"There are a lot of reps out there," said Dixon. "If you ask them, I'm pretty sure they love what we're doing. There are a lot of balls going in the air, a lot of guys are getting the opportunity to be seen because of the amount of reps. So the energy level has been great. They come to work every day just wanting to get better. They're getting used to it, which is a good thing. Now we just have to get the technical aspect."
The receivers have noticed the difference and are embracing the glut of reps.
"It's a night and day difference," said redshirt-senior Nathan Cottrell, who is making something of a night-and-day adjustment to wide receiver from A-back, where he's played his entire Yellow Jackets career. "Everybody's getting reps so it's not like anybody's getting a play off. It helps tremendously getting out there and getting to run the plays as much as everybody else is, getting as many reps as possible. It's been really helpful.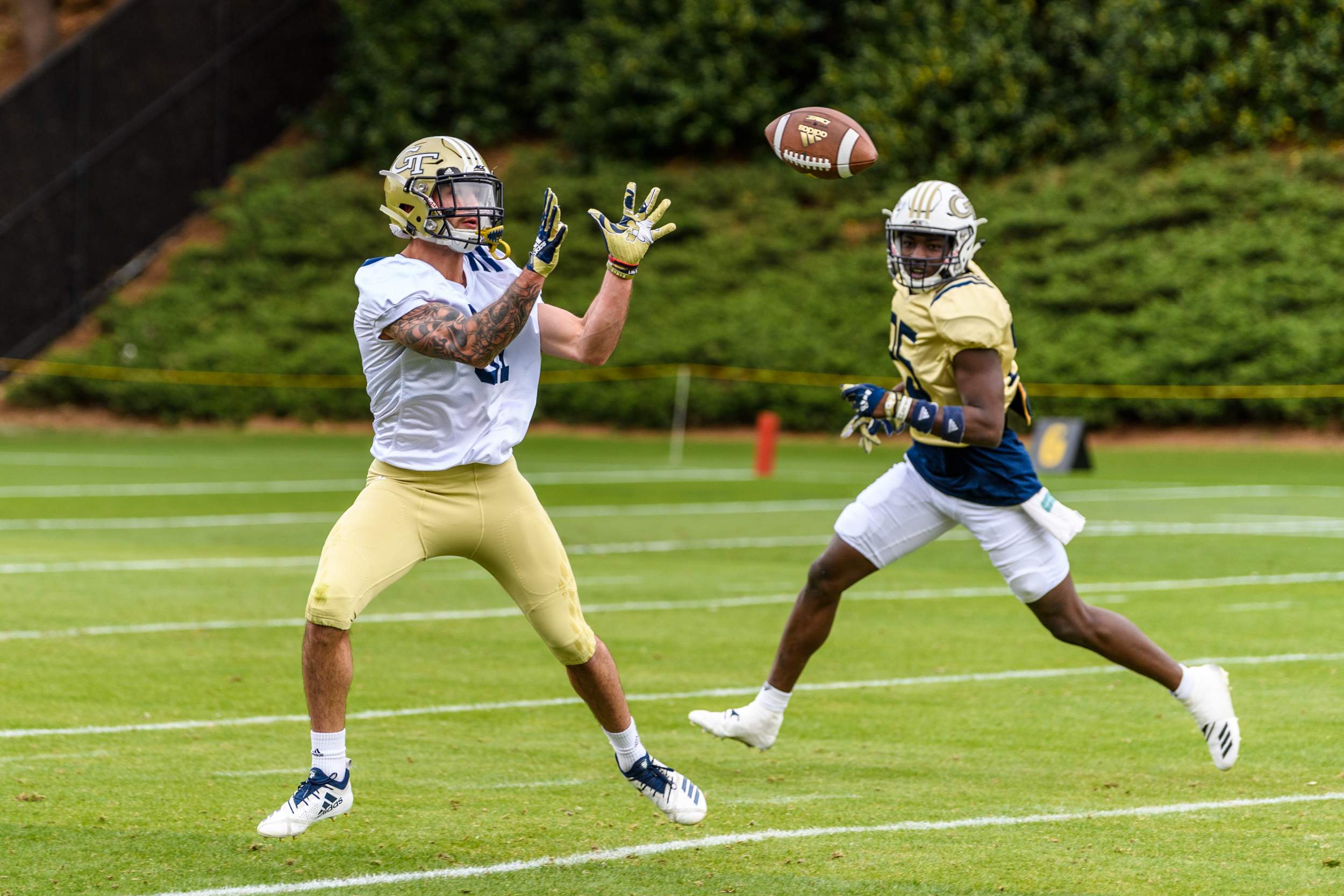 "Getting in and out of breaks, getting my cuts back down is probably my biggest thing," added Cottrell, who caught three passes for 12 yards, while carrying 46 times for 362 yards and four touchdowns. "I'm just trying to get my feet under me because it's kind of foreign to me right now but I'm going to keep pushing myself as hard as I can to keep working as much as I can to improve in that area to be able to go out there and contribute as much as I can each day."
"It's obviously a lot different. We're asked to be a lot more energetic, a lot more alert, a lot more on our toes, we're running a lot more, even just practice transitions are a lot faster," said sophomore Malachi Carter, who had three catches for 56 yards with a touchdown in '18. "Last year, we were running a lot so you really didn't expect much out of the wideouts other than blocking. But now, we've got a bunch of concepts we've been installing every day, different route concepts every day. There's a lot more to the playbook than there was before but it's cool. We're loving it.
"The energy level is way up. We're loving it, too," Carter added. "It can be tiring during practice. That's how it was the first two days, guys were a lot more tired. But you get used to it. You come out here, you're used to the running around all the time. It's a lot more energetic. We're getting used to it and more comfortable."
The unit is not only getting comfortable with the pace of practice but also the level of expectation from Dixon within the new offense.
"The transition is very different. We went from the triple option — just having two receivers — to now having like five receivers on the field," said sophomore Adonicas Sanders, who is excited to be back on the field after suffering a broken collarbone in fall camp last year. "In the past, everything was run, run, run. Now we pass a lot. I know (the quarterbacks) love that and the receivers definitely love that because we didn't get that many targets in the last offense."
For all the change, the emphasis on blocking remains the same.
"Coach said, 'If you can't block, you're not going to play,'" Sanders said. "You've got to do more on the field than just catch touchdowns. You've got to block to make sure the running back gets a good play and so the quarterback can get a good option also.
"They stress on blocking a lot and also winning 50-50 balls," Sanders continued. "Coach Dixon's favorite line is, 'When the ball goes up, who comes down with it?' We say, 'We do!' because that's what wide receivers do."
Dixon has got the players buying in.
"He's great. He's a great coach. He's real energetic. He's real cool," said Carter. "He gets along with everybody well. He's real easy to connect with but he expects a lot from us also."
"Coach Dixon wants everything up-tempo and fast-paced, no loafing off the ball," said Sanders. "He wants you to attack everything at 100 percent. We have some great receivers that will be in the rotation and will make great plays this season."
The group is deep and talented as well as enthusiastic to learn — in addition to Cottrell, Carter and Sanders, it features senior Jalen Camp (the Jackets' leading returning receiver from last year's squad with 11 catches for 186 yards a year ago), talented juniors Stephen Dolphins and Jair Hawkins-Anderson, and impressive youngsters in redshirt freshman Peje' Harris and true freshman Ahmarean Brown. Brown, who arrived on campus in January after graduating from high school a semester early, has impressed in his first practices as a Yellow Jacket.
"I love his speed, his ability to change directions and probably the brightest spot is the mental aspect of the game," said Dixon. "He's one of those kids, you make an adjustment and he can get it right away. So he takes it from the classroom to the field but he also spends time doing it. He does a really good job of watching film away and coming back and having questions. Just doing all the things to try to be better day in and day out. His mental aspect is well beyond most guys as a freshman wide receiver."
Right now, academic year doesn't matter. The slate is clean. It's up to the players to establish where they'll play.
"As of right now, it's just an early study. So it's not necessarily just slots and outsides," said Dixon. "As time goes on you'll start to see us move guys around and see what they can do, what they can handle, how we can create mismatches with the defense. We'll start to move guys around and put them in positions to be successful."
The unit is off to a good start.
"The one thing that has surprised me is how fast they've picked up on the concepts," Dixon said. "The only thing is just making those adjustments when you see certain coverage structures. Those are things that we'll have to work on but their mental aspect as far as taking things from the classroom onto the field and just in knowing where to be is something that I was extremely surprised about. A couple of guys with the way that they can contort their bodies and catch the ball has been something that I've been really pleased with."
While so much is still to be determined, Dixon doesn't want his receivers thinking about their roles, their potential roles or where they stand with him. In fact, Dixon prefers his receivers save their thinking for the classroom, not on off the field.
"Sometimes I think they're thinking, as opposed to playing football," he said. "You can't play this game fast if you're thinking. Once they all get more comfortable with the system you'll start to see us develop and grow and start to do some really great things."
Until then it's full-speed ahead.
"Energy breeds energy just like success breeds success," Dixon said. "It all starts from the top, coach Collins and the way we do things here, as far as attacking everything we do and having the culture of effort. I love coach Collins' passion for effort and for energy and for attacking everything we do. I'm extremely excited about what we're doing. I love the direction of the program."