GAMEDAY CENTRAL (Tech vs. No. 3/2 Clemson – 3:30 p.m. Saturday – Bobby Dodd Stadium)
BUY TICKETS ONLINE | THE TAILGATE AT WRECKFEST
For all the talk about Clemson's supremely talented defensive players, Georgia Tech defenders plan to have their hands full on Saturday afternoon when the No. 3/2-ranked Tigers visit Bobby Dodd Stadium.
Clemson (3-0, 0-0 ACC) starts with graduate student quarterback Kelly Bryant, and moves quickly with sophomore running back Travis Etienne.
The Tigers don't seem to miss a beat when freshman quarterback Trevor Lawrence moves into the lineup – even though Tech (1-2, 0-1) will face different skill sets in the quarterbacks.
And like their renowned defensive line, the offensive line is enormous, with all five starters weighing 310 pounds or more.
"This week will be a tremendous challenge," said head coach Paul Johnson. "This might be as talented a team as we've played since I've been here. Defensively, they've got multiple first-round draft picks, and offensively they've got a great deal of skill.
"I think their running backs and receivers are as good as anybody in the country. [It will] be a huge challenge."
Bryant is similar in playing style to his predecessor, DeShaun Watson, as a dual-threat signal caller.
The 6-3, 225-pounder is Clemson's second-leading rusher to date, with 125 yards and two touchdowns to trail Etienne's 269 yards and four touchdowns.
At 6-6, 215, Lawrence is more of a pocket passer, and was considered by many to be the nation's No. 1 drop-back passer last season for Cartersville High School. He's already completed 26-of-42 passes for 424 yards and five touchdowns with one interception. Bryant has completed 30-of-44 for 405 yards, two scores and a pick.
"The plays are the same. They've each got their own skill sets," said Georgia Tech senior inside linebacker Brant Mitchell. "One's more of a runner. One's more of a passer . . . They've got some of the best skill players in the nation, but we're going to have something for them."
Clemson's wideouts come in a variety of shapes with different styles.
Graduate student Hunter Renfroe, a former walk-on, goes 5-10, 185, and has a knack for finding openings. Sophomore Amari Rodgers (5-10, 215) is more athletic, and sophomore Tee Higgins (6-4, 210) is averaging more than 21 yards per catch.
"I just know they're really good. They have a lot of athletes," said stinger outside linebacker/safety Jalen Johnson. "They're well coached. They've been to national championships. They're really good . . .
"I feel like [the quarterbacks] do the same thing. [Lawrence] can run the ball, throw the ball really good. . . they don't really change it up that much."
Tech allowed three points in the second half last Saturday at Pitt, where the Jackets appeared considerably into the 3-4 scheme of new defensive coordinator Nate Woody.
They're still searching for some answers, however, on the fly.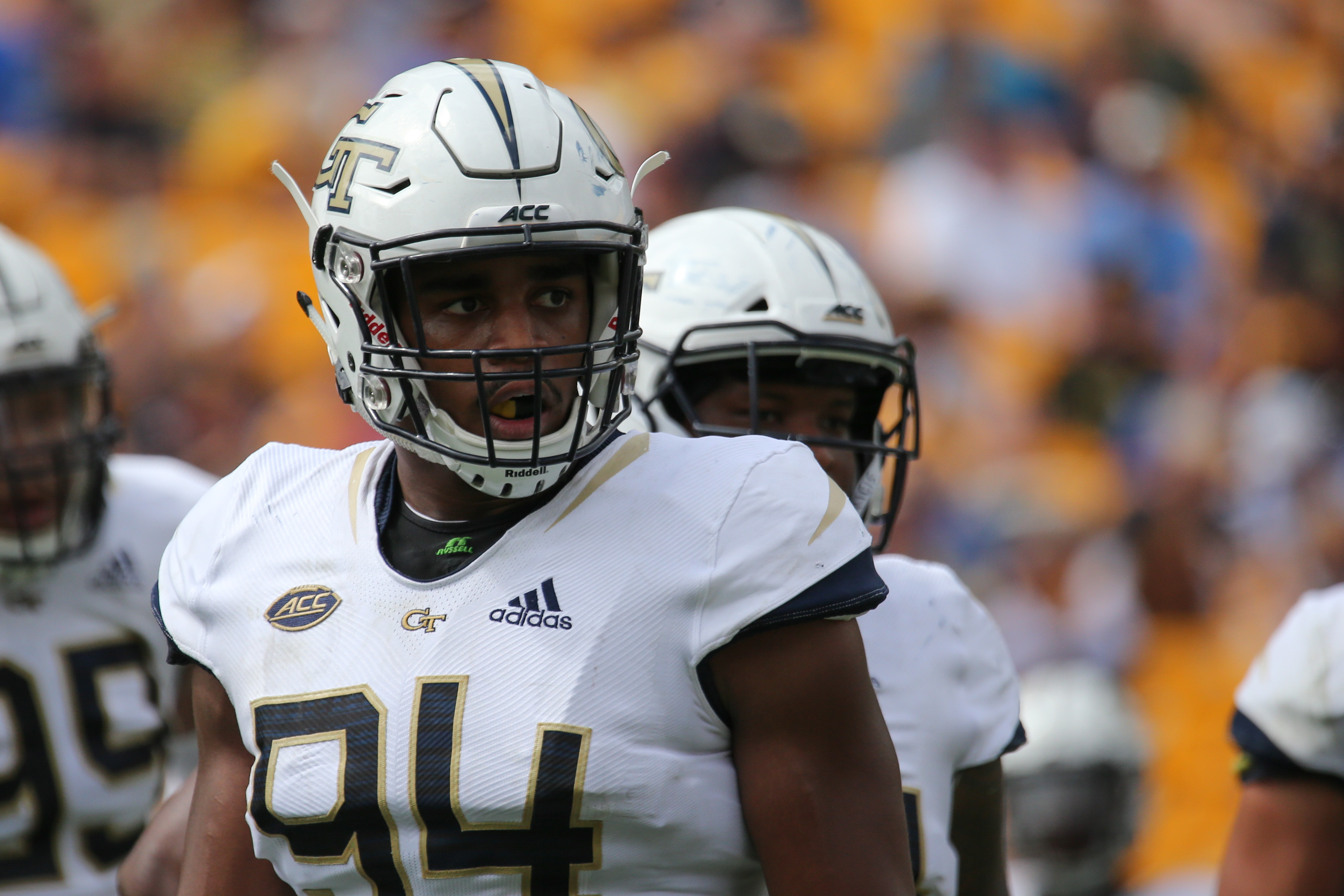 Senior defensive end Anree Saint-Amour (pictured above) played a few snaps as a standup linebacker, in the Jacket role, where senior Vic Alexander and sophomore Jaquan Henderson have shared time with freshman Jordan Domineck.
"I think he's going to be a really good player," Johnson said of Domineck. "It's just hard for a freshman. You don't want to take an 18-year-old kid and put him out there against 22-year-olds if you can help it . . . I think as he grows into it, he's going to be really good, and he's made some plays now."
Tech has had considerable success at home against Clemson. The Jackets beat the Tigers five-consecutive times in Bobby Dodd Stadium before dropping a 26-7 contest in 2016, when Clemson and Watson went on to win a national title.
Players are looking forward to what many are calling an "opportunity," and they're excited to be wearing uniforms that will feature blue jerseys in a nod to Tech's 1990 national championship team.
"How I grew up, I grew from Deion [Sanders]. . . Look good, feel good, feel good, play good, so that's kind of my thing, too," said sophomore inside linebacker Bruce Jordan-Swilling.
"If you go out there not looking right, you're going to be going out there thinking about your uniform and not worrying about the game."
Mitchell's not worried. He's excited.
"This team's highly ranked. Obviously, we're the underdog, but I love that. I'd rather be the underdog any day, but it's just flush last week and get better . . . " said the senior co-captain. "I love playing in Bobby Dodd. I know we've got a really good support group, a good fan base. It helps a lot with momentum."