By Jon Cooper | The Good Word
Returns were a big thing for Georgia Tech in its 49-28 rout of Virginia Tech on Thursday night in Blacksburg, Va.
Special teams, primarily kickoff coverage and returns, had contributed to the Yellow Jackets' downfall in their previous game, a 28-14 loss to Duke, as well as earlier in the season when USF scored touchdowns on back-to-back GT kickoffs. Head coach Paul Johnson promised that special teams would be a point of emphasis in practice during the Jackets' bye week and the week leading up to the game at Lane Stadium.
The promise that they'd be fixed was kept.
"I think we did a good job overall on special teams this week," said senior Jalen Johnson, whose first-career fumble recovery was a game-changer in the second quarter. "That was huge for us. We knew that the crowd was going to be a factor so we just had to watch the ball and we worked on our lanes."
The importance of special teams even had a special place prior to the game, as Georgia Tech athletics character coach and motivator extraordinaire Derrick Moore used his pregame speech to hammer it home.
"D-Mo said he ran the 4×1(00), that was one of his favorite things," said Jalen Johnson. "Basically, the first leg of the 4×1, he compared that to special teams. They start off the game. Second and third are defense and then offense is the fourth leg. So, he said, basically, the fourth leg they've either got to run away from them or catch up to them. Luckily, tonight we got up and the offense just ran away with it. It was pretty awesome."
Special teams play was pretty awesome, as it played a huge role in a victory squared the Jackets' record at 4-4 (2-3 in ACC play) and handed Virginia Tech (4-3, 3-1 ACC) its first conference loss of the season.
Ironically, the ACC Coastal Division-leading Hokies, the school that coined the phrase "Beamer Ball" to highlight excellence on special teams, were kept at bay by them all game. GT's kickoff unit kept the home team in a hole, while the Yellow Jackets' punt team turned a negative situation into a positive, creating a turnover that changed the game.
Kickoffs were especially dynamic for the Jackets. Georgia Tech's kick coverage unit, which entered the game ranked 128th out of 129 teams nationally in kickoff-return defense (28.96 yards per return), clamped down, forcing Virginia Tech to an average drive start on its own 27 yard line. Only one of the Hokies' possessions started beyond its own 30 — that one series started at the VT 35, following a kickoff out of bounds that came with 6:23 left in the game and the Yellow Jackets up 49-21.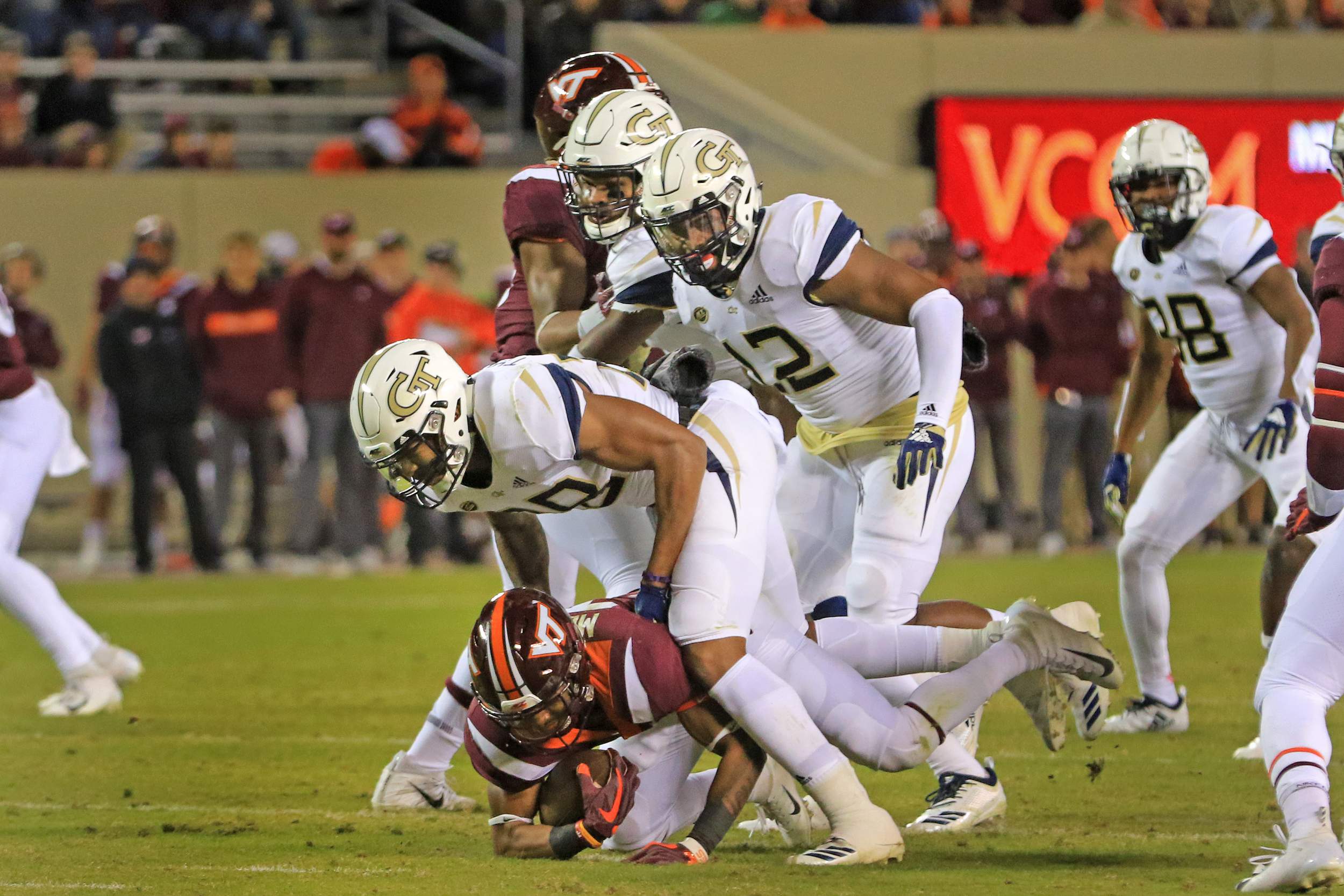 Thanks to sterling kickoff coverage, Virginia Tech's average starting field position against Georgia Tech was its own 27 yard line.
The punt team was only called upon twice but proved just as valuable. Punter Pressley Harvin III averaged 42.5 yards per kick, slightly below his season (44.1) average, but the first of his rainmakers proved to be a game-changer.
It came following the Jackets first offensive possession of the second quarter, which resulted in the first stop by either defense. But any Virginia Tech euphoria over the defensive stand would be short-lived — following a comedy of errors.
Harvin's first punt went 41 yards and was returned 21 yards by the Hokies' Sean Savoy, but the play was negated by a roughing the kicker call. The Jackets would give the five yards back on a false start. The third punt proved to be the charm for Georgia Tech, as Savoy muffed Harvin's punt at his own 9 yard line. Jalen Johnson jumped on the ball, setting GT up at the 12. The offense would cash in two plays later.
"It was a crazy couple of plays, but we've been working on staying in our lanes," said Jalen Johnson. "We did a good job getting down there and it just bounced off his facemask and right into my hands. That was pretty awesome. It was crazy but I'm glad it happened.
"That was huge," he continued. "The offense was rolling and they got stopped one time. Luckily they got the ball back and scored again. So that was huge. Big time."
The special teams turnaround was a nice turnabout for Georgia Tech, which in its last game saw struggles that kept the team in bad field position, as well as lose a fumble creating a short-field score.
Johnson's recovery and the ensuing score fired up the defense, which allowed touchdowns on Virginia Tech's first three offensive possessions  but kept the Hokies off the board for five-straight series after the muffed punt, helping spark a 35-0 run that turned a 21-14 deficit into a commanding 49-21 lead.
"The muffed punt, that's a turnover. That's a big special teams play," said defensive end Anree Saint-Amour. "Whenever you get the ball that close to the end zone and you score off of it, everybody's hyped up about that. The momentum is changed, the whole spirit changed. That definitely helped us."
The Jackets helped themselves to their third-straight win overall against Virginia Tech and their third-straight win in Blacksburg. In the process, they became the first visiting team in 26 years to win three in a row at Lane Stadium.
"Just trying to pay them back," said Paul Johnson afterward. "They got us a bunch early."