The Last Word Before Game 6 at Louisville (Friday at 7 p.m.)
By Jon Cooper | The Good Word
Georgia Tech appears to be back on track following last Saturday's 63-17 dismantling of over-matched Bowling Green.
Still, in a conference like the ACC, with its traditional powers and newly minted members to the top 25, that can only be proven in league play.
The Yellow Jackets will have an ideal vehicle to get the attention of ACC and college football fans nationwide on Friday night, as they'll have a monopoly on the sport's primetime television audience when they visit Louisville. It's the first meeting between the schools and will be held in quite a setting — Friday Night in primetime. It's easily the biggest of the three FBS games kicking off that night, the only one involving Power 5 teams.
"Hopefully you'll be excited. It's a national TV game on Friday night," said Georgia Tech head coach Paul Johnson. "I'm sure they're going to have a really good crowd. They usually pack the place."
The atmosphere and the prospect of playing on such a stage has the players fired up.
"(You're) playing a nationally televised game and an ACC game," said defensive lineman Desmond Branch. "We have a win under our belt. Let's get the ball rolling."
The Jackets are firm believers that they've turned the corner as they've turned their back on their three-game losing streak.
The next streak the Jackets would like to put aside is their current seven-game losing streak in games played away from Bobby Dodd Stadium. It's a streak that Johnson agrees is too long, but also feels has been made to seem much longer than it is and which he refuses to let take away from bigger issues.
"We act like we've lost 100 road games in a row," he said during his Tuesday press conference. "We had [five] last year and we've played two on the road this year. Sure, we want to win every game but we want to win an ACC game. That's what's important. That's more important than it being on the road. We want to have a chance to win our division, we need to win a game. We need to win this game. We need to win this game for a lot of reasons — Get back to .500 … It's big."
The crowd at Cardinal Stadium is expected to be big and loud. The game not only is a Friday nighter, but also Louisville's annual "blackout" game.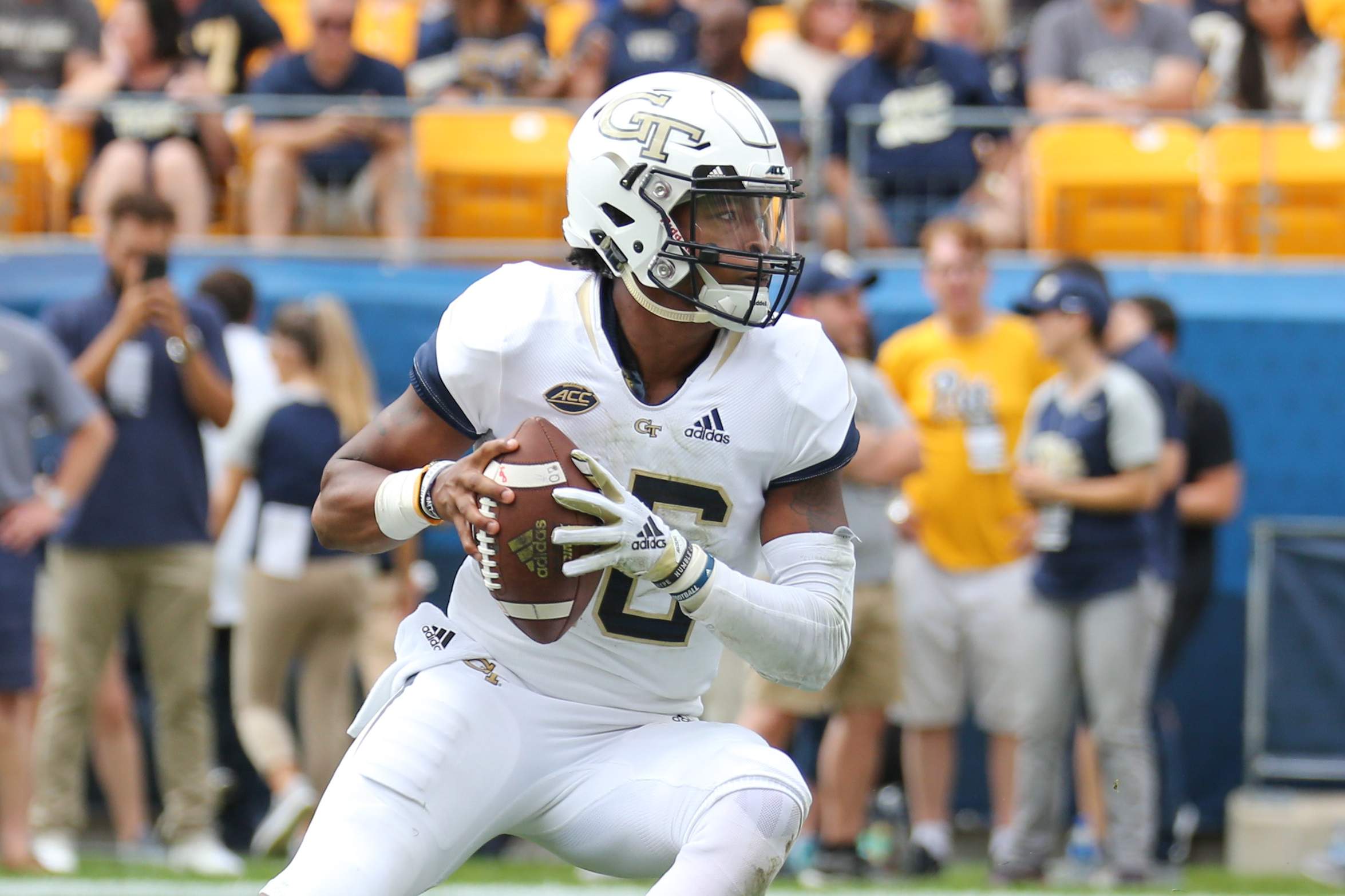 Quarterback TaQuon Marshall (above) is unfazed. If anything, the special attention has him even more fired up. He sees the blackout as something of a red cape and has made him a rather ornery bull.
"It's like being in high school and knowing that they scheduled you for their homecoming game," he said. "I know everybody's going to be ready to play.
"I don't know how you can't be excited," he added. "Knowing that it's 7 o'clock, it's a Friday night game, a blackout. All the students will be ready to go crazy. It'll be a crazy bunch."
Marshall believes that emotion can actually work to the Jackets' advantage.
"You can definitely tire yourself out by being too amped up in the beginning of the game," he said.
The Jackets know the importance of defusing the crowd and relish the challenge.
"I like those games," said A-back Clinton Lynch, who made history last weekend by becoming the first Yellow Jacket ever to account for 1,000 yards both rushing and receiving. "I like to shush the crowd … I like those types of games."
"I enjoy road games, especially when the crowd is really into it," said Marshall. "It gives you a different energy, it gives you a different feel. You just want everybody to be quiet once you get up on them. We're going to go in there to take care of business."
A fast start would go a long way to that end.
"We started off really fast, scored four out of [first] four [possessions] and we didn't let up off the gas," said Marshall of last week's win over BG. "We've got to finish the way we start. That's something we've talked about. We started strong and finished strong."
Playing strong, especially offensively will require the Jackets exploiting a Cardinal defense that is 11th in the conference in rushing yards allowed (168.8 rypg), but has defensive coordinator Brian VanGorder, who has seen Johnson's spread-option offense before.
"It comes down to playing the game," said Johnson. "It is hard to get the speed of it in practice, I can assure you. Hopefully, we're going to be able to do it a little faster after having done it for 11 years than they can do in a week preparing. So the speed of it ought to be a little faster but it still doesn't mean that you're going to be successful. I'm sure they've got a plan. Coach VanGorder has coached a lot of football. He's played Navy a bunch, he's played Army a bunch, he's played Air Force, he played us one time. He'll have a plan. They watch tape, too. They'll have an idea."
Louisville has an idea of where Georgia Tech is, as they're also hungry for a conference win. The Cardinals have dropped their first two ACC games and dipped below .500 in the process. The losses were in very different manners, getting blown out two weeks ago, 27-3 in Virginia, then dropping a 28-24 decision last Saturday to Florida State at Cardinal Stadium. The loss to FSU was especially vexing as they led 21-7 at the half, 24-14 after three and 24-21 with the ball deep in Seminole territory inside of two minutes and FSU out of timeouts. But an interception by sophomore Jawon Pass gave the 'Noles the ball back and they cashed in, hitting a 58-yard touchdown with 1:13 to play.
Georgia Tech's defense welcomes the challenge of Louisville's pass-happy offense. Pass, who had gotten pulled two weeks ago in the loss at Virginia returned to light up FSU (24-for-45 for 306 yards and two scores).
The Jackets would like to create that kind of frustration for the Cardinals.
"Whatever they do, we have to answer. It starts with the defensive line," said Branch, who last weekend batted a pass into the air that fell into the arms of fellow D-lineman Anree Saint-Amour for a defensive score. "If they want to run the ball, we have to be ready to stop it. If they want to pass the ball, we want to get back there and affect those throws, try to get some sacks, try to get some hurries.
"We're all ball-hungry," he added. "Now that I've got a turnover, [Antwan Owens] got a turnover, Anree got a turnover, (safety) Malik [Rivera] has two. Now it's like, 'I want one.'"
More than anything, the Jackets want to turn around their season. A win would give them a win streak, get them back to .500, earn their first ACC win and break that road hex. Sounds like a lot but all it takes is a win. They're confident they can get it done.
"When we were losing, we knew we were better than that so we weren't going to get too down," said Branch. "We just had to have faith. When we played like we did last week, we're like, 'We've got that win under our belt. Let's go out and get the next one."
The offense is as confident.
"I know everyone's confidence is very high and I know everybody's going to be ready to fly around on both sides of the ball," added Marshall. "I know guys will be ready to start the game they way want to finish it."