THE FLATS – No. 6 Georgia Tech collected a pair of wins on Friday at the Ken Byers Tennis Complex, defeating UAB and Kennesaw State, both by 5-2 decisions. The wins pushed the Yellow Jackets to 5-0 on the young season.
UAB MATCH
The Yellow Jackets made quick work grabbing the doubles point against the Blazers. No. 5 Kenya Jones and Victoria Flores cruised to a 6-0 triumph on court one over Dominika Hrabalova and Adela Wasserbauerova. Tech took courts two and three within seconds of each other to sweep doubles play. Ava Hrastar and Monika Dedaj clinched the point with a 6-2 decision on court three before Gia Cohen and Ruth Marsh wrapped up a 6-1 win on court two less than a minute later.
Jones wasted no time adding a point to the scoreboard for Tech, downing Jana Hecking, 6-1, 6-3, on court one before Hrastar cushioned Tech's lead to 3-0 with a 6-3, 6-2 victory on court two over Wasserbauerova. UAB pulled within one, winning the next two matches on courts five and six for a 3-2 tally. But the Jackets rallied back from one set down on courts three and four to clinch the win. Mahak Jain forced a deciding third set against Dominika Hrabalova on court four and cruised in the third set to clinch the match with a 6-1 set victory. After splitting the first two sets with Megan Bertrands on court two, freshman Carol Lee erased a 3-0 deficit and knotted the final set at 4-all. Lee broke Bertrands to take a 5-4 lead and served out the final set, 6-4, to finalize the 5-2 victory for the Jackets.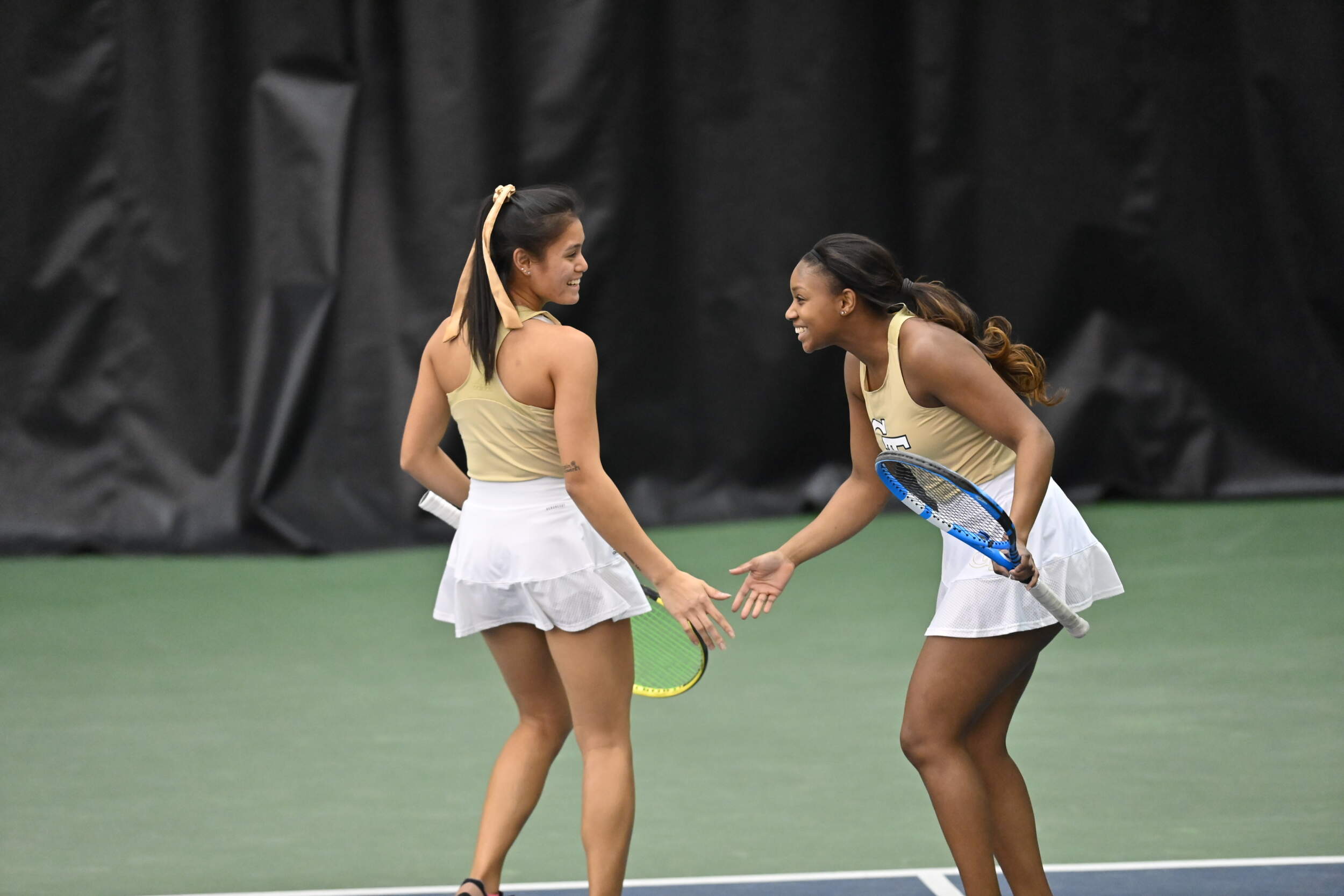 KENNESAW STATE MATCH
The Jackets swept their doubles matches for the second time on the day against Kennesaw State. Tech came out with early leads on all three courts as Hrastar and Dedaj did not drop a game en route to a 6-0 victory over Juliana Castellanos and Soomin Kim on court three. The doubles point was clinched from court two where Cohen and Marsh handled Ji Youn Lee and Paola Cortez, 6-1. Tech completed the sweep of doubles from the top spot where Jones and Flores rattled off three-straight games after a 3-all standstill to pocket a 6-3 win over Taylor Dean and Valentina Taddia.
Tech quickly clinched the match with a trio of straight-set singles wins from courts five, one and six. Jain picked up her second win of the afternoon, pocketing a 6-1, 6-2 decision on court five before Flores claimed a 6-2, 6-1 win at the top spot for a 3-0 Tech lead. Rosie Garcia Gross clinched the match from the six spot, defeating Soomin Kim, 6-1, 6-0. Cohen extended Tech's lead to 5-0 with a 6-3, 6-3 win on court two before Kennesaw State took the final two matches.
UP NEXT – Tech returns to action on Sunday, welcoming Auburn to the Ken Byers Tennis Complex. First serve is slated for noon.
RESULTS vs. UAB
DOUBLES
1. No. 5 Kenya Jones/Victoria Flores (GT) def. Dominika Hrabalova/Adela Wasserbauerova (UAB) 6-0
2. Gia Cohen/Ruth Marsh (GT) def. Jana Hecking/Megan Bertrands (UAB) 6-1
3. Ava Hrastar/Monika Dedaj (GT) vs. Sydney Clarke/Annalisa Smith (UAB) 6-2
Order of finish: 1, 3, 2
SINGLES
1. No. 13 Kenya Jones (GT) def. Jana Hecking (UAB) 6-1, 6-3
2. Ava Hrastar (GT) def. Adela Wasserbauerova (UAB) 6-3, 6-2
3. Carol Lee (GT) def. Megan Bertrands (UAB) 0-6, 6-3, 6-4
4. Mahak Jain (GT) def. Dominika Hrabalova (UAB) 4-6, 7-5, 6-1
5. Sydney Clarke (UAB) def. Monika Dedaj (GT) 7-6 (10-8), 6-4
6. Annaisa Smith (UAB) def. Sophia Sassoli (GT) 6-1, 7-5
Order of finish: 1, 2, 6, 5, 4, 3
RESULTS vs. KENNESAW STATE
DOUBLES
1. No. 5 Kenya Jones/Victoria Flores (GT) def. Taylor Dean/Valentina Taddia (KSU) 6-3
2. Ruth Marsh/Gia Cohen (GT) def. Ji Youn Lee/Paola Cortez (KSU) 6-1
3. Ava Hrastar/Monika Dedaj (GT) def. Juliana Castellanos/Soomin Kim (KSU) 6-0
Order of finish: 3, 2, 1
SINGLES
1. No. 56 Victoria Flores (GT) def. Taylor Dean (KSU) 6-2, 6-1
2. No. 123 Gia Cohen (GT) def. Paola Cortez (KSU) 6-3, 6-3
3. Valentina Taddia (KSU) def. Carol Lee (GT) 6-2, 5-5, wr
4. Ji Youn Lee (KSU) def. Ruth Marsh (GT) 6-4, 6-3
5. Mahak Jain (GT) def. Sofia Pinedo (KSU) 6-1, 6-2
6. Rosie Garcia Gross (GT) def. Soomin Kim (KSU) 6-1, 6-0
Order of finish: 5, 1, 6, 2, 3, 4
Alexander-Tharpe Fund
The Alexander-Tharpe Fund is the fundraising arm of Georgia Tech athletics, providing scholarship, operations and facilities support for Georgia Tech's 400-plus student-athletes. Be a part of developing Georgia Tech's Everyday Champions and helping the Yellow Jackets compete for championships at the highest levels of college athletics by supporting the A-T Fund's Annual Athletic Scholarship Fund, which directly provides scholarships for Georgia Tech student-athletes, and Athletics Initiative 2020, Georgia Tech athletics' ongoing $125 million initiative to allow Tech to recruit the nation's most elite student-athletes, build a better student-athlete once they arrive on The Flats and, ultimately, win! To learn more about supporting the Yellow Jackets, visit atfund.org.

For the latest information on the Georgia Tech Yellow Jackets, follow us on Twitter (@GT_WTEN), Instagram (GT_WTEN), Facebook (Georgia Tech Women's Tennis) or visit us at www.ramblinwreck.com