Highlights: Georgia Tech 38, North Carolina 28 - Nov. 3, 2018
Final Stats (.html) | Final Stats (.pdf) | Postgame Notes | Multimedia | Photo Gallery
CHAPEL HILL, N.C. – A pair of timely interceptions led to Georgia Tech scoring 10 points in the final three minutes of a 38-28 win at North Carolina on Saturday.
Georgia Tech (5-4, 3-3 ACC) led 28-10 midway through the third quarter but North Carolina (1-7, 1-5) scored the game's next 18 points to pull even at 28-28 early in the fourth period.
The score remained 28-28 until freshman safety Tariq Carpenter intercepted a pass to give the Yellow Jackets the ball at the North Carolina 41 yard line with 8:07 to go in the game. Nine plays later, redshirt freshman quarterback Tobias Oliver scored his second touchdown of the day from a yard out and the Jackets regained a 35-28 lead.
On the first play of the ensuing drive, senior defensive end Anree Saint-Amour dropped into coverage and picked off another pass — Georgia Tech's third interception of the game — to give the Jackets the ball back at the UNC 19. Freshman Wesley Wells nailed a 22-yard field goal with 46 seconds to go to seal the victory.
Georgia Tech outgained the Tar Heels, 565-374, including a 461-166 edge in rushing yards. The Yellow Jackets set a school record with their fifth 400-yard rushing game of the season.
Celebrating an ACC road VICTORY 🐝🏈🎶 pic.twitter.com/A9PRseG0i3

— Georgia Tech Football (@GeorgiaTechFB) November 3, 2018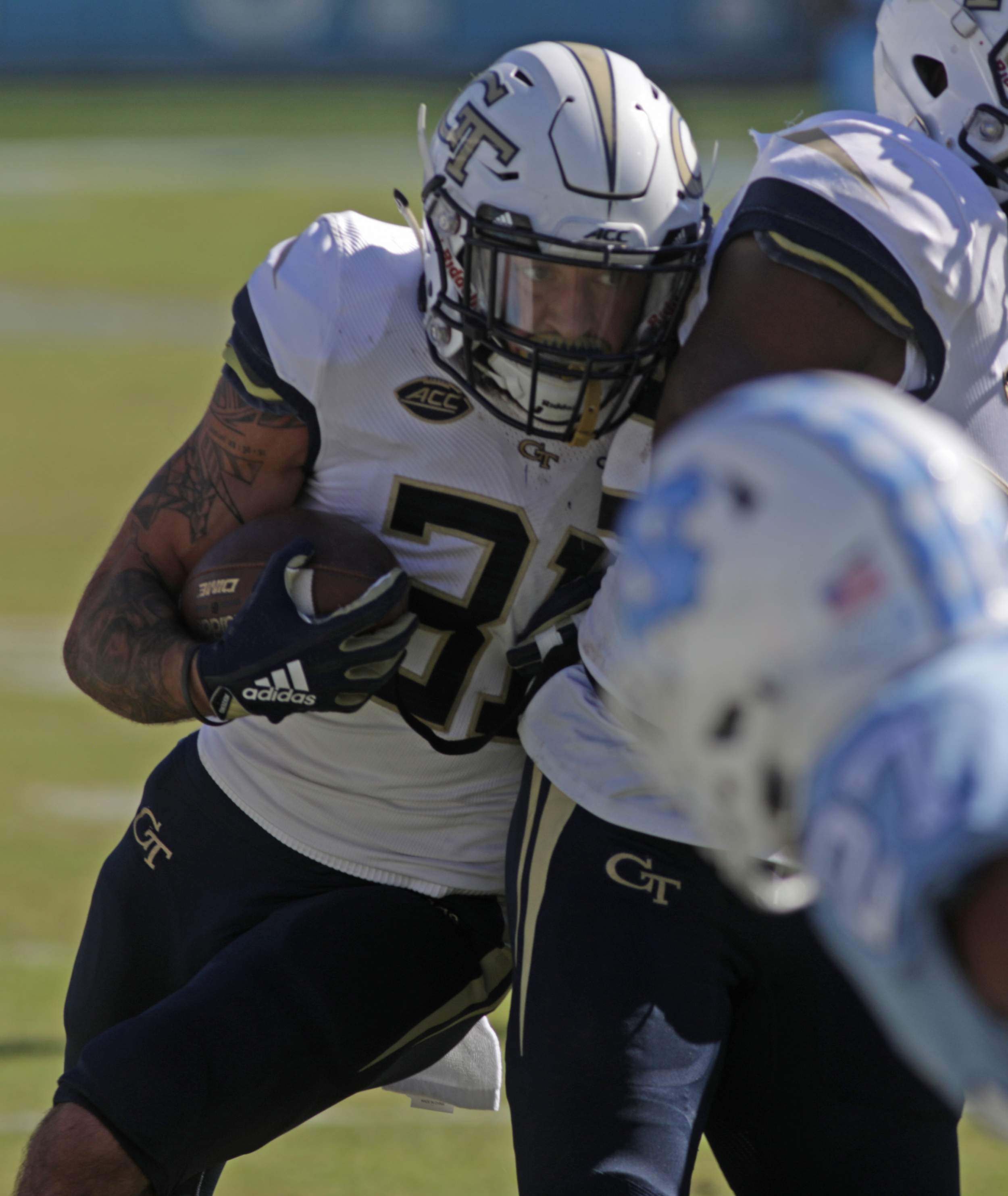 Nathan Cottrell's 90 rushing yards were a career high for the junior A-back.
---
Team Notes
With its fourth win in the last five games, Georgia Tech upped its record to 5-4 on the season and moved above .500 for the first time since it opened the season at 1-0.
With its third win in its last four Atlantic Coast Conference games, Georgia Tech evened its ACC record at 3-3 (making it .500 in conference play for the first time this season).
Georgia Tech moved within one win of becoming bowl eligible for the 20th time in the last 22 seasons.
Georgia Tech won its third-straight road game (Oct. 5 at Louisville, Oct. 25 at Virginia Tech, Saturday at North Carolina). Prior to the win at Louisville, the Yellow Jackets had lost seven-straight games away from home.
Georgia Tech became just the third team in the 14-team ACC to win three-straight road games this season (joining No. 2 Clemson and Duke).
Georgia Tech moved to 30-21-3 all-time, 11-13-3 on the road and 7-4 under head coach Paul Johnson versus North Carolina.
The win was Georgia Tech's second-straight over North Carolina (W, 33-7 vs. UNC at home on Sept. 30, 2017).
The win was Georgia Tech's first at North Carolina since a 68-50 win at Kenan Stadium on Nov. 10, 2012 (snapping a two-game losing streak at UNC).
The win was Johnson's first in his native state of North Carolina since a 58-23 win at NC State on Nov. 8, 2014.
Georgia Tech rushed for 461 yards and set a new school record with its fifth 400-yard rushing game of the season (prev.: 4 in 2017).
The 400-yard rushing game is Georgia Tech's ninth in 20 games since the beginning of 2017 and its 26th in 138 games under Johnson (2008-pres.). Prior to Johnson's arrival, Georgia Tech had eight 400-yard rushing games program history.
Georgia Tech's 86-yard touchdown pass from r-Fr. QB Tobias Oliver to Sr. AB Qua Searcy was the sixth-longest pass play in school history and the Yellow Jackets' longest since an 87-yard touchdown pass from Joshua Nesbitt to Embry Peebles vs. Vanderbilt on Oct. 31, 2009.
Georgia Tech's defense intercepted three passes, raising its season total to 12 interceptions through nine games. Last season, Georgia Tech had eight interceptions in 11 games. Even before it recorded three interceptions on Saturday, the Yellow Jackets were tied for 26th nationally in interceptions. Last season, the Jackets finished 110th nationally in INTs.
Individual Notes
Georgia Tech r-Fr. QB Tobias Oliver, who entered the game at the beginning of GT's fourth offensive possession of the game, rushed for 120 yards, his fourth 100-yard rushing game of the season.
Oliver's 104 passing yards were a career high (prev.: 34 vs. Duke, Oct. 13).
Georgia Tech So. BB Jerry Howard had a career-high 90 rushing yards (prev.: 82 at Pitt, Sept. 15).
Georgia Tech Jr. AB Nathan Cottrell had a career-high 90 rushing yards (prev.: 83 vs. Virginia Tech, Nov. 11, 2017)
Georgia Tech So. CB Tre Swilling recorded his first-career interception in the first quarter.
Georgia Tech Sr. ILB Brant Mitchell's nine tackles were a season high (prev.: eight vs. Bowling Green, Sept. 29).
Redshirt freshman cornerback Tre Swilling had one of Georgia Tech's three interceptions in Saturday's 38-28 victory at North Carolina.
---
ACC Digital Network Highlights (Video)
ACC Digital Network – Tobias Oliver 86-yard touchdown pass to Qua Searcy (Video)
Georgia Tech IMG Sports Network Highlights (Audio)
Head Coach Paul Johnson Postgame Press Conference (Audio)