GAMEDAY CENTRAL – Georgia Tech vs. Virginia (SENIOR DAY, MICHAEL ISENHOUR TOY DRIVE – Saturday at 3:30 p.m.)
By Andy Demetra (The Voice of the Yellow Jackets) | Inside The Chart
They offered him a chance, which frankly, was more than the other schools.
Despite throwing for 18 touchdowns and rushing for 12 more as an all-state quarterback at Harris County High School in Hamilton, Ga., most colleges that recruited TaQuon Marshall pigeonholed him as a wide receiver or defensive back, believing his statistics were secondary to his measurements (5-11, 185 pounds).
Paul Johnson, of course, has made a living on zigging where others zag. He offered Marshall a scholarship during his Junior Day visit, promising him a chance – not a guarantee, just a chance – to prove himself at quarterback.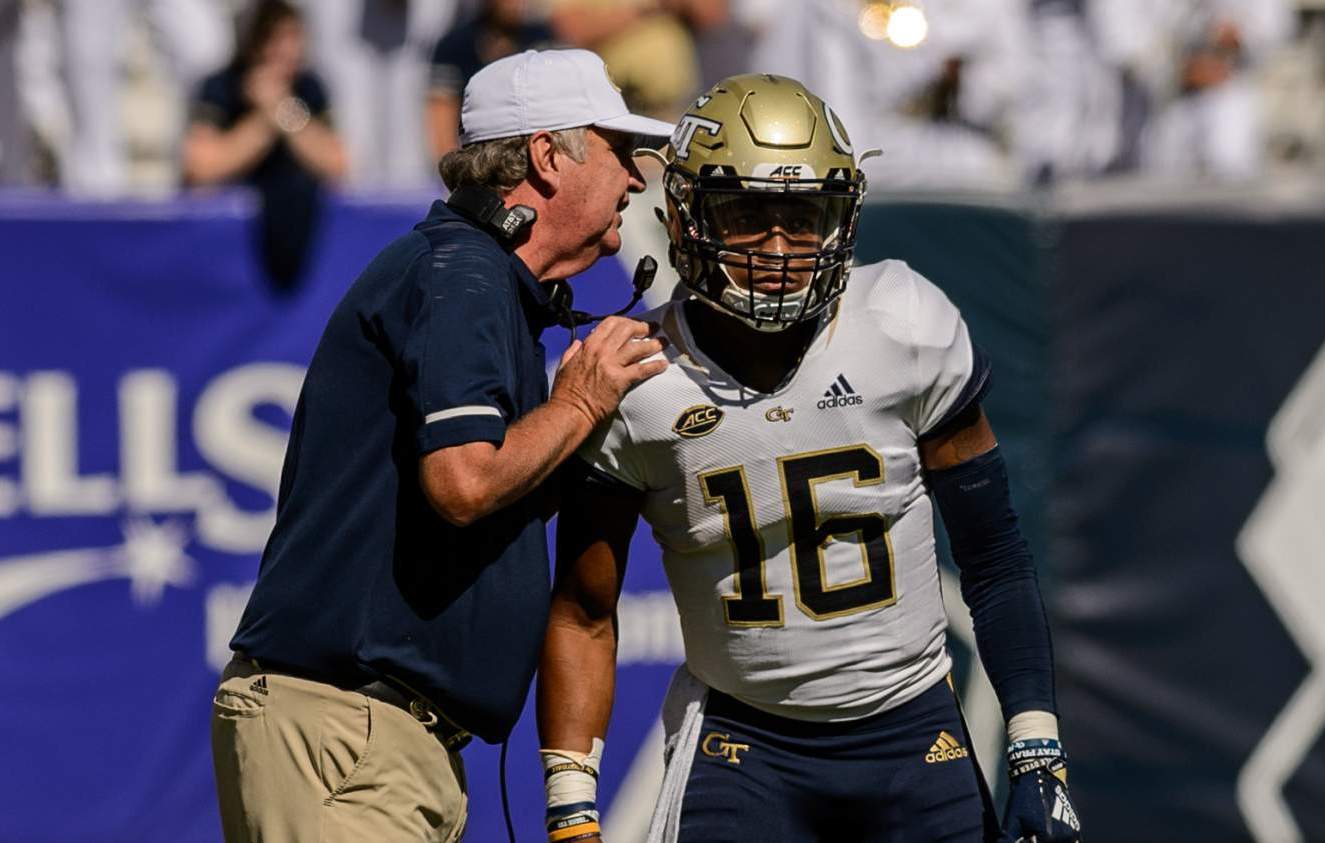 Marshall weighed the other offers, but ultimately bet on himself.
"I chose Georgia Tech just because I knew I would have the opportunity to play early and then possibly transition to quarterback, because that was the position I had played my whole life. Just getting that opportunity from Coach Johnson and having the support from my family and teammates, it's made it well worth it," said Marshall.
Four years later, as he prepares for his final home game at Bobby Dodd Stadium, Marshall has maximized that chance. After starting his career as an A-back, Marshall will make his 22nd career start at quarterback for the Yellow Jackets (6-4, 4-3 ACC) as they face Virginia (7-3, 5-2 ACC) on Senior Day.
"I think it'll hit me Saturday morning, just realizing this will be the last that I wake up on a Saturday morning getting a chance to play at Bobby Dodd," he said.
His final year might well be a microcosm of his Georgia Tech career: shifting roles, persevering through ups and downs, but never straying far from making an impact. Marshall may be the only starting quarterback in the Football Bowl Subdivision with a career punt return: he recorded that in his first game against Alcorn State in 2015. Marshall's contributions were modest his first two seasons, serving as an A-back in 2015 before settling in as Tech's third-string quarterback as a sophomore.
He burst onto the scene in his first start in 2017, shattering school records in a 44-carry, 259-yard rushing performance against Tennessee. The performance was tempered, though, by the sting of a double-overtime loss to the Volunteers. Marshall broke the school record for rushing yards by a quarterback in 2017, but had to endure the disappointment – and for a QB, the burden – of a 5-6 finish. Individual accomplishments have been many for Marshall, but team success is what he has chased more.
Perhaps that's why, when asked for his favorite game at Tech, he answered with the "Miracle on Techwood" game against Florida State in 2015, even though he was relegated to special teams.
"I still can't believe it," Marshall recalled of the final play. He said senior Lance Austin whizzed right by him on the sidelines on his game-winning return for a touchdown.
Heading into his senior year, Marshall shouldered the pressure of getting the Yellow Jackets bowl-eligible.  He didn't dodge the tough questions when Georgia Tech stumbled to a 1-3 start in September. He battled through a variety of injuries and championed redshirt freshman Tobias Oliver when he had a pair of breakout performances against Virginia Tech and North Carolina.
"If he scored, I was meeting him out on the field. We're celebrating together. If I scored like this past weekend, he's meeting me out on the field celebrating. I think everyone on the team sees that. Everyone knows we can both play. There's no slack, really, when either of us is out there. We look at it as putting the team in the best situation possible to be successful," he said.
It's that leadership that has long earned Marshall the respect of his Georgia Tech teammates. A delicate situation was handled deftly. It allowed Georgia Tech to keep rolling offensively, a climb that continued last Saturday in the Yellow Jackets' 27-21 over Miami.
The durability, leadership and savviness were all on display as Marshall guided the Yellow Jackets to a win over the nation's No. 2-ranked defense.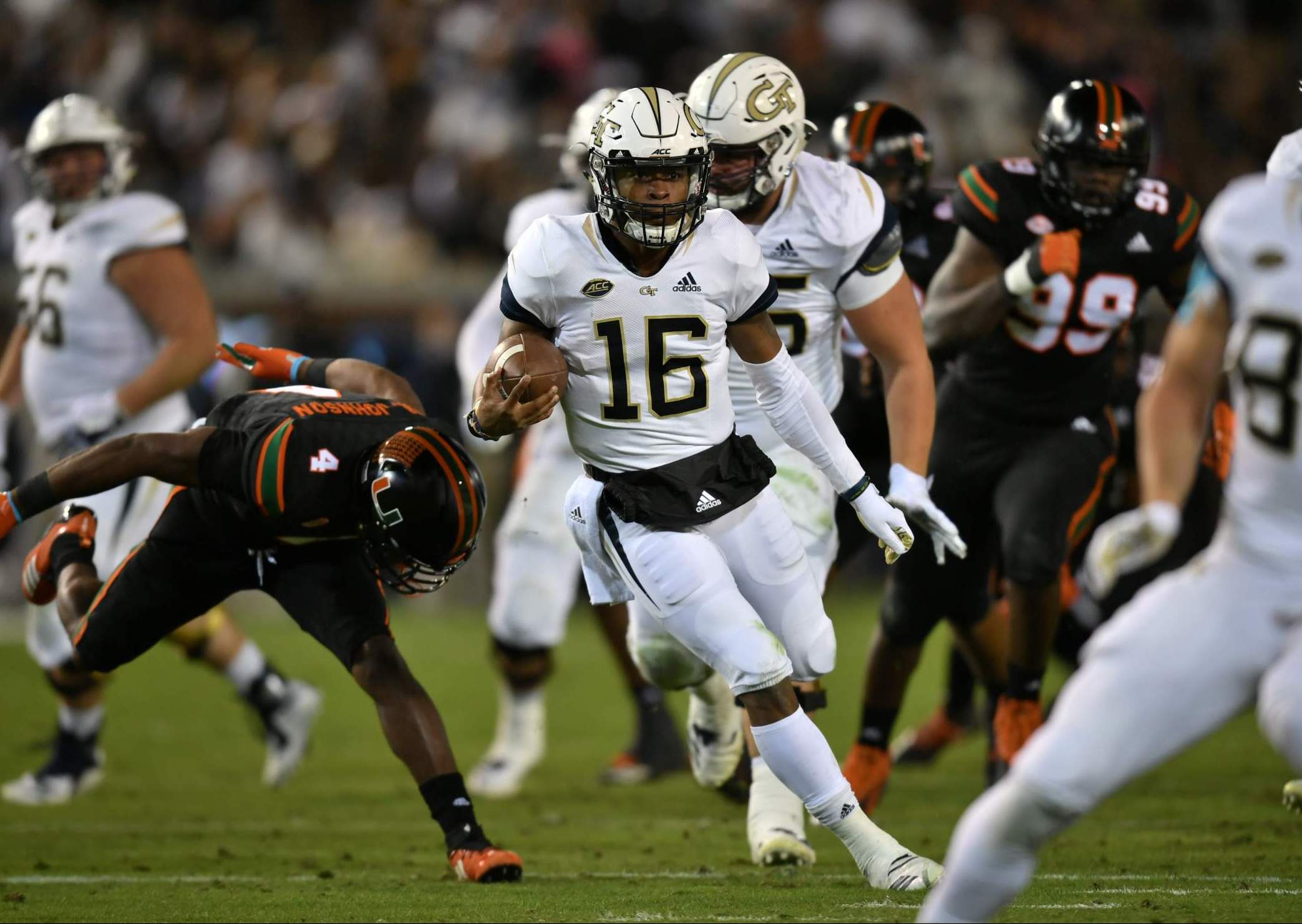 "Just being able to get back on the field with the guys [and] put a drive together at the end to seal the deal – that's something I've definitely wanted to do since I've been here. I know it's something that we struggled with last year," he said.
"It's one of those things that you kind of dream about when you're a little kid, being in a clutch situation and pulling through."
Marshall made the most of his chance, something he sought to do when he first signed at Georgia Tech.   He'll look for one last moment on Saturday when he faces Virginia in a bid for second place in the ACC Coastal (3:30 p.m. ET, Georgia Tech IMG Sports Network).
During the offseason, Marshall added a tattoo to his chest, one that occasionally peeks out from his shirt collar at post-practice press conferences. It features the logo of Harris County High School, Georgia Tech mascot Buzz and the arched "Atlanta" sign outside State Farm Arena. The tattoo, he said during the offseason, symbolizes the three places that have helped shape him.
His journey from Hamilton to Atlanta, from Harris County to Georgia Tech, reaches its finale on Saturday. As his Senior Day approaches, Marshall reflected on his first trip to Georgia Tech.
"When I first got here, I was like, 'Dang, this campus is kind of big.' I didn't really know where I was going," he said.
Tech fans found out soon enough.