GAMEDAY CENTRAL – Georgia Tech at Pitt (Saturday at 12:30 p.m.)
By Andy Demetra (The Voice of the Yellow Jackets) | Inside The Chart
Let's settle the issue of the name first, since it's one you'll be hearing more often.
"Jordan" is his first name. "Ponchez" is his middle name. Because of a clerical mix-up when he first arrived at Georgia Tech, Jordan Mason's middle and last names mistakenly became merged.
"It just completely changed when I got here," he joked. "I'm like, 'Okay. Wow."
So while "Jordan Ponchez-Mason" has a lovely melody to it, Jordan Mason is the man's official, certified, PA announcer-approved name. Mason said he was unaware of his surprise surname until a friend noticed it in an online version of the EA Sports NCAA Football video game. The game was discontinued five years ago, but a group of diehard fans still update it with each team's current roster.
"Somebody texted me a picture of the video game saying Ponchez-hyphen-Mason. I was like, 'What?  That's not my name.' My Dad was especially mad. I was just like, 'Alright, I'm going to text Coach [Andy] Lutz [Georgia Tech's director of player personnel] and let him know.'"
The Ponchez may have disappeared, but Mason won't. With the announcement Tuesday that redshirt junior KirVonte Benson will miss the remainder of the season with a knee injury suffered in the first quarter against USF, the redshirt freshman from Gallatin, Tenn., has moved into the starting B-back spot for Tech's ACC opener against Pittsburgh (12:30 p.m. ET, Georgia Tech IMG Sports Network).
"You never want to accept a first-string starting running back [spot] with him just going out like that. But it's next man up, so it's my time to shine and do whatever I've got to do," Mason said.
Replacing a 1,000-yard rusher like Benson will be an arduous task, but Mason has already given an encouraging, albeit small, sample size. He ran for a game-high 85 yards in Tech's season opener against Alcorn State, highlighted by a 28-yard touchdown on his third-career carry. After Benson went down with his injury against USF, Mason carried it 13 times for 95 yards.
Head coach Paul Johnson can be a notoriously tough grader on young running backs, and he'd still like to see Mason seal his blocks better. Mason himself admits he never cut block prior to coming to Tech. But the Yellow Jackets' 11th-year head coach has expressed confidence in his young B-back.
"He's got a chance. He did some good things. He's got pretty good vision inside. The running part is much better than the blocking part, as you would expect for a young guy who hasn't played much.  But I think he improved from game one to game two on his blocking," Johnson said.
That wasn't the only change Mason noticed from the Alcorn State game to the USF game.
"It was way slower," he noted.  "Once I got in there with USF and I was playing longer, it was totally different."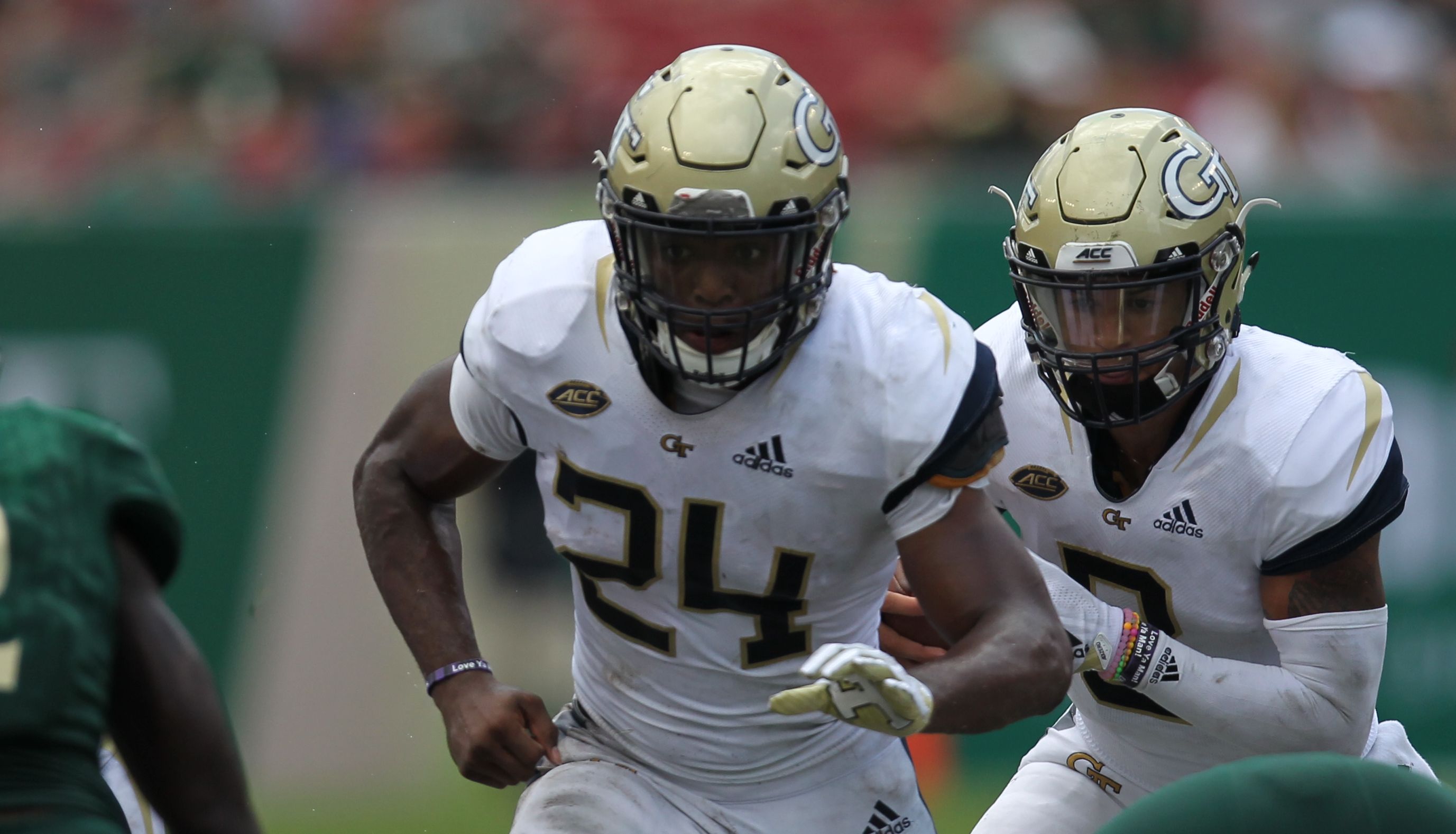 Redshirt freshman Jordan Mason has run for 180 yards — and improved as a blocker — over his first two collegiate games
As he steps into the starting role full-time, Mason can also draw inspiration from the man he's replacing. Last fall, he watched as Benson received an unexpected call-up to the first string during preseason camp. Benson, who had zero career carries entering the year, finished with 95.7 rushing yards per game en route to earning second-team all-ACC honors.
Mason observed Benson's work ethic, how he attacked his reps in practice, the way he ran with purpose and conviction.
"When I watched KirVonte, I see that he's going straight. He's going to run you over if you're in front of him. I take that from him. If I see somebody in front of me, just run them over. If you run them over the first time, they're probably not going to want you the second time," he remarked.
At 6-1 and 212 pounds, Mason doesn't have the same forceful, downhill running style as Benson, preferring a style based on "more cuts and more movement." However, he's already crossed off his first-career start, his first-career road game, and his first-career snaps in a meaningful, high-leverage situation.  That comfort level could count for a lot as he prepares for his featured role in the Yellow Jackets' offense.
Indeed, Mason betrayed no nerves as he spoke Tuesday, an ease reflected in the black house slippers he wore on his walk back from the practice field (he forgot his adidas slides). It's also not lost on him that Benson's ACC debut came against Pittsburgh last year, a Sept. 23, 2017 matchup at Bobby Dodd Stadium.  Benson rushed for 196 yards, a Paul Johnson-era record for a B-back, in a 35-17 win.
"All I can do is just do me, stay me, and be locked in for the Pitt game," Mason said.
He'll be ready when the Yellow Jackets – correctly – call his name.