GAMEDAY CENTRAL – Georgia Tech at North Carolina (Saturday at 12:15 p.m.)
By Andy Demetra (The Voice of the Yellow Jackets) | Inside The Chart
Jerry Howard has seen the light. He has found the way. He has unlocked the truth that so many running backs who come to Georgia Tech are slow to grasp.
Blocking can be a lot of fun.
"I love cut blocking now, especially when you get right up on them and you just see his legs go into the air. Anytime that happens, I know the coaches get fired up," the Yellow Jackets' sophomore B-back said.
"As soon as I see him get to the ground, I try to get up and get another person on the ground."
Yes, carrying the ball will always remain the pinnacle for running backs. That physicality, though, doesn't always translate to an alacrity to block. Running over a 300-pound defensive lineman is one thing; preventing a 300-pound lineman from running over you is another.
But as former Georgia Tech A-back J.J. Green once said, "If you block, you get the rock." Howard says he has learned to take the same satisfaction in throwing a physical block as breaking a long run.
That pride was evident as he broke down the Yellow Jackets' 465 rushing yards against Virginia Tech last Thursday in Blacksburg. By Howard's recollection, the offense charted 98 defenders on the ground in its 49-28 win over the Hokies. It put a solid capper on a night in which Howard ran for 76 yards and a touchdown on 12 carries.
"It felt great. When everybody gets the ball, and you're doing your job, and we're moving the ball with success, we're all happy. That makes [Coach] Johnson ecstatic," he said.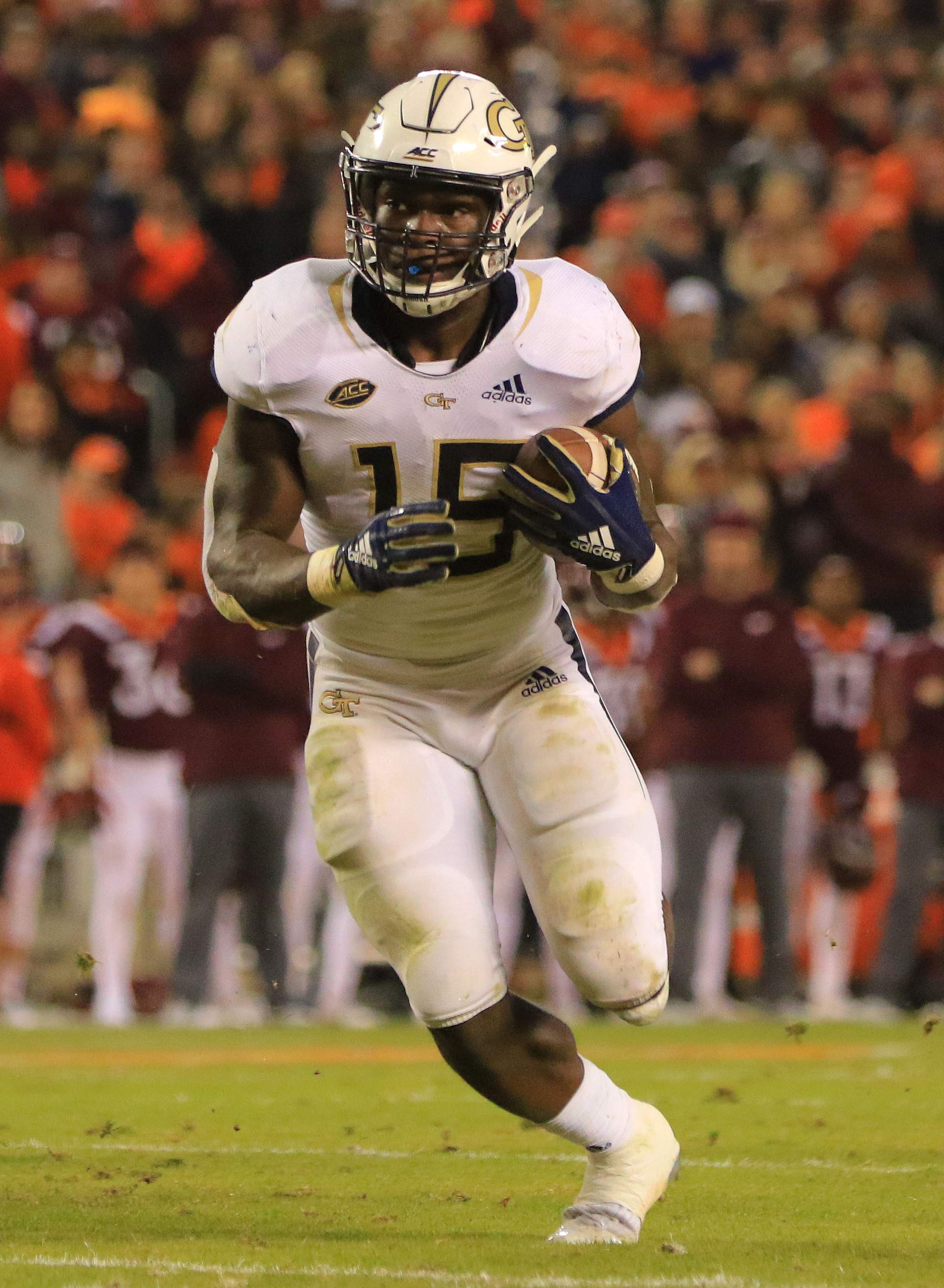 Howard has not only embraced the dirty work of blocking, but the divided carries as well. After spending all of last season as the top backup to KirVonte Benson, Howard slipped to third on the depth in the preseason, in large part due to an injury in camp. Through the first two games of the season, he only had eight yards on four carries.
Yet when Benson, a second-team all-ACC pick last year, suffered a season-ending knee injury against USF on Sept. 8, Howard and redshirt freshman Jordan Mason were forced to pick up the slack. The platoon has performed admirably in his place: Howard and Mason have averaged an impressive 5.7 yards per carry over the last three games, and neither has had a negative rushing yard over the last four.
"Because we split carries, we're always fresh. We like competing with each other. We actually have fun with it. We're trying to come up with celebrations and stuff right now. That's just the relationship we've built," Howard said, adding that Benson has been instrumental in giving them tips.
Competitiveness may come naturally to Howard, a native of football-rich Rock Hill, S.C. Though his hometown, located 25 miles south of Charlotte, only has a population of 73,000, it has put a marquee list of players into the NFL. Houston Texans defensive end Jadeveon Clowney and cornerback Jonathan Joseph, New Orleans Saints tight end Ben Watson, New England Patriots cornerback Stephon Gilmore and wide receiver Cordarrelle Patterson, and Pittsburgh Steelers quarterback Mason Rudolph – Howard's QB his freshman year in high school – all call Rock Hill home.
Howard expects a large contingent of family members to make the trek from Rock Hill to Chapel Hill this weekend when the Yellow Jackets (4-4, 2-3 ACC) take on North Carolina (1-6, 1-4 ACC) at Kenan Stadium (12:15 p.m. ET – Georgia Tech IMG Sports Network). In addition to his sturdy blocking, Howard will also look for that elusive long run: he had a 65-yard touchdown on his second career carry against Jacksonville State last year, but hasn't been able to duplicate it since. He knows it won't come easy against UNC, which has a veteran defensive line that could make thumping B-back runs more difficult.
"We know they should have beaten a lot more teams than they've beat," Howard said.
He'll be ready for the challenge, whether the ball winds up in his hands or not.  And his family should be ready to cheer every crunching block as well.