By Andy Demetra
Wednesday's game may have been a case of "Lost and Found."
Yes, Georgia Tech lost its sixth straight game, falling to No. 22 Virginia Tech, 76-68.  But the Yellow Jackets may have also found some ways to boost their sagging offense.  For starters, there was – well, starters.  Rather than play forwards James Banks and Abdoulaye Gueye together, Josh Pastner opted to use a single post, a look he had employed for most of the last two years.  The result was better spacing, better ball movement, and Tech's most three-pointers in a game (11) since the season opener.  Pastner also gave Moses Wright and Kristian Sjolund ACC-high minutes at forward.  Wright responded with seven points, more than he had in his previous six games combined.  Sjolund added 11 points and six rebounds; he only had seven rebounds total all year.  In spite of the loss, Tech finished with its fourth-best offensive efficiency rating of the season (1.09 PPP).
Those tweaks could be temporary, a one-off meant to counteract Virginia Tech's quick, small-ball lineups.  But they could also serve as a springboard for Georgia Tech (11-14, 3-9 ACC) as it prepares for another ranked opponent Saturday.  Their opponent, No. 19 Florida State (19-5, 7-4 ACC), has won six straight and held Tech to an ACC-low 28.3-percent shooting in a 59-49 win February 2.
As you get ready for tip-off, here are the top five notes from my chart in preparation for Saturday's sold-out matchup at McCamish (2 p.m. ET, Learfield IMG College):
**
As he told us this week on the Georgia Tech Basketball Report, freshman guard Michael Devoe is a devotee of yoga.  He came to love it from his Mom and aunt, a Pilates instructor, though it sometimes causes some awkward glances in the studio back home.
"I go in there with leggings on, and people are wondering, 'Why is this tall kid coming in here doing yoga?'" the Orlando, Fla., native said.  "But I've read a lot of articles about NBA guys, and they do it.  So I've tried to emphasize that in my game as well."
Devoe will look to stand out in more positive ways Saturday.  His ascendance continued Wednesday in Blacksburg when he scored 22 points – his second straight game with a career high in points – against Virginia Tech.  More than any team in the ACC, Florida State likes to send waves of long, agile guards to play up the line defensively (6-7 Terance Mann had the primary assignment on Jose Alvarado).  That length frustrated Devoe and Alvarado, who finished a combined 3-of-23 from the field.  If they get inside the paint, can they finish with more finesse – floaters, pull-ups, adjusting through contact – and not get caught too deep where turnovers become an issue?
Georgia Tech also had a season-low assist rate against the Seminoles (five on 17 made field goals).  If the Jackets continue to play with a single post, they may get the spacing and ball movement they need to score more consistently.  Head coach Leonard Hamilton also mentioned his team's struggles "covering down" in the post.  Will the Seminoles be more active with their help-side defense around the rim?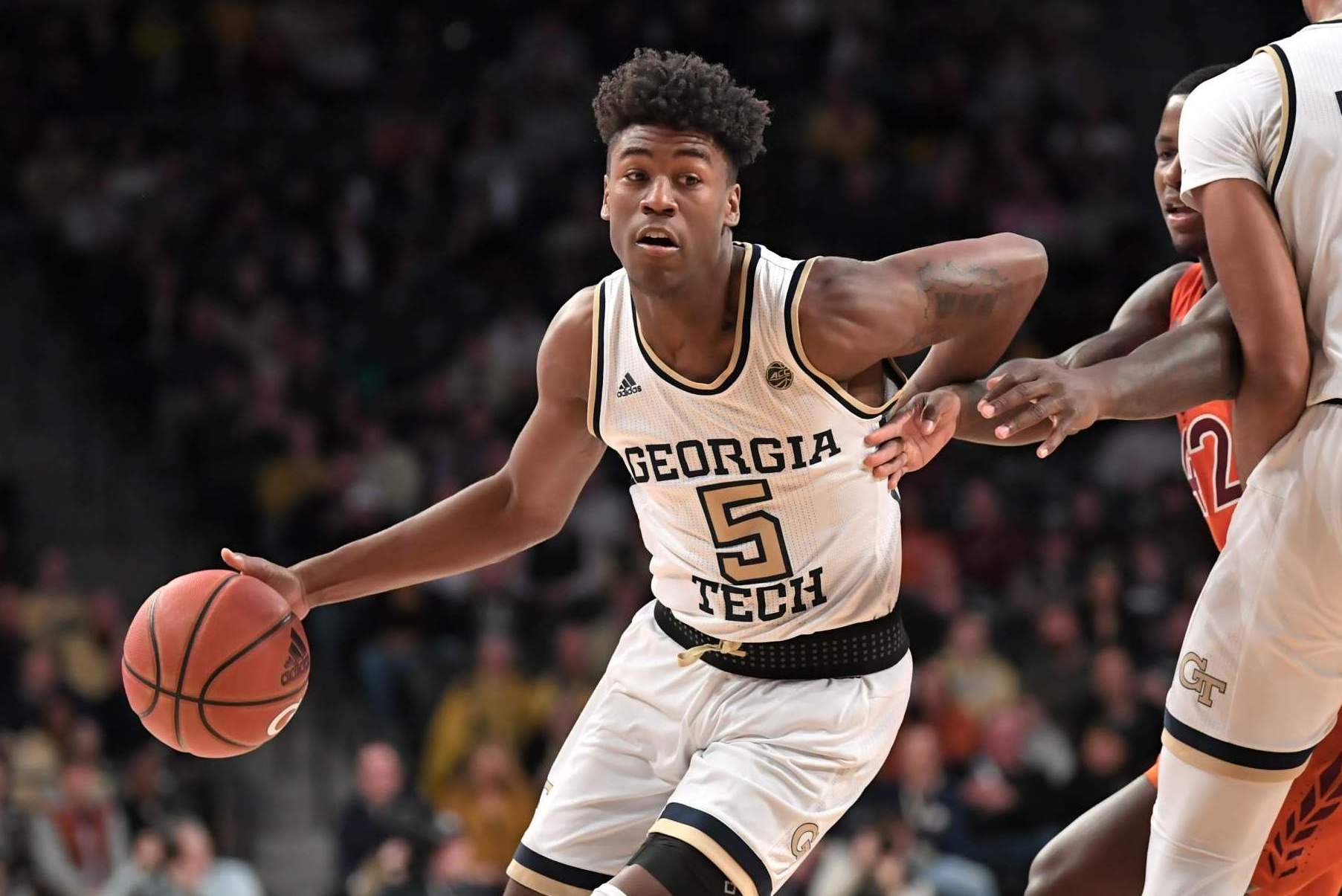 Moses Wright played an ACC-high in minutes and scored seven points at Virginia Tech.
When they faced the Yellow Jackets two weeks ago, the Seminoles were coming off their best shooting performance of the season (56.0 percent vs. Miami).
Tech held them to 34.8 percent.
On Saturday, Florida State faces Georgia Tech coming off… its new best shooting performance of the season (56.5 percent vs. Wake Forest).
The Seminoles were paced in Tallahassee by 6-10, 250-pound Mfioundu Kabengele, who scored 10 of his 12 points in the first half and connected on 7-of-9 from the foul line.  A sixth man in name only, Kabengele (13.4 ppg, 5.3 rpg) has a soft, zone-busting elbow jumper and can finish over either shoulder in the post.  He also remains among the top 10 players nationally in fouls drawn per 40 minutes (7.2).  Neutralizing Kabengele, both when he catches at the foul line or relocates for a pin down, will be a high priority.  Gueye played a season-low four minutes against Virginia Tech, but the redshirt senior has scored 29 points (on 13-of-21 shooting) in his last two games versus Florida State.
Other keys for Georgia Tech: shrink the floor, prevent Phil Cofer from getting going (the Atlanta native is FSU's best baseline shooter, but was hampered by foul trouble in Tallahassee) and avoid the foul trouble that have plagued the Yellow Jackets in their last two meetings with FSU.
**
Josh Pastner harps on it.  Fans may not always appreciate it.  But guard rebounding remains an essential, if overlooked, skill.
In spite of their up-and-down shooting, Georgia Tech's guards haven't abandoned that core belief.  The Yellow Jackets entered the week ranked 56th in the nation in guard rebounding according to Synergy.
One of the reasons Tech was so stubborn in its first meeting with FSU was its persistence on the boards.  The Seminoles came in ranked 20th nationally in offensive rebounding percentage; Georgia Tech outscored them by eight in second-chance points.  The Jackets also won the rebounding battle for the first time in ACC play against Virginia Tech.  Rebounding could be a stabilizing force on Saturday.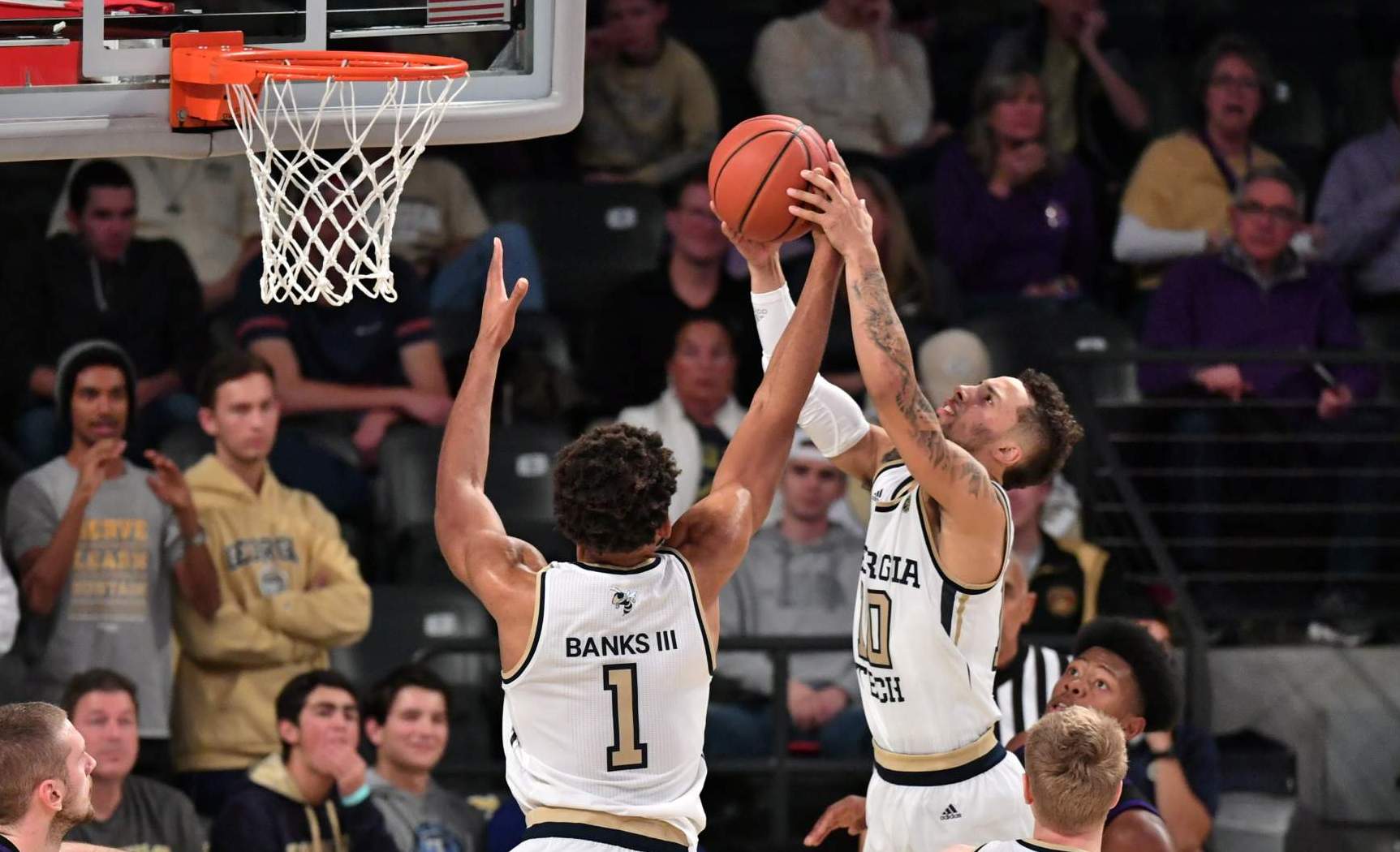 Georgia Tech finished the first half Wednesday on a 14-0 run over the last 4:44.
That's impressive enough against a Virginia Tech team that came in ranked 18th nationally in defensive efficiency.  But it was even more unexpected because of the lineup that sparked it.  Devoe, James Banks, Moses Wright, Khalid Moore and Kristian Sjolund had seen exactly 0:00 of floor time together entering the game.
That may not be surprising given Sjolund's limited minutes.  Banks/Devoe/Wright/Moore had started six games together from December 19 to January 9.  Since then, the longest they had played together was a 4:08 stretch against Clemson eight games ago.
**
Statistics can easily be cherry-picked, but that doesn't mean they're any less impressive.
To wit:  Josh Okogie had two career ACC games with at least 18 points, 5 rebounds and 5 assists.
Michael Devoe has done that in back-to-back games.
Michael Devoe '18-19
18 points, 8 rebounds, 6 assists vs. Notre Dame
22 points, 5 rebounds, 5 assists vs. Virginia Tech
Josh Okogie
35 points, 14 rebounds, 5 assists vs. Florida State '17
22 points, 8 rebounds, 6 assists vs. Clemson '18
**
Now that we're prepared, we hope you are as well.  Our pregame coverage starts at 1:30 p.m. ET from Learfield IMG College.  See you at McCamish.
–AD–