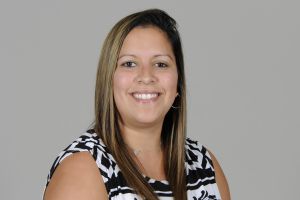 THE FLATS – Gina Gonzales, a former student-athlete with seven years of professional experience in NCAA Division I athletics, has been named assistant athletics director for marketing and fan experience at Georgia Tech.
Gonzales, a Michigan native who played basketball at Mount St. Joseph University in Cincinnati, comes to The Flats after three years at the University of Georgia. She began at Georgia as assistant director of promotions in 2015 before being promoted to associate director of promotions a year later. At UGA, she was directly responsible for marketing and fan experience for men's and women's basketball. Under her leadership, Georgia experienced a 14-percent increase in men's basketball season-ticket sales and a 25-percent lift on the women's side.
"Gina emerged from a very strong candidate pool as the ideal choice to lead our marketing and fan experience efforts," said Georgia Tech senior associate athletics director for external operations Ayo Taylor-Dixon. "She has a wide breadth of experience across athletics, including as a student-athlete herself, and a proven track record at every stop of her professional career. We're excited for what she'll bring to the table as we continue to pursue our goals of providing our fans with a first-class experience and our student-athletes with an electric atmosphere to play in here on The Flats."
Prior to coming to Georgia, Gonzales also served as assistant director of marketing at Drake University (2014-15) and athletics marketing associate at Missouri State University (2011-12). Her professional experience also includes two seasons as director of women's basketball operations at the University of Wisconsin-Milwaukee (2012-14) and a season as a ballpark operations assistant for the Cincinnati Reds (2010).
She has won three national awards during the course of her career – NCAA Pack The House (2011-12) and NCAA Creative Challenge (2014 and 2015) – and also helped UWM claim the Horizon League Community Outreach Award in 2012-13.
"I want to thank (Georgia Tech director of athletics) Todd Stansbury and Ayo Taylor-Dixon for this incredible opportunity," Gonzales said. "I am excited to begin this next chapter in my career working alongside this phenomenal staff to increase attendance and enhance the gameday experience for fans. This is a fantastic opportunity to make something that is already great even better."
Gonzales was a four-year letterwinner and three-year member of the Heartland Collegiate Athletic Conference all-academic team as a basketball student-athlete at Mount St. Joseph. She graduated from MSJ in 2011 with a bachelor's degree in sport management/business. She earned a master's in administrative studies/sport administration from Missouri State in 2013.
For the latest information on the Georgia Tech Yellow Jackets, follow us on Twitter (@GTAthletics), Facebook, Instagram or visit us at www.ramblinwreck.com.