THE FLATS – Former Georgia Tech football standout Will Glover and former NCAA Division I defensive coordinator Jason Semore have joined the Yellow Jackets' football staff as quality control specialists, head coach Geoff Collins announced on Tuesday. Glover will work on the offensive side of the ball while Semore will work with the defense.
In their roles, Glover and Semore will assist Tech's coaching staff with opponent scouting and game-planning.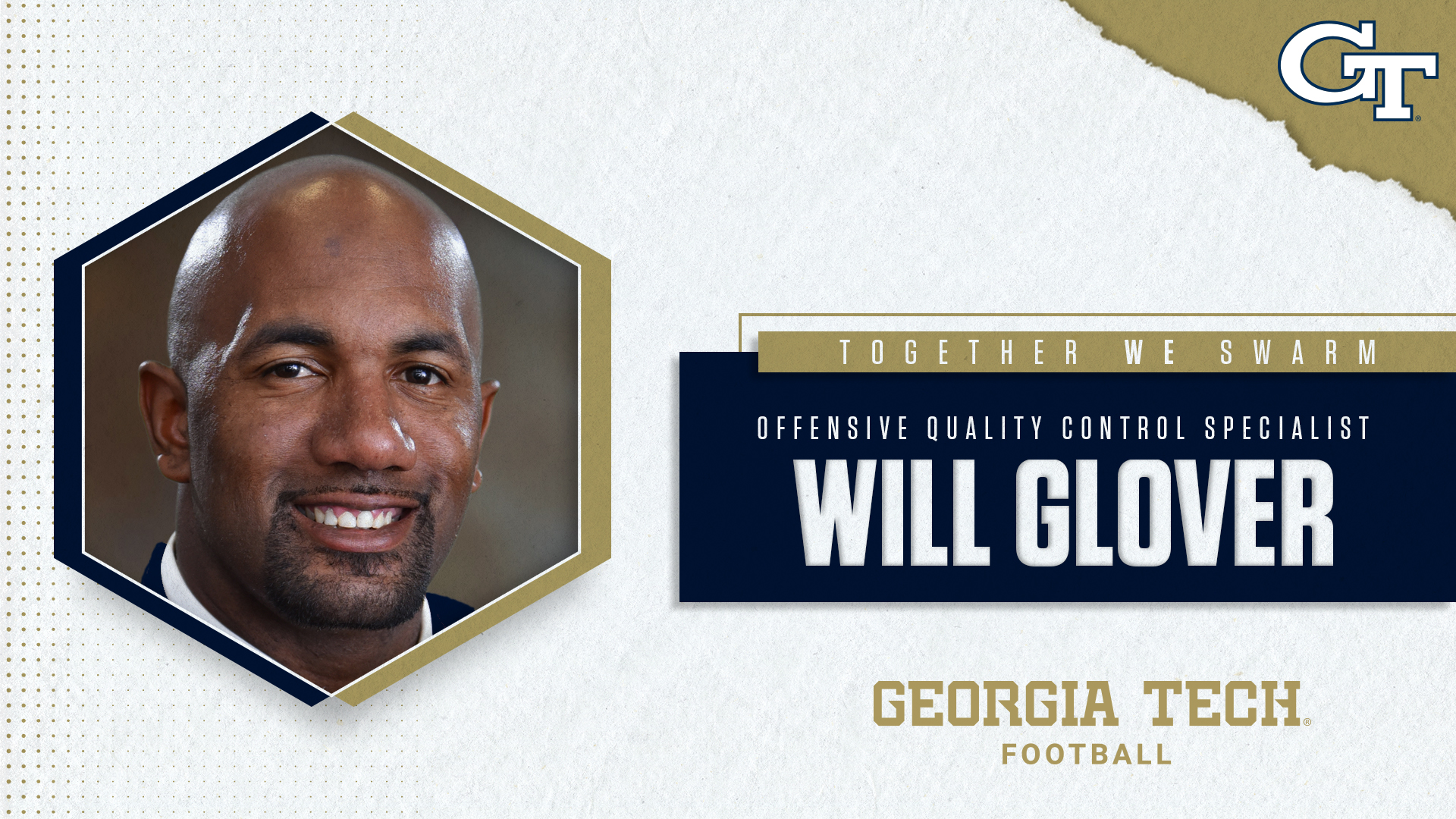 One of the most successful wide receivers in Georgia Tech history, Glover returns to The Flats after spending the past four seasons as wide receivers coach at Bethune-Cookman (2015-18). In his four seasons at B-C, he coached a pair of all-Mid-Eastern Athletic Conference wideouts, including first-team honoree Jawill Davis, who went on to sign a free-agent contract with the NFL's New York Giants. His coaching career also includes two seasons at UCF, first as an offensive quality control assistant in 2013, then as a graduate assistant in 2014. In his two seasons at UCF, the Knights produced three receivers that would go on to play in the NFL, including first-round draft pick Breshad Perriman (2015 – Baltimore Ravens).
As a student-athlete at Georgia Tech (1999-2002), Glover caught 122 passes for 1,316 yards for the Yellow Jackets, which still rank sixth and 13th in program history, respectively. The Jackets made four bowl appearances in his four seasons. His time as a student-athlete at Tech coincided with Collins' first tenure with the Yellow Jackets, as a graduate assistant in 1999-2000, then as tight ends coach in 2001.
"Will was a great player here when we had the No. 1 offense in the country (509.0 ypg in 1999) and was the fourth-leading receiver in Georgia Tech history at the end of his career," Collins said of Glover. "What a relentless competitor, great personality. We always want to bring the legends of The Flats back to Atlanta whenever possible, so Will is a great addition to our program."
Glover signed as a priority free agent with the New York Jets in 2013, then went on to play professionally in the Canadian Football League and NFL Europe. The Tampa, Fla. native earned a bachelor's degree in marketing from Clayton State in 2009. He and his wife, Dr. Rosalind Glover, have two daughters: Ariyah and Amirah.
Semore comes to The Flats from Temple, where he served as a senior defensive advisor under Collins in 2018. In Semore's lone season at TU, the Owls ranked among the top four teams nationally in defensive touchdowns (8 – 1st), forced turnovers (31 – 3rd), fumble recoveries (13 – 3rd) and interceptions (18 – 4th).
Prior to his one season at Temple, Semore spent three seasons at NCAA Division I FCS powerhouse Montana, first as special teams coordinator and secondary coach (2015), followed by two seasons as defensive coordinator (2016-17). He helped lead the Griz to three-straight winning seasons, including an FCS playoffs appearance in 2015, and produced the Big Sky Conference's top-ranked defense in 2016 (349.0 ypg).
Semore's resume also includes a season as defensive coordinator at Colorado School of Mines (2014), two seasons as a defensive assistant at Oklahoma State (2012-13), two seasons as outside linebackers coach at Tulsa (2010-11), two seasons as co-defensive coordinator, special teams coordinator and secondary coach at his alma mater, Adams State (2008-09), a season as secondary coach at Colorado School of Mines (2007) and a season as defensive coordinator at Round Valley H.S. in Springerville, Ariz. Career highlights include a 10-2 season as defensive coordinator at Colorado School of Mines, bowl appearances in each of his four seasons at Oklahoma State and Tulsa and leading Arizona's Class 3A in total defense, scoring defense and pass defense in his lone season at Round Valley High.
"Jason has done a phenomenal job as a defensive coordinator throughout the course of his career," Collins said about Semore. "He did a great job for us at Temple in a quality-control role. He adds value to the organization every single day and I'm lucky that he's here with us at Georgia Tech."
Semore played collegiately at Adams State, where he was a linebacker from 2001-05 and earned a bachelor's degree in history, government and philosophy in 2005. He also has two master's degrees from the University of Phoenix (2007 – criminal justice) and the University of Tulsa (2012 – educational methods). He has two daughters, Paityn and Palmer.
For the latest information on the Georgia Tech Yellow Jackets, follow us on Twitter (@GTAthletics), Facebook, Instagram or visit us at www.ramblinwreck.com.