Box Score (.pdf) | Full gamebook (.pdf) | Multimedia | Photo Gallery | Postgame Notes
THE FLATS. – Four players scoring in double figures powered Georgia Tech men's basketball to a 74-64 victory over Florida A&M on Friday night at McCamish Pavilion.
The Yellow Jackets (3-3, 0-1 ACC) held the Rattlers (1-5, 0-0 MEAC) to just 43.6 percent shooting from the field. Tech was guided offensively by senior forward Moses Wrights' 24-points and seven rebounds. Junior guard Michael Devoe scored 15 points, while dishing a season-high eight assists. Senior guards Bubba Parham and Jose Alvarado put up 13- and 11-point performances, respectively, with Parham scooping up a season-best eight rebounds in the process.
Overall, the Yellow Jackets were 47.4 percent from the field, but scored 34 of their points in the paint and outrebounded the Rattlers 38-to-28.
The Jackets were hot early going on a 14-2 run in the first six and a half minutes of the opening half. At intermission, the Yellow Jackets led the Rattlers 35-24, as Florida A&M was held to 16.7 percent from three in the first.
The Rattlers fought back trailing by just five, 59-54, at the 5:11 mark after forward Johnny Brown drained a late three. Parham answered right back with a clutch triple of his own to push Tech to a 62-54 advantage with 4:53 remaining. Tech outscored Florida A&M 12-10 the rest of the way to cement a victory and a .500 record on the season thus far.
Florida A&M was led by guard M.J. Randolphs' 17-point and five-rebound performance. Three Rattlers scored in double-digits, as guard Jalen Speer and center Evins Desir scored 12- and 10-points, respectively.
Tech returns to action on Sunday, Dec. 20, taking on another MEAC opponent in Delaware State (0-2, 0-0) at home. Tipoff is set for 6 p.m. (EST) at McCamish Pavilion, and the game will air nationally on the ACC Network.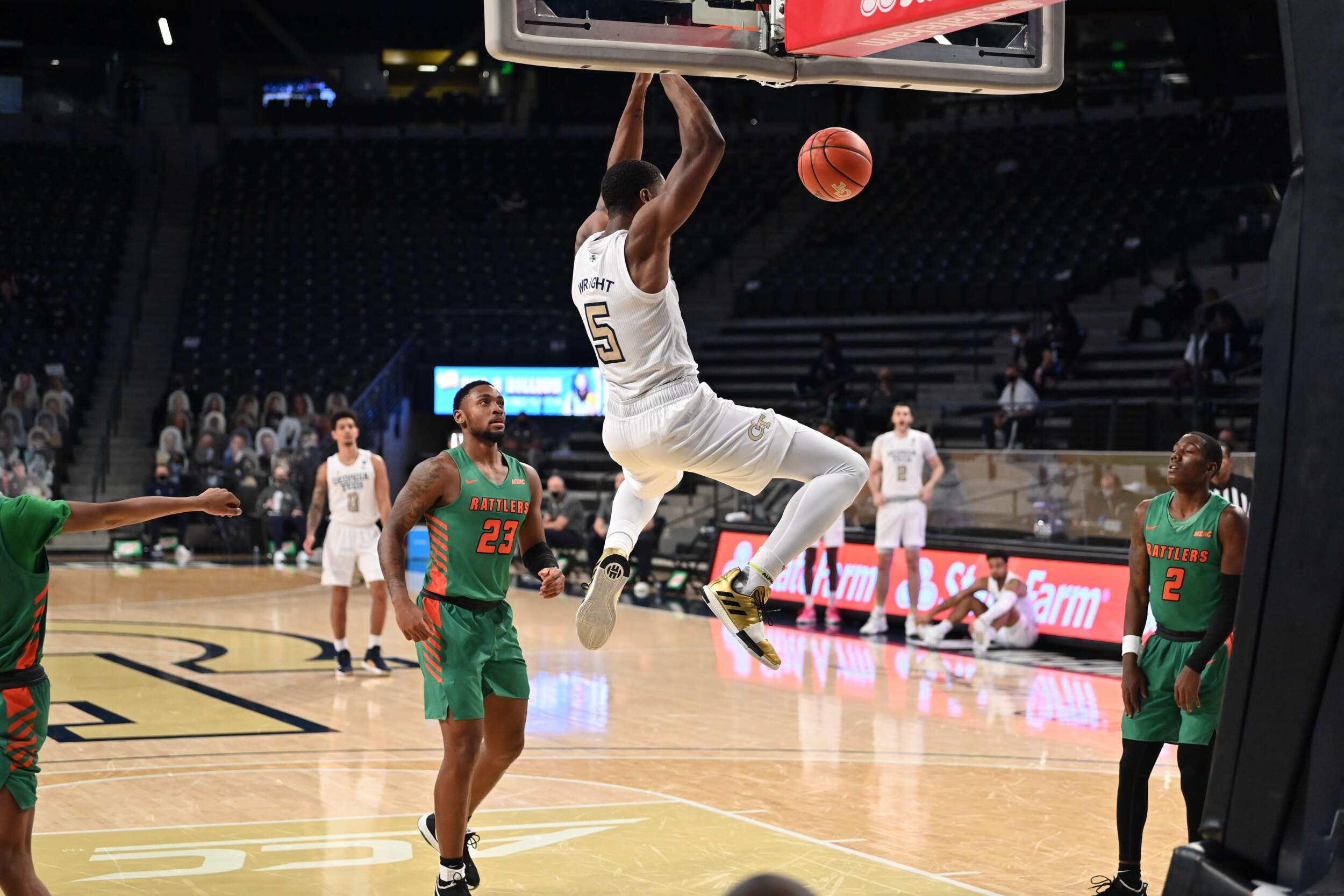 Senior Moses Wright, the ACC's leading scorer, scored a game-high 24 points and grabbed seven rebounds. (photo by Danny Karnik)
Post-Game Notes
TEAM NOTES
Tech remained unbeaten in 34 all-time games against members of the Mid-Eastern Athletic Conference, and has another game set for Sunday night against Delaware State.
Tech has averaged just 9.25 turnovers over its last four games, a total of 36, compared to 37 in its first two games. The Yellow Jackets committed just 10 against Florida A&M.
Tech has forced 59 turnovers over its past four games and scored 63 points from them.
Tech posted its best percentage game of the season from the three-point line against Florida A&M, hitting 9-of-22 (40.9 percent) after connecting on just 29.5 percent through its first five games. The Jackets are averaging 7.5 made threes per game, 2.3 per game more than they made in 2019-20. Conversely, opponents are connecting on 40.2 percent from beyond the arc and averaging 8.8 made threes (FAMU was 7-for-17).
Tech's accuracy from the free throw line is well above its 2019-20 norm. The Jackets have hit 73.5 percent from the charity stripe (11-of-16 vs. FAMU), compared to 67.7 last season. Tech has scored 16.2 points per game at the stripe, 3.2 points better than last season.
Tech finished the game plus-10 on the boards with FAMU, the first time the Yellow Jackets have been on the plus side since game 2 vs. Mercer.
INDIVIDUAL HIGHLIGHTS
Moses Wright, the leading scorer in the ACC, went over 20 points third time in six games, scoring 24 points on 9-of-17 shooting from the floor, 6-of-8 from the foul line. Since the beginning of the 2019-20 season, Wright has hit double figures in 29 of 37 games, including all six this season.
Wright went over 800 career points in Friday night's game, and now sits at 816 for his career. He also elevated his career rebound total of 461, and is bidding to become the 21st player in Tech history with 1,000 points and 500 rebounds in a career.
Jose Alvarado (11 points, 3-of-8 from 3-point range) has made a three-point basket in 24 straight games, the longest streak for a Tech player since Adam Smith knocked down a three in 24 straight games during the 2015-16 season.
Alvarado moved up to 14th career three-point field goals (now has 137), remains 10th on the program's all-time list for steals (165), and is 16th in assists (298). He also is in 36th place in career scoring (1,123 points).
Bubba Parham, making his fourth straight start, hit double digits fourth time in six games, scoring 13 points (5-11 FG, 3-7 3pt FG) against Florida A&M. Parham did not turn the ball over for the third time this season and has just three total turnovers (against 14 assists).
Parham, at 5-10, also was Tech's leading rebounder against FAMU with eight, his career best in a Tech uniform and one shy of his collegiate best.
After going scoreless for the first time in his career against Kentucky, Michael Devoe has bounced back to average 16.0 points over his last three games, hitting 17-of-35 shots from the floor and 6-of-16 from three-point range. He scored 15 points against FAMU with a game-high eight assists, tying his career high.
Michael Devoe (0) scored 15 points and added a game-high eight assists and four rebounds. (photo by Danny Karnik)
Post-Game Press Conferences
Seniors Bubba Parham and Moses Wright, head coach Josh Pastner