THE FLATS – Georgia Tech was the leading fundraiser for the 2019 Peach Bowl Touchdowns for Children's campaign, Peach Bowl, Inc. announced on Thursday.
Touchdowns for Children's is Peach Bowl, Inc.'s annual campaign to benefit the Aflac Cancer and Blood Disorders Center of Children's Healthcare of Atlanta. College football fans are encouraged to pledge a specific dollar amount for every touchdown scored by their favorite team during the 12-game regular season. All proceeds are matched by Peach Bowl, Inc.
Georgia Tech fans donated $124,586 of the $515,719 raised for the Peach Bowl Touchdowns for Children's campaign during the 2019 season.
In addition to Yellow Jackets fans leading the way in the Peach Bowl Touchdowns for Children's campaign, Georgia Tech football also collaborated with Children's in 2019 to raise awareness and funds for Children's annual Cape Day. Most notably, Tech teamed with adidas to develop Onyx Gray Cape Day uniforms, which the Jackets wore for their Oct. 5 contest versus North Carolina. Georgia Tech coaches and student-athletes also wore Children's capes during their traditional pregame walk down Yellow Jacket Alley to Bobby Dodd Stadium and the Jackets' game captains wore capes to midfield for the pregame coin toss in honor of the true superheroes of our community, the children battling disease and injury at Children's.
VIDEO: Georgia Tech Football/Children's Healthcare of Atlanta - Cape Day 2019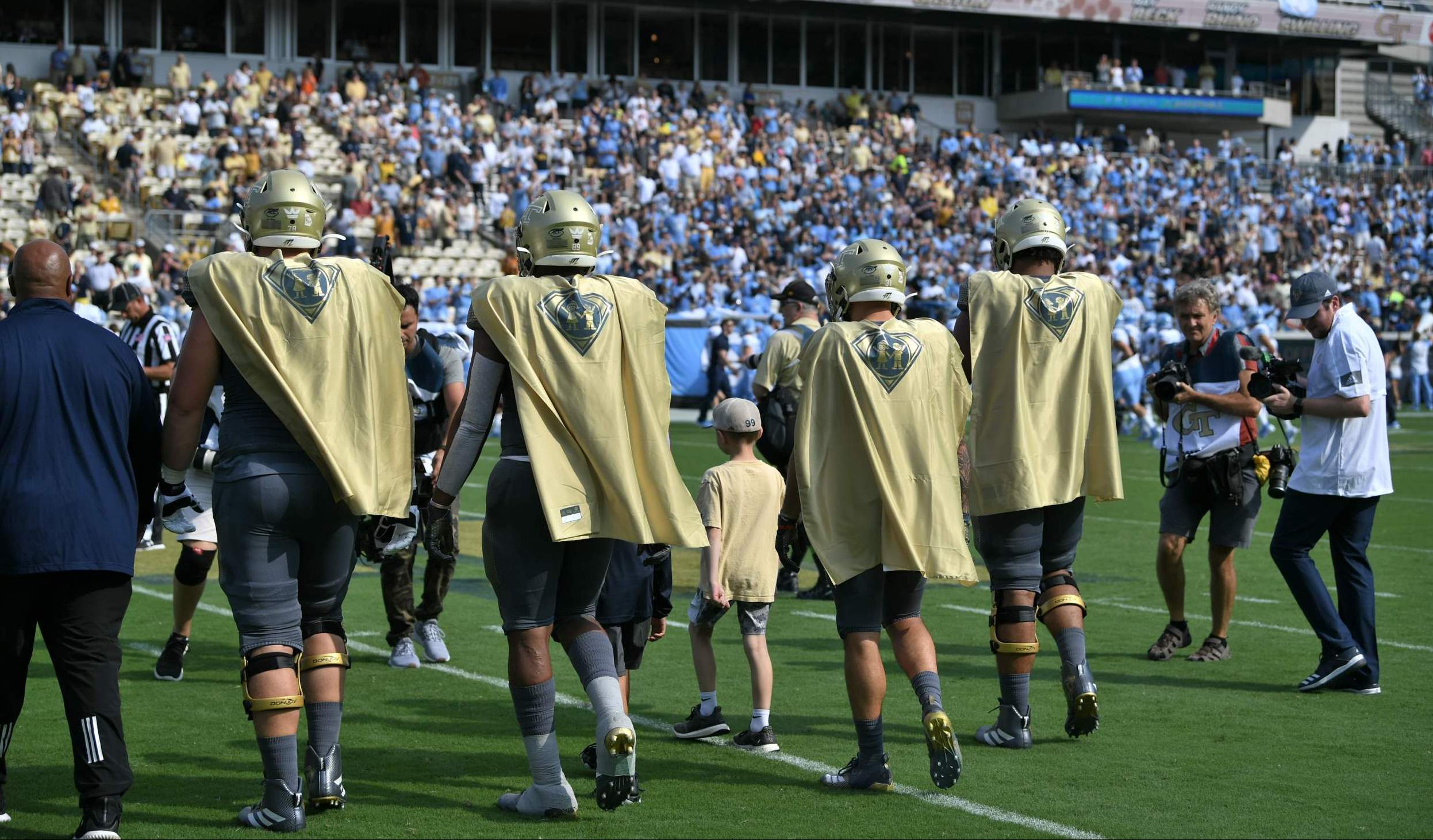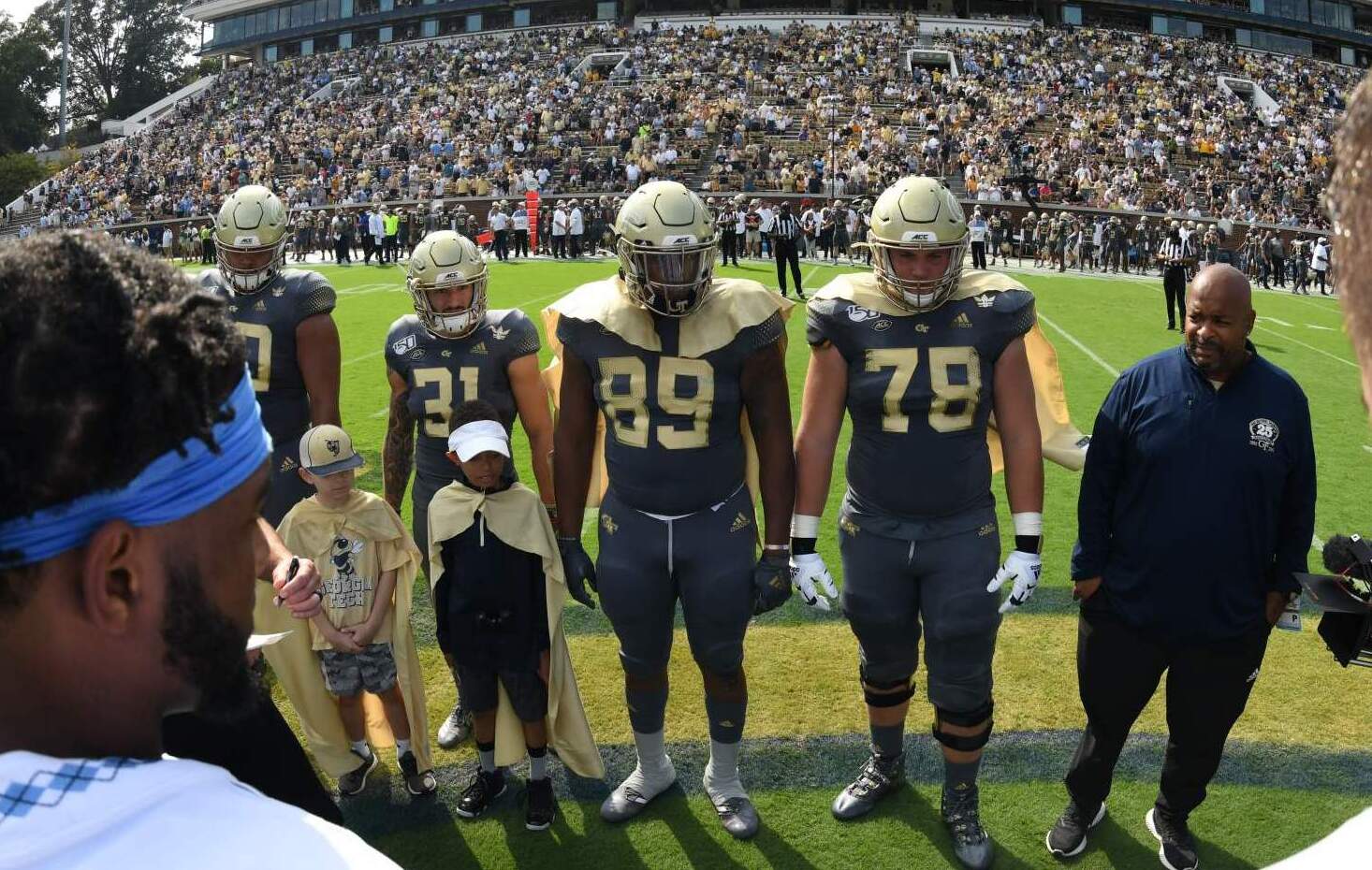 2020 Georgia Tech football season tickets are on sale now. The Yellow Jackets' seven-game home schedule is one of the best in program history, featuring matchups at Bobby Dodd Stadium versus Clemson, Miami, Virginia and UCF, as well as the inaugural "Mayhem at MBS" showdown against Notre Dame at Mercedes-Benz Stadium on Nov. 14. Season tickets start at just $229 and include the Mayhem at MBS contest versus Notre Dame. For more information and to purchase tickets online, visit ramblinwreck.com/footballtickets.
Alexander-Tharpe Fund
The Alexander-Tharpe Fund is the fundraising arm of Georgia Tech athletics, providing scholarship, operations and facilities support for Georgia Tech's 400-plus student-athletes. Be a part of developing Georgia Tech's Everyday Champions and helping the Yellow Jackets compete for championships at the highest levels of college athletics by supporting the A-T Fund's Annual Athletic Scholarship Fund, which directly provides scholarships for Georgia Tech student-athletes, and Athletics Initiative 2020, Georgia Tech athletics' ongoing $125 million initiative to allow Tech to recruit the nation's most elite student-athletes, build a better student-athlete once they arrive on The Flats and, ultimately, win! To learn more about supporting the Yellow Jackets, visit atfund.org.  
For the latest information on the Georgia Tech Yellow Jackets, follow us on Twitter (@GTAthletics), Facebook, Instagram or visit us at www.ramblinwreck.com.